Native American Artist Jeffrey Gibson Opening an Exhibition in New York !
Native American culture is rich with symbols and stories of love, family, struggle, nature and religion. Totem poles, peace pipes, and war paint are some of the elements of their heritage that are easily recognizable all over the globe. Native American artist Jeffrey Gibson draws from the legacy of his people when creating his Contemporary works of art. Marc Straus Gallery will host 20 works by the prominent artist, that deal with numerous topics such as politics, fashion, music and urban subculture. The exhibition will display several of his celebrated beaded punching bags, as well as his raw hide paintings and mixed media sculptures.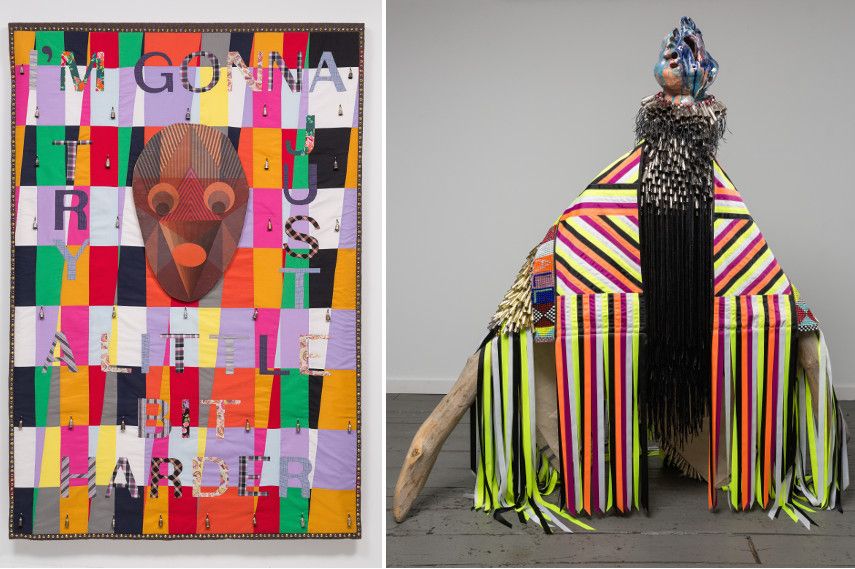 Native American Heritage in the Works by Jeffrey Gibson
Artist Jeffrey Gibson is known for combining traditional Native American craft with Contemporary art techniques. The interlacing of craftsmanship and pop culture references constitutes an amalgam of artist's numerous interests including books, music, politics and his own heritage. In his intricate series of beaded wall hangings, Jeffrey Gibson mimics materials traditionally worn as robes and employs colors and text to point at various social issues. His elaborately embellished punching bags, aim to replicate the spirit and strength of Native American powwow dancers, but also to depict various marginalized groups in a society. These bags take on different characters (punks, goths, rockers, queers, dancers or the underdogs) to represent a variety of people who lived their lives as outsiders at one point or another. Although these works address the artist's cultural background, they also surpass it, thus turning into universally relevant subject matter.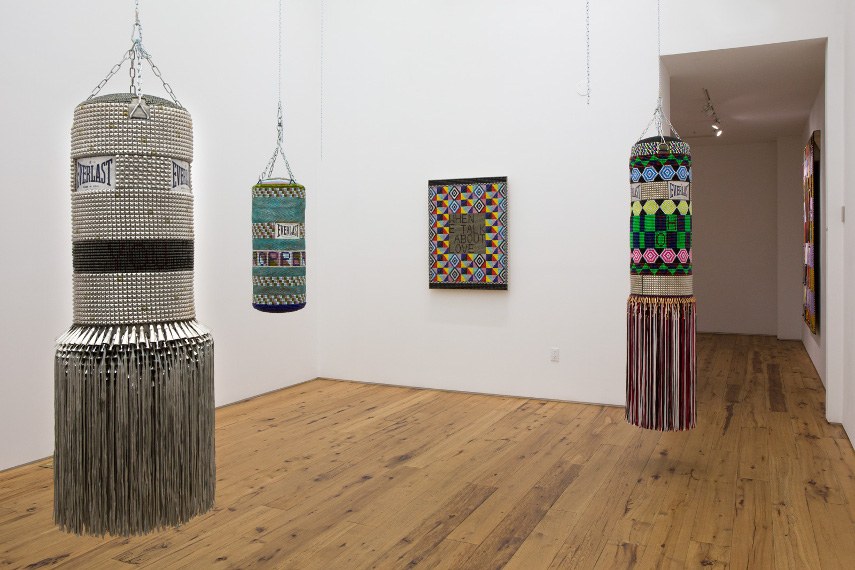 The Library of the Artist 's Interests
Jeffrey Gibson elaborated artworks often include text, loaded with politically charged content, music lyrics or personal messages. For instance, in his American History piece the Native American artist embedded famous word of James Baldwin "American history is longer, larger, more various, more beautiful, and more terrible than anything anyone has ever said about it," into a beaded cloth piece. The artworks also include phrases from social movement vocabulary and Jeffrey Gibson's personal writings that are fragmented and scattered, to simulate the thoughts floating in human mind. His raw hide monochromatic paintings vary significantly from his intensely hued blankets and sculptures. In Document, a deer hide artwork painted in gray, Jeffrey Gibson combines modern abstraction with a great respect for all living creatures. Here he uses reduced palette and geometric shapes to emphasize the fact that, what is now an art material, was once a living being.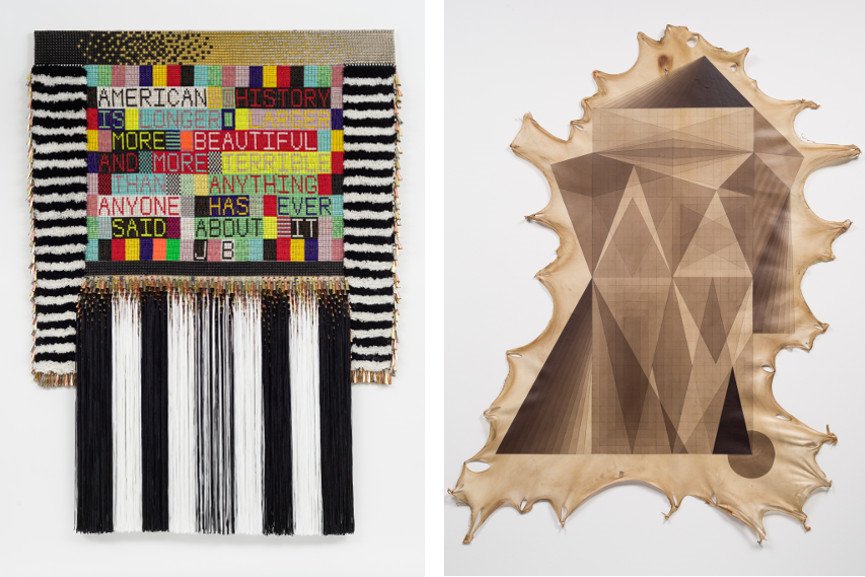 Marc Straus Gallery in New York
Jeffrey Gibson's artworks are marked with intercity and diversity that's at the same time captivating and dazzling. Apart from his wall mounted works, the artist will also display two of his mixed media sculptures that represent captivating mythical creatures. Their ceramic heads are placed on wooden bases and dressed with large colorful cloaks, that convey the notion of mystery that's waiting to be revealed. The artworks' prices are as versatile as Jeffrey Gibson's pieces and range from 12,000 USD to 225,000 USD. New body of work by Native American artist will be on display from October 25th till December 13th, 2015 at  Marc Straus gallery  in New York.
If you like Native American culture and Contemporary art you're going to love

My Widewalls, so sign up 

and explore amazing features for FREE!
Featured Images : Exhibition Installation ViewLeft : Jeffrey Gibson – The Difference Between You + Me / Right : Jeffrey Gibson – The Only Way Out is Through
Left
: Jeffrey Gibson – Rewind /
Right
: Jeffrey Gibson – You Can Feel It All Over, 2015
Left
: Jeffrey Gibson – I'll Put a Spell on You, 2015 /
Right
: Jeffrey Gibson- Ebb and Flow, 2015
Left
: Jeffrey Gibson – Undercover /
Right
: Jeffrey Gibson – You're Gonna Miss Me When I'm Gone
Left
: Jeffrey Gibson – In Time We Could Have Been So Much More, 2015 /
Right
: Jeffrey Gibson – The Difficulty of Being Love
Left
: A Portrait of Jeffrey Gibson /
Right
: Jeffrey Gibson – The Difference Between You + Me (Installment)
Images courtesy of Marc Straus Gallery