New Haven Gallery Exhibition: Music Box Explores the Importance of Music
At the new Haven Gallery exhibition you'll find out how visual artists respond to music – From The Beatles to Iwasaki Taku to Lana Del Rey. This exhibition follows the Haven Gallery's already established approach to art. The ribbon was cut mid-August 2015 and the Haven Gallery has brought quite a refreshment to the local gallery scene. Its carefully curated artworks speak to the audience through passions and universal truths. Music Box is the new exhibition at the Haven Gallery continuing the mission of showing personal and captivating art.
What is more personal than the way we enjoy music? It has been providing us with inspiration and comfort for centuries. Music can bring us catharsis or a way to express ourselves, unifying people or helping them to be alone. Our experience of music is, however, just ours. Thus, no wonder that the way we experience music is the theme of the new exhibition at the Haven.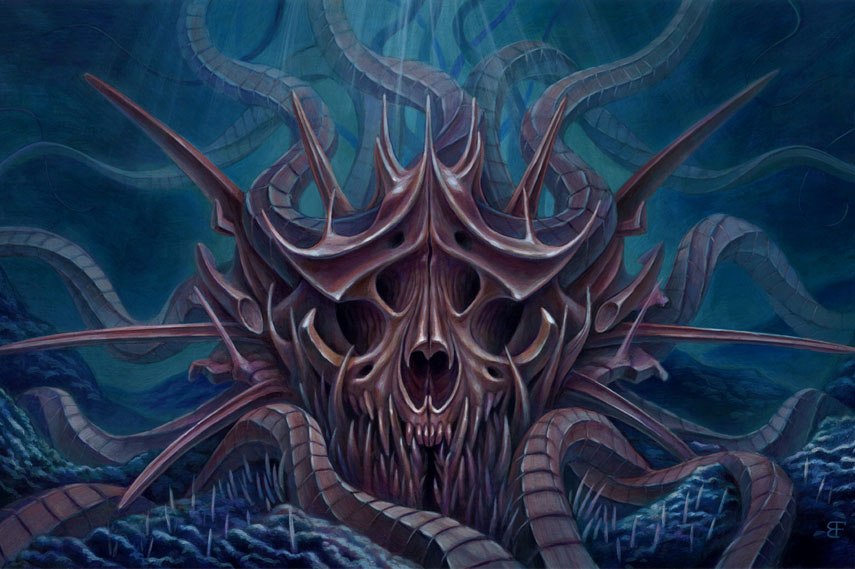 How Intimate is the Experience of Music?
The idea behind the new Haven Gallery exhibition is fairly simple: the artists used lyrics or names of songs and bands as inspiration to create artworks. The results bring eye-catching fairy-tale-like aesthetics and open various questions about the relation of visual artists and other artists' music. How did a certain piece of music influence the depicted subjects? Is there a connection between the music listened to and the chosen art technique? How did a song influence the artist emotionally or physically and how does the resulting work affect us? Can we relate to the artist's experience of a song or does it stay deeply personal and individual?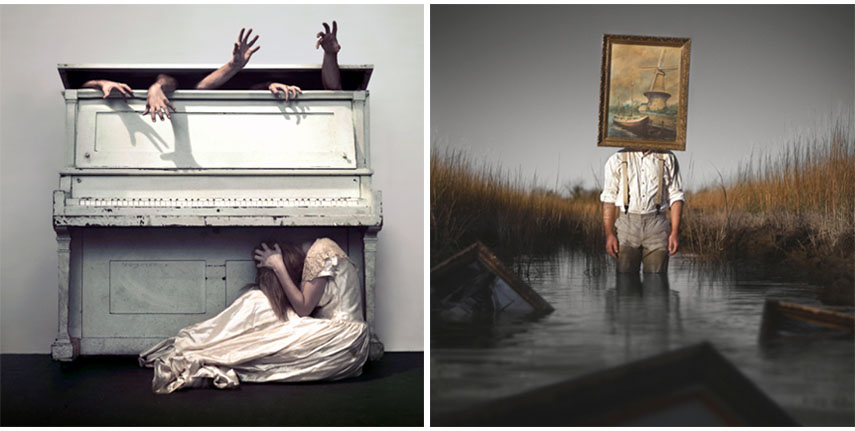 Varios Music Brings Various Techniques
Musical inspiration for every artwork will be included in their title cards to open further possibilities for interpretation. The music chosen by artists is free of any genre constraints: from the classics such as The Beatles, Lynyrd Skynyrd and Neil Young, to the mainstream indie acts like Bastille and Years & Years, to Metallica, and from the Japanese composer Taku Iwasaki to the characteristic growl of Tom Waits. The techniques also vary: from oil on canvas to assemblage. What connects them is the way they address the viewer and a perceivable notion of dreaminess one would certainly expect from a collection of such intimate works.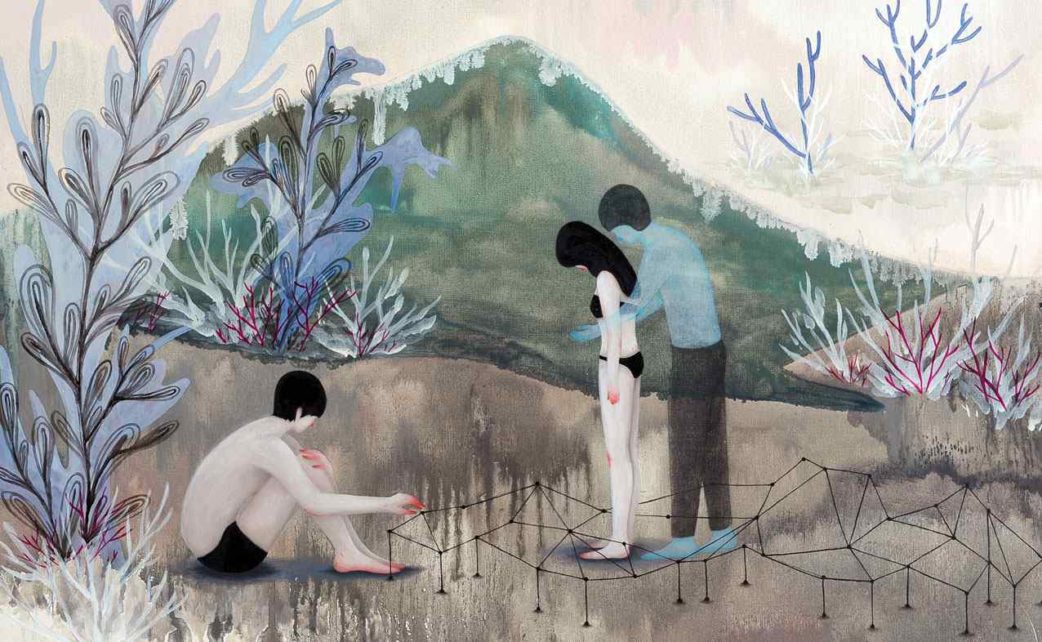 Artists Inside of the Music Box
Nicolas Bruno created haunting digital photographs to illustrate Chopin's Nocturno and Radiohead's Codex. London based Poppy Lawman created a miniature paper sculpture inspired by a song by Camera Obscura. American Laura Shull's acrylic is inspired by Tame Impala's lyrics "Company's Okay, Solitude is Bliss". Other artists include Matt Dangler, Dilka Bear, Thomas Dodd, Travis Lewis, Jana Brike, Mandy Tsung, Kaspian Shore, Josie Morway, Jel Ena, Nicolaus Ferry, Mandy Cao, Chris Sheridan, Mahlimae, Michael Ramstead, Scott Grimando, Meredith Marsone, Joseph Weinreb, Sasha Ira, Brendon Flynn, Stephanie Law, SoMK, Janet Cook and Michael C. Hayes.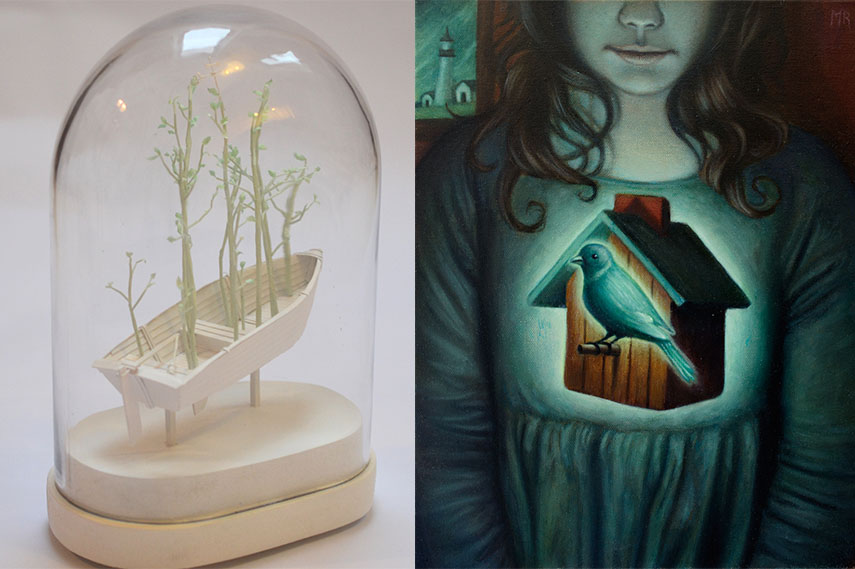 Music Box at the Haven Gallery
Music Box will be on view from January 9 to February 14th at Haven Gallery in Northport, NY. The opening reception will take place on the 9th of January from 6 to 8 p.m.Featured image: Dilka Bear – I Don't Want To Grow Up, inspired by I Don't Want To Grow Up by Tom Waits