New Image Art Showing: California Fantasy
California is famous for its beautiful beaches, national parks, movie industry, galleries and art embellished cities. It is also known as the place where many young and talented artists work hard to make their dreams come true. Five of such talented artists will presented their West Coast inspired works at California Fantasy group exhibition at New Image Art Gallery in Los Angeles. The artists are connected both by their residency and propensity for day-dreaming. For California Fantasy exhibition they've crafted a series of diverse material- embellished artworks that celebrate imagination and fantasy. Group exhibition is also inspired by the psychedelic culture of the sixties and it is created in rebellion of the post-modern conceptualism.
California Fantasy in Los Angeles gallery
The artworks that will be displayed at California Fantasy group show are colorful and ingeniously diverse and include drawings, paintings, sculptures and wearable pieces. Placed together, the artworks triumphantly depict mysticism, glamour and sensuality of perceived Californian paradise. Raúl De Nieves is multimedia artist whose work spans from sculpture and painting, to performance, live music and fashion. His artworks often deal with folklore, symbolism and fairy tales and at California Fantasy he will be presenting his unique ornaments, the glamorous hybrids of fashion and sculpture made from mixed media applied on shoes. The lavish colors and patterns of the sparkly beadworks incorporated into his sculptures capture the fairytales hidden within the fashion objects.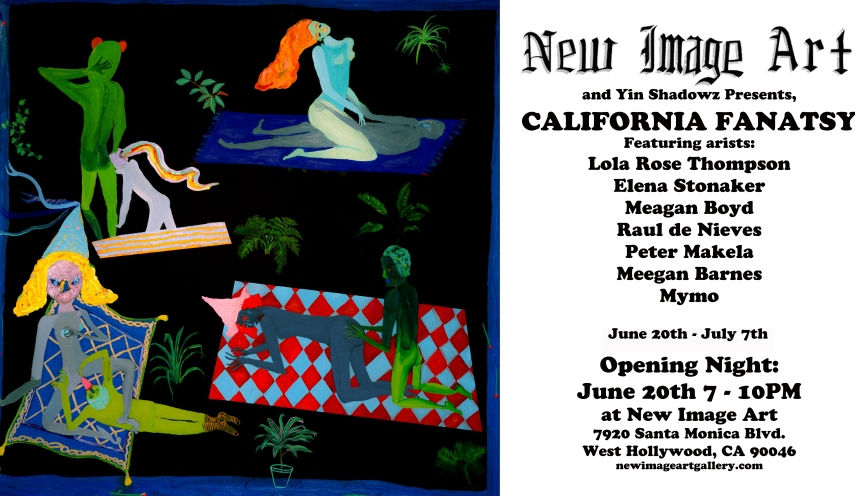 Inner World of Los Angeles Artists 
Peter Makela will be presenting his internal and external world in Vajrayogini over L.A. drawing, created with thousands of lines carefully applied on arches paper. The drawing is formulated in wave patterns as the artist deals with the topics of love, lust and contemplation. Meegan Barnes is an artist known for her interest in ancient artifacts and pop culture and for California Fantasy exhibition she has created one of her trade-mark butt sculptures. Her work is feminine and empowering and sculptures glamorous and sensual with a strong humorous undertone. Artist Lola Rose Thompson, known for employing literary devices to connect seemingly irreconcilable things, will be presenting her new paintings, sculptures and neon artworks at California Fantasy exhibition at New Image Art gallery in Los Angeles.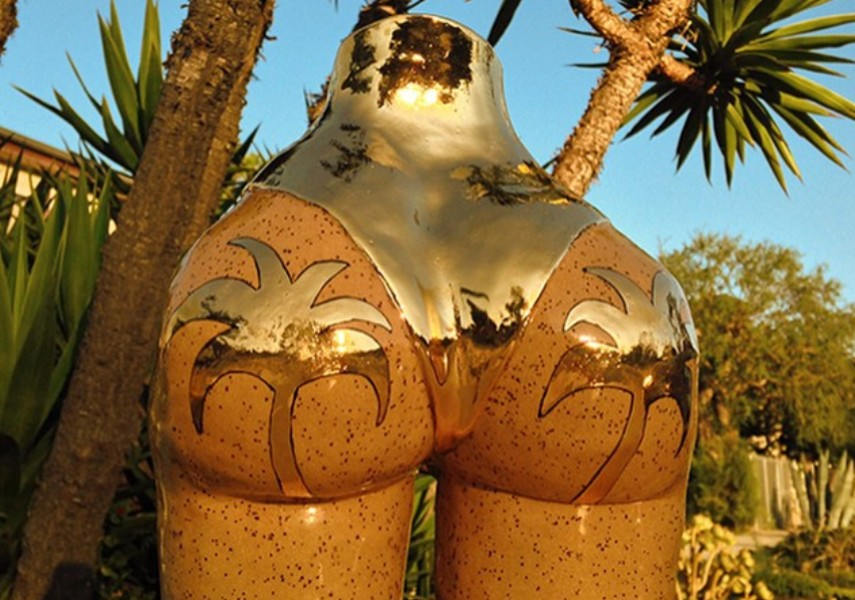 Californian Utopia at New Image Art in Los Angeles
Group exhibition California Fantasy will open on Saturday June 20th at New Image Art gallery in Santa Monica, Los Angeles. Even though it's all about illusions, California Fantasy exhibition is not a call for escapism but rather an invitation to explore the imaginative realm inspired by the American West Coast. A perceived utopia will be presented through vibrant paintings, colorful drawings and transcendental sculptures. California Fantasy group show in New Image Art gallery in Los Angeles will last till July 7th, 2015.
Artistic fantasies are just a click away so sign up for My Widewalls for FREE
Featured Image: Lola Rose Thompson – Trade Negotiations Continue at the Hotel (detail), 2015 All images courtesy of New Image Art gallery
Follow These Galleries
West Hollywood, United States