The November 2017 Auction Week in New York Looking to Beat its Own Record
Although New York City is well documented as a place where specialty art auctions are a year-round matter, the Big Apple scene hits its true peak in November and May when big-ticket pieces from major collections enter the fray. As November's auctions lurk around the corner, all eyes are set on Christie's, Sotheby's, Bonhams and Phillips, all of which prepared hundreds of impressionist, modern and contemporary artworks about to be sold this month.
Just like last year, this November's auctions (November 13-17) will be squished into one week. However, while the last year's events managed to sell a total $900m of art, the expectations are higher than ever for the upcoming auctions which start Wednesday night at Sotheby's.
This time around, it is estimated that about $1.7 to $2 billion worth of art could exchange hands, more than double of last year's revenue. November's auctions are also expected to sweep last May's sales that were, despite being proclaimed a massive success, stagnated by political events such as Brexit and Trump's election.
Strong expectations for this year's auctions are also backed by the fact that, for the first time in what seems like forever, the political and economic backdrop is relatively stable. Another novelty that will emerge this season is the increased presence of more female artists among the leading auctions that are usually dominated by males – this year, works made by the likes of Georgia O'Keeffe, Germaine Richier and Tamara de Lempicka will be available.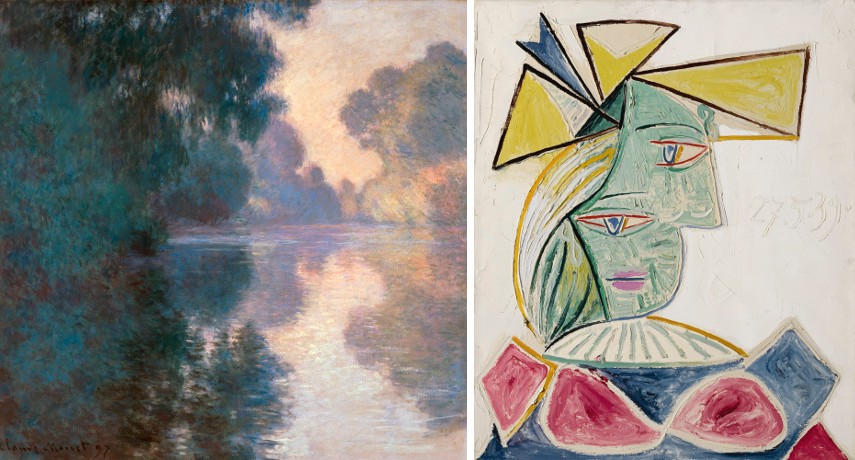 Impressionist & Modern Art Auctions at Christie's and Sotheby's
As always, Impressionist and Modern art are considered to be the crème de la crème of the upcoming auctions. Christie's and Sotheby's prepared a fantastic selection of modern artworks and these are precisely the reason why expectations for this year's auctions are set so high.
Christie's Impressionist & Modern Art Evening Sale (Nov 13) will include standout masterworks from some of the most remarkable collections in the world. The 68-lot sale will feature the works of Claude Monet, Joan Miró, Vincent van Gogh, Fernand Léger, Pablo Picasso, etc. This highly anticipated auction focuses on the artistic shift from early Impressionism to the textures and media that define Modern art. According to estimates, the highlights of this auction will be Claude Monet's Matinée sur la Seine (1897) that could fetch between $15M and $25M, and Pablo Picasso's Figure (de femme inspirée par la guerre d'Espagne) (1937) that could go for anywhere between $15M and $20M.
Christie's Impressionist & Modern Art Day Sale (Nov 14), an auction featuring 243 lots, will also be an opportunity to acquire works from the preeminent artists and movements that defined avant-garde. A lot more affordable than the works of the Evening Sale, its impressive selection of standout artworks includes the paintings of René Magritte, Léonard Tsuguharu Foujita, Jean Arp, etc. Claude Monet's La Plaine de Gennevilliers (1877) and Pablo Picasso's Nature morte à l'oiseau en cage (1947) are both expected to easily hit the $1,5M mark.
Spanning movements from Impressionism to Cubism and Surrealism, Sotheby's Impressionist & Modern Art Evening Sale (Nov 14) will offer remarkable paintings, works on paper and sculptures by the leading artists of the nineteenth and twentieth century. Alongside works by Paul Cézanne, Pierre Bonnard, Gustave Caillebotte and Pierre-Auguste Renoir, this auction's most expensive pieces are Claude Monet's Les Glacons, Bennecourt (1893) and Les arceaux de roses, Giverny (1913), and Pablo Picasso's Buste De Femme Au Chapeau (1939), all three paintings estimated to be worth between $18M and $25M.
Sotheby's Impressionist & Modern Art Day Sale (Nov 15) comprises an unusually compelling selection of sculptures, works on paper and paintings. It is presumed that Max Ernst's Amour Violent (1925) is the work that will fetch the biggest price tag from this auction, expected to land anywhere between $800,000 and $1,200,000.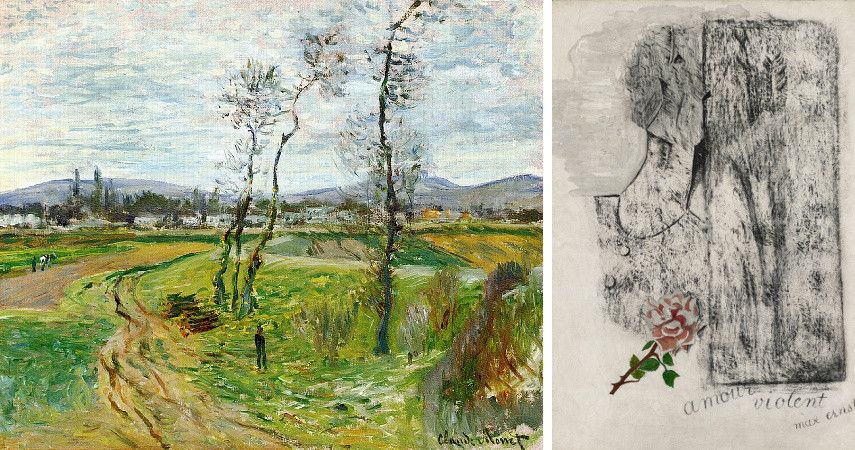 Post-War & Contemporary Art Sales at Christie's and Sotheby's (Nov 15, 16)
As far as post-war art is concerned, there are a few auctions to keep your eye out for.
Christie's Post-War & Contemporary Art Evening Sale (Nov 15) will definitely be one of those as it will feature works by the likes of Andy Warhol, Mark Rothko, Frank Stella, Jean-Michel Basquiat, etc. Although many of the offered works will be estimated on request, it is expected that Mark Rothko's Saffron (1957) and Jean-Michel Basquiat's Il Duce (1982) will bring in the most money, both being estimated at anywhere between $25M and $35M.
Two additional Christie auctions are also worth checking out if you are a post-war and contemporary art buff – Christie's Post-War & Contemporary Art Morning Session and Christie's Post-War & Contemporary Art Afternoon Session, both scheduled for November 16th. Between the two, an incredible number of works by pivotal artists will be offered up – pieces made by the likes of Hans Hofmann, Tom Wesselmann, Jean Dubuffet, Yayoi Kusama, Frank Stella, Anish Kapoor, Gilbert & George and Jeff Koons will be available, while some more affordable artworks by Andy Warhol and Jean-Michel Basquiat will also be acquirable for the right bid.
Sotheby's also prepared a vast collection of post-war and contemporary art pieces. Sotheby's Contemporary Art Evening Auction (Nov 16) will spotlight superb examples from some of the most significant movements of the latter half of the 20th century, including Abstraction, Minimalism, Pop Art and Conceptual Art. Although many impressive names will be a part of this auction, it would be considered a surprise if anything passes the price expectation set for Francis Bacon's Three Studies for George Dyer (1966) and Andy Warhol's Mao (1972), which are estimated to be worth $35M – $45M and $30M – $40M, respectfully. However, at least as far as Sotheby's is concerned, the best they have to offer in terms of prices will be presented at their Contemporary Art Day Auction (Nov 17).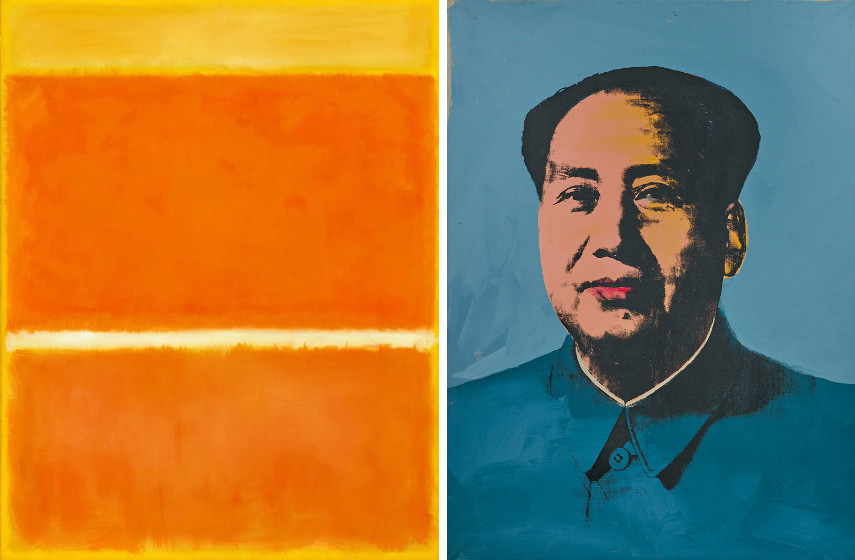 Sotheby's Contemporary Art Sale
Sotheby's Contemporary Art Day Auction set for the 17th of November will offer a strong selection of works spanning from the post-war period to the present. Although the aforementioned morning session includes highly sought after pieces by Jean-Michel Basquiat, Andy Warhol, Wayne Thiebaud, Joan Mitchell and David Hockney, the afternoon session will also present exceptional examples of contemporary painting, photography and sculpture. It will include works by such important and visionary artists as Albert Oehlen, Marlene Dumas, Richard Prince and Yayoi Kusama.
Furthermore, this sale also offers a strong selection of Latin American art, introducing such artists as Gego, Jesus Soto, Doris Salcedo and Carlos Cruz-Diez. As far as price expectations, this auction will definitely be a bargain-basement deal when compared to other entries in this article – it is presumed that the highest grossing pieces will be Andy Warhol's Self Portrait from 1978 ($1,5M — $2M), Mark Bradford's Exodus from 2006 ($1,2M — $1,8M), Willem de Kooning's Boudoir from 1950 ($1,5M — $2M) and David Hockney's California Interior from 1985/86 ($1,5M — $2M).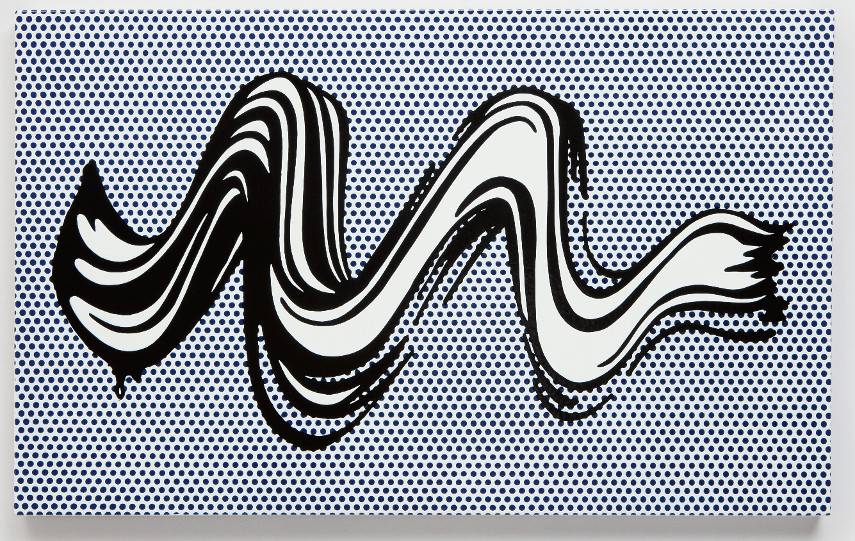 Other Highlights – Phillips and Bonhams
Although constantly overshadowed by it's larger competitors, it would be a huge mistake to oversee what Phillips prepared for this November's "grand slam" season of art selling. Specializing in contemporary art, only at a smaller scale than Sotheby's and Christie's, Phillips organized three notable auctions for this year – Phillips 20th Century & Contemporary Art Day Sale (Morning & Afternoon) (Nov 15) and Phillips 20th Century & Contemporary Art Evening Sale (Nov 16).
Phillips 20th Century & Contemporary Art Day Sale (Morning & Afternoon) (Nov 15) will offer a wide variety of artworks at affordable prices, at least when compared to some of the above-listed auctions. This will be a perfect opportunity to acquire pieces at a bargain deal as Phillips will offer artworks signed by extremely popular artists such as Roy Lichtenstein, Josef Albers, John Chamberlain, Tom Wesselmann, Agnes Martin, Damien Hirst, Frank Stella, etc. Works like Roy Lichtenstein's Brushstroke (1965) and Damien Hirst's Adenylosuccinate Lyase (1992) are considered to be the centerpieces of this auction and neither of them is expected to go for more than $800,000.
Although the two mentioned Philips auctions will have a hard time cracking the $1M mark with any one piece, that definitely won't be a problem for the Phillips 20th Century & Contemporary Art Evening Sale (Nov 16). This auction will feature the best of what Philips currently has in its arsenal and the prices will be showing precisely that. Offered pieces are attributed to leading contemporary artists, such as Peter Doig, Franz Kline, Cy Twombly, Jean-Michel Basquiat, Rudolf Stingel and Mark Grotjahn. It is estimated that two works will be leading this auction in terms of price tags – Peter Doig's Red House (1995-1996) estimated within the $18M – $22M range and Franz Kline's Sawyer (1959) presumed to be worth around $10M – $15M.
At Bonhams, on the other hand, the first in line is the Impressionist & Modern Art sale on November 14. Among the highlights, we have Louis Valtat's Catalogne, les tâches quotidiennes au mas, estimated between $100.000 and $150.000, as well as the collection of William and Mary Seavey, featuring Alberto Giacometti's Figurine [Femme debout au chignon] ($500.000-700.000), Joan Miró's Tête ($150.000-200.000), Max Ernst's Ohne Titel [Sedona Landschaft] ($500.000-700.000), and Giorgio de Chirico's Apparizione della ciminiera ($250.000-350.000). Also on offer is the collection of the late Dean and Jeanne Martin, with three seminal works by Diego Rivera.
The Post-War & Contemporary Art at Bonhams on November 15th, on the other hand, is crammed with big names. The highlights include two outstanding works by Ed Ruscha: S-Fam and A Nightclub Named "The Universe", both with low estimate of $200.000 and the high at $300.000. Robert Indiana's iconic LOVE sculpture is also there ($400.000-600.000), as well as Andy Warhol's monumental Puma Invader (Positive) ($1.2M-1.8M).
Other artworks of interest could be John Chamberlain's Ballantine ($250.000-350.000), Alfred Leslie's Four Panel Green-Big Green ($250.000-350.000), Agnes Martin's rare Untitled ($50.000-70.000), Dan Colen's dez ez sassy ez a jay-bird ($80.000-120.000) and It isn't that smoke but it's simple enough ($70.000-90.000), Zhang Xiaogang's In-Out Series No. 9 ($200.000-300.000), Deborah Butterfield's Dance House ($250.000-350.000), Olga de Amaral's Muro Tejido ($50.000-70.000) and Montaña ($70.000-90.000), and two Fernando Botero's paintings, Seated Woman ($200.000-$300.000) and Nude in Mirror ($200.000-300.000).
Featured images: Sotheby's Auction, via newsoftheartworld.com; Christie's Auction, via pinterest.com; A Phillips 20th Century & Contemporary Art Auction, via flockler.com; Bonhams, via artquench. All images used for illustrative purposes only.