New York November Auctions 2015 Analysis - The Decline of Guarantees
The time has come to sum things up, concerning big auctions that happened in November. This time, we have a very special occasion, since Mr. Domenico Filipponi, chief for art advisory services of UniCredit bank, has joined us with the analysis of what has happened during Post-War and Contemporary sales in New York at three biggest auction houses in the world – Christie's, Sotheby's and Phillips.
Ok, when you say that $828 million worth of art was sold in span of just few days and at just five sales in New York, your jaw is in danger of falling to the floor (this is ArtTactic's data, based on sales at the Post-War & Contemporary Evening sales at Christie's, Sotheby's and Phillips, as well as sales of contemporary art from Sotheby's The Collection of A. Alfred Taubman: Masterworks and Christie's The Artist's Muse: A Curated Evening Sale). Yet, when we put things in perspective, they start to look differently. This total amount of money was actually almost 25 percent lower than the amount of money gathered at the same three auction houses one year ago, in November 2014, and almost 30 percent lower than the result from May 2015. "This shows that the market will not necessarily go up all the time. It is the market's way of 'saying' that it is time to stop pushing high estimates. My opinion is that the results were not too bad, but the expectations were exaggerated", says Mr. Filipponi.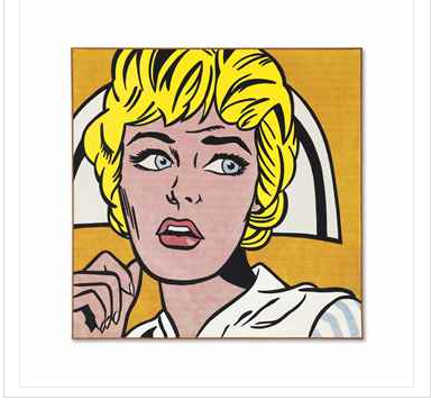 Christie's Halved the Guarantees During November sales
This total failed to meet low estimates of $877 million that were made before sales. When you compare the individual results by auction houses, it is clear that sales at Christie's had a huge drop – this November $410 million from Contemporary Art Evening sale (without buyer's premium) were more than 45 percent lower than the result from November 2014, and more than 46 percent lower than those from May 2015. This result was directly connected with the big decrease of guaranteed lots – in November there were only 26 percent guarantees at Christie's, which means that this house has halved the number of guaranteed lots from this May. This had led to Christie's reduced ability to lure as much attractive and desirable works as it did in May, and, consequently, to the amount of money collected.
Still, Mr. Filipponi thinks that Sotheby's has gone a lot worse than Christie's, even though the totals from sales at these two giants were roughly the same. "Even if they had more or less the same total, we could read the sales results completely different. Due to Taubman's property, expectations at Sotheby's were much higher. This means that Sotheby's did not do such a good job as Christie's did. It was just like the last London sales, when two auction houses were close, but Christie's had achieved the same amount of money without a star lot", says Mr. Filipponi.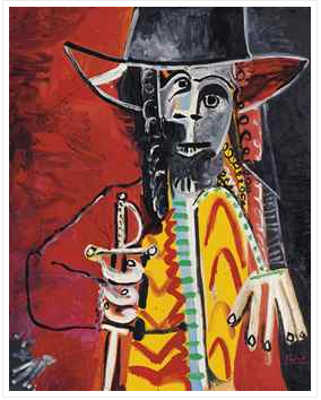 Sotheby's Shares Dropped big in 2015
According to ArtTactic's report for post-war and contemporary works, Sotheby's had almost 58 percent of guarantees, compared to total sales value, or 33 percent of guarantees compared to total number of lots. When we look what happened in May this year, we'll see that overall, more than two-thirds of all sales value in three auction houses were guarantees – 79 percent at Christie's, 39 percent at Sotheby's and 85 percent at Phillips. Because of the drop of Christie's guarantees, this number in November was lower, with 62 percent of all sales being guarantees, but Sotheby's has paid an enormous price. According to Bloomberg, this auction house has issued the biggest single guarantee of $515 million at Alfred Taubman's collection auctions. After this huge week, they had a total of $1.1 billion worth of sold art (that including the Imp-Mod sale), but its shares continued to drop, and its revenue has declined 9 percent in third quarter this year. From the start of the year, Sotheby's shares has dropped 33 percent, and after the November sales, the auction house has announced that it has offered voluntary buyouts to its employees, in order to cut costs.
"Expectations were much higher than the result", says Mr. Filipponi on Alfred Taubman's auctions at Sotheby's. "A lot of guarantees were granted, and Sotheby's has lost a lot of money. The climax was missing, especially with Modigliani's Paulette Jourdain. We always have to look at the past. When there is a big competition, houses push the bar higher, and things like this happen. In May, most of the sales will have no guarantees, in my opinion".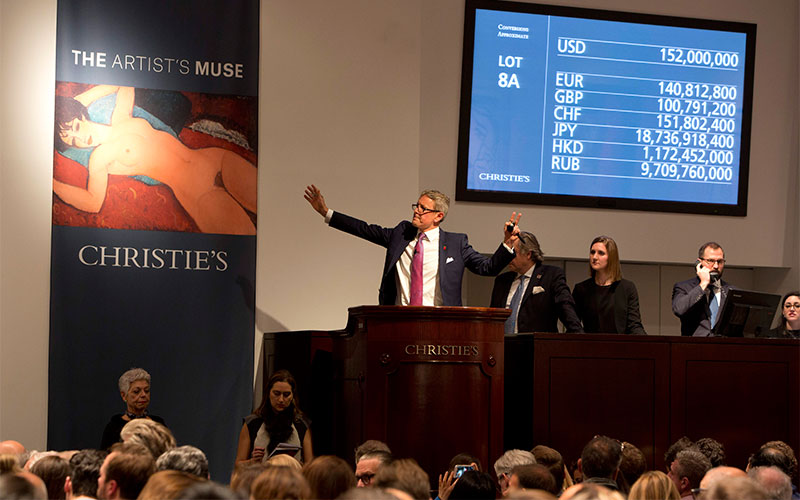 Reclining Nude – the Second Highest Result at Art Auctions
Now, when we talk about individual results, the biggest star of these auctions was, without a doubt, Modigliani's Reclining Nude, that was sold at Christie's Artist's Muse auction for $152 million ($170 million with buyer's premium), which was the second highest result of all time for an artwork at auction, behind Picasso's The Women of Algiers (Version "O"), that was sold this year for $179 million. It is said that Reclining Nude was guaranteed for $100 million, but this was not confirmed. "The Artist's Muse auction was much more exciting then the last year's one. The sale of Reclining Nude is the question of rarity for me. Simple as that. This is fresh on the market, it had good provenance and, once again, it's rarity. Just because of the guarantee, the vendor received less money. So, when you know that there is a guarantee, and that it took 5 seconds to reach from starting price to $100 million, it was clear that the result would be as it was", says Mr. Filipponi.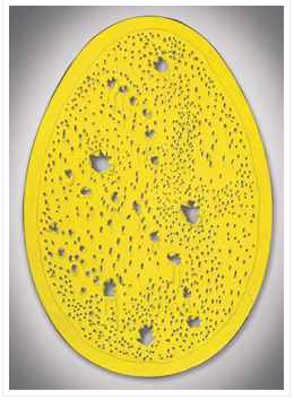 Lots That Were Hot
Now, let's take a look at which other lots were sizzling at evening auctions of contemporary art, Alfred Taubman's sale and Artist's Muse sale. First of all, you should read our piece on winners of November New York auctions, before everything else. And now, let's start with Sotheby's sales. Cy Twombly's chalkboard painting Untitled (New York City) was sold for almost $63 million at Evening sale, which was a world record for the artist. Another world record was broken for Frank Stella, since his Delaware Crossing was sold for $12 million at The Collection of A. Alfred Taubman: Masterworks Auction. Andy Warhol's Mao was sold for $42 million, and Willem de Kooning's Untitled XXI was sold for $22 million.
As for Christie's, after Modigliani's Reclining Nude, the highest hammer prices had Roy Lichtenstein's 1964 painting Nurse ($85 million) and Lucian Freud's The Brigadier, that was sold for $32 million. Lucio Fontana's Concetto Spaziale, La Fine di Dio broke the world record for the artist with almost $26 million, and Louise Bourgeouis' work Spider also broke the world record for the artist with the hammer price of $25 million. All in all, Christie's had 18 lots that were sold for $5 million or more, and 5 lots sold for $20 million or more.
Finally, Phillips that had around 5.5 percent of the market share in this November sales (Christie's had just under 50 percent of the share, Sotheby's had 45 percent), sold 35 out of 45 lots bellow the average estimate, and the biggest sale was Willem de Kooning's Untitled XXVIII, that was sold for $10 million. No other lot was sold above $5 million, and the only world record that was broken was for Toshimitsu Imai, whose work Lava was sold for $340,000.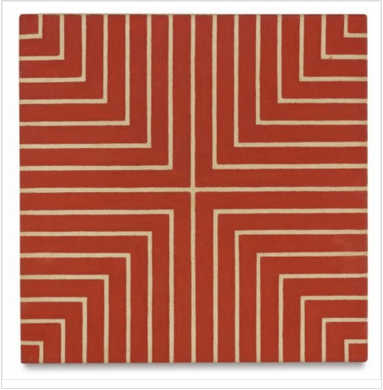 Domenico Filipponi's Personal Picks
Mr. Filipponi also discussed on which lots, in his opinion, were successful, what has surprised him personally, and how big galleries could influence the art market and art auctions."Frank Stella's small composition was sold for two times of its estimate (Stella's work Untitled, 30.5 x 30.5 cm, that was sold at Sotheby's Evening sale, R.M.). For me, this was a good signal about the Frank Stella's work, and 1960-1970 pieces by Frank Stella are something that could be invested in. The pieces from the eighties and later are looked upon by the market as maybe not so interesting. Also, Paul Gauguin's African sculpture Therese was an interesting lot for me, and a good buy. Low estimate was $18 million, and the result was very exciting. Rarity of this kind of piece is the key here – it is a very unique piece.
Lichtenstein's Nurse of course made a huge price, something I did not expect, and it was a personal surprise. Also, Picasso's late works were an interesting surprise. These sales show that the late works are sought for (more than $20 million for one Picasso from 1969 – that's a big price). It is interesting to say that after the Gagosian exhibition on late works by Picasso, the prices went up. This is a signal for the collectors, just like Francis Bacon and his late works – I invite you to take a look at what will happen next year in the market with the prices, after the exhibition at Gagosian. The power of big galleries can always be compared with the power of the big action houses. We must pay attention of what they are doing. We need to understand that the work they do for certain artists affects the auction results. Big rise of Piero Manzoni market is also not an accident, 4 years ago – this was also in correlation to the Gagosian exhibition. This, of course, being my personal opinion".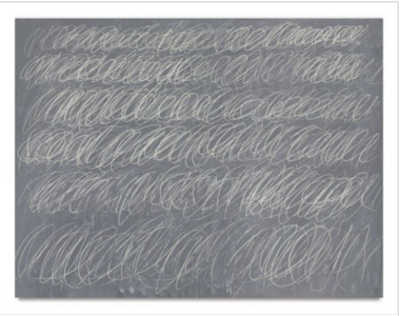 Chinese are Coming
Finally, we've asked Mr. Filipponi on the latest statement by the eccentric Chinese collector Liu Yiqian, that has bought Amedeo Modigliani's Reclining Nude. Yiqian said for the New York Times that "The message to the West is clear: We have bought their buildings, we have bought their companies, and now we are going to buy their art", which could be interpreted as if huge funds are coming to the West from China."I think that this is a very clear signal", says Mr. Filipponi. "It is telling us what is already under our noses. There is nothing wrong with this, but it is a fact – the presence of Asian buyers in New York was very much present and they were bidding for high-end pieces. Also, when we look at the telephone bid desk, there was a high number of buyers from Asia on the line. We should know that if we exclude Christie's, Sotheby's, Phillips and some other houses, all of the other major auction houses are from Asia", concludes Domenico Filipponi.