When Time Slows Down - Interview with Nicole Cohen, Video Artist
We are well beyond time when a moving image referred to film alone. For video artist Nicole Cohen, a moving image means a painting in motion, a visual presentation of something we expect to be still, but it in fact pulsates, glides, shifts and changes, allowing the suspense to draw the spectator in. We are more than just observers of her videos, we are participants, occasionally voyeurs, put in this delicate position willingly, aiming to uncover the secret of this magical space, but in fact, discovering many of our own thoughts and outlooks. We find ourselves strolling down the ornate French corridors, daydreaming in the gold of Hollywood, while the daily worries dissolve in the atmosphere conjured by the artist, even just for a moment. Charmed and intrigued, I've had the opportunity to talk to Nicole Cohen about her video art, the inspiring ideas behind it and a few real-life problems every video artist encounters.
Enter the world of slow timeflow and rich historical allusions.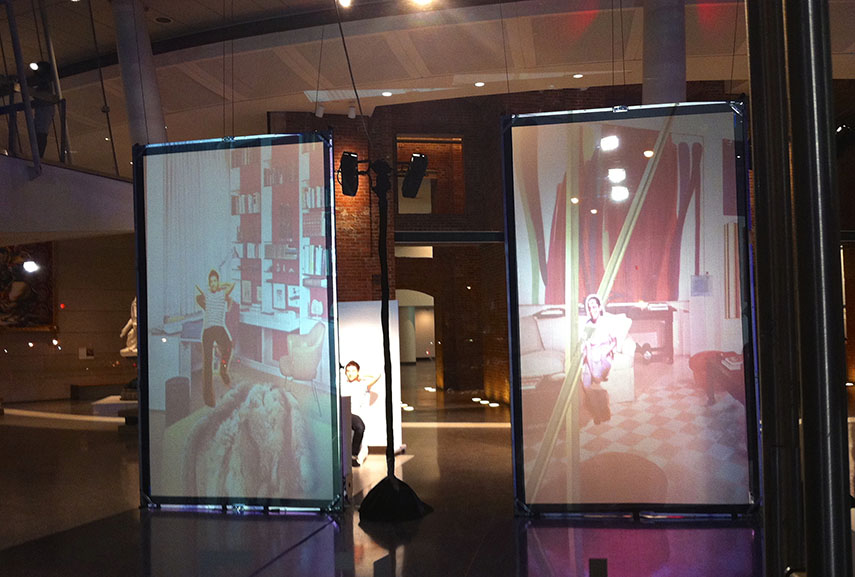 Drawing the Viewer In
Widewalls: You were classically trained in painting and drawing. How did you end up a video artist? 
Nicole Cohen: Yes, I started by paintings and wanted them to move and have sound, so I used the canvas as a screen or a theater to have the paint work with the video projection to animate it. At first, I painted toys and their adult counterparts, and I made the painting have headlights/ high beams (real light!). The light to me felt like a dialogue, the conversation between the cars, who were facing each other, and asking a question of the expectation of this toy. Really- my interest in video came from wanting the painting to move and activate the space.
Widewalls: Viewer is obviously an important partaker in your work. What are the techniques you utilize to draw the viewer into your videos? There is the surveillance camera, of course, but is there another, a secret method? 
NC: With my small videos work, the scale creates a voyeuristic feeling as you lean over and peer into the small video. The miniature effect makes the gaze into the video heightened by any small movements. Also, the slow movement in one area makes the viewer paranoid of the entire scene, looking for more movements…I use sound to bring the viewer into the atmospheric perspective as well.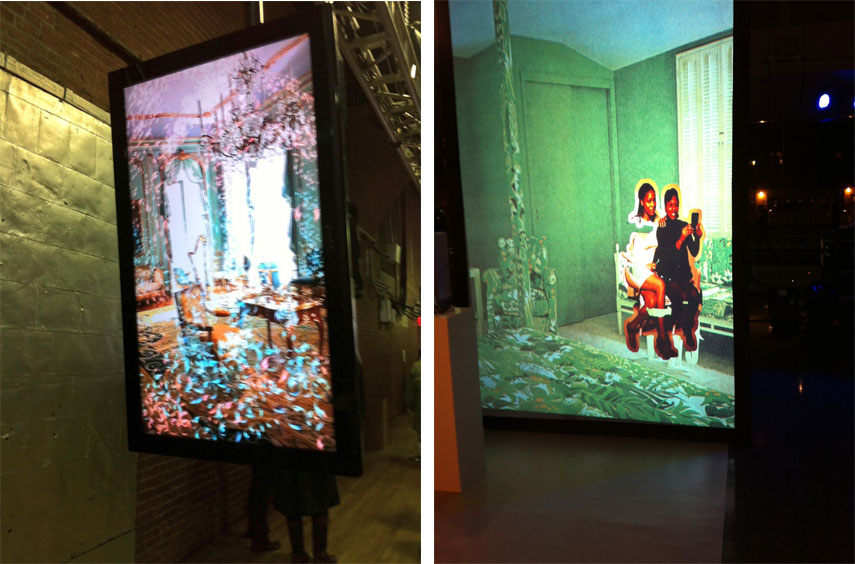 A Matter of Time
Widewalls: How do you choose music for your work? 
NC: I have worked with Jeff Fisher, a sound artist/composer in Berlin for my projects at the Brooklyn Museum, for my Marilyn Monroe Video, and for my show at American University of moving city circles. Recently, I worked with a composer David Garofolo for the Butterfly video. He composed the music to work with the video.
Widewalls: I've noticed that time moves differently in your videos. It slows down, it's thicker. How important aspect time really is for you and for your work? 
NC: Yes, that's great that you noticed this. The time is slower to see more, as things slightly appear and then it can move faster to give a more accumulative feeling of totality or reaching the maximum level. Atmospheric perspective is part of my language to hopefully draw the viewer into the work.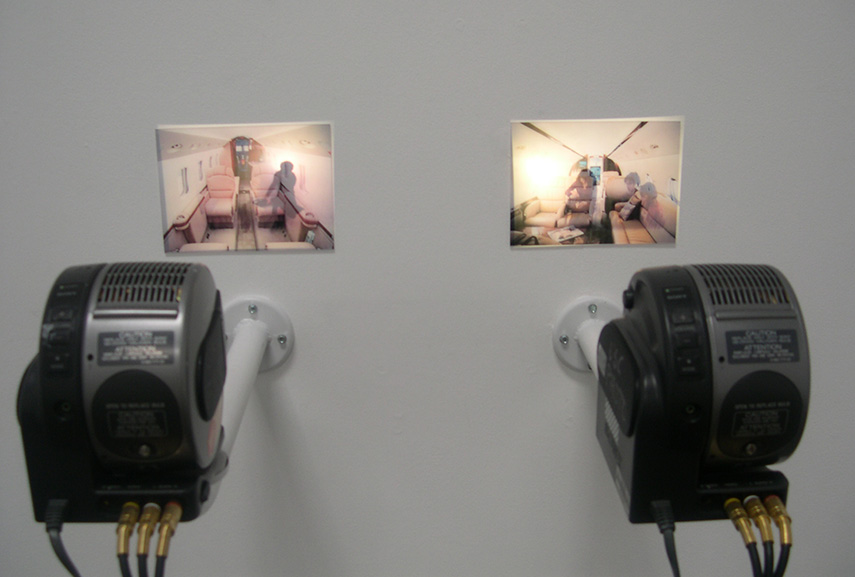 Inspired by Interiors and Portraiture
Widewalls: Although they often feature subjects and visuals that are publicly familiar, your video works somehow remain quite intimistic, when all of the elements are combined. When you create, to whom do you speak? One viewer, a group, or something/someone else entirely? 
NC: I do feel they are intimistic, as I really do love these images, period rooms, or historical locations. I guess I feel connected to them, based on my interest in learning about who the people were that inhabited these places. I felt strangely deeply connected with Marie Antoniette after visiting her home at Versailles, re-arranging her personal belongings and then going to French Azilum an area in Northern Pennsylvania, where she was supposed to escape too during the French Revolution. My project, French Connection, videos of a French asylum. The videos are installation based so the physical presence of viewers is key to the experience of the works.
Widewalls: Coming from the world of fine arts, how would you describe the style of your video work? Is there a particular influence or inspiration in the world of painting? What about the world of video? 
NC: My videos are installation based and are inspired by interiors and portraiture. The videos and collages of Hollywood Interiors are about the presence of the person in the video, even without their physical body. The absence of the person shows a spirits or essence of energy, which I find mysterious and of great interest.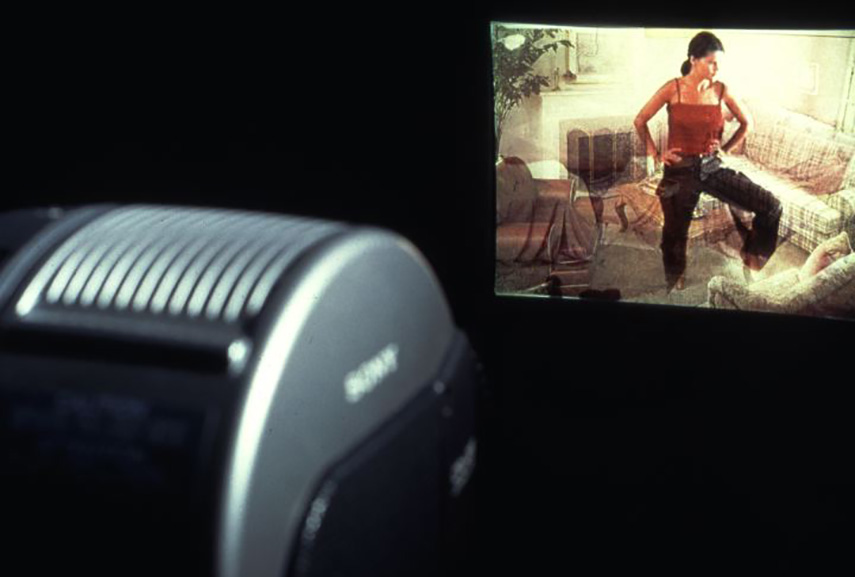 Video Works of Art
Widewalls: Let's talk about video commissions a little bit. When someone, say, an institution, commissions your work, how does the process go from the time you start work on your piece, to the moment when it is officially included in their collection? 
NC: Since my work deals with historical materials, such as: vintage magazines, historical paintings, period rooms, I am always looking for interesting possibilities within art collections. When I believe in a project I write up a proposal and hope that one day I will be able to present it to the appropriate curator or institution. I create a video drawing of what I would do and this makes it easier for them to understand. From there, you need to create a mockup to test the new video project to make sure all will work as you had hoped. When it is up and running well, you just see what the artwork is capable of and what the reaction is. There is no guarantee that an artwork goes from being commissioned into a collection. But, it's great if that happens! The collection of video commissions is easier now because of the advancements in technology.
Widewalls: How do they protect the video from being illegally reproduced or stolen? How do you do it? 
NC: There are new ways to look a video file or make it not able to duplicate, so that is helpful. Without an invoice and a signed copy it does not have the same value.
Nicole Cohen – On Location, 2015, commissioned video
Nicole Cohen on The Future
Widewalls: Is your latest work "Time Lapse"? What are you working on next? 
NC: I am working on a video inspired by a Dutch painter, titled, Time Lapse, 2015, representing a year, showing the different seasons, in one painting. The work will be exhibited at the Wave Hill Public Garden and Cultural Center.
Widewalls: For the end, tell us about your future plans, exhibitions or endeavors with the Berlin Collective? 
NC: I will be exhibiting new work during Miami Basel at the W Hotel with Twyla, a new innovative company, and Berlin Collective, The International Artist Network has a booth at X Contemporary Art Fair during Miami Art Week. Currently, in the studio I am working on projecting onto images again, but with a new approach.
Featured images in slider: Nicole Cohen – Please Be Seated video installation at J. Paul Getty Museum, 2007; Small Projection. All images are courtesy of Morgan Lehman Gallery and Shoshana Wayne Gallery.