Visceral Practice of Niele Toroni in Exhibition at Marian Goodman
What happens when Minimalism meets Conceptual art through a series of uniformly spread gestures, always the same, yet always different, over the course of almost fifty years? You get the art of Niele Toroni, a Swiss painter and one of the most radical living European artists. He dedicated his life's calling to "affirm the existence of painting as such" through his Travail/Peinture (work/painting) method and the trademark imprints of a no. 50 paintbrush. Coming to Paris's Marian Goodman Gallery for the first time, Niele Toroni will present new paintings on canvas, oil cloth and paper, as well as two site-specific interventions, in an exhibition entitled En Passant.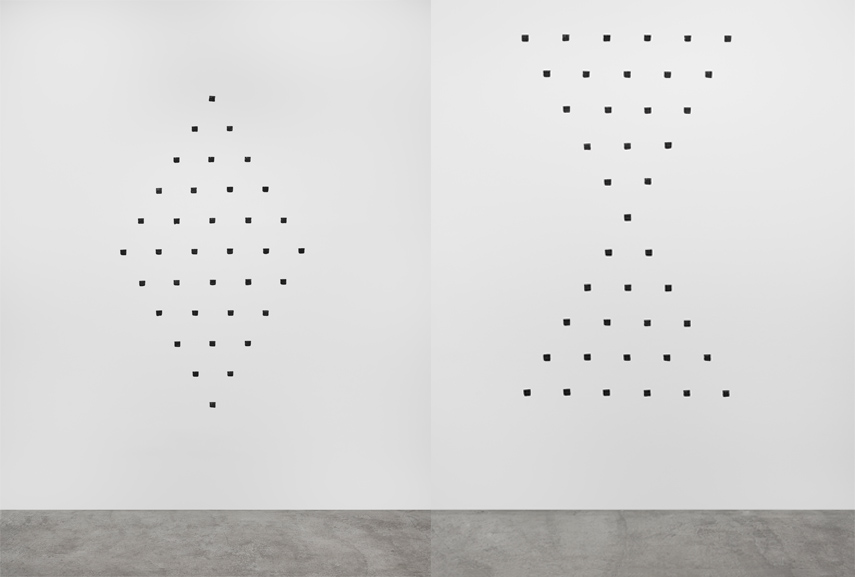 Travail/Peinture – Imprints of a no. 50 Paintbrush
Ever since the year 1967, Niele Toroni has been working in the exact same manner. To any kind of surface, be it canvas, paper, wall, fabrics etc., he has been applying imprints of a no. 50 paintbrush, repeated at perpendicular 30-centimeter intervals. The color of the imprint could be any, as long as it stays consistent throughout the entire surface of his support, thus ensuring originality in his every work: no travail/peinture is ever alike, just like no imprint is ever alike. Niele Toroni insists that his art does not convey any message or mood or story, he simply paints, as tenacious and precise as a painter can get, without any help, ever. There is no story to tell, only the gesture of making paint imprints visible, and it is only then that the work/painting may be generative of new ideas.
The Minimalist BMPT Art Group
Niele Toroni's patterns of imprints have become his artistic signature, establishing his name among those of the first generation Minimalist painters in Europe in the 1960s. Together with fellow artists Daniel Buren, Olivier Mosset and Michel Parmentier, he founded the BMPT art group, whose name derives from the artists' surnames. Alongside the Supports/Surfaces movement, the group represented Minimalism in France. The BMPT challenged the established methods in art-making and tested ideas of authorship, often claiming they made each other's works and that what matters in a painting is the objecthood, not originality. And so, Niele Toroni's imprints stand hand-in-hand with Daniel Buren's painting with vowed black and white stripes and Olivier Mosset's identical oil paintings of a small black circle at the centre of a white canvas.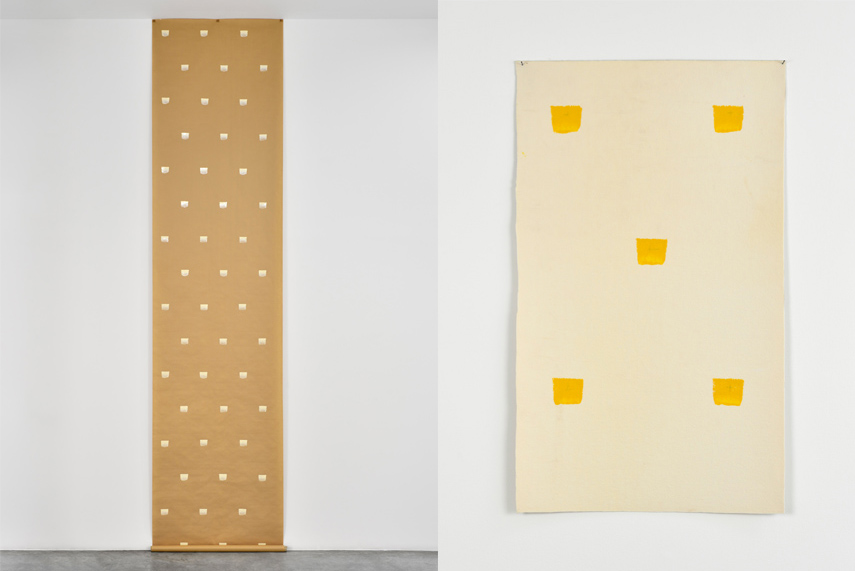 En Passant – Niele Toroni Exhibition at Galerie Marian Goodman Paris
Although Niele Toroni's imprints cover the walls of many European institutions, such as Castello di Rivoli in Turin, Hamburger Banhof Museum für Gegenwart in Berlin and Musée des Beaux-arts in Lyon, Paris is still the closest to his heart, as his first travail/peinture saw the light of day at the Salon de la Jeune Peinture in the Musèe d'Art Moderne de la Ville de Paris. One of his patterns was also painted over the museum entrance, in 2001, and the institution hosted a show of his only recently, in 2015. Now, Niele Toroni's En Passant exhibition opened on March 5th at Galerie Marian Goodman in Paris, France. It will stay on view through April 16th, 2016.
Featured images in slider: Exhibition views, Niele Toroni, En passant, Galerie Marian Goodman, Paris, 2016. Photo credit : Rebecca Fanuele; Imprints of paintbrush no. 50 repeated at regular intervals of 30 cm, 1976. Black acrylic on oilcloth, 38 3/8 x 53 7/8 in, 97.5 x 137 cm; Niele Toroni at the Swiss Institute, New York, 2015; All images courtesy the artist and Marian Goodman Gallery.