No Ad: Street Art App that Erases Advertising
It's fair to say we live in an ad-infected world as advertisements firmly reside in every pore of our environment. They linger above our heads while we drive on highways, they wait for us at the local subway stations and can be seen inside every public transport vehicle. Numerous companies fight for our attention by placing ads everywhere they physically and legally can. Big cities like New York are particularly swamped with advertisement due to the massive number of potential consumers. But now a new street art app has emerged that can rescue New Yorkers from the ads that surround them – at least while waiting for a subway.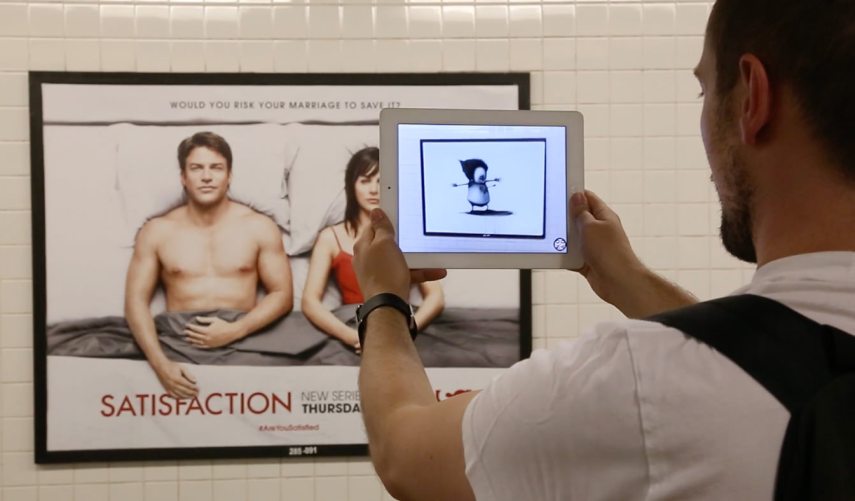 Art vs. Ad
Ads-placement in the city scrapes had reached massive proportions and is responsible for the visual pollution that effects people much like any other form of pollution. Ads are wrapped around every part of our environment which is not only visually unappealing but also disorienting and may even seem threatening to people who feel surrounded by them. Cities are so overwhelmed with commercials that sometimes it almost seems like we are living inside one giant, never-ending advertisement. Artists have spent years trying to take back the public spaces by removing ads or replacing them with their own work or with classic art masterpieces. But the effects of these interventions were insufficient and temporary. Now they invited technology to the rescue and created No Ad app. And the future of Art vs. Ad battle finally looks promising.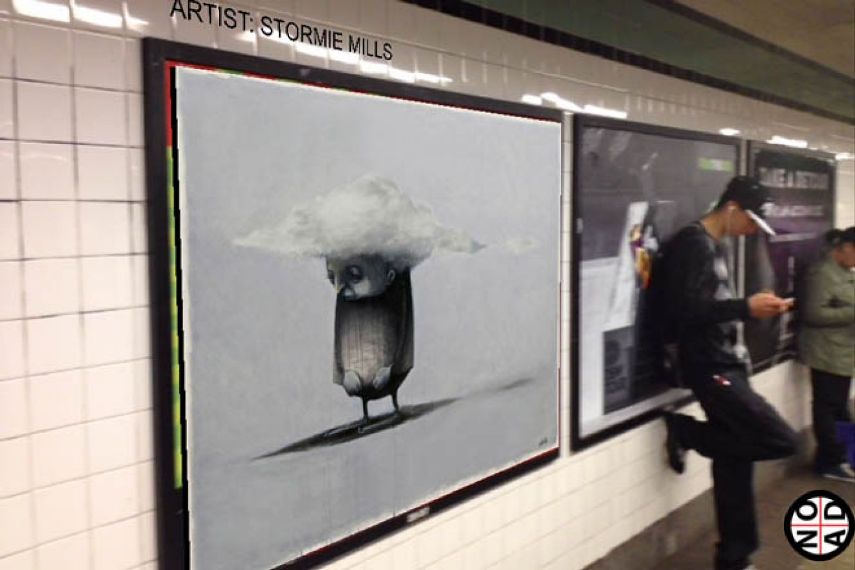 How does the No Ad Street Art App Works?
No Ad app turns everyday wait at New York subway stations into a curated art experience. This street art app is available for iOs and Android operating systems, it's free and easy to use. All you need to do is to download the app and launch it on your smartphone. When the camera starts up, point the device at a subway ad and watch as it turns into a work of art. The application contains works of 50 street artists but this is only the beginning. No Ad App creators announced collaboration with independent curators and new and exciting content every month in order to keep up with constantly changing subway advertisement structure. No Ad street art app was created by Re+Public a collaborative project of PublicAdCampaign, The Heavy Projects and Jowy Romano of Subway Art Blog.
 No Ad App Promotional Video
No Ad Yes Art
No Ad application aims not only to turn the unwanted advertisements into an exhibition space but also to change the way people of New York see street art and their own surrounding. New York residents who tried the No Ad app are thrilled with the application that says "No to Ads but Yes to Art" and gives them something fun to do while waiting for a train. For now, street art application can be used only at the subway stations of New York but hopefully the project will extend to other cities soon enough.
Would you like No Ad application to include your subway station? Leave a comment on our Facebook page 
No Ad app is Free and so is My Widewalls so sign up immediately
Featured image: New Yorkers Testing No Ad application and No Ad App Logo Images courtesy of No Ad