NuArt Festival 2015 Report from The Spot – The Final Recap
After reporting from the streets of Stavanger about all the new public works created there, on September 5, we had the chance to enjoy the opening of Nuart Festival 2015. This event also marked the closing of the festival and attracted a huge number of local and visiting art lovers. Shared between the participating artists the tunnels of a former brewery were packed with fantastic new art painted, created and put together especially for this show. From posters, video projection, sculptures, installations to murals and paintings, this year's show once again raised the bar for the quality of art presented annually in Norway's oil capital.
Sandra Chevrier  painted a collaborative piece with Martin Whatson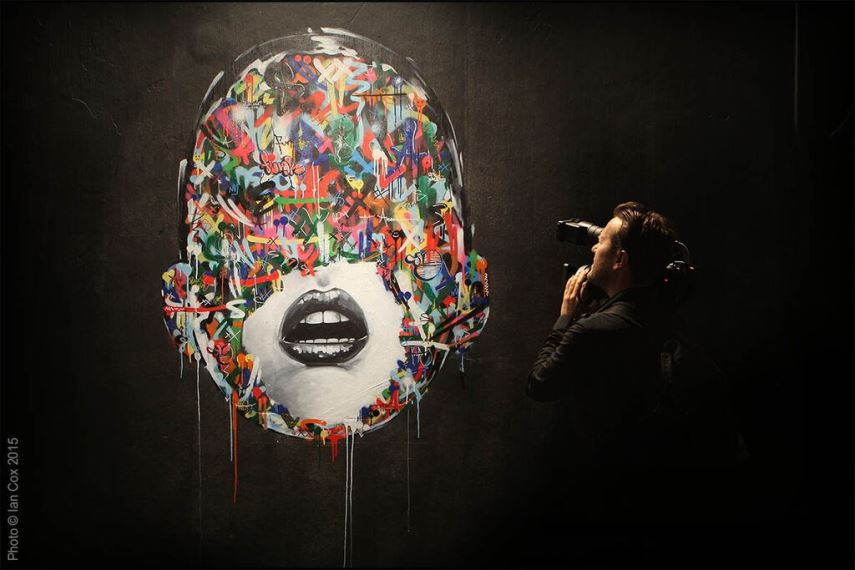 Nuart Festival 2015 – New Works by Bortusk Leer, DotDotDot, Bordallo II and Pixel Pancho
Replacing newspaper for plywood, Bortusk Leer created his biggest and most elaborated installation to date. Combined with murals he painted inside the space, his installation was a complete visual overload of colors, shapes and silliness. Next to his work, Dot Dot Dot exhibited a simple installation consisting of golden shutters, continuing his new, abstract direction introduced with Buffiti series of works. After finishing the large dear made of garbage on the outside of the building, Bordalo II moved inside to create a large sculpture of a whale stranded on the rubbish infested beach. Next to his work, Pixel Pancho created a vintage looking, malfunctioning robot surrounded with ivy and lose gears.
Work by Ella & Pitr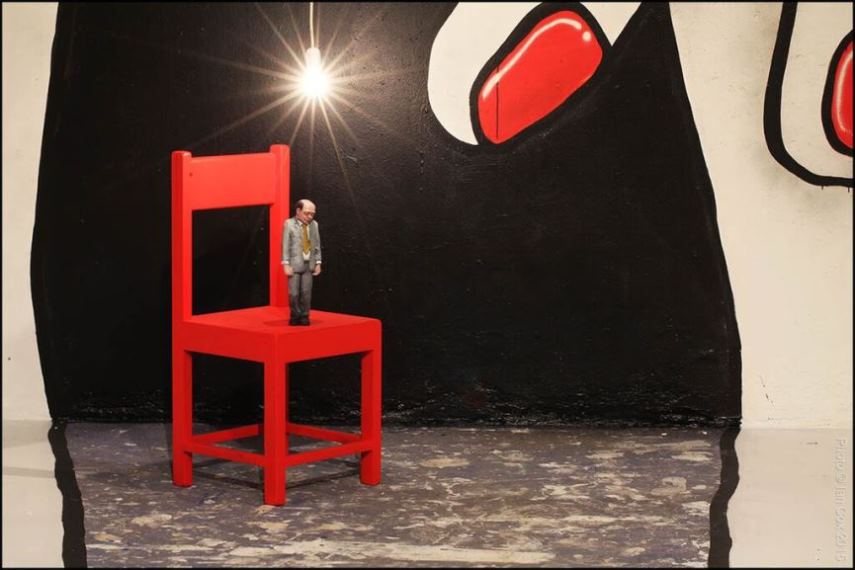 Celebrating Street Art at Exhibition
Next room was reserved for fantastic creative machine that are Ella & Pitr. In their signature style the duo painted the floor, walls and ceiling of the space showing only legs and hands of a giant. The grandiosity was accented by sharing the space with Isaac Cordal whose tiny business man were scattered on piles of dirt, aimlessly wandering around and starring in the distance.
Ernest Zacharevic created an impressive installation inspired by the immense migration crisis that is hitting Europe. His signature kid characters were this time placed on top of a paper boat, floating on the open seas under the scorching sun. Both playful and sobering the installation quickly became one of the favorites in the show. Next to his work, Martha Cooper presented a slide show of her photographs showing kids at play while Sandra Chevrier painted a collaborative piece with Martin Whatson.
Bordallo II created a large sculpture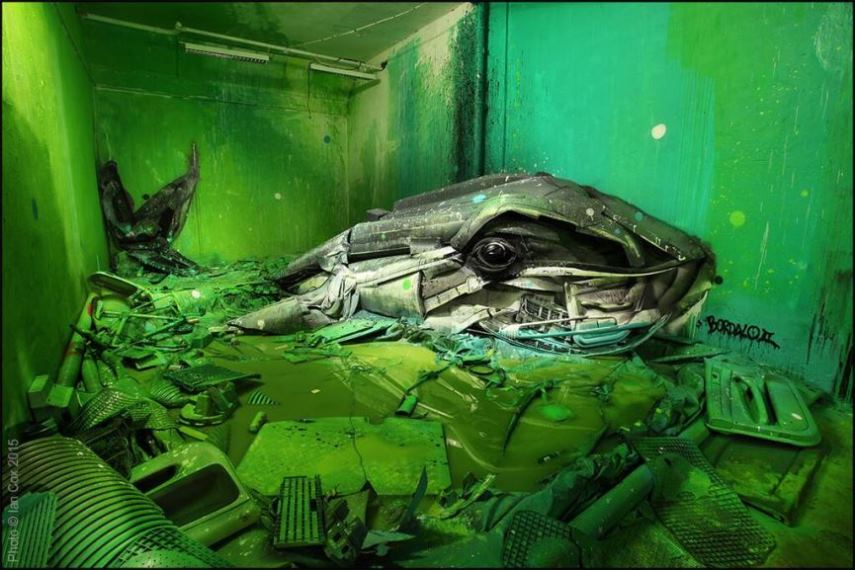 New Work by Futura
Iranian-born Icy & Sot decided to try something new for this show which definitely paid off. Their minimalist installation showing a lonely lush tree was made of plastic bags which were in juxtaposition with the fresh air that was flowing through the space.
The main corridor of the space was shared between Harmen de Hoop who showed a video of his public performance to a small improvised classroom while Jaime Reid's team put together a large poster installation with legendary imagery right next to The Outings Project's large paste ups of a classic painting.
The show ends with a final tunnel in which Futura painted a large abstract piece using only black, white and couple shades of grey. Gradually getting darker and busier, the piece shows the great creative energy coming from one of the pioneers of abstract graffiti. Norwegian art sensation Martin Whatson used the opportunity to exhibit shoulder to shoulder with the legend by creating a large butterfly image created fully of blue tones graffiti elements. Nailed to a wall, his work perfectly completes Futura's abstract work.
If you want to be informed about amazing some amazing street art, sign up for My Widewalls for free!
Featured Images:
Martin Whatson (photo Ian Cox)
Isaac Cordal (photo Ian Cox)
Bortusk Leer (photo Ian Cox)
Nuart festival 2015 exhibition