OBEY Protects the Sacred
Born from the innate human need to resist the oppression, street art has always been the symbol of survival, the beacon of hope in the most stressful of times. It directs the public attention to people, giving them all, from a different setting in their surroundings, to all the benefits of its message. Street art is inherently postmodern, sure, but more so, its essentially human, and this is why it's always born where it's needed the most.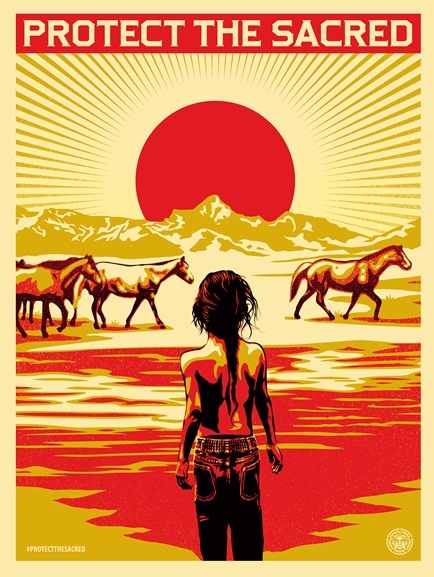 Symbolism of Protect the Sacred Image
Fairey's print is named Protect the Sacred, based on a photograph by Aaron Huey. It depicts a young Native American boy gazing into the distance and a group of free horses. Symbolism is overwhelming within the image, and it serves its supporting purpose perfectly – advocating Native American rights and standing behind the Honor the Treaties policy. Although colored with a strong local sentiment, Protect the Sacred print possesses a universal quality, addressing the environmental issues worldwide, whereas the scene can be transplanted to any naturally endangered community, whether it is indigenous or not. An exception from Fairey's usual palette, this print lacks the common amount of black, being illuminated with heaps of yellow and golden nuances, warmly highlighted in red.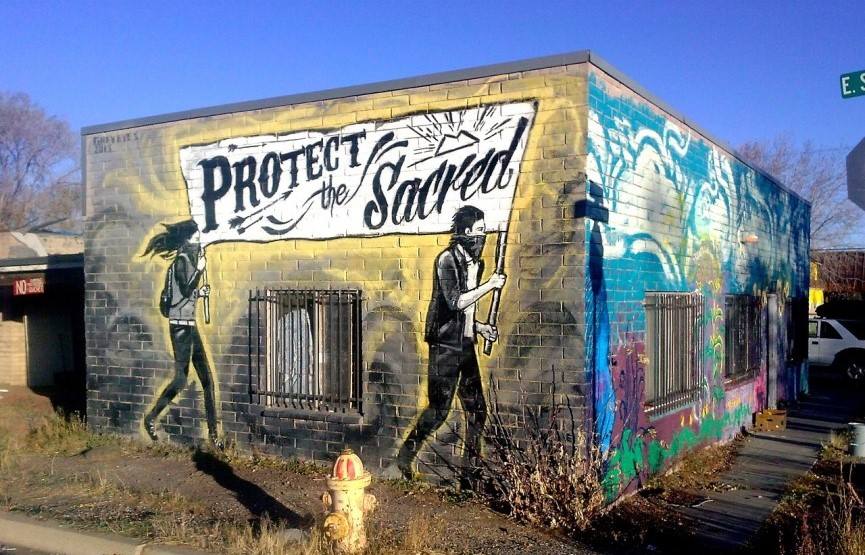 Honor the Treaties Organization
Art and advocacy are the primary tools of Honor the Treaties, an organization devoted to protecting indigenous heritage on the American soil. Their projects are based on funding collaborations between Native artists and Native advocacy groups, with a goal to transmit their message to broader public. Believing that Art has the power to change things, the organization is strong in making the voice of Native American people heard and protecting their interests in cases, such as the controversial Pine Ridge Reservation case. This case, a clear example of treaty breach by the US government, has already been an inspiration for the previous collaboration of Shepard Fairey and Honor the Treaties, in which the artists made The Black Hills Are Not For Sale poster. With multiplying projects and more art being funded, the organization is taking over the local and national streets slowly, spreading their message and battling for change in this very moment.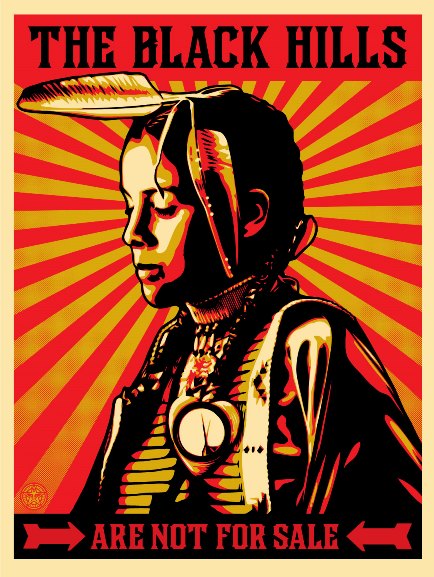 The Shepard Fairey Print
Protect the Sacred Print was released on November 11, 2014, available at OBEY store. An 18 x 24 inch Screen Print, signed by Aaron Huey and Shepard Fairey is issued in the edition of 450, at cost of $60 each, but is already all sold out! Additionally, a 24 x 36 inch offset print on thin paper is released, selling as a signed print and also unsigned, in packs of 10, for public pasting of the buyer's preference.
If you're a fan of Shepard Fairey, or a keen art activist, sign up for My Widewalls and make the street art and graffiti news your own!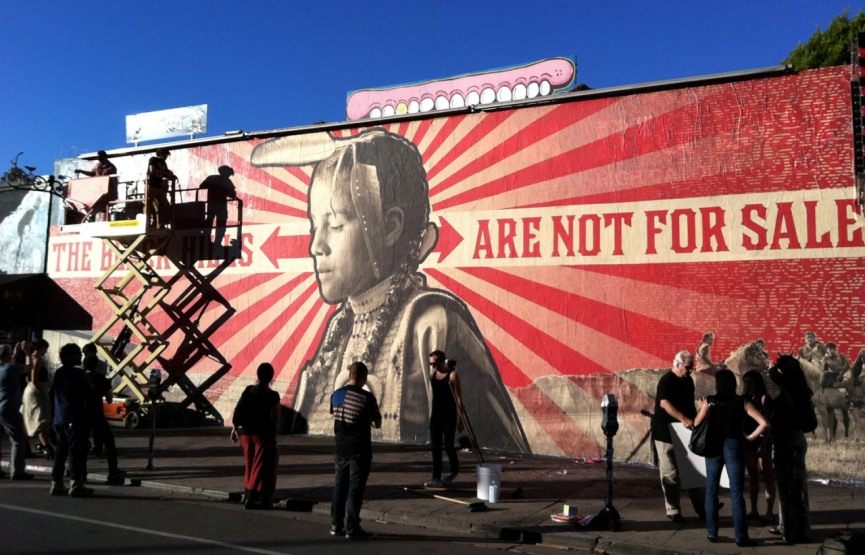 [mc4wp_form]