October Gallery Presents: Wang Huangsheng
One of the most influential figures on the arts scene in China, Wang Huangsheng, will soon be hosted by October Gallery for his first solo exhibition in London. This versatile artist will showcase the unique Chinese ink on paper works from his Moving Vision Series, which reinvent the notions of traditional brushstroke painting and explore the meanings of language, signs, symbols, words, lines and worlds we have not yet experienced.
The Art of Chinese Artist Wang Huangsheng
Wang Huangsheng was introduced to the world of the arts at a young age, as his father was a noted Chinese Literati painter and calligrapher. During the ten years of Cultural Revolution, between 1966 and 1976, he picked up on the intrigues behind painting and poetry, both of which influenced him greatly. Following the Chinese thought that painters and poets have the ability to characterize reality, Wang Huangsheng strives to merge traditional values with the individual expressions of the contemporary times. His artistic practice comes from the symbolic pictorial characteristics of the letters in the Chinese language, usually constructed of horizontal, diagonal and vertical lines, directly depicting the objects and ideas they represent. The process of generating stories from a simple action of drawing a combination of lines is one of the main guidelines in the artistic work of Wang Huangsheng.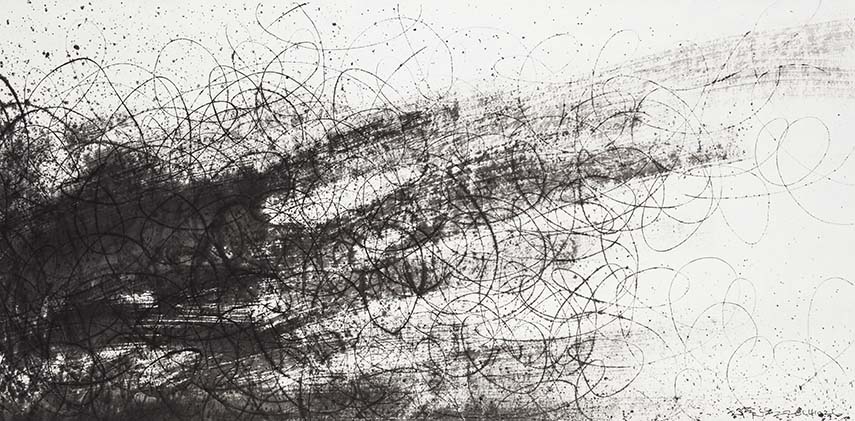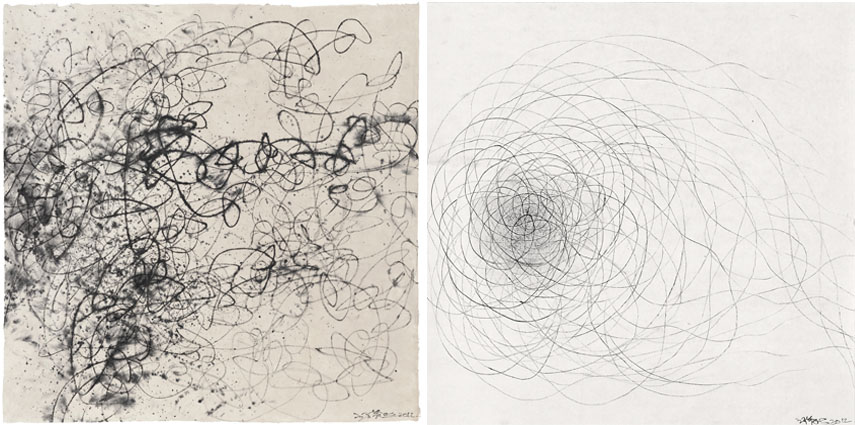 Painting The Unbroken Line
The title of the exhibition coming to October Gallery derives from Wang Huangsheng's painting technique of working primarily with single unbroken line. By doing so, he goes way back in time, to the world before language, where abstract lines told the stories of nature beyond words. In a continuous process, the artist tests the limits of consciousness, letting his creativity go about in complete freedom. Like otherworldly, his artworks represent a message made of moving lines, moving visions, twisting and turning as they merely follow a feeling, an intuition, an idea. The Chinese Literati artists also used the same basic strokes, brushes and inks to broad the description of the worlds they depicted in their representational paintings, and many of them contain a written poem as well.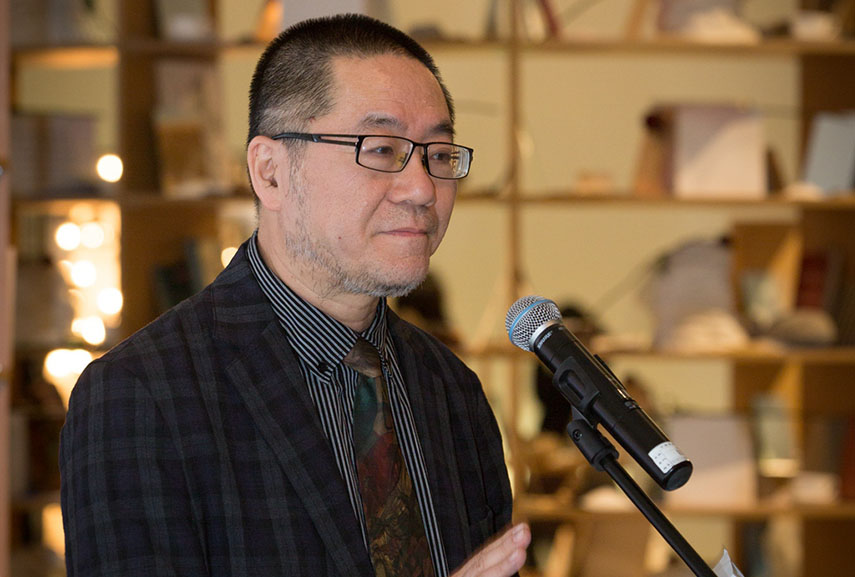 China's Wang Huangsheng at October Gallery
Wang Huangsheng was born in China in 1956. He received his MA in Art History at the Nanjing Art Institute in 1990 and a Doctorate in 2006. His light installations, sculptures and Chinese ink on paper works can be found in many international art collections, including the Uffizi Gallery in Florence, Italy and the National Art Museum of China in Beijing. Wang Huangsheng is currently the Director of the CAFA Art Museum, the most influential art space in China, previously being the Director of the Guangdong Museum of Art.
Catch Wang Huangsheng: Unbroken Line at October Gallery in London, UK, from May 14th until June 20th, 2015. A Private view of the exhibition will be held on May 21st from 6pm to 8.30pm.
For more great art, sign up for My Widewalls!
Featured image: Wang Huangsheng – Moving Visions 140919, 2014, detail. All images courtesy of October Gallery