Artist of the Week - Okuda
This week, without a single doubt, we decided to pass the Artist of the Week title to the Spanish artist Oscar San Miguel Erice whom you all know better as Okuda. Earlier this year Okuda painted a monumental mural in Kiev, which also happens to be the largest public piece he has done so far. Nonetheless, Okuda San Miguel didn't stop there and decided to go even further. In the past few years, we have witnessed some great artistic achievements in street and urban arts, but what Okuda did recently just raised the bar a little bit higher. Last week, Okuda wrapped up the biggest project of his career and possibly the most innovative artistic endeavor we have seen lately. Engaging in a dialogue with the art history and the Old Masters, famous for their church commissions, Okuda decided it is time for him to get his personal Sistine chapel and painted a full interior of the church of Santa Barbara, Spain that was recently transformed into a skate park.
Okuda's Art - Where Abstract Meets Surreal
In the community of street art admirers, Okuda is best-known for his outstanding mural works and unique painting style that fluctuates between abstract geometry and surreal figuration. His artistic career started with paintings on the abandoned buildings in his hometown of Santander, and later evolved to encompass all kinds of artistic mediums from installations and sculptures to photography works and tapestry. Okuda has built his artistic approach on contradictions, whether it is stylistic opposites or juxtaposed ideas about our contemporaneity. In his oeuvre vibrant geometrical shapes collide with monochromatic organic figures, influences from the art history meet the essence of street art practices and modern culture becomes interwoven with our ancestral heritage. The work of Okuda is based on the distinctive dualities that define our world from the deceptive nature of freedom in Western capitalist system to universal paradoxes of our earthly existence. The distinctive visual style and powerful social commentaries brought wider recognition to the Spanish artist who is now among the most interesting figures on the contemporary urban art scene.
Kaos Temple - Crowned Jewel of Okuda's Oeuvre
Although he has gained an army of supporters and admirers over the years, Okuda is one of those artists that does not sit idly and enjoy the moments of fame. He constantly pushes forward, evolving with every single new project. We have seen some amazing works from the artist recently like his mural The World-Love is Ours painted on a 16 floors high building in Kiev, Ukraine and just a week ago even more astonishing work in the Skate church in Spain. After months of planning and weeks of work, Okuda San Miguel finished his most serious and most complex project to date. Three years ago a group of local skateboard enthusiasts repurposed the abandoned church of Santa Barbera in Asturias, Spain and turned it into an indoor skate park. Okuda fell in love with the place as soon as he saw the architecture and at the end of November started working on the interior walls. In just a few weeks, the artist covered the vaulted ceilings and walls with colorful kaleidoscopic portraits, geometric patterns, and surreal figures. His signature Kaos Star became the new emblem of the church which is now also known as Kaos Temple. Okuda did an outstanding job, completely transforming the atmosphere and reawaking the forgotten spirituality of the place. It is by far the most unique project he has done, but we do not doubt that he will continue his path of greatness in the future.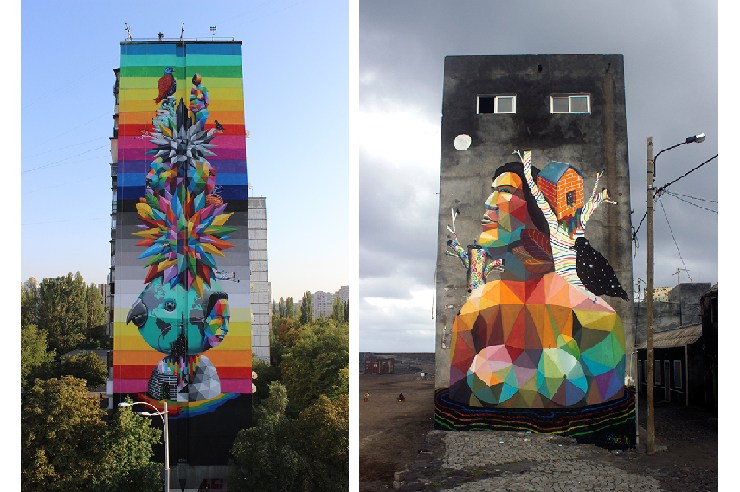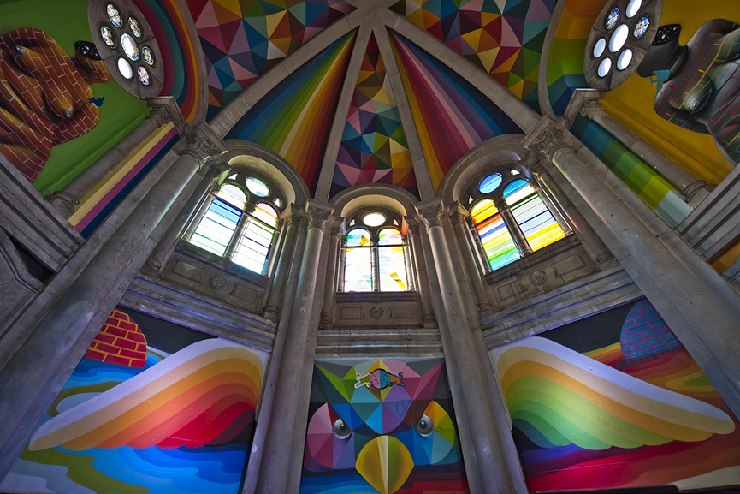 Featured images: Okuda. Photo credit Elchino Pomares via arrestedmotion.com; Okuda in NYC; Remed and Okuda; Okuda – Kaos Star, 2014. Moscow; Okuda – Kaos Temple, 2015