I Haven't a Single Explorer on My Planet
Unique and unrestrained Polish artist, currently based in New York, Olek, is having a solo exhibition at the prominent San Francisco street art gallery White Walls. Olek is known as a guerilla knitting activist, and her crocheted crafts have been covering many walls, public statues, objects and other forms of urban furnishings around the world. She had a fantastically prolific 2013, and she started this year actively, yarn bombing a New York fence and Katowice Prison in Poland. Her yarn art will cover the walls (and not only!) of the white space in the show titled I Haven't a Single Explorer on My Planet, opening on February 8. This very different spatial exhibition will be on view till March 8, 2014. San Francisco street art gallery exhibition White Walls will surely bring an exciting and innovative installation to the Bay area public. We look forward to the experience!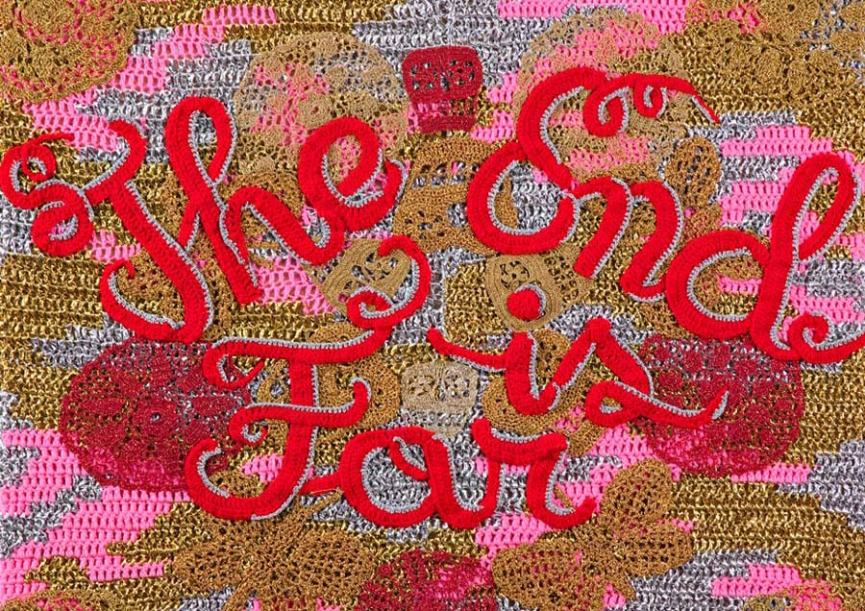 The San Francisco exhibition will consist of a large scale installation including a life size boat at the center of the space, encompassing Olek's views on freedom throughout a selection of completely new artwork. The boat usually stands as the ultimate symbol of independence, as it normally sails freely in the open sea, changing its course as it sees fit. Contradicting the natural state of a boat, Olek captures it in an enclosed space, covers it with crochet, thus diverting the attention to the much restricted freedom imposed by the political and other circumstances of the society, with the principal message being that we are cemented until we decide to break free and progress.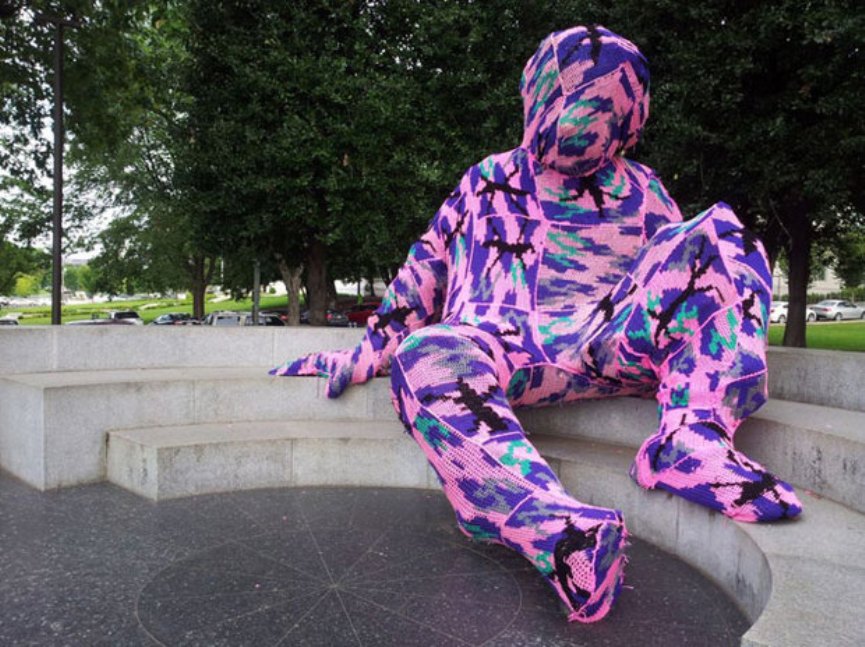 Yarn art of Olek
Yarn art of Olek is always the reflection of her personal views, emotions or experience. Growing up in Poland, her family was going through difficult times financially, and the young creative learned to get crafty with what she had, making Christmas decorations and other trinkets saving and recycling what would be household trash, and reinventing it in the most interesting ways. Learning not to waste and not to be greedy during the crucial, formative years, Olek has grown up to be the generous creator of the warmest form of ephemeral street art, in the effort to underline the existing truths, resurrect memories, honor history and memorialize dreams.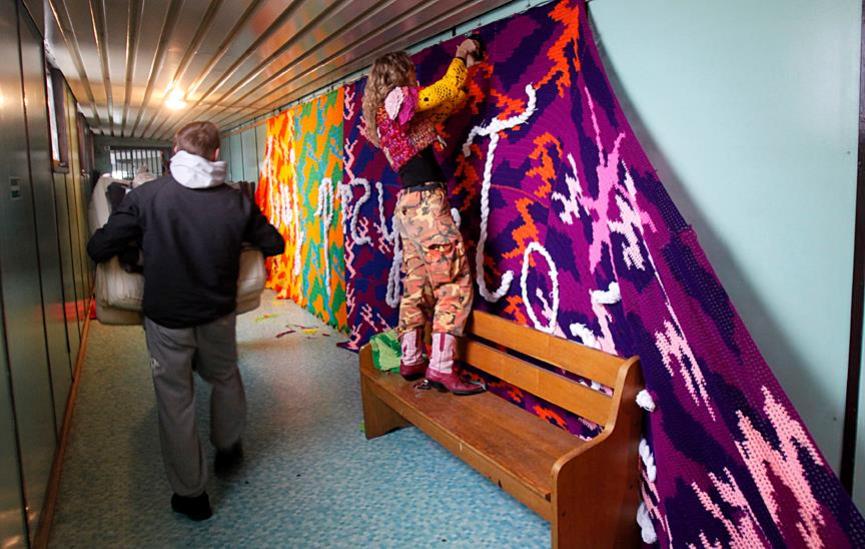 Finished pieces of Olek's guerilla knitting are quite astonishing, often entirely masking hard to reach objects. The explosion of color and the tactile nature of her yarn art provide a particular appeal communicating with everyone, confirming the democratic essence of her artistic expression. These unique pieces take us back to our childhood, to grandma's home, to being tucked in and feeling warm and loved, while they raise an array of important questions regarding boundaries that we suffer from, whether they are imposed by the environment or by ourselves. Some of the notable pieces Olek executed art the Wall Street Bull, covering of Albert Einstein statue in Washington D.C., an action in Hong Kong mall, the yarn bombing of El Cid horse statue in Seville, Spain and her most recent installation in Polish prison, proclaiming that future for the released inmates brings new freedom through the Polish statement meaning Kiss the Future. Through her acts of camouflaging the great public objects, Olek does not hide them, but rather transforms them into new symbols of freedom, incorporating the positive and the inspirational they already possess and giving them new life.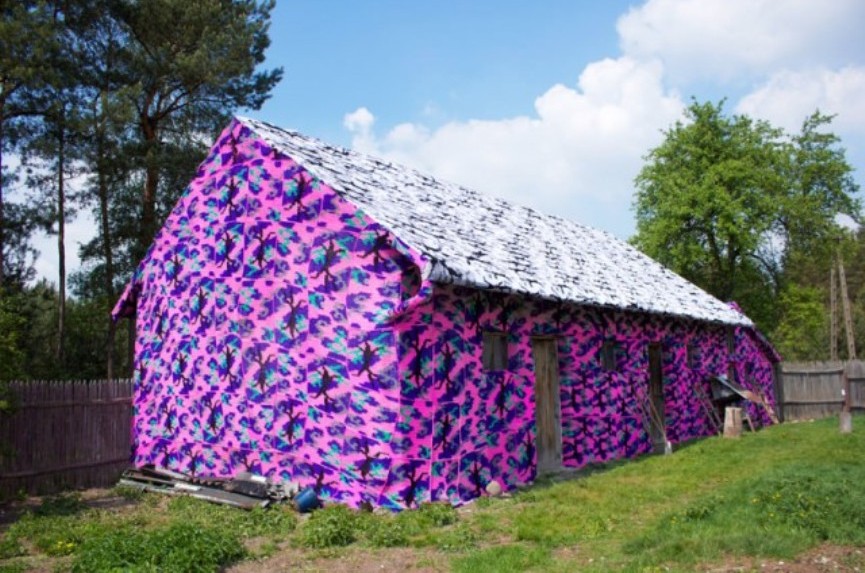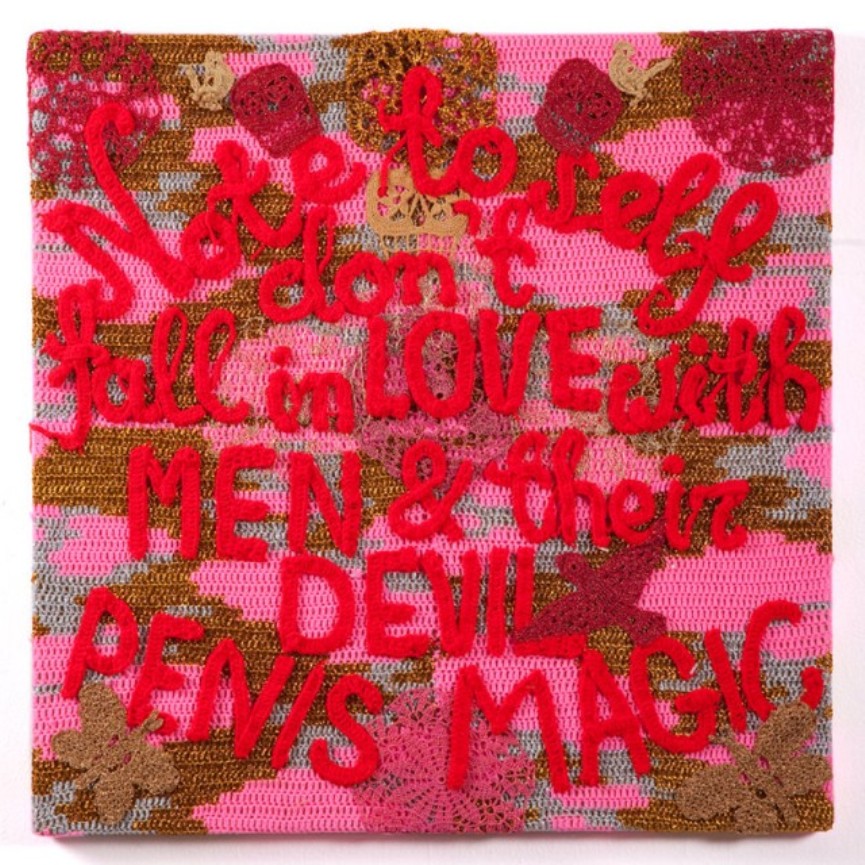 Olek
Born in Poland as Agata Oleksiak in 1978, Olek grew up during the turbulent transition times of Eastern European region. She graduated in Poznan, and transferred to New York where she now resides. As a prolific and one-of-a-kind artist, Olek exhibited in numerous galleries and museums, and her art was featured in many prominent magazines, such as TIME Magazine, The New York Times, Wall Street Journal, New York Magazine among others. Although she is already widely recognized and has received prestigious awards for her work, Olek promises never to stop surprising and bombing us with her vivacious, intense balls of yarn.