Galerie Openspace Paris Grand Opening at New Location Coming Up This Week
Nicolas Chenus and Samantha Longhi launched Graffiti Art Magazine back in 2008, and four years later they decided to create a tangible extension to this editorial endeavor by opening their own art gallery. Openspace gallery in Paris came to life in 2012, blessed by one of the urban art pioneers – Ernest Pignon-Ernest. With dozens of successful exhibitions and cultural events already behind Openspace gallery, they decided it was time for an upgrade of the exhibition space. The gallery is moving to a new location, as they say, moving on to bigger and better things, the new space is on a surface of 240 square meters divided into three separate levels. For the special occasion of the grand opening of this new location, 12 talented, international artists from the contemporary art scene are gathered to elevate this event to a whole new level with their featured works. Levalet, Jana & Js, Know Hope, Augustine Kofie, Nawer, Emanuele Vittorioso, Nychos, Max Rippon, Robert Proch, Jan Kalab, Stéphane Moscato and Éric Lacan are the names of the presented artists in the show entitled GO! at the new location of Openspace gallery.
Diverse Assemblage of Artists
The multi-disciplinary artist whose work incorporates the power of textual communication through language, forms and symbols, Max Rippon is a highly prolific creator who works both in the streets and the studio. His style comes from different techniques and materials he uses, making each piece seem original and different. Éric Lacan is one of the artists who already collaborated with Openspace gallery in the past, and he is returning to celebrate this grand opening of the new location. As Lacan described his art in our interview with him, it is "dark and bright, serious and light, cynically shifted, tedious, cheerfully pessimistic, unbearably romantic and especially black and white … Life…" Jan Kaláb will display his concepts of abstraction at the show, exploring the circle, the square and the movement through dance of geometric shapes. Italian-based artist, Emanuele Vittorioso specializes in restoration and heritage conservation. Alongside of that passion, he developed love for street art, resulting in frequent work with spray paint. He combines these techniques to display unprecedented mastery of color on canvas.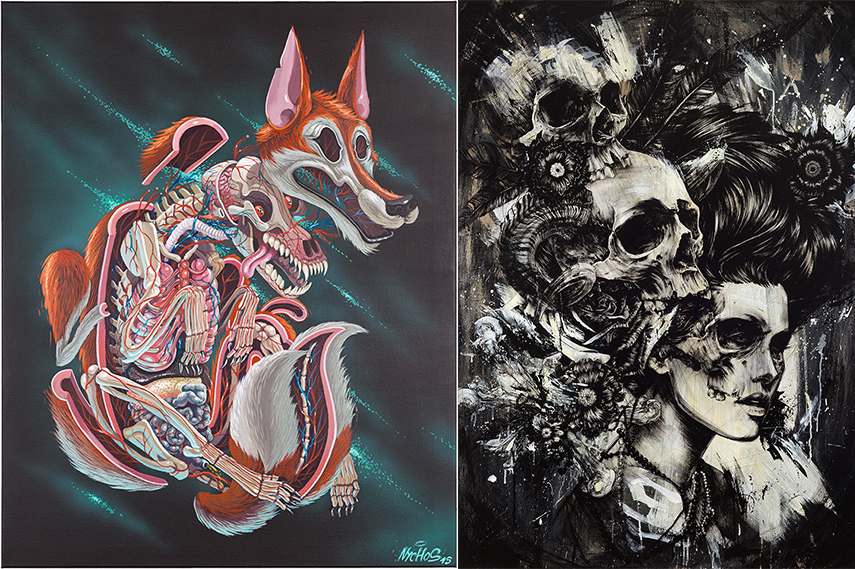 From Dissected Animals to Mathematical Abstraction
Coming from Poland is Robert Proch, a painter, muralist and animator. Inspired by animation, impressionism and modernist graffiti, Proch experiments with traditional painting, producing his own unique picturesque language. The Austrian urban art and graffiti illustrator Nychos grew up in a hunting family, surrounded by the anatomy of dead animals. This sort of childhood heavily influenced his artistic career, leading him to focus his work on reinterpretation of dissected motifs with colorful outlines. His distinct style is instantly recognizable and you'll surely notice it straight away in Openspace gallery. The retro-futuristic aesthetic of Augustine Kofie will also embellish this exhibition. His mathematical form and style bring the simple shapes and sharp angles to a point of abstraction, at the same time infusing them with soulful, organic feel.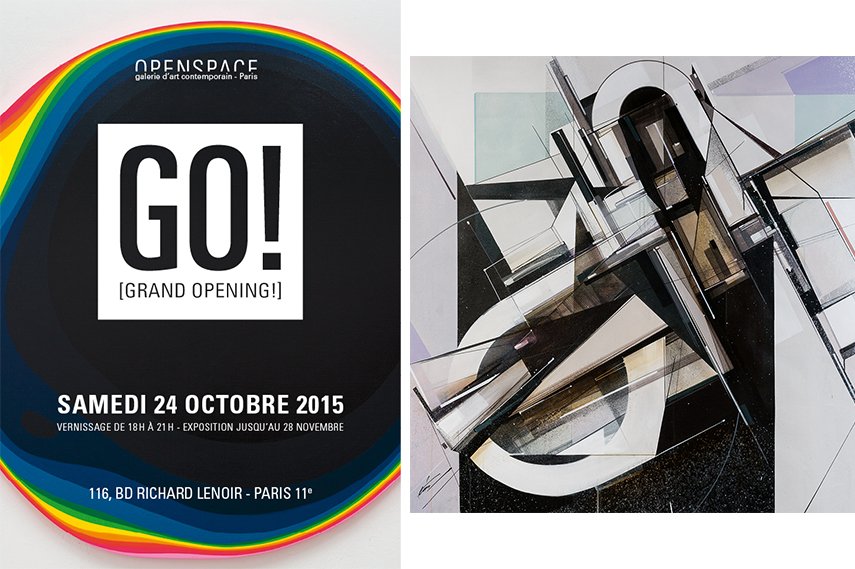 GO! Grand Opening of Openspace Gallery at the New Address at 116, BD RICHARD LENOIR, PARIS 11e
The gallery continues its mission to not only support and promote emerging and established artists they've already worked with, but to further develop their network of collaborations and offer their services to all people passionate about art. As the owners stated, the new place is a realization of their biggest artistic dreams. And what better way to celebrate this than to have an amazing exhibition. The Grand Opening of Openspace Galerie's new location is marked with an exhibition entitled GO! which will be on view from October 24th to November 28th, 2015, at their new address at 116, BD RICHARD LENOIR, PARIS 11e. The opening of the exhibition is scheduled for October 24th, 2015, from 6 – 9 pm. Among the already mentioned names, there will be featured works of Levalet, Jana & Js, Know Hope, Nawer and Stéphane Moscato, and with such a roster of internationally recognized names, this will surely be a grand event for Openspace gallery.
Sign up for free to My Widewalls, and stay informed about the upcoming exhibitions!
All images courtesy of Openspace gallery Featured images: GO! [GRAND OPENING], in progress Robert Proch – Suicidal Study, 2015 Éric Lacan – Born to Die 2, 2015 (detail)