Os Gemeos & JR in New York - New Street Art Piece Collaboration
Well, let's see what are the latest news from the streets of New York? It appears that the collaboration between the Brazilian street art duo OsGemeos and French photographer JR is resumed in the creating of their newest public piece. They had the opportunity to collaborate earlier this year in Sao Paulo, a hometown of OsGemeos, and they are collaborating once more, surprising and thrilling all their admirers and the citizens of NYC. They have been really busy in the city of New York lately, so stay on this page for more news about this latest work and their recent artistic engagements.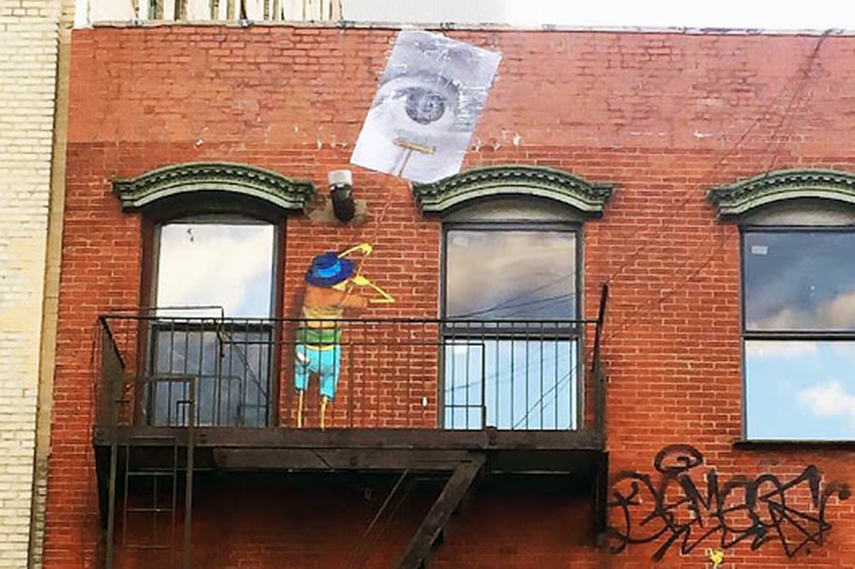 JR and OsGemeos Busy in New York
It is a really busy week and a continuation of even busier months in NY for JR and OsGemeos duo. As you are already informed, Brazilian brothers are current participants in the Midnight Moment project, showcasing their short animated video Parallel Connections in Times Square every single night in August for three minutes before midnight. And JR, well, he also planted some of his recognizable pieces in several NY City neighborhoods, as part of his Walking New York series in April. This most recent teaming up of the celebrated artists is yet another step in their ongoing collaboration. In February, the Twins and JR did an astonishing artwork on one of the walls of Sao Paulo addressing the issue of water shortages in Brazil.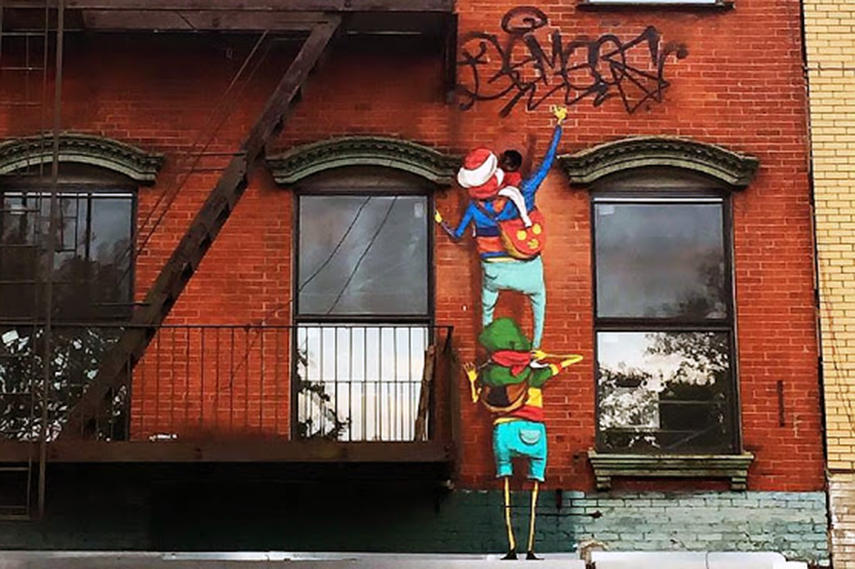 OsGemeos Collaboration with JR on a Newest Mural Project
This latest mural is done on one of the traditional NY City brick buildings, depicting signature yellow-skinned characters of the Brazilian art duo. In a humorous and playful way, street artists from São Paulo and JR have created a meta-poetic public statement about their work. Two characters in the lower part of the building seem to be the visual representation of twin brothers at work, making the graffiti tag on the wall. Another yellowish figure is found on the first floor, irresistibly reminiscent of the JR. This JR resembling character is pasting one of his photos which is a great allusion on JR's artistic practice. And it is also a witty remark on JR's famous hat, and dress code.
Street Art Duo from São Paulo in New York City with JR
The Twins and JR have been known to make statements about the social and political concerns, but this recent piece just looks like a playful and whimsical representation on what it means to be a street artist, just working on his piece and leaving the troubles of the world behind.
Like the new collaboration? Share your love for their artistry on our Facebook page!
And to read about latest news more: Sign up for My Widewalls as soon as possible and never miss a post! It is FREE!
Featured image: New street artwork by Brazilian duo and JR in New York. Photo via streetartnews.netImage in slider: OsGemeos with JR and Ricardo Lopes. Photo via supertouchart.com