Manifestation, Oscar Murillo's Solo Show in London
Oscar Murillo is known for his expansive and heavily form focused paintings. For the past ten years, he has repetitively painted large canvases focused on the textuality of painting in conjunction with nuances of cultural exchange, language, and everyday objects.
Manifestation​, Murillo's latest body of work on view at David Zwirner in London, is showcasing an aggressive and bodily grappling approach to painting within an abstract-expressionist grammar.
Manifestation
Ground floor, main gallery, hosts a series of burgundy red paintings overlayed with furious dense brushstrokes; more like tire-skids and expansive idle musings than brush strokes. Murillo bludgeons the canvas destroying any sense of background and foreground, adding pace with the rapid pell-mell brush strokes and then dividing the composition with dense black laconic oil warping the tempo.
The aggressive attacks jab on for the entire first floor. Large canvases overbearing the eye with rapid pell-mells in yellows and whites, Prussian blues dissolved in violet Rothko reds, dense black tire-skid-stokes abruptly pummel down left right of the paintings, submerging Twombly-like loops in the background into the past tense; ​wrestling over painting, it reads. ​The viscous texture communicates heavy labour without much of the velvet to play its part, taxing for the eye.
When tomorrow becomes yesterday​ displayed Murillo's venture into bridging painting and sculpture. Wooden shelf, dense black oil paint bludgeoned multilaterally, red pen drawings of listless loops and the word ​home ​scrawled anti-binary. Murillo's attempt on the indefatigable challenge of bridging sculpture and painting references Tuttle's approach to the discourse of painting-sculpture, only Murillo has done it in a dense and vicious execution. The sculpture offers its tensions by the immediacy of forms, the black oil paint can be followed multi-laterally from its sporadic contortions; the text underneath is seemingly drawn in muses of idleness, confusion or angst. The two components of the composition represent passivity and dominance, a timelapse of translated moods.
Chocolate master after Hans Haacke ​sits in the back gallery, ground floor. Six flights of hollow framed wooden steps leading to an imageless wall, the steps littered with rocks, half-stuffed torsos donning Sunday market t-shirts, pithy brush stroke, and appropriated images of Hans Haacke's work printed on the steps. The whole piece feels unsure of itself and lacks direction to have the word ​master​ within the title. Does it allude to some insecurity? The latter if there were any irony; large domain of stairs leading nowhere appropriating imagery from a white-male artist then titling it ​Chocolate master after Hans Haacke? Incredulous.
Decoding Painting
Upstairs, first floor, main gallery, rhythm, picks up, olfactory senses jabbed by pungent rubber and oil smell. The first painting, hung by a steel pole, draped like a shower curtain, the seams of stitched fabric bare, more aggression in composition through cross-hatched divisions streaking down the middle and sporadic overlaps of impasto spurts, again with the heavy tire-mark-strokes denouncing the strenuous physical demand; hard job.
The next three paintings follow in the same fashion but more systematically than the ground floor works. These paintings are divided in the middle and have some vague continuity with the pell-mell spurts that blur the compositions' backgrounds and foregrounds into a cataclysmic fuzz. There is more control and direction of where Murillo is deploying the strenuous brush marks.
First floor, back gallery, two works that finally show a change in faculty. Light, Prussian, emerald blues, plenty of blues, streaking across either left-right of the canvas in an impressionistic dabble. In one of the ​untitled (surge) 2019,​ Murillo has a print of pink Lego bricks, square formation, the image references Sigmar Polke and Paolozzi, the expansiveness of Polke to endanger the logic of a painting with the playfulness of Paolozzi. Murillo demonstrates more risk by departing from colourful emotive tropes and stereotypes of abstract painting mannerisms.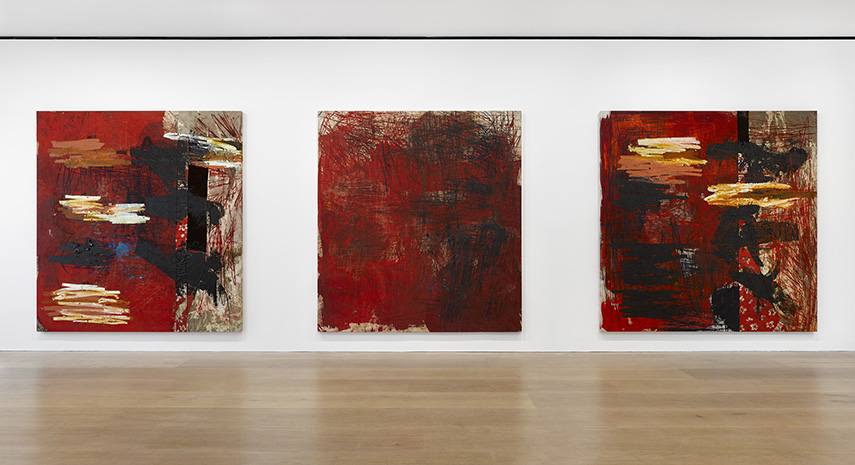 Oscar Murillo at David Zwirner
Murillo's latest body of work continues with his practice as a painter. He is a painter in all regards, but his current solo felt like an emphatic performance to intensify paintings' grammar, or feelings? Presented was a re-enactment of abstract-expressionist painting mannerisms in a stereotyped machismo audition focusing on physical labour to intensify textures while resolving emotional reflexive issues, evident in when tomorrow becomes yesterday​, with the word "home" repeated dementedly;​ ​One Flew Over the Cuckoo's Nest.
Manifestation​, a solo show of painterly adverbs stuck in an archaic third act. On view at David Zwirner in London until July 26, 2019.
Written by Keanu Arcadio.
Featured images: Installation views of Manifestation 2019. Photographs by Jack Hems. © Oscar Murillo. Courtesy the artist and David Zwirner.
Follow These Galleries
London, United Kingdom

New York City, United States

New York City, United States