Culture Jamming POSITIONS
Open Walls Gallery in Berlin is currently showing a group exhibition from the Positions cycle. It's a new exhibiting concept, which presents artists with certain perspectives and outlooks, approaches and disciplines. Every show of the cycle will showcase a carefully selected lineup of creatives, characterized with distinct positions in society, urban area or art world. Shows are designed as socially engaged vessels for the artistic messages to reach the public. First edition of Positions assembled three artists, displaying their recent pieces, cohesive on the level of their relations with advertising posters and billboards. Works by OX, BR1 and VERMIBUS are currently on view at the Open Walls, introducing a very contemporary artistic vision of culture jamming, which these three creatives perform on real billboards when outside of a studio or a gallery. Ad-busting activism of these artists who originate from differently located positions in Europe challenges the very purpose of advertising, visual pollution and over-branding of our daily visual scope. Positions being the central focus of OX, BR1 and VERMIBUS, they will each present different vantage points in their work, paralleling what they do in the street and inside the gallery space.
The exhibition will remain on view until May 24, 2014.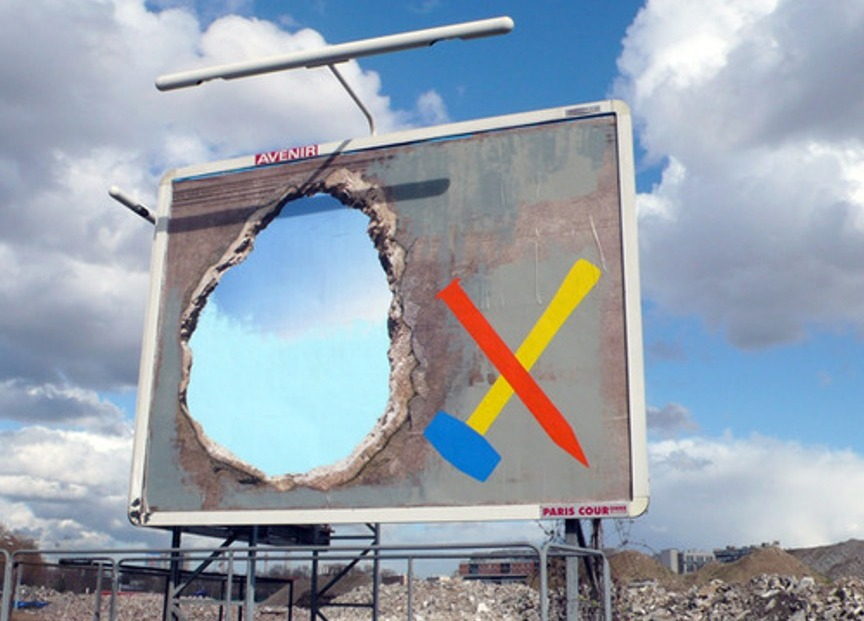 Positions of culture jamming
Only in Berlin, there are over 300.000 advertising spots, billboards and poster places making a very complex advertising network throughout the city. WALL AG company officials claim that they are one of the planet's technologically most developed networks. Contemporary societies are evolving at a pace faster than ever before, while the urban population is constantly growing, unlike the economic standard of its citizens. This disproportion is one of the results of political decisions, made in Europe and other countries with liberal capitalistic systems, which do not take the wellbeing of citizens as the principal objective, but keep pushing for profits. A consequence of these decisions is the vast increase of commercial advertising boards scattered all around cities, which change the urban landscape for the worse and wash the brains of the average consumer.
Coming in all shapes and sizes, without any regard for architectural or any other esthetics, outdoor advertising are today usually defined as visual pollution, but this is generally overlooked. Contemporary art has opened the doors of viewing the outdoor advertising as a controversial fragment of reflection and action. As a powerful propaganda tool, outdoor advertising often addresses various social issues, in various ways, often more wrong than not.
The three vigilantes, OX, BR1 and VERMIBUS have found a creative outlet in hijacking of different advertising media, which now makes the central part of their respective artistic practices. Their goal is to raise awareness and provoke the thinking dumbed down by aggressive advertising, making the average person rethink the buzz artificially created through commercial channels. Their idea is to make art where commercial billboards used to be, believing it will significantly change the nature of thinking and the quality of life within a community.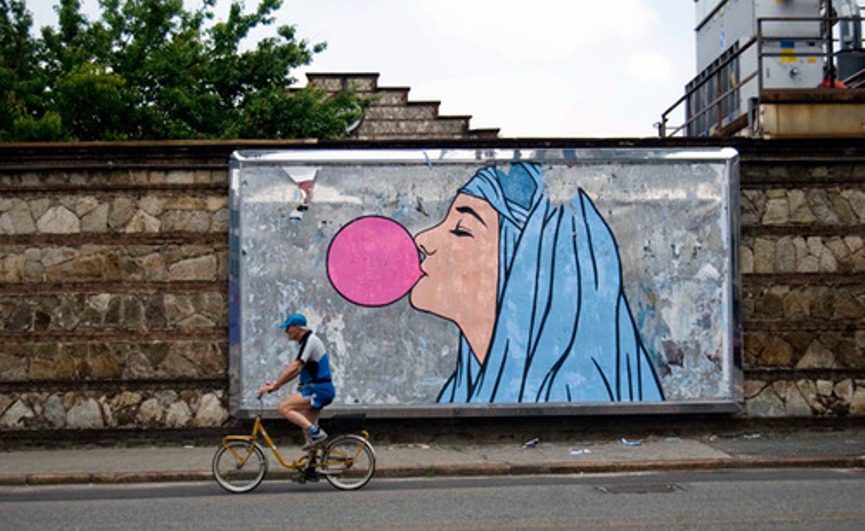 OX
OX is a Parisian artist and an urban art veteran.He has been culture jamming since the 80s, turning billboards into islands of color. Minimalism of his style exudes irony that stands in opposition to the irritating overly-dynamic commercial context.  His interventions are exemplary in the growing fight against visual pollution.
BR1
BR1 is an Italian artist who invests art into billboards, changing their commercial essence. He has been pasting for years, but culture jamming may be the strongest of his social statements. Interested in social issues, migration and Islamic cultures, this creative has a particular idea about visual pollution, working to eliminate it from public space.
VERMIBUS
VERMIBUS is a Berlin based street artist and advertisement hijacker. Commercial posters make the base of his work, as he takes them to his studio, makes interventions and then returns them into their original context, changing the larger picture in the urban area significantly. He turns the trivial into deep and he superficial into clever.
Follow These Galleries
Culver City, United States

Miami, United States