Revising the Extraordinary Work of Paolo Pellegrin in Rome
Although we are often saturated with the images of conflicts on the global scale, they are extremely important as proofs of human suffering and absurdity of any form of social dismay or combat. In the last few years, especially the presence of photo essays on migrant crisis is mandatory in order to spread awareness of the value of human life as well as a warning about the effects of new forms of colonialism and above all right-wing populism.
The photographer who devotedly creates such photographs is Paolo Pellegrin, known for displaying the others e.g. disenfranchised people such as homeless, Roma, disabled and immigrants. At the MAXXI museum in Rome, an exhibition is honoring twenty years of his career under the title Paolo Pellegrin. Un'Antolgia.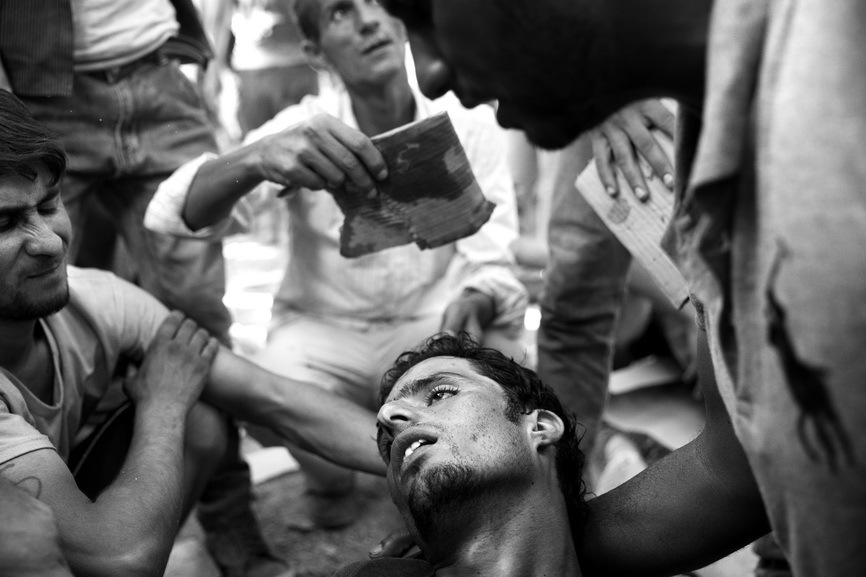 The Narratives of Sovereign Power
This survey is curated by none other than the established curator Germano Celant who decided to examine Paolo Pellegrin's photographic practice by focusing on various contexts and settings which marked his depictions of bare life. In a statement given to the museum, Celant explains his standpoints:
For Pellegrin – reportage is not a quick, detached and unemotional operation, but – as it was for Walker Evans and Lee Friedlander – a matter of personal interpretation, involving aesthetic judgment and expressiveness, anguish and suffering. It is the synthesis of the photographer's critical position with respect to an impersonal vision of reality: an account, divided up into different moments and chapters, that helps to put into context the situation tackled and the person documenting it.
The Installment
The selection is a product of two years of intensive work on the photographer's archive. Through more than one hundred fifty images, including a number of previously unseen works and videos, the audience will have a chance to plunge into Pellegrin's worlds.
This is enhanced by a specific spatial intervention based on the two (segments) extremes of light and dark. In the opening one the color black surrounds the narratives of human suffering: the wars, the tensions, the destruction (Battle of Mosul, US border politics, Lesbos migrant crisis, Isis prisoners waiting to be processed), while the second one is a discreetly illuminated space fulfilled with the images of nature which evoke the fragility of the human condition.
These two segments are connected by a passage in which Pellegrin's research materials such as drawings, notebooks, notes, and snapshots will offer a full insight in his process.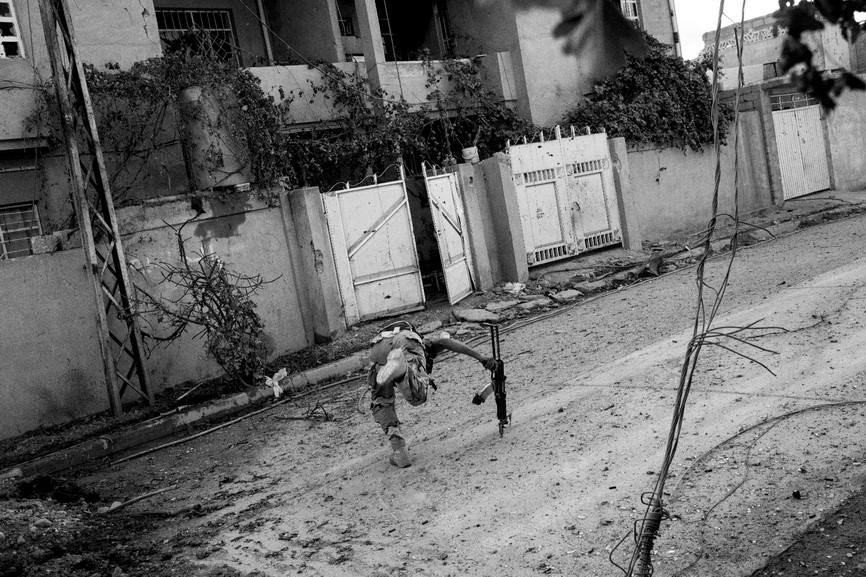 Paolo Pellegrin at MAXXI
During this exhibition, a preview of the first part of the photographic project realized by Paolo Pellegrin at L'Aquila last January will be on display. At MAXXI's ground floor, a 2-by-3 meters wide polyptych composed of one hundred forty small images will show the details of what is a still wounded city after the earthquake, as well as large-format color photographs displaying L'Aquila countryside and the mountains during the night illuminated only by the moon.
Paolo Pellegrin. Un'Antolgia is on display at MAXXI in Rome until 10 March 2019.
Featured image: Paolo Pellegrin – Moments after an Israeli air strike destroyed several buildings in Dahia. Beirut. August 2006 © PAOLO PELLEGRIN/MAGNUM PHOTOS; Paolo Pellegrin – Kurdisn peshmerga mourn the death of one of their comrades, a tank driver killed by an ISIS sniper, as they were about to leave Bashiqa after a day of battle. Iraq 2016 © PAOLO PELLEGRIN/MAGNUM PHOTOS; Paolo Pellegrin – Two men who attempted to enter the U.S. illegally run across the dry Rio Grande riverbed back to Ciudad Juárez, Mexico, after being spotted by the U.S. Border Patrol. El Paso, Texas. USA 2011 © PAOLO PELLEGRIN/MAGNUM PHOTOS. All images courtesy MAXXI Rome.