Pascale Marthine Tayou: Boomerang
It is believed that our upbringing, place of birth, social and economic status, as well as life conditions affect the way we tend to perceive the world around us. For the Cameroon born artist Pascale Marthine Tayou, at least, this is true. Growing up in this Central African country, often referred to as Africa in miniature for its geological and cultural diversity, shaped the way Tayou felt, acted and thought (read more about African art in one of the hottest exhibitions of 2014 at Saatchi Gallery). Especially in countries dealing with constant poverty, illness and cultural diversity people, for those who manage to get away from this kind of life, it usually becomes a struggle for raising awareness and helping others. Although Cameroon enjoys relatively high political and social stability, compared to other African countries, poverty is still part of everyday life (read about Wide Open Walls, a charity and mural project in Gambia). Therefore, art of the now Belgium-based artist Pascale Marthine Tayou has a goal to introduce wide audiences to his unique visual language that artistically redefine postcolonial culture and raise questions about globalization and modernity. London based Serpentine Galleries has given him a platform to do so in a brand new solo show entitled Boomerang…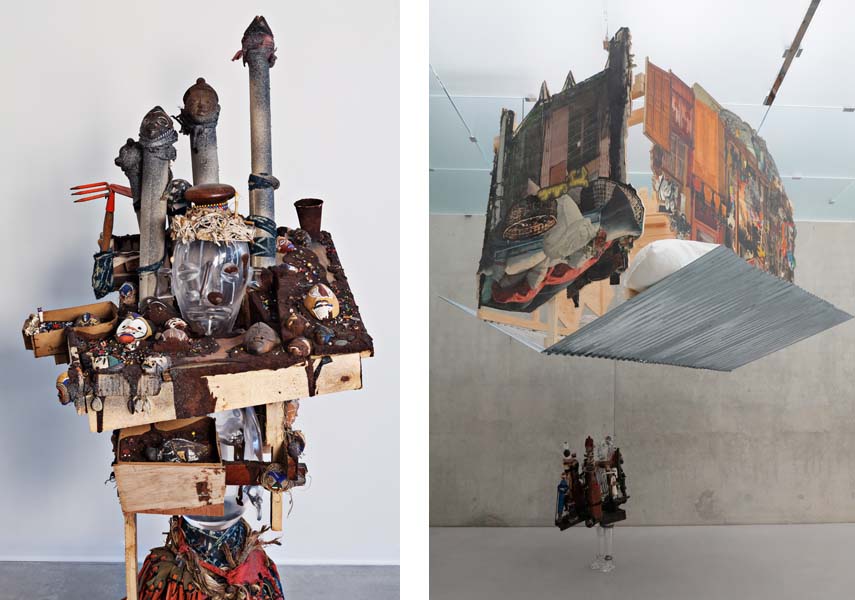 A Self-Taught Artist
In Pascale Marthine Tayou's first solo show in London and first one since 2008 titled Boomerang, consisted of works made specifically for the Serpentine Galleries, the artist will show a range of new works that demonstrate the artist's unique ability to combine issues of individual and national identity and global consumption. Showing his particular imagery based on archetypes, made and found objects and traditional craft, as well as mysterious human forms and fantastical beasts, the artist fantastically and skilfully incorporates materials like cloth, wood, plastic, glass, organic matter and consumer waste, without a day spent in an art school.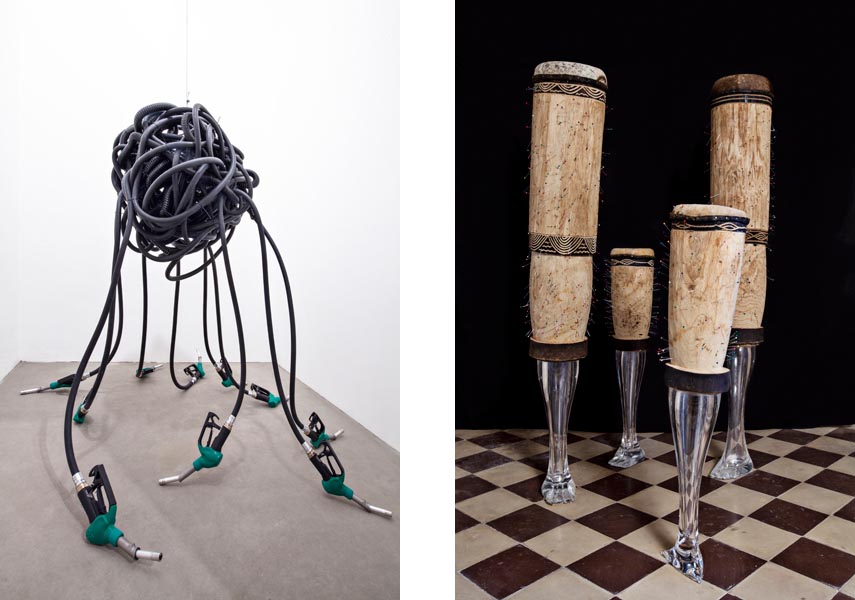 Show Opens in March
A law student before deciding to become an artist, Tayou's career actually began in the early 1990s, which was a time of political and social changes across West Africa. With works often produced in situ, Tayou is famous for combining found and damaged objects and materials – often sourced locally – with a skilled and playful sense of craftsmanship. This exhibition at the Serpentine Sackler Gallery is part of the Serpentine's Spring Programme, which includes a major survey by American artist Leon Golub that runs concurrently at the Serpentine Gallery.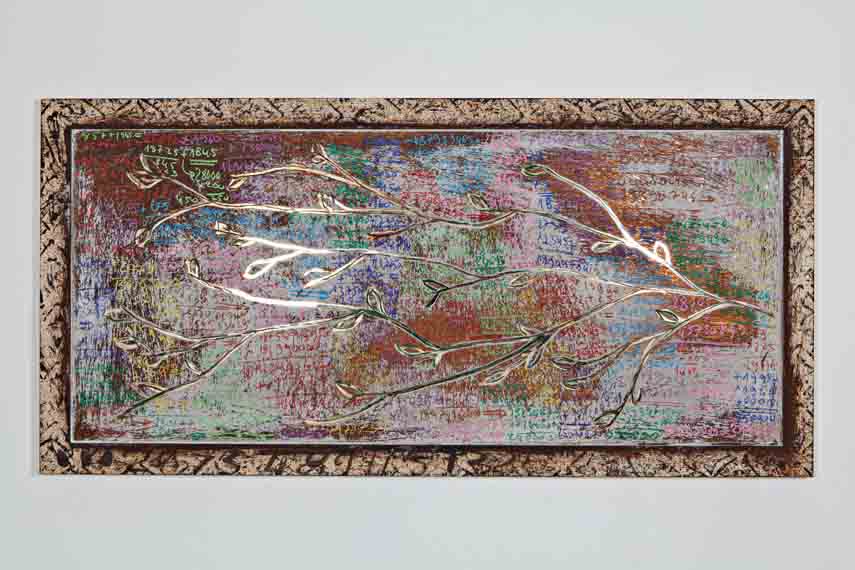 About the Artist
Born in Nkongsamba 1966, Pascale Marthine Tayou is a self-taught artist who lives and works in Ghent, Belgium and in Yaoundé, Cameroon. Recent solo exhibitions include the Fowler Museum at UCLA, Los Angeles, USA (2014); Kunsthaus Bregenz, Austria (2014); Galerie Cécile Fakhoury, Abidjan, Cameroon (2014); MACRO, Rome, Italy (2012); Le Chemin Lumineux, Lille, France (2012); Pavillon Paul-Delouvrier, Parc de la Villette, Paris, France (2012); Gare Saint Lazare, Paris, France (2012); Castello di Ama, Ama, Italy (2012); MUDAM LUXEMBOURG, Luxembourg (2011); Galleria Continua / Le Moulin Boissy-le-Châtel, France (2011); REVURE NOIR Expressions Contemporaines d'Afrique et du Monde Paris, France (2011); Mac Lyon, France (2011); Galleria Continua / San Gimignano, Italy (2010); Goethe on Main, Goethe-Institut Johannesburg, South Africa (2010); Gare Saint Sauveur, lille3000, Lille, France (2010); Malmö Konsthall, Malmö, Sweden (2010); International Film Festival, Rotterdam, Nederlands (2010).
Boomerang opens Wednesday, March 15th at Serpentine Sackler Gallery, located in Kensington Gardens, West Carriage Drive, London W2, United Kingdom. The show will stay on view until May 17th, 2015.
For more exciting exhibition announcements, sign up for My Widewalls today!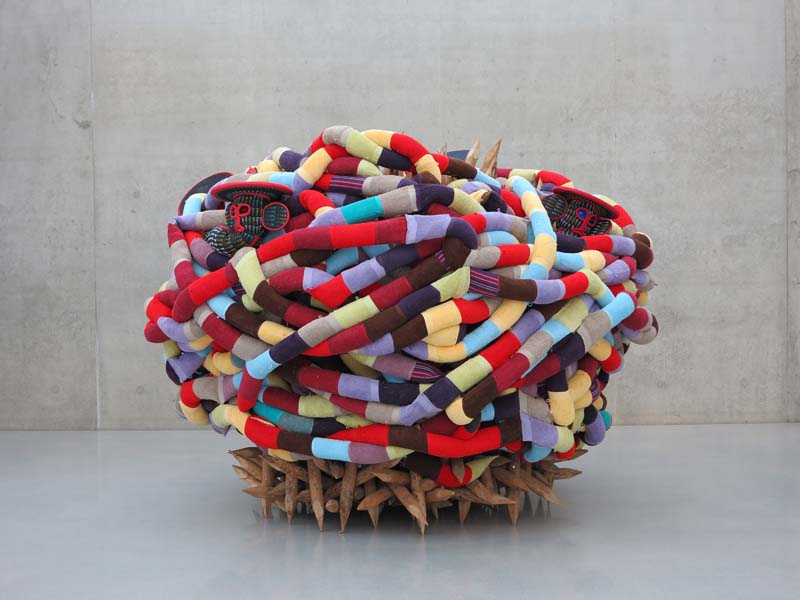 [mc4wp_form]