Patrick Martinez: Forbidden Fruit
New Image Art, the Los Angeles based gallery, has announced details of a new solo exhibition by Los Angeles artist Patrick Martinez. Forbidden Fruit will be the first solo exhibition in two years for Patrick Martinez and will also mark his debut solo exhibition with New Image Art. Patrick Martinez will present a new body of work in Forbidden Fruit which consists of his neon paintings, sculptural works and an installation, very much influenced by his local landscapes and cultural concepts. The artworks of Patrick Martinez have become recognised for his use of everyday subject matters and objects that we take for granted and are rarely highlighted. Past exhibitions at New Image Art have included the sublime Drinkin' on the Job by Neck Face and the recent Overgrown exhibition by Mtendere 'Teebs' Mandowa.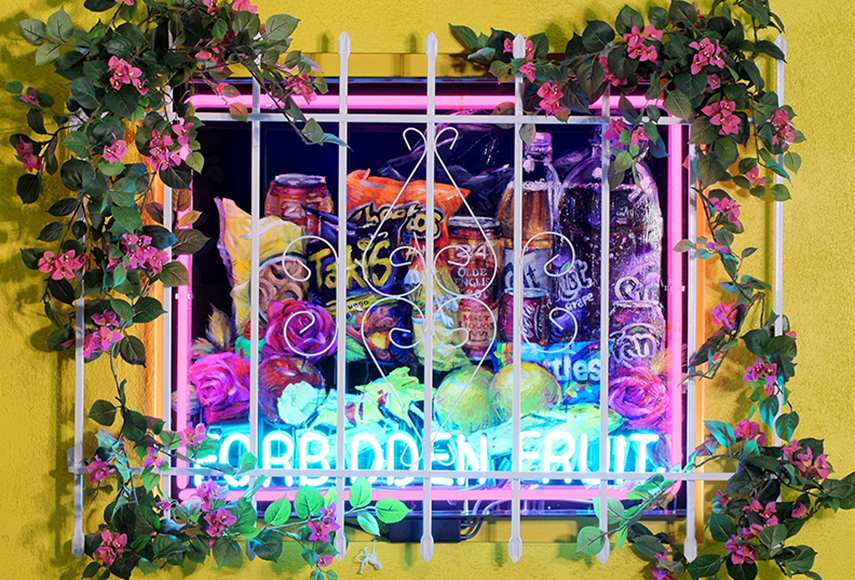 Patrick Martinez at New Image Art
The new solo exhibition by Patrick Martinez at New Image Art, sees the Los Angeles artist moving in a slightly new direction from the work he has become known for. Forbidden Fruit will feature some of the bold signature style neon paintings that Martinez has defined himself with, but will also feature a move into sculptural works and installations. The debut solo exhibition with New Image Art finds Patrick Martinez with a focus on Los Angeles cultural concepts that aims to convey, through various perspectives, minority culture within Los Angeles. Political and socio-economic themes have often been present in the artworks of Patrick Martinez and Forbidden Fruit sees the artist pushing these themes in new directions with the use of new artistic practices. For more socio-political artworks explore Pol-Ethically Correct by Fidia Falaschetti and the work of Onio in Onio's Ecke.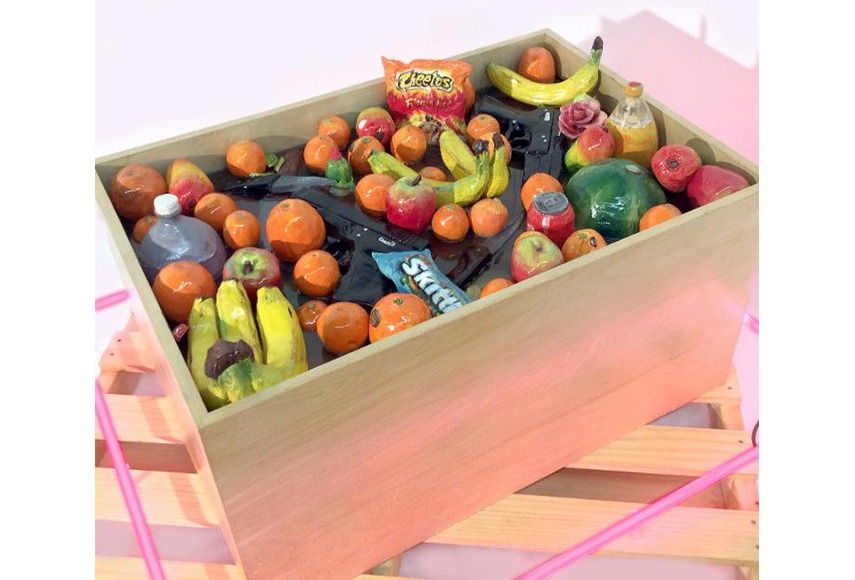 Forbidden Fruit Solo Exhibition
For his first solo exhibition in two years, Patrick Martinez is using Forbidden Fruit to find and expose the untapped rhythms that exist around him in his landscape, while also drawing attention to the political and social issues that surround him in his native Los Angeles. The imagery in Forbidden Fruits sees Patrick Martinez playing with media images of our fast food life, presenting images of snack foods, fizzy drinks and fruits with items such as guns combined with his love of neon. Some of the artworks appear as windows, barred and surrounded by bright flowers, marking the contrast between the ideal world in our minds and the reality that exists outside our windows. Check out more work by Patrick Martinez in Buy Now or Cry Later and This Crazy Life, a three man exhibition with Michael Vasquez and Gregory Bojorquez.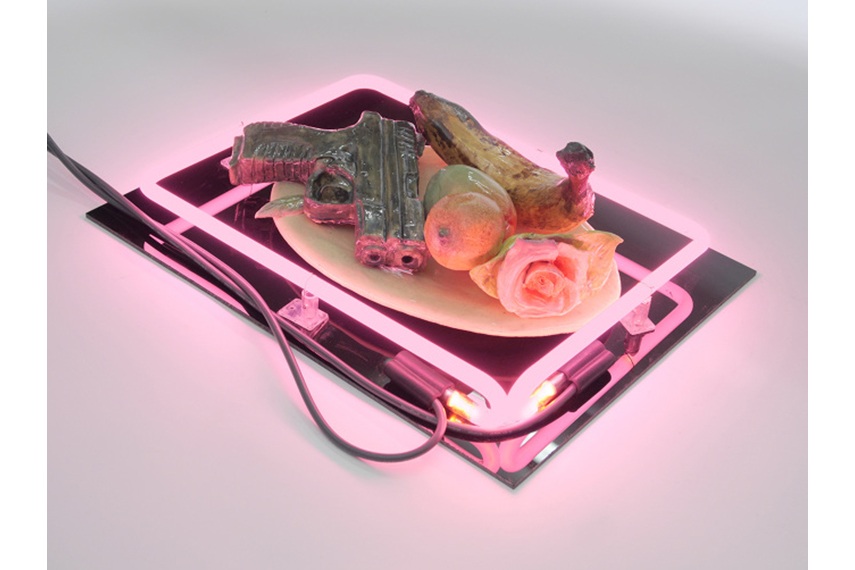 Ceramics of Patrick Martinez
Forbidden Fruit also finds Patrick Martinez exploring the use of ceramics for his new solo exhibition with New Image Art. This new departure finds the artist using traditional ceramic techniques of glazing and firing to create the objects common to the themes of Forbidden Fruit, including ceramic snack foods, flowers, fruits and guns. Martinez then combines these with his signature neon lighting and contemporary scenes of Los Angeles culture, such as painted images of local characters, loved ones and recognisable locations, including liquor stores and the Grand Central Market fruit stands. In Forbidden Fruit, Patrick Martinez offers us a colourful juxtaposition of imagery that is very distinctly and authentically from his local neighbourhood. Watch Patrick Martinez discussing his work in this Visiting the Studio video and watch him at work in Blow up Status: Patrick Martinez.
Forbidden Fruit by Patrick Martinez opens at New Image Art on 11th April, 2015 and runs through until 9th May, 2015. Opening reception is on 11th April, 2015 between 7-10pm.
For all the latest exhibition news sign up to My Widewalls today!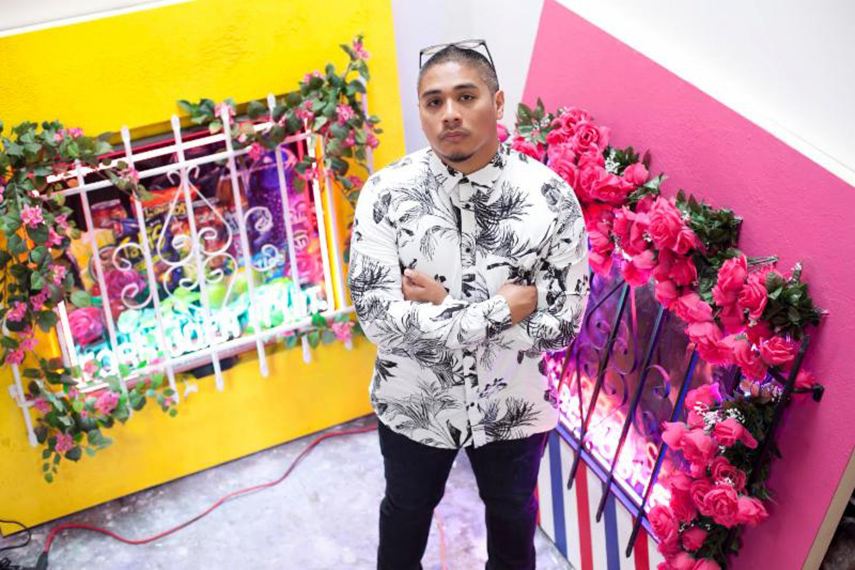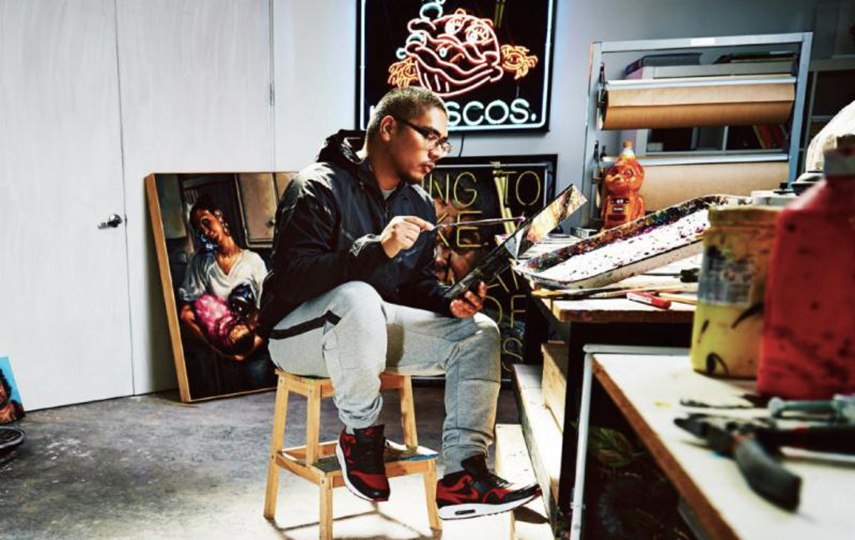 All images courtesy of New Image Art.