These Pencil Drawings Prove the True Mastery in Art
Pencil Drawing is a fascinating medium, contends Jasper Salwey in his book on art of lead pencil drawings. Pencil is for Salwey: " a vital tool sympathetic to the artist's every fancy or requirement, a medium capable of rendering not only the most determined contrasts in light and shade but if need be, fifty intermediate tones of varying degree."[1] Pencil technique varies according to type of pencil used, and the approach of an artist. The effects created in pencil differ according to these parameters. Quick sketches or more elaborate, finely worked drawings can be created; sketching an idea that will be later transformed in, for example, an oil painting is usually done in pencil, or making a pencil the only medium of an artwork is also often present.However, these different approaches to pencil medium although it may seem normal or usual in today's art world, were often conditioned in the past by different understandings of art's function and purpose. Social and cultural factors as well as genre hierarchies influenced the use of pencil in high art. Before turning to some of the best examples of pencil drawing in modern and contemporary art, we will look into different types of pencils and give a short overview of historical use of this medium.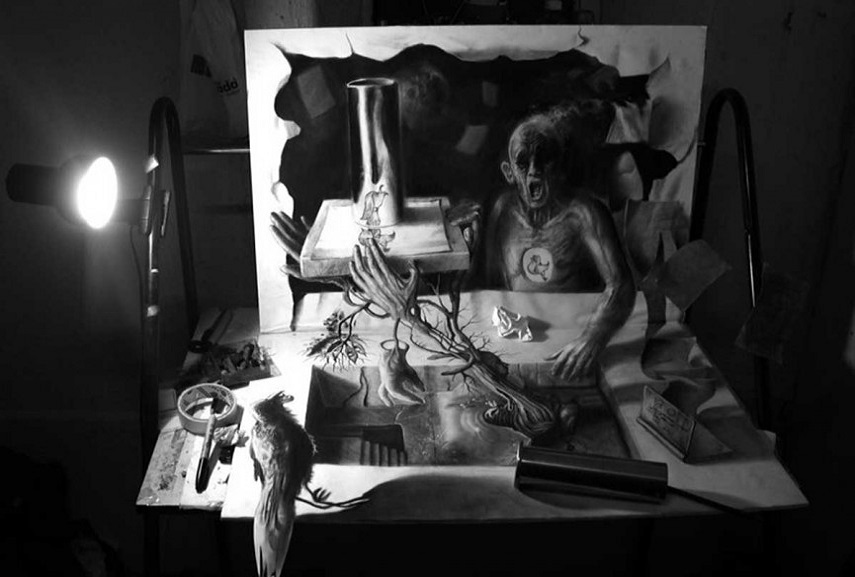 Characteristics of Pencil Drawings
Without a doubt, intimacy and immediacy of pencil drawing is the main allure of this medium for the creatives. Preparatory sketches are often done in pencil, and the quality achieved differs according to the hardness of the graphite in shaft. Harder the graphite, the finer lines are created. Pencils are often marked with H (hardness), B (blackness), or HB, along with numbers. This represents a universalized marking system so they can be easily discriminated.[2] Besides the hardness, the achieved effect often depends on the pressure draftsmen apply while drawing. Thicknesses of lines as well as intensity of color are conditioned by draftsmen's temperament in execution of their works. Pencils are not made from a single material, and combination of materials decides their characteristics. Usually, pencils are made from different rations of clay and graphite, but grease, color pigments, gum, or wax can be used as well. Lead pencils consist of clay and graphite; colored pencils usually contain wax, pigment and clay; charcoal pencils are made of compressed charcoal, while crayon pencils are comprised of pigment, gum, grease and graphite.[3] Graphite sticks made of highly compressed graphite are often the first choice of the creatives because of the flexibility of application. Tip, sides, or the whole length of the stick can be used with versatile effects.
How Pencils Came to Be
While talking about pencils and pencil drawings, it may be suitable to explain a bit how pencils are made. As seen from above, the combination of materials divides pencils in diverse groups. However, the procedure of making different types of pencils is fairly similar. Graphite, which is used for pencils is first reduced to powder, mixed with clay and other materials if necessary, and then formed into a paste. The paste is compressed into thin rods and baked. The created rods are then encased in wooden shafts. While graphite pencils are usually the first thing that comes to mind when we talk about pencils, it was not so in the past. Pencil, from Latin penicillus or 'little tail' was the term first used for tools made for drawing either out of camel hair, or metal sticks, like the ones used on papyrus or wax tablets.[4] Connection between pencil and graphite was not made until the 16th century when deposits of this material were discovered in larger quantities in England. The first graphite sticks were made there, and soon the usefulness of the material made it popular among the authors throughout Europe. Graphite sticks were wrapped in sheepskin or strings to preserve the stability of graphite, before wooden cases are devised. It was believed that the black core of a pencil is actually a lead, and even today lead pencil is a term commonly used.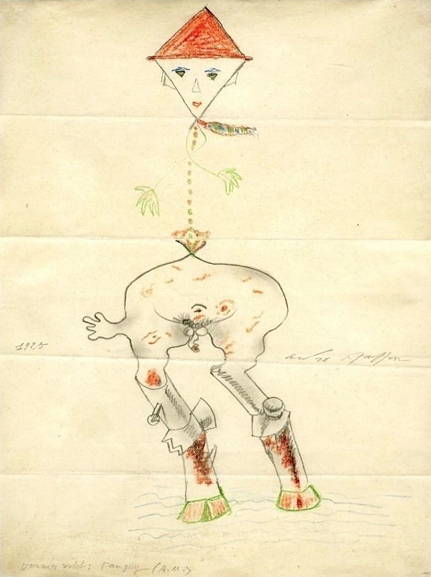 Pencil Drawing – From Auxiliary Medium to Cadavre Exquis
Use of pencil in art history has a long trajectory. Pencils, either created from pressed charcoal or graphite were used for sketches, preparatory studies, as learning exercises and other forms of artistic creations that were not meant to be shown or displayed.[5] The medium confined to creatives' studios was occasionally made visible but never attracted much attention in the past. Maybe the best examples of quality of such works are drawings by the two masters of Renaissance art – Leonardo da Vinci and Michelangelo Bounarroti.[6] Their drawings were preparatory works for larger, usually commissioned paintings or sculptures, but they hold a level of mastery and excellence that can compete with best art from this period. Hierarchies of genres and materials guiding art world of the time, however, conditioned the reception of such pencil drawings.
Often considered a subservient form to oil paintings, pencil drawings were rarely seen as anything but an auxiliary medium to heroic and classical art formats and themes. However, as times changed and a more democratic approach to visual arts developed along the changes in society, drawings slowly reached gallery spaces and were sometimes displayed along with the developed studies in other materials. Jean-Auguste Ingres is considered one of the masters of drawing, together with John Constable, and later on, Pablo Picasso. Egon Schiele used pencil drawings in his famous nudes, where he often combined pencil with gouache and other techniques. He included drawings as equal and worthy element of art in his paintings, thus finally breaking the barrier separating paintings and pencil drawings in qualitatively opposite poles. Finally, it is important to mention Cadavre Exquis, a surrealist game of creating images by assembling drawings from several artists made consecutively on a single sheet of paper, and without them knowing of what each of them created. In this format, pencil drawing finally became the prevailing medium of an art form, as immediacy and short time for creation of Cadavre Exquis dictated the dominance of this technique.
Tamarin Norwood – Study for a Fine Line
Contemporary Lines
Surpassing the historical conditionings of the medium, pencil drawings today can be encountered in different art forms such as video art, installations, in diverse combinations with oil, acrylic, and graphite materials, and not necessarily in figurative representations. Tamarin Norwood uses graphite drawings in her video works where she explores the significance of lines, and their conceptual importance in relation to other materials. Drawing and lines for her do not have a representational character and she does not make them with this purpose, but instead she is interested in lines' interaction with other, computer-generated forms. Creatives working in 3D move the medium of pencil drawing literary to new dimensions by creating 3D images from flat surfaces. Very popular at the moment, they can be seen almost everywhere on social media. Tricking the eye into believing that there is something which is not is a legacy of Op Art, but today's creatives use not just geometrical forms but figuration as well, in order to create an intrusion of some other world into our own.
Editor's Tip: Jean-Michel Basquiat – The Notebooks
Jean-Michel Basquiat was one of the most prominent authors of the New York art scene in the 1980s famous for his inventive investigation of the relationship between words and images. Basquiat was also a skilled draftsman, as you will be able to see if you scroll down through this post. In the spirit of sharing the most popular drawings of the post-war period, we are recommending The Notebooks, a unique edition that reproduces the pages of Basquiat's rarely seen notebooks. These notebooks are filled with words and images that found their way to Basquiat's painting, as well as his iconic drawings and pictograms that are not as widespread as some of his other works. You will get the insight into the artist's mind and find out that he was very much interested in comic art, as well as street and pop art, along with politics and hip-hop.
Mastery of Modern and Contemporary Pencil Drawing