Peter Zimmermann: Sur le Motif
On June 12, the Galerie Perrotin in Paris opens Peter Zimmermann's solo show "Sur le Motif". Since the late eighties, Cologne-based artist Peter Zimmermann has been working on an art form that's examines the terms and possibilities of contemporary visual depiction. It is Zimmermann's seventh exhibition with the gallery, which represents a return to more traditional forms of painting, oil on canvas, which is not so typical of him. In a sense, "grounded", like the title says. "Sur le Motif" runs until July 26.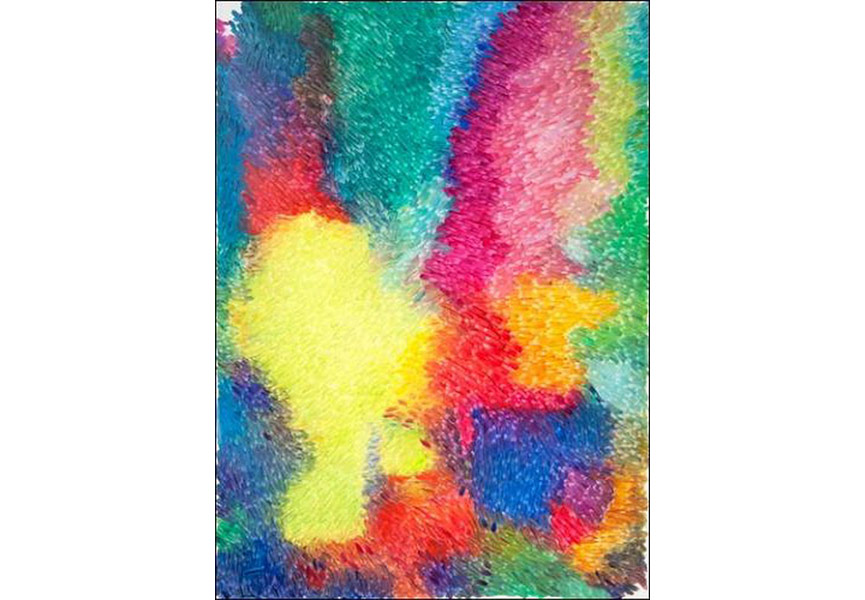 Digital Art
He is known for abstract paintings that combine airbrushing with digital arts. He uses technology to distort images to which he then adds acrylic pigments or rather spills paint on the surface of the canvas. For source materials, Zimmerman repurposes book covers and old paintings, and uses Photoshop filters to manipulate found images from the Internet into vividly colored paintings that oscillate between abstraction and figuration. However, the omnipresent phenomenon of digitally processed images apparently led him to change his course.
The Surface of the Canvas
This time, Zimmermann has chosen to work more directly with the surface of the canvas. The exhibition contains a series of large-format works done in oil. He methodically applies paint with the brush on previously carefully thought-out composition. Still a magician with paint, the artist makes several different color versions from the same source. His new paintings bubble with energy and are quite eye-catching. In fact, they are pretty contagious because the observer cannot take his or her eyes off them.
About Galerie Perrotin
Galerie Perrotin is a contemporary art gallery founded by Emmanuel Perrotin in 1990. It is located in the hip Marais district. Mr. Perrotin is responsible for making Takashi Murakami a superstar and launching the career of Damien Hirst. However, the gallery also works with new, young artists like KAWS and JR. In May 2012, the gallery opened a space in Hong Kong, and the following year in New York.