Pharrell - The Man made of Broken Glass
Another curatorial venture of Mr. Williams is on its way. It seems that the international pop icon has stepped into serious art projects. The gallerist Emmanuel Perrotin and Pharrell Williams met seven years ago in Miami, and they have been collaborating ever since. To mark the release of Williams' album G I R L, the two continue their artistic collaboration with an inaugural exhibition for Perrotin's new art space, Salle de Bal, which opens on May 27 in a former ballroom in the 17th-century Hôtel du Grand Veneur in the Marais area of Paris. The exhibition is also called "GIRL" and it's co-curated by the most popular man at the moment specifically for the Galerie Perrotin.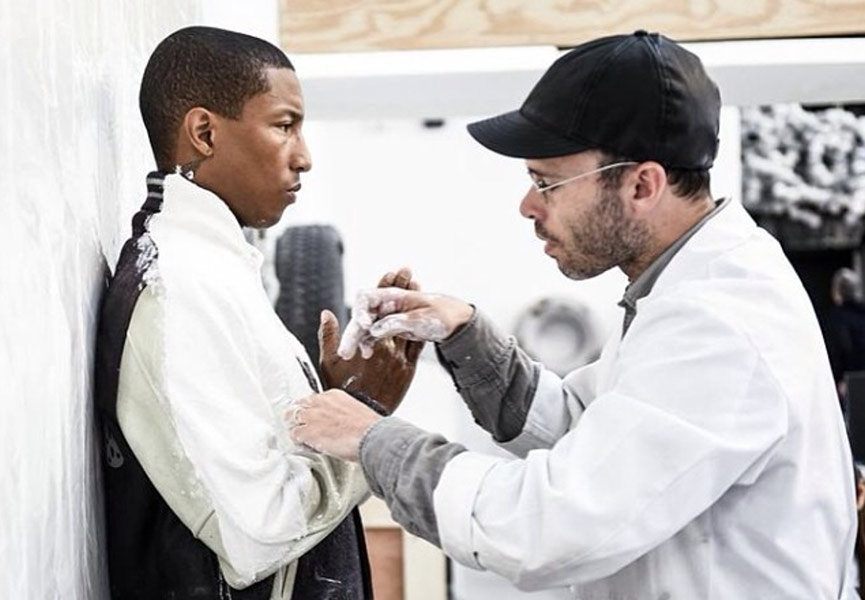 Artists
"G I R L" brings together approximately 40 artworks – including 10 specially produced works – to pay tribute to femininity through the vision of 37 artists including 18 women. The selection is a mix of images of women and of love, viewed from a variety of angles. With works by Marina Abramovic & Ulay, Chiho Aoshima, Daniel Arsham, Valérie Belin, Sophie Calle, Johan Creten, Tracey Emin, Daniel Firman, Gelitin, Guerrilla Girls, Laurent Grasso, Gregor Hildebrandt, JR, Alex Katz, KAWS, Bharti Kher, Klara Kristalova, Mr., Guy Limone, Annette Messager, Ryan McGinley, Takashi Murakami, Prune Nourry, Yoko Ono, Jean-Michel Othoniel, Rob Pruitt, Paola Pivi, Terry Richardson, Germaine Richier, Cindy Sherman, Taryn Simon, Mickalene Thomas, Aya Takano, Agnès Thurnauer, Xavier Veilhan, Andy Warhol, Tom Wesselmann, the show celebrates women who are above all free, liberated by artists and their boundless unfettered imagination.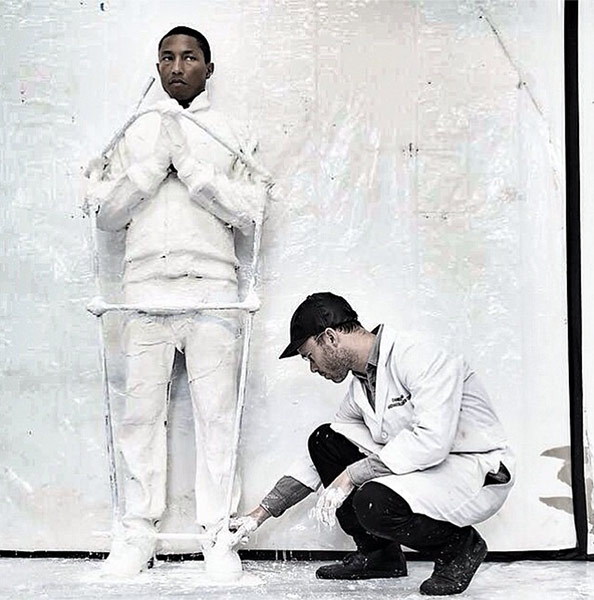 Body Cast
"I have always mixed artworks into my music, clothing, jewelry and my entire way of life. They stimulate creativity, mutual curiosity, and simply happiness!" Pharrell Willliams declares. The international pop icon applies this credo of blending artistic mediums every time he works with his artist friends, like Daniel Arsham, KAWS or Takashi Murakami. This exhibition is no exception. Among works created specifically for the Galerie Perrotin in Paris, one piece has particularly caught our attention. It is a sculpture by Daniel Arsham made of broken glass. Arsham has made many figures of broken glass in the past, but it was always he who is inside the mold. This time, believe it or not, Arsham is doing a full body cast of Pharrell Williams. Two hundred pounds of shattered glass is being reformed inside the mold to form Pharrell's figure. The musical genius had to be perfectly still for two hours to allow the artist to make a mold. The final work of this intense process is nearly done and you can take a sneak peek at it at Arsham's Instagram profile before the opening on May 27. In Arsham's own words "Pharrell knows how to be quiet and still, which is one of the hardest things to do in this world"