Don't Miss a Remarkable Showcase of Piero Manzoni at Art Basel 2017!
One of the most influential artists of the 20th century and an enfant terrible of Italian art in the 1950s and early 1960s, the artist Piero Manzoni radically transformed the artistic language of European art and developed a lasting reputation for prefiguring the Conceptual Art movement, among others. Known for his ironic and playful methodology, the artist has been questioning the nature of the art object throughout his career. Coming to Art Basel for the first time, the gallery Mazzoleni will be bringing Manzoni's iconic pieces as part of the Feature sector of the fair. Titled Piero Manzoni. Achromes: Linea Infinita, the exhibition will show examples from two of the artist's most well-known series of works – the Achromes (1957-1963) and the Linee (1959-1963), bringing these works into a dialogue. It will also deepen the conversation around Manzoni's fascination with the infinite, an idea conceptually explored by both series.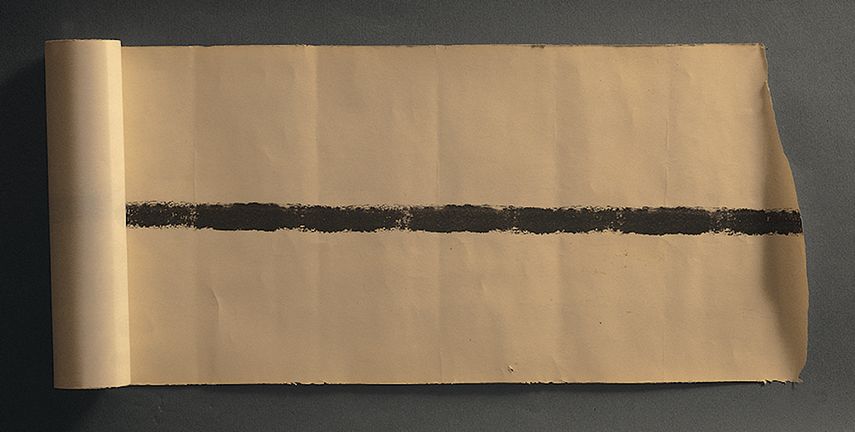 The Linee
The first three-dimensional works Manzoni produced, the Linee is regarded as Piero Manzoni's first escape from the two-dimensional medium of painting he found so restrictive and outmoded. In 1958, he created the first version of Line 1000 Meters Long, a metal drum containing a roll of paper with a precisely measured ink line along its length. Following this piece, the series later developed longer examples, scrolls rolled up in black cylinders with labels indicating their length and the dates of their creation. Mazzoleni will present pieces Linea m 19,41 from 1959 and a rare example of Linea di lunghezza infinita (Line of Infinite Length) from 1960.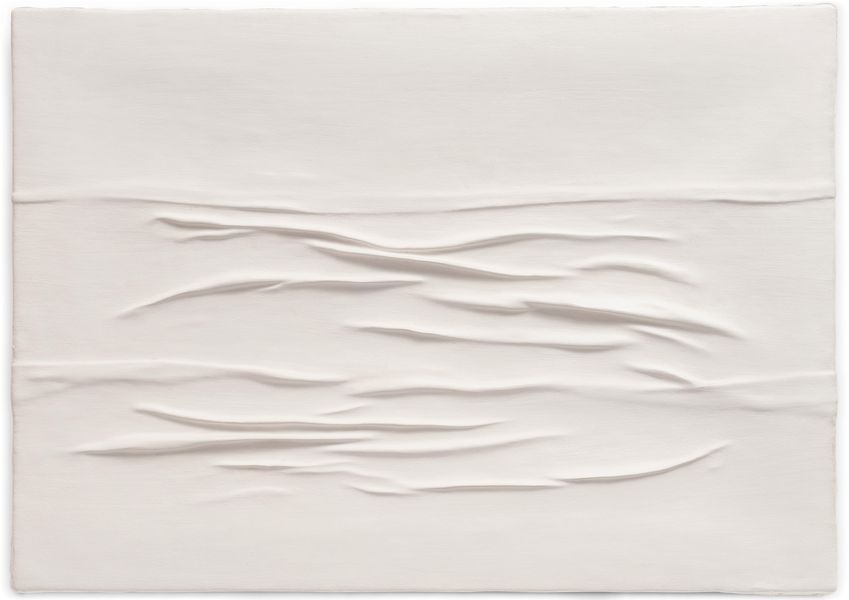 The Achromes
The series Achromes was conceived at much the same time as the Linee. Translated as "colorless" or "neutral", the series is comprised of a number of exclusively pale colored works constructed in a variety of materials. He began with a series of gesso-coated canvases, moving on to a canvas covered in kaolin, a form of white clay, which he then cut or folded. Later, he produced Achromes of other colorless materials including white cotton wool, fiberglass, rabbit skin, and bread, even experimenting with phosphorescent paint so that the "colors" would change over time. The lack of color and the simplicity of these pieces allowed them to be endlessly repeatable and therefore, for the artist, infinite. The exhibition will present a number of Achromes, including an unusual 1960 example combining squares of sewn canvas with glass pieces and examples of the well-known creased canvas and kaolin version.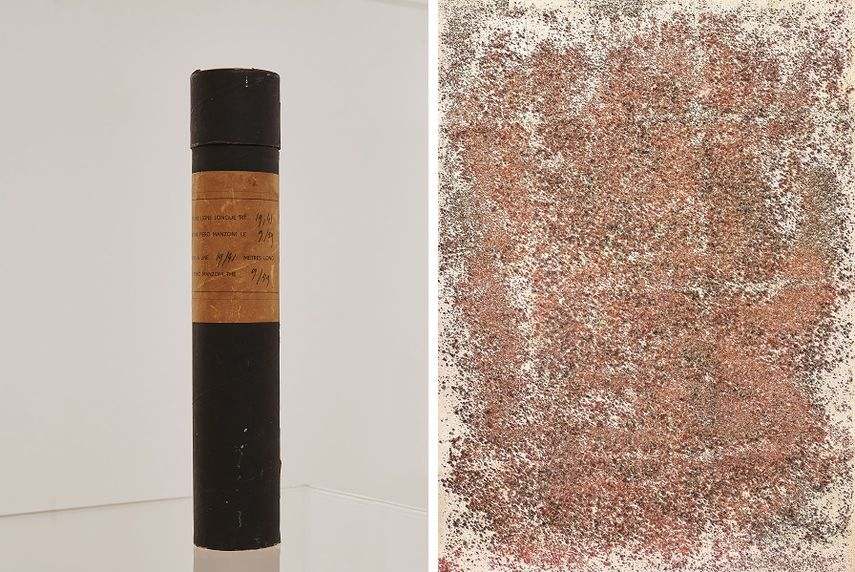 Piero Manzoni at Art Basel 2017
A critic of his time, Piero Manzoni questioned mass production and consumerism in the changing Italian society following the World War II. From 1959 Manzoni focused entirely on attempting to manifest the infinite in his work, saying in his 1960 text Free Dimension that "this indefinite surface, uniquely alive, even if in its material contingency cannot be infinite is, however, infinitable, infinitely repeatable, without a resolution to its continuity." The exhibition Piero Manzoni. Achromes: Linea Infinita will be on view at Art Basel 2017 at Booth C8 by Mazzoleni from June 18th until June 15th, 2017. Be sure not to miss this remarkable showcase!
Featured images: Piero Manzoni – Achrome, 1960 (detail); Piero Manzoni – Achrome, 1958-1959. Creased canvas and kaolin, 30 x 35 cm. Courtesy Mazzoleni, London – Torino; Piero Manzoni – Achrome, 1958 – 1959. Creased canvas and kaolin, 18 x 24.5 cm. Courtesy Mazzoleni, London – Torino; Left: Manzoni unfolding a Linea (Line) in his studio with an Achrome behind him. Milan, Circa 1959. Centre Pompidou-Mnam-Bibliothèque Kandinksy-Fonds Iris Clert, Paris / Right: Image from Linee, Exhibition Catalogue, Galleria Azimut, Milan, December 1959 (cover and inside pages with Vincenzo Agnetti's text "Piero Manzoni Le Linee", complete catalogue, private collection). All images courtesy of Mazzoleni.