Pipilotti Rist: Pixel Forest and Worry Will Vanish at MFAH
The Swiss artist Pipilotti Rist believes that the art's task is to contribute to evolution, to encourage the mind, to guarantee a detached view of social changes, to conjure up positive energies, to create sensuousness, to reconcile reason and instinct, to research possibilities and to destroy clichés and prejudices. She is best known for her multi-projector video installations that fuse the corporeal and the spiritual in what have been described as a near-psychedelic experience. Her latest installation is currently on view at the Museum of Fine Arts, Houston as part of their series of summer art immersions. Titled Pipilotti Rist: Pixel Forest and Worry Will Vanish, the exposition displays two mesmerizing works that have completely transformed the Museum's Mies van der Rohe-designed Cullinan Hall.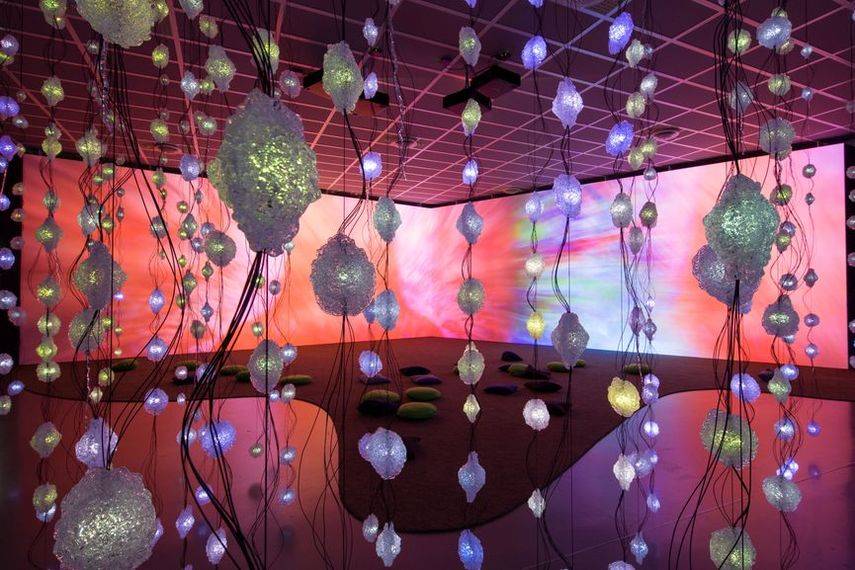 Pixel Forest
Each of the presented Pipilotti Rist pieces was conceived independently, yet together, they achieve a new synergy as they coalesce into a greater whole. This immersive environment will take the viewers on a fantastic voyage that unites the physical nature of our own bodies and our relation to the world around us. An installation of thousands of hanging LED lights, Pixel Forest from 2016 has been custom fabricated by the artist and her collaborator Kaori Kuwabara. Suspended on cables from the ceiling, each light is controlled by a video signal making the forest constantly changing in a variety of rhythms. Described by Rist as "a digital image that has exploded in space", the installation highlights that everything we look at is always organized light.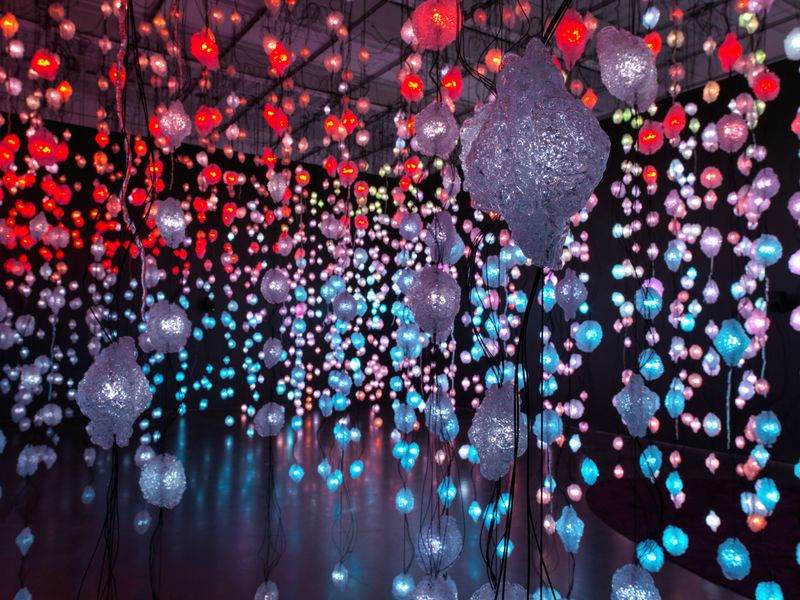 Worry Will Vanish
A two-channel video that runs in ten-minute cycles, Worry Will Vanish from 2014 takes the viewers on a dream-like journey through the natural landscape, the human body, and the heavens above. Projected onto the south and west walls of Cullinan Hall, this manipulated footage is immediately enchanting, giving way to images of the body and its interior, vast oceans, and a starry sky. The lyrical and resonantly textured soundscape created in collaboration with Anders Guggisberg heightens the video's aura of wonderstruck celebration. It is enough to recline on pillows in the room to completely lose oneself in the artist's dazzling universe.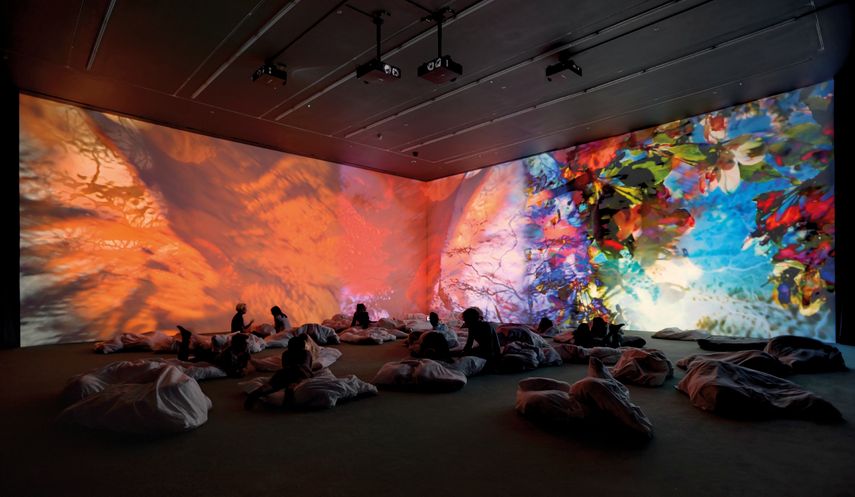 Pipilotti Rist Art at the Museum of Fine Arts, Houston
One of the contemporary art's key innovators since the mid-1980s, Pipilotti Rist has been pushing boundaries between video and the built environment, exploiting new technologies to create installations that fuse the natural world with the electronic sublime. The latest installation demonstrates her profound engagement in what it means to be human in the cosmic cycle of generation and regeneration.
The exhibition Pipilotti Rist: Pixel Forest and Worry Will Vanish is on view at the Museum of Fine Arts, Houston until September 17th, 2017. Pixel Forest and Worry Will Vanish complement the Museum's growing commitment to light-based and immersive art.
Featured image: Pipilotti Rist – Pixel Forest (Pixelwald), 2016; LED installation with media player, the Museum of Fine Arts, Houston, Museum purchase funded by the Caroline Wiess Law Accessions Endowment Fund. © Pipilotti Rist / Courtesy of the artist; Luhring Augustine, New York; and Hauser & Wirth / Photo: Mancia Bodner, courtesy Kunsthaus Zürich. All images courtesy of the Museum of Fine Arts, Houston.