Androidei : Robots immortalized in Pixelpancho Street Art Coming to Galleria Varsi
Since the ancient times, men and women have attributed what they could not explain to divine beings, Gods of unlimited power looking down upon us. Looking for answers and assurance, they were idolized, worshipped and besought in hopes of their favor. Man has often compared himself to the Gods in his everlasting quest for perfection and immortality. Now, after centuries of evolution and development of the cultures that have produced them, many seek these qualities within different entities. Amongst others, the Italian-based artist Pixel Pancho uses street art to portray his pursuit, finding Gods in modern age robots. Projecting their desires onto something much closer and realistic, people started creating robots unsurprisingly in their own image. In the words of the artist: "Robots do not die; they are what stays on once we are all gone." Robots are the new Gods, and with that idea in mind, Pixel Pancho will present 19 artworks in an exhibition called Androidèi, held at Galleria Varsi in Rome.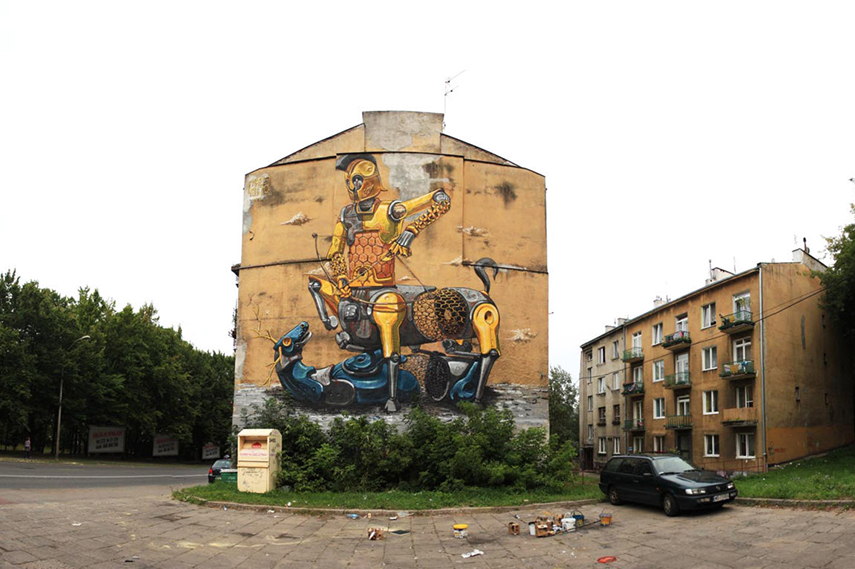 History of Pixel Pancho Street Art
Born in 1984 in Turin, the Italian artist Pixel Pancho was introduced to color and form by his grandfather, an amateur painter. With a passion for art and design, he enlisted in the Albertina Academy of Fine Arts in Turin, and then in the Academy of Fine Arts in Valencia, Spain. Even then, he distanced himself from his peers by using spray paint cans and markers on outdoor surfaces rather than brushes on canvas. Using different mediums throughout his career such as tile, wall painting and sticker/poster art, he soon became known to the public of cities like Paris, Amsterdam, Warsaw, Vienna and others through his public work as well as gallery displays. Driven by timeless constitution of robots, their iron and rusted copper bodies falling and laying about form a world that is a repeating narrative in his work. Forming a network of stories, his murals and paintings adorn the walls of buildings in cities throughout Europe, the U.S. and Mexico.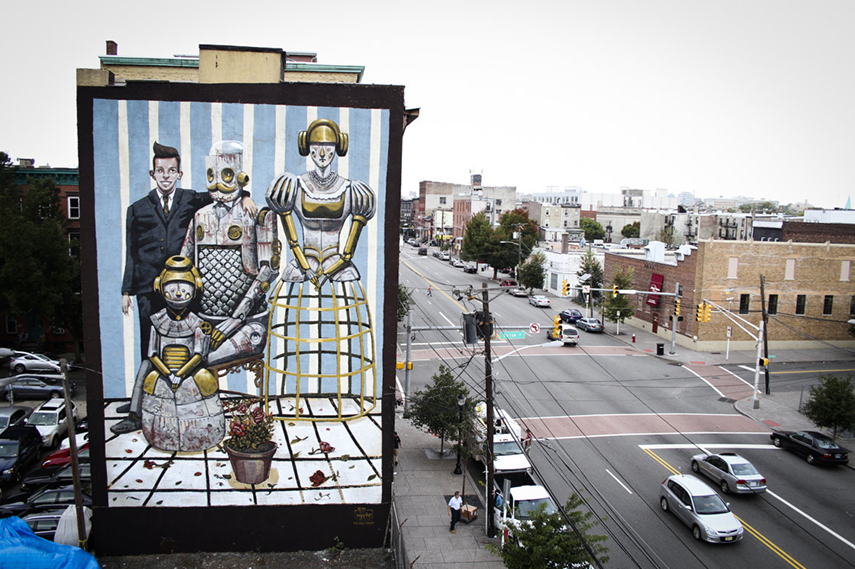 One With the Gods
Presenting 19 of Pixel Pancho's artworks including acrylic paintings on wood panels, sketches and engravings on paper and a sculpture in plaster, ceramics and iron, one of the youngest galleries in Rome, Galleria Varsi, will completely modify its interior in order to maintain and support the exhibition's theme. Immortalizing robots and presenting them as modern Gods, Pancho merges man's desire to be closer to this perfected entity by giving them figures of man. "The human body has an incredible anatomy; I am fascinated by the way it works and this inspires all my drawings," said the artist, and it can be seen in the pieces portraying men with iron skin, metal parts and gear instead of a living body. Furthering his work in Rome, Pixel Pancho will collaborate with the Muracci Nostri group in order to create a mural in the Primavalle neighbourhood, telling their story through a symbolic artwork.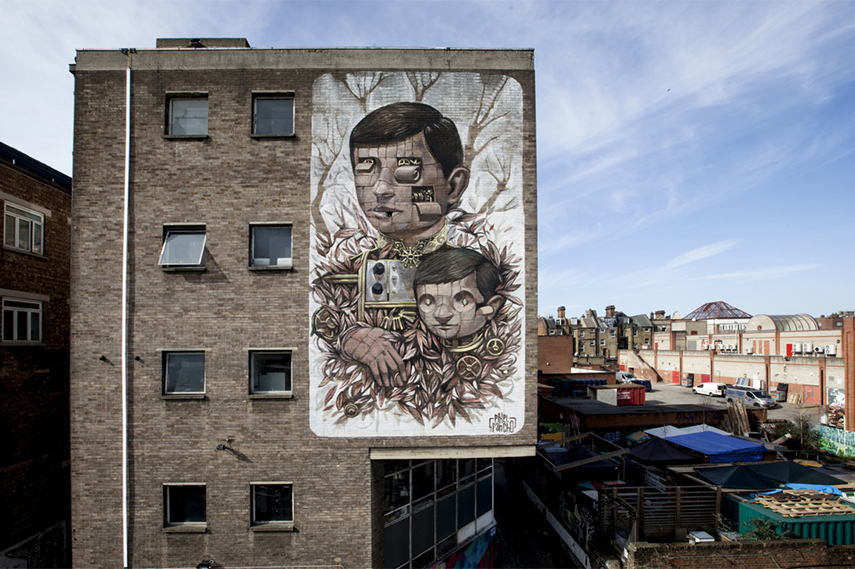 Pixel Pancho Exhibition at Galleria Varsi in Rome
Writing individual stories using spray paint cans and markers, Pixel Pancho has created a world consumed by time in which only the Gods can and have survived. The narrative of immortalized robots being omnipresent in his work, along with the interior adaptations of the gallery itself accompanying the exhibition is sure to leave a lasting impression on any visitor. The exhibition under the name of Androidèi will be on view at Galleria Varsi in Rome, from February 19th to April 3rd, 2016.
Featured images: Pixel Pancho and Evoca1 in London, 2015; Pixel Pancho and Vhils in Lisbon, 2014. Images courtesy of Galleria Varsi.
Follow These Galleries
Rome, Italy

Paris, France

Düsseldorf, Germany