Pope Made of Condoms Stirs Controversy, Yet Again
It's nothing unusual, really, that artists use all kinds of materials to make art and, many times, their artworks deal with religion in the most unusual ways – let's just remember that Andres Serrano immersed a crucifix in his own urine for a photograph entitled Piss Christ in 1987. That being said, 17,000 colored condoms woven together to depict the pope don't really come as a surprise (in fact, the work was made in 2013), but it was only recently that it was acquired by the Milwaukee Art Museum, and that's something not everyone liked. The museum ended up receiving almost 200 formal complaints, lost a certain number of patrons and one long-time staffer, but they also gained 1,300 new memberships just in the last seven days. So what exactly happened?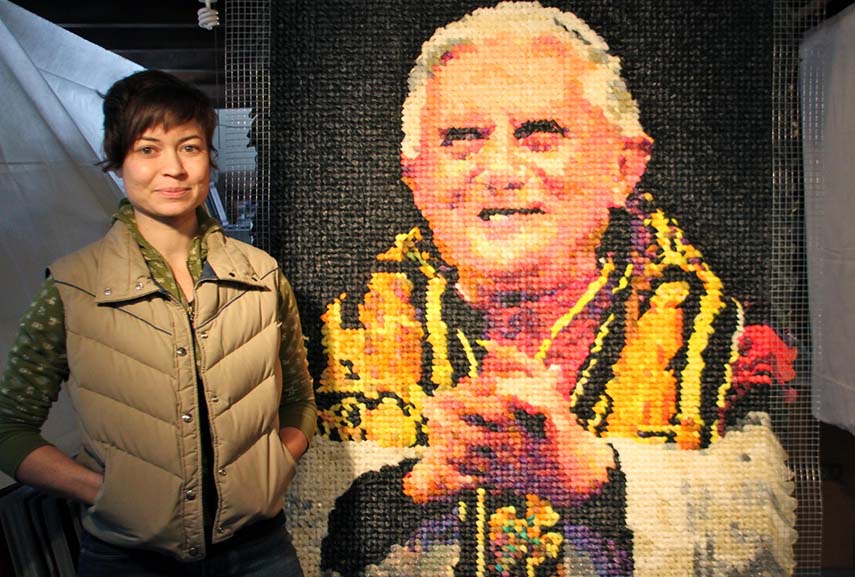 Niki Johnson's Eggs Benedict
The 17,000 multi-colored condoms depict the former Pope, Benedict XVI, in one of his usual poses. Why condoms? Back in 2009, while still on his position as the head of the Catholic church, Pope Benedict visited Africa. While on that trip, he said that condoms were not the solution to the AIDS crisis, causing an outrage within global health organizations fighting hard to stop the spread of the disease. And not just them – this sort of statement would boggle the mind of anyone with even a tiny bit of sense. In response to this profound thought, American artist Niki Johnson made the artwork and called it Eggs Benedict (personally, I think it's genius), aiming to start a discussion about the direction the former leader took the society in.
The Condom Pope at The Milwaukee Museum of Art
Earlier this month, Eggs Benedict was announced by the Milwaukee Museum of Art as the newest addition to its permanent collection. The work was donated by Joseph Pabst, a philanthropist and gay rights advocate, who originally bought it for $25,000. The work was first shown shorty after it was created in 2013, at the Portrait Society Gallery in Milwaukee, which is where you might have heard about it before. Now, it has found a house within museum walls, except it didn't go unnoticed. As reported by The Journal Sentinel, Milwaukee's Archbishop Jerome Listecki strongly opposed the idea in a letter to the museum, calling the work "insulting". Museum board of trustees president Don Layden said that the painting is meant to start a conversation about AIDS and AIDS education, and not disrespect or mock the pope.
What do YOU think of this artwork? Share your opinion on our Facebook page!
For more latest news, sign up for My Widewalls free of charge!
Featured images in slider: Niki Johnson – Eggs Benedict, 2013. Images courtesy of the artist