Nine Prolific Artists Create Posters against Trump's Immigration Ban
In an executive order announced shortly after his official inauguration, President Donald Trump closed the borders of the United States to individuals from seven predominantly Muslim nations: Iran, Iraq, Libya, Somalia, Sudan, Syria and Yemen. Although the legislation went through some modifications during the last few months, dropping Iraq from the list among other things, the order's effects have already taken a toll on the nation. In recent weeks, curators of thirty leading museums across the US have been receiving packages with content that's intended to give voice to artists across the country. Each of the packages contained posters signed by major artists who created these declarations as a response to President Donald Trump's immigration ban. A total of nine artists came together to create these posters, united under the idea of liberty and creative freedom.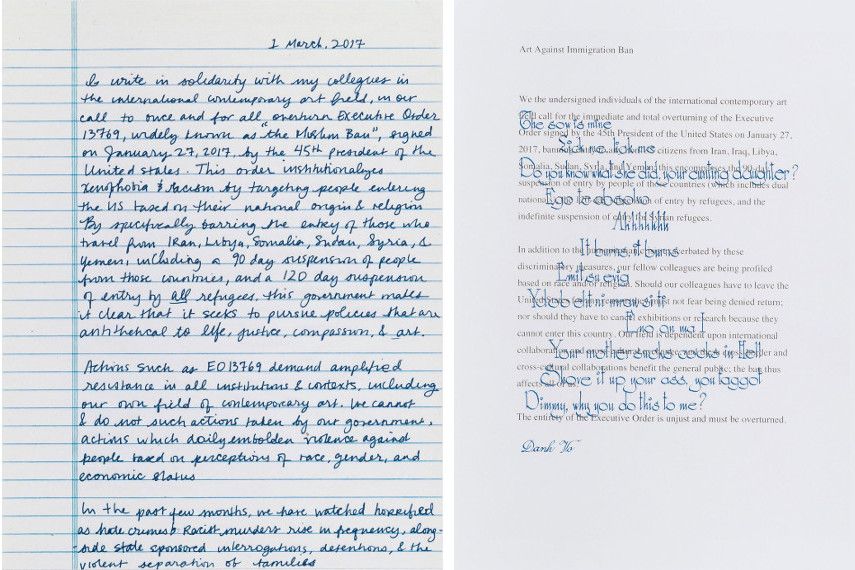 Artists vs Trump's Immigration Ban
As the artists who created the posters see it, President Donald Trump's "Muslim ban" threatens the values of cross-cultural exchange that lies at the very core of the American society. The nine artists who decided to speak up about the troubling legislation are Joan Jonas, Barbara Kruger, Julie Mehretu, Chitra Ganesh, Liam Gillick, Walid Raad, Rirkrit Tiravanija, Danh Vo and Anicka Yi. They united under the banner of Artists Against the Immigration Ban to create the posters in question. This project remained under wraps for months, so the timing of its release takes on a new meaning in light of the latest executive order Trump signed on Sunday – the new legislation bars certain citizens of Muslim-majority countries from entering the US.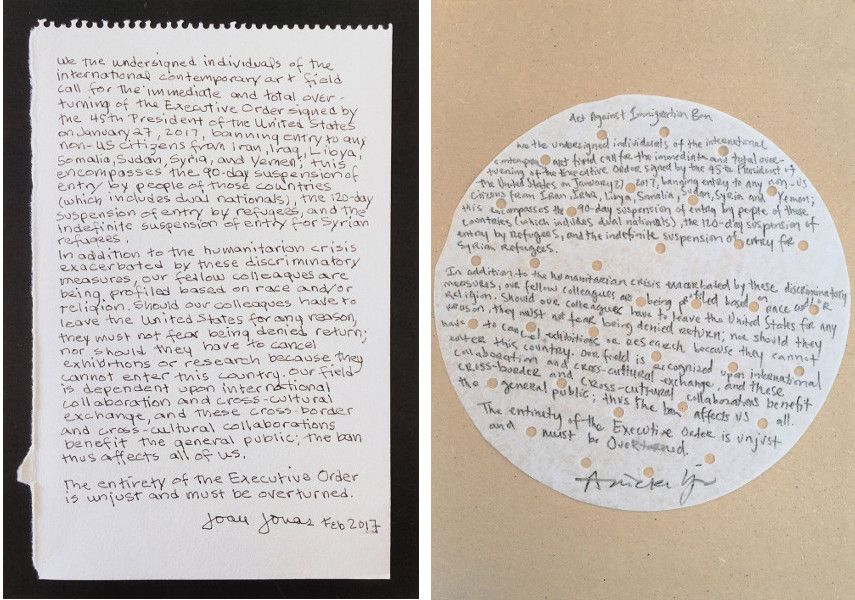 Taking the Muslim Ban Head On
The poster project began in February when art historians Bettina Funcke and Amy Zion declared their concern about the original immigration order in an online letter. This text argues that their field of work is heavily dependent on international collaboration and cross-cultural exchange, and that the ban would prevent some artists from leaving the country for fear that they would be denied re-entry. A lot of time has passed since February, yet the situation concerning the order is still very much a hot topic – enough so that the aforementioned nine artists organized a project that aims to take the Muslim ban head on and show support to all those affected by the disgraceful legislation. The posters were scanned and printed in order to be treated as high-quality archival prints before they were sent to such contemporary art institutions like the Art Institute of Chicago, the San Francisco Museum of Modern Art, the Institute of Contemporary Art in Boston and the Walker Art Center in Minneapolis. Each package came with a cover letter asking museums to make their own judgment about what to do with the posters stored inside.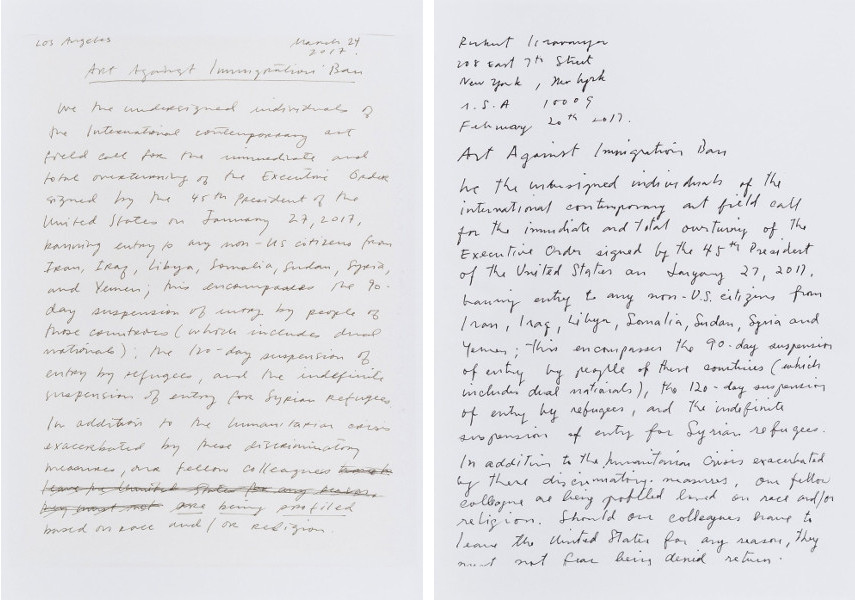 An Artistic Alarm
As Nancy Spector, the Guggenheim's artistic director and chief curator, observed so well, American history is full of critical junctures in which artists have come together to protest injustice and craft counter-narratives to the prevailing voices in government. As far as critical junctures go, Donald Trump's Muslim ban definitely qualifies as such and the nine artists who boldly decided to speak up against it are giving it their all in order to raise awareness. And we would do well to heed their creative alarm – after all, Theresa Bayer said it best: "Artists are the proverbial canaries in the coalmine. When we stop singing, it's a sure sign of repressive times ahead."
Featured images: Art Against Immigration Poster by Chitra Ganesh (detail); Art Against Immigration Poster by Walid Raad; Art Against Immigration Poster by Liam Gillick; Art Against Immigration Poster by Barbara Kruger (detail). All images via The Guggenheim Museum.