POW! WOW! 2014: First look at murals
If you've walked the streets of the industrial district of Kaka'ako in Honolulu these days, you could take a first look on some new murals in progress as well as completed walls for POW! WOW! Hawaii Street Art Festival. Most of the murals are currently in their early phases, but some of the artists have been apparently faster than the other. If you are in the area, you'll be able to find the completed works of Ron English, Lady Aiko, Augustine Kofie, and a fresh piece signed by the newly formed American-Australian duo Nychos and Buff Monster.
Here are some updates…
Ron English
Ron English spent the last few days in Hawaii working on his huge funny piece which shows a group of different sea creatures playing poker. The work has been completed and is absolutely remarkable. We couldn't expect any less from Ron English.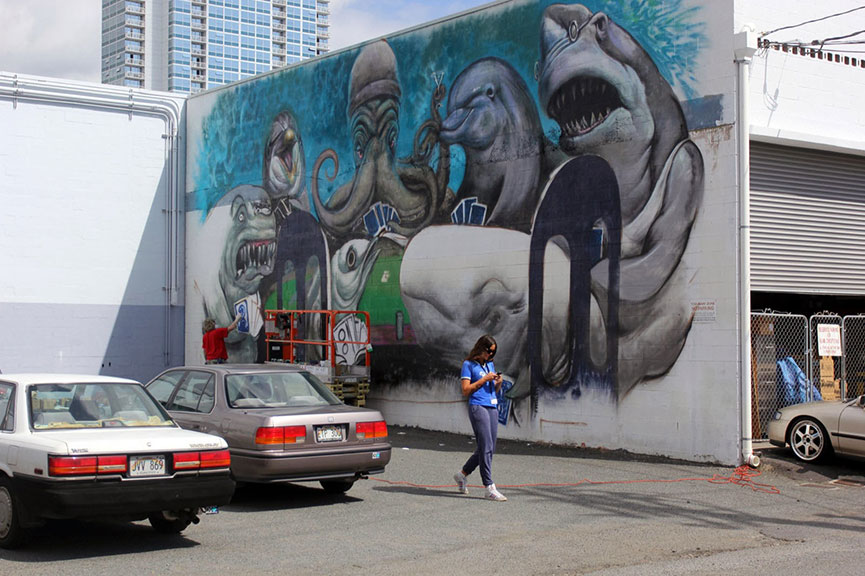 Lady Aiko
The Brooklyn-based street artist Lady Aiko has also completed her Hawaiian mural for POW! WOW! Hawaii 2014.Near the center of the painted and stenciled mural, Aiko's signature appears on a scroll that reads: "Here's Fun for Everyone — Aiko." Indeed, it's fun.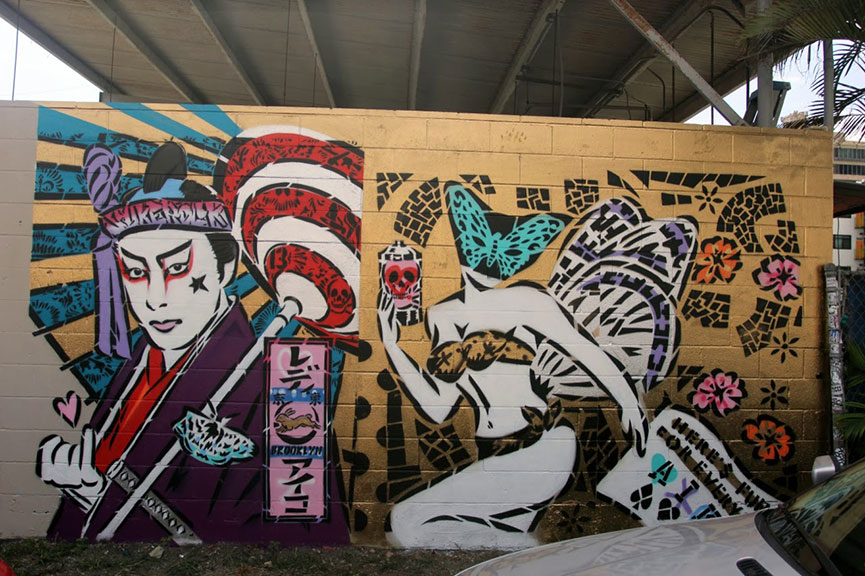 Buff Monster and Nychos
Buff Monster and Nychos are fast with the spray paint too. The duo has been working together on an impressive portrait of a half dark goddess-like half alien-like character. The central figure is typical of Nychos, with his heavy metal-inspired aesthetic. Buff Monster added his pink blobs, this time with demonic bat wings, on the side as the central figure's sidekicks, creating an overall grotesque piece of work.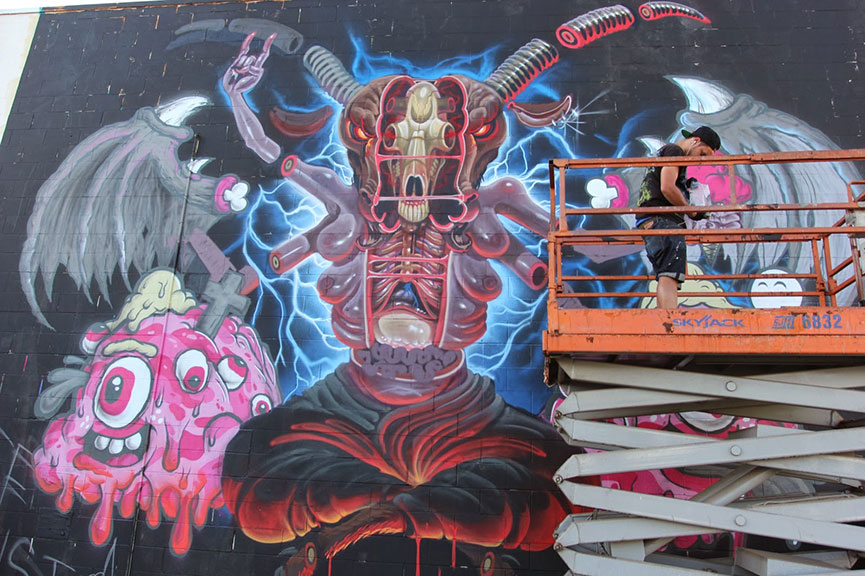 Augustine Kofie
An esteemed L.A. artist, Augustine Kofie has again brilliantly achieved harmony of contradictory dynamics in his new work in Hawaii by setting futuristic compositions, generated through carefully structured line-work and layering, against vintage earth-toned palettes. Kofie creates works of intense detail centered on the order of balance, inspired by modern architecture and machines.
Stay with us for more information from Honolulu.