POW! WOW! ON THE WALLS! GO!
The mural project at POW! WOW! Hawaii 2014 begins today! As tradition dictates, a number of murals will be painted throughout the Kaka'ako district. The painting will be happening through February 15th, and it is free to watch and enjoy to all. Locations of old murals can be seen on the POW! WOW! Mural Map and the new ones will be added. Last year more than 50 locations were painted. Widewalls is sure that this year's festival will keep up with, if not surpass the achieved level. The official roster for this year includes an impressive lineup of international and local artists. Here is a brief overview of several attending artists we highlight:
RON ENGLISH
Ron English is one of the most prolific and recognizable artists alive today. He has bombed the global landscape with unforgettable images, on the street, in museums, in movies, books and television. English coined the term POPaganda to describe his signature mash-up of high and low cultural touchstones, from superhero mythology to totems of art history, populated with his vast and constantly growing arsenal of original characters, including MC Supersized, the obese fast-food mascot featured in the hit movie "Supersize Me," and Abraham Obama, the fusion of America's 16th and 44th Presidents, an image widely discussed in the media as directly impacting the 2008 election.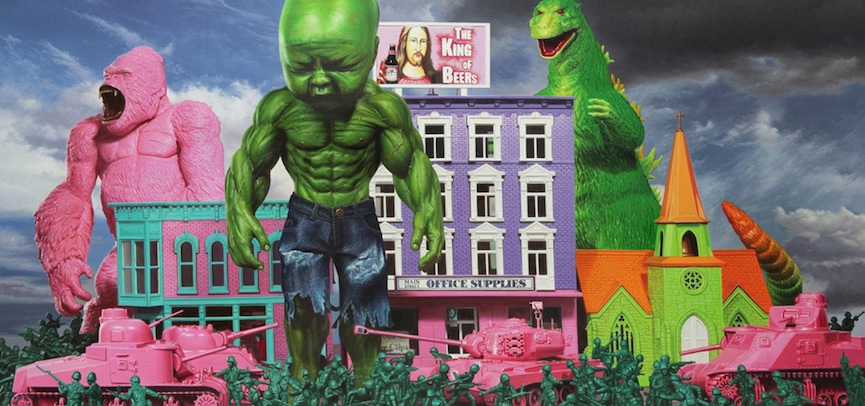 COPE2
Cope2 is a self-taught artist who is a celebrated figure for over 30 years in the graffiti art culture. One of New York City's most legendary prolific graffiti artists, he began tagging his name in the South Bronx in 1978. He developed his style in the subways and streets of the Bronx creating graffiti productions throughout the 1980's and 1990's. Today, you can catch COPE2 in the studio painting, bringing his raw energy into abstract masterpieces, intertwined with his trademark bubble letters and tags on canvases. He has also delved into curating successful group exhibitions. COPE2 crosses between art world, mainstream and street culture alike.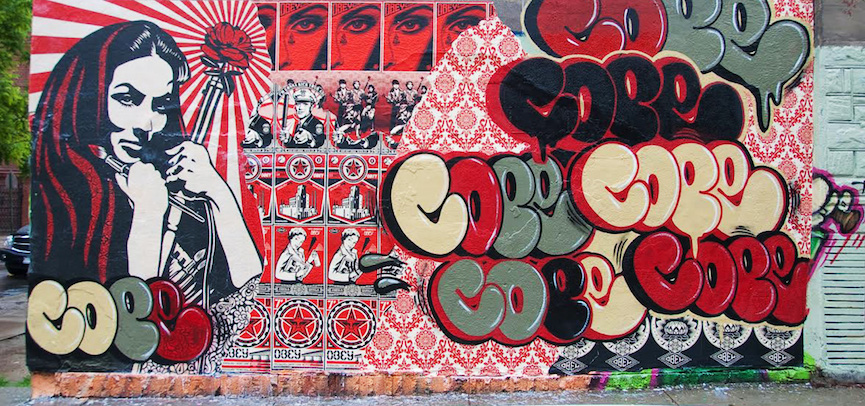 INDIE184
Indie184 has been active in the graffiti culture for over a decade. She is known for her classic New York simple yet playful feminine graffiti style infused with exuberant bold colors bursting with hearts, stars and bubbles. Indie's paintings are raptures of color and textures fused with of her graffiti, imagery, and designs juxtaposed with messages. You can find her graffiti pieces in the streets from the South Bronx to Oslo. Indie has curated several group art exhibitions featuring several of the legendary contemporary street artists, such as Shepard Fairey, Kaws, Fafi, Swoon, Os Gemeos and Cope 2.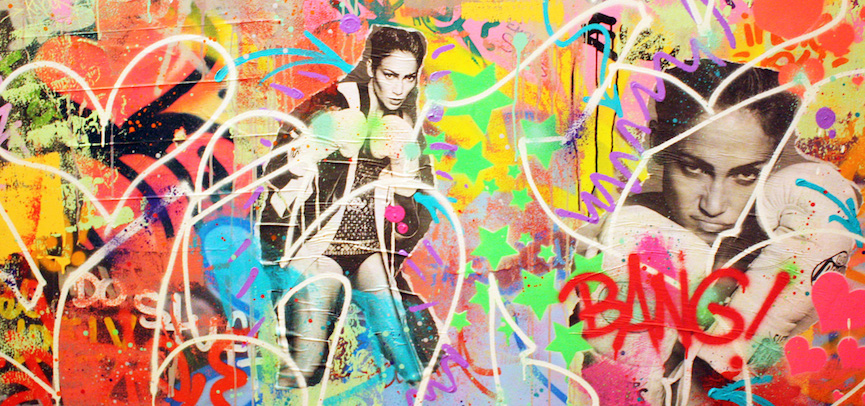 PERSUE
PERSUE (pronounced "per-SWAY") is a west coast graffiti and skateboarding pioneer. Persue eventually started a project for fun that would inadvertently become a phenomenon all its own: Bunny Kitty. His most ambitious and beloved creation to date, Bunny Kitty is a whole world unto itself. Persue has spent the last few years fleshing Bunny Kitty's universe out, whether it is by taking the characters to the street level with elaborate and colorful murals that he has painted the world over, or bringing her to life through plush toys, apparel, and children's books. Anyone who knows him can tell you that Persue's artwork is a reflection of his personality. As a traditionalist, he paints on the streets, but has more recently meshed that background with a rough-edged illustration style to create works for galleries.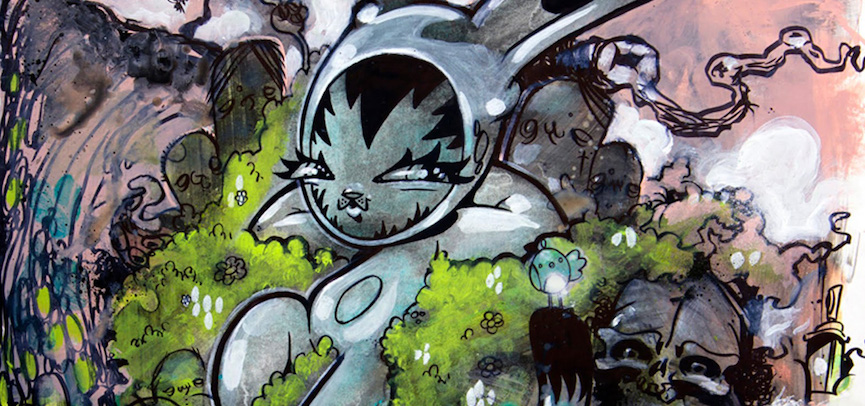 123KLAN
123KLAN is a creative studio founded in France in 1992 by the most famous French couple in the country, Scien and Mrs. Klor. They specialize in logos, character designs, illustrations, typefaces and, of course, their first love graffiti. They have worked on different kinds of projects and mediums that range from: street wear, video games, motion design, web, print, toys, skateboards, and sport wear lines…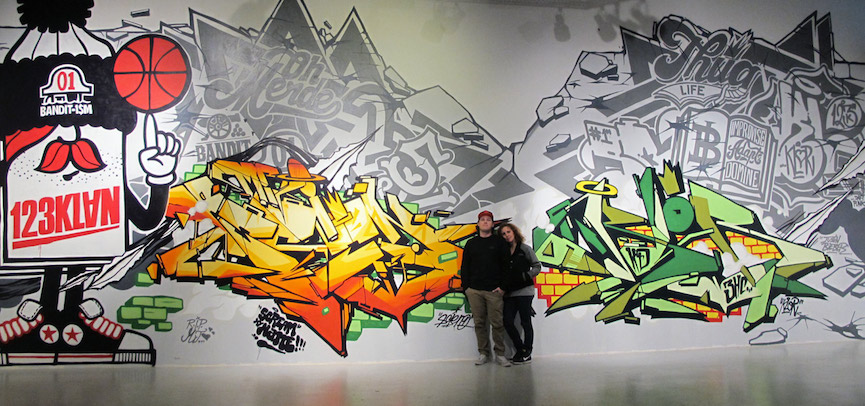 JAMES REKA
James Reka is a young contemporary Australian artist based in Berlin, Germany. His origins lie in the alleyways and train lines of Melbourne's inner-suburbs where he spent over a decade refining his now-emblematic aesthetic. With influences in pop culture, cartoons and illustration, Reka's style has become known for its fusion of high and low art. This style emerged from his Pop-Art-influenced logo design background. Over time, the logos and symbols he created for clients evolved into more structured, animated forms and embraced variances of the different media he began experimenting with. These elements include murals, graphics, photography, and most recently, a move towards working with found objects, often sourced walking the train lines at night or exploring abandoned warehouses.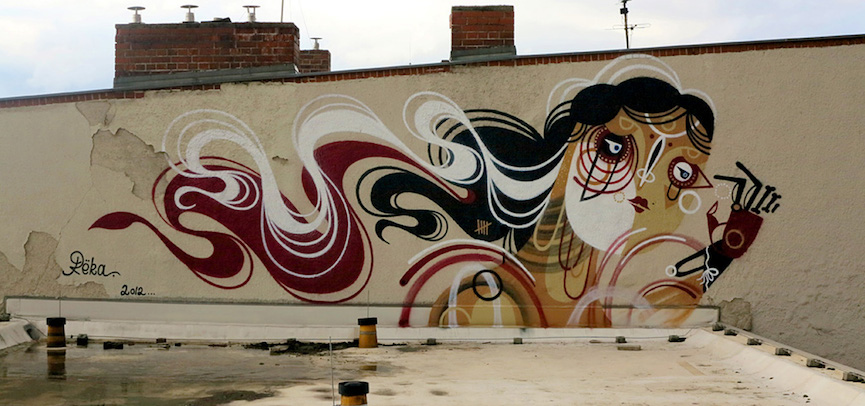 LADY AIKO
Lady Aiko fluidly hybrids the essence of American modern art movements such as Abstract Art, POP Art, and contemporary Graffiti and Street Art with the Japanese traditional aesthetic in which she was originally trained. Her paintings and murals tell a story, playfully portraying femininity, sexuality and the beauty of human life and her historical important is that she has the inside track to be the artist who unites Western and Eastern culture with her work. AIKO is recognized in the contemporary art world as among the most important artists to emerge in the new millennium. She is also well respected with the graffiti and street art scene. Her large scale works indoors and outdoors are installed in many cities around the world. Her work has been exhibited globally.
CYRCLE.
CYRCLE. is a two-man collective born out of Los Angeles, California in 2010. Their work focuses on life, duality, and the human condition. Those concepts, combined with the aesthetic consideration of form, type face, color, and balance are what create their signature style. Through street campaigns, design, fine art, murals, and collaborations, their work blurs the lines within the contemporary art world. CYRCLE reveals complex ideologies in their simplest forms. Refusing to constrain themselves to a particular definition- street artists, graphic designers, traditional fine artists – the collective is interested in what the function and form of the work itself demands.
GAIA
GAIA's work reflects on the ancient themes of animal and human sympathies, but now in the context of the city and the human built environment. Working with myth and symbolic animal figures, Gaia's street murals are like the works of an urban shaman drawing on a positive force from animal protectors. He employs recognizable animal figures to remind us of lost human connections to nature and the environment. Gaia constructs an image of a reversal of the "natural order" where animals intervene as protectors and avatars for a new awareness of the human condition in the natural world. He is known world-wide for street murals placed in areas to elicit surprise and reflection by passers-by who encounter the symbolism and fragile narratives of his work.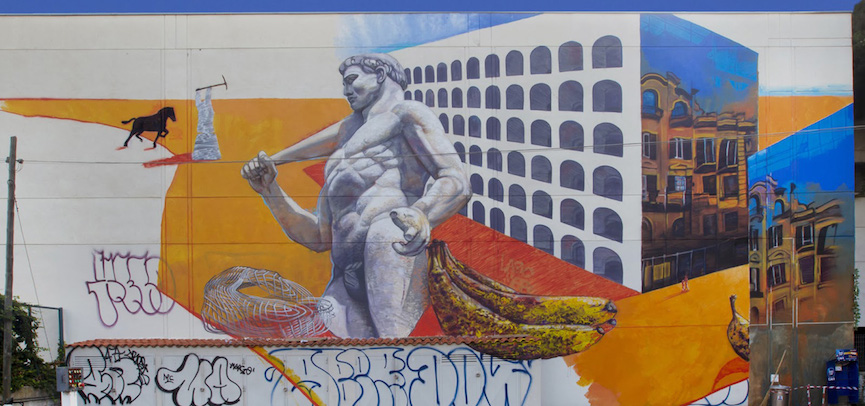 VHILS
Vhils' groundbreaking carving technique – which forms the basis of the Scratching the Surface series and was first presented to the public at the VSP group show in Lisbon in 2007 and at the Cans Festival in London in 2008 –, has been hailed as one of the most compelling approaches to art created in the street in the last decade. This striking form of visual poetry, showcased around the world in both indoor and outdoor settings, has been described as brutal and complex, yet imbued with a simplicity that speaks to the core of human emotions, expressing the struggle between the aspirations of the individual and the demanding, saturated environment of the urban spaces he lives in, highlighting and exposing the somber dimension that lies behind the current model of development and the material aspirations it encompasses – unsustainable, yet inebriating. Vhils grew up in Seixal, an industrialized suburb across the river from Lisbon, the capital of Portugal and was particularly influenced by the transformations brought on by the intensive urban development the country underwent in the 1980s and 1990s. An avid experimentalist, he has been developing his notion of the aesthetics of vandalism in a plurality of media – from stencil painting to wall carving, from pyrotechnic explosions to 3D modeling – which have enabled him to expand the boundaries of visual expression. His unique approach and artwork have been garnering critical acclaim around the world.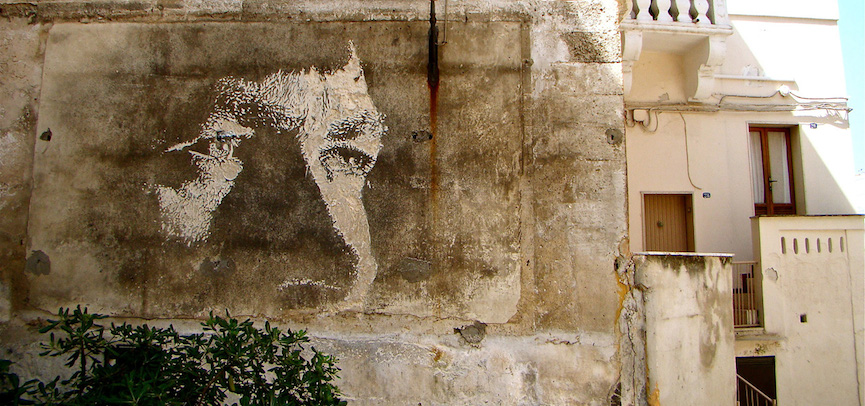 Upcoming Events
TUESDAY February 11th, 7 – 11pm
#RVCATWFSL EXHIBITION
RVCA, The Seventh Letter and POW! WOW! present an exhibition of some of today's best artists at 691 Auahi Street. The exhibition is curated by Casey "Eklips" Zoltan and PM Tenore.
WEDNESDAY February 12th, 6-8pm
An array of Art Lectures is scheduled. Held by the most prominent street artists today, the event is situated within the Fresh Cafe and Loft in Space. Art Lectures are free of charge and open to the public.
THURSDAY February 13th, 6-8pm
Fresh Cafe and Loft in Space will host Music Lectures at this time. Some of the best DJs, musicians and producers will attend. Music Lectures are free of charge and open to the public.
FRIDAY February 14th, 6-10pm
1XRUN and Pangea Seed Exhibition opening party
The exhibit will present rare and original prints and toys by POW WOW artists, some of which will be available for purchase. Located in Fresh Cafe and Loft in Space it will run from February 10 to 15. The exhibition is free of charge and open to the public.
SATURDAY February 15th, 6pm-12am
BLOCK PARTY FINALE AT AUAHI STREET
Big POW! WOW! Finale celebration! Two blocks on Auahi street will be closed off, staging performances by POW WOW Music Artists, School of Music, artists paint jam and special music guests. The Block Party Finale free of charge and open to the public.
SUNDAY February 16th, 12am-4am
Official POW! WOW! Hawaii after party
Location is TBA. For ages 21 and up only.