Imprisoned Rebellious Artist Pyotr Pavlensky Transferred to Russian Psychiatric Hospital for "Evaluation"
In the Soviet Union, dissidents were often declared mentally ill. Even though it's been 25 years since that country seized to exist, some of its rules and practices are still very much alive. Russian artist Pyotr Pavlensky, who was arrested on November 9th 2015 for setting the headquarters of the Federal Security Service in Moscow on fire, was transferred to a psychiatrical hospital, where he'll likely be diagnosed with "insanity". Pyotr Pavlensky has been in pre-trial detention since his arrest, but on January 27th, he was taken to the Serbsky State Scientific Center for Social and Forensic Psychiatry, a facility he once performed in front of.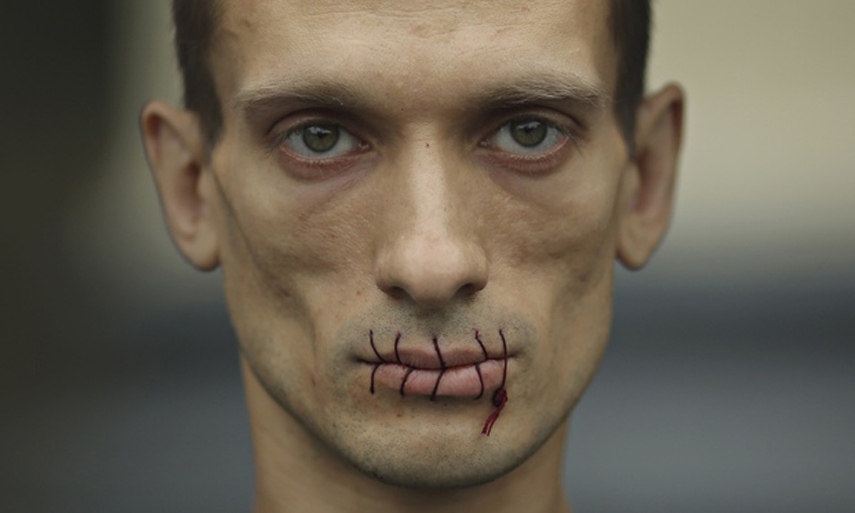 A Psychiatric Evaluation for the Dissident
Pyotr Pavlensky's partner, Oksana Shalygina, said the artist was to appear in court on the day he was sent away by the Russian prosecutors. The authorities tried to avoid staging a public trial, as that didn't go too well with another pair of dissident artists, Pussy Riot. Now, his evaluation at the Serbsky Center is to last three weeks and, if we were to trust the institution's history, he will be examined and probably deemed "insane" or "mentally ill". During the Soviet period, the Center was notorious for giving such diagnoses for anyone who dared to disobey the regime. After the evaluation, they would be set for involuntary treatment to special hospitals and thus would be gotten out of the way. The news of Pyotr Pavlensky's transfer raised concerns about the revival of the Serbsky Center and its activities, and brought back the question of politicised psychiatry. In 2014, Pyotr Pavlensky protested against law enforcement's use of such forced treatment by cutting off a piece of his ear while sitting naked outside the Serbsky Center. He was detained and escorted into the building for an exam, but was released shortly after.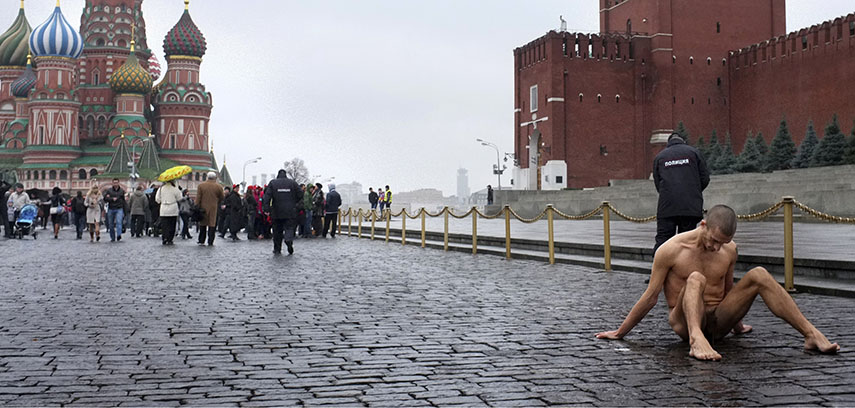 The Performance Art of Pyotr Pavlensky
Pyotr Pavlensky has had quite a bit of history in performing his pieces in protest of all things banned by the Russian authorities. He first caught the attention of the media, but also the police, in 2012, when he and Oksana Shalygina founded and independent online newspaper called Political Propaganda, and when he sewed his mouth shut to silently speak against the incarceration of Pussy Riot. He was active during the 2014 Ukranian Revolution, even though he was arrested and charged with hooliganism, for burning tyres. But surely Pyotr Pavlensky's most famous piece is entitled Fixation, and it involved the artist sitting naked in front of the Lenin Mausoleum on the Red Square in Moscow, when he nailed his scrotum to the cobblestone pavement. In a statement for the media, Pyotr Pavlensky said his action "is a metaphor of apathy, political indifference, and fatalism of Russian society."
What are your thoughts on the story? Share your comments on our Facebook page!
Featured images in slider: Pyotr Pavlensky. Photo by Maxim Zmeyev for Reuters; Images via RT. All images used for illustrative purposes only.