Ralph Steadman: Printin' Backwuds at Lazarides
Lazarides Editions is preparing for an amazing exhibition entitled Printin' Backwuds, during which visitors will be able to see fine art prints by one of the world's most renowned and politically charged cartoonists, Ralph Steadman. By looking back at over 50 years of fine art prints made by this great British artist, the exhibition itself has characteristics of retrospective of Steadman's oeuvre. His famous drawings enriched not only British political cartooning, but the medium of drawing in general. Steadman's direct and impulsive drawing style brought a new level of savagery to British political cartooning in the 1960s, a style that has continued to have big impact throughout artist's decades long influential career. Printin' Backwuds show at Lazarides will provide the visitors an insight into amazing and gigantic body of work of Ralph Steadman.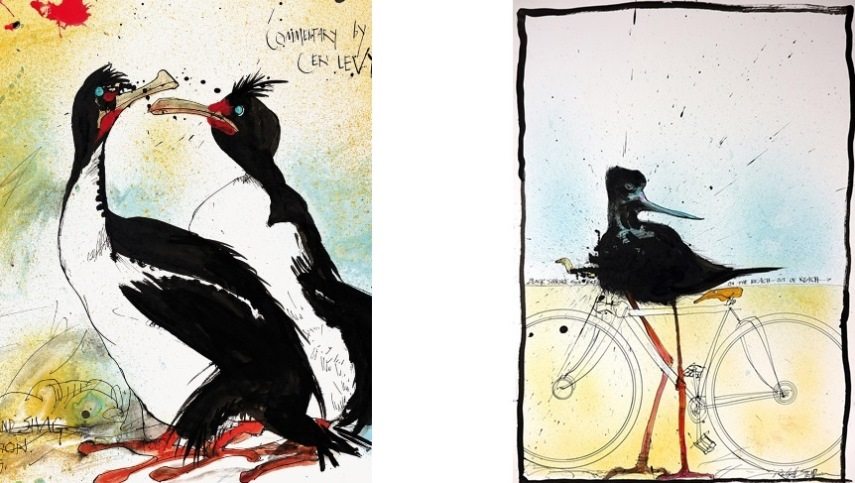 Ralph Steadman: Cartoonist, Artist and Popular Culture
It's impossible to describe the art of Ralph Steadman in a few sentences. He is not interested only in politically charged art; from 1970s, he participated in the development of the ideas and methods of Gonzo journalism, that would largely shaped his entire career (check out our article about 10 favorite politically charged art expressions of 2014). Speaking about Gonzo journalism, we have to mention his long term collaboration with Hunter S Thompson, American journalist and author. They first collaborated during a trip to the Kentucky Derby in 1970, and in doing so, formed one of the most acclaimed artistic collaborations of the 20th century. Their joint work on widely adored Fear and Loathing in Las Vegas brought them global recognition, and the status of the leaders of counter culture movement. Even after Thompson's death in 2005, Ralph Steadman has continued to work influenced by Gonzo approach. As we already mentioned, although Steadman became well-known back in 1960s for his politically charged drawings, his interest in popular culture resulted in some extraordinary works. Recently, we wrote about his exhibition at London's 71a Gallery, when Steadman created special drawings for each season of iconic Breaking Bad TV show.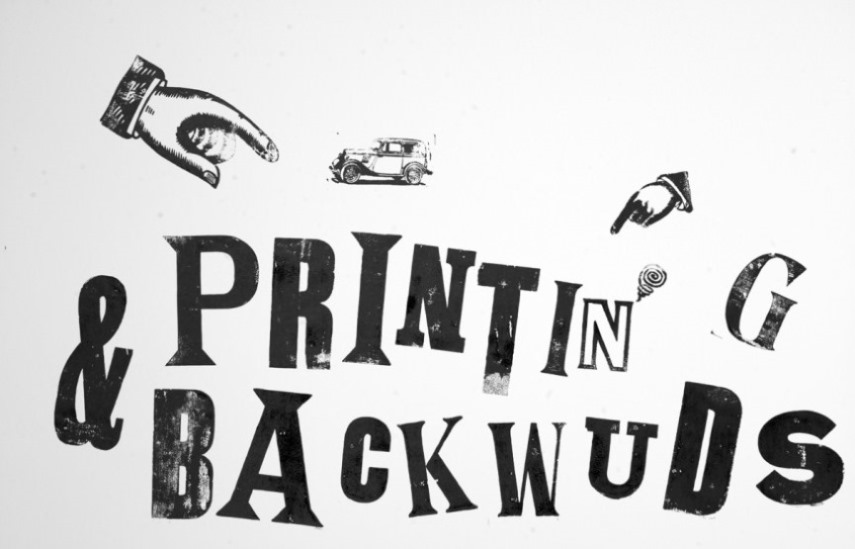 Printin' Backwuds by Ralph Steadman
In the world of satire, cartoons and illustrations (but in international relations as well), 2015 was marked by disgraceful terrorist attack on the French satirical magazine Charlie Hebdo. In the same year when we remember those amazing cartoonists and illustrators who were killed in Paris, Lazarides pays respect to extraordinary work by Ralph Steadman. Printin' Backwuds will reference Steadman's extensive career and his ongoing experimental relationship with the fine art print. On show will be over 30 rare works from the artist's archives, including never-before-seen prints that have been counter signed by Hunter S Thompson and others that bare the bullet holes from the gun of William Burroughs.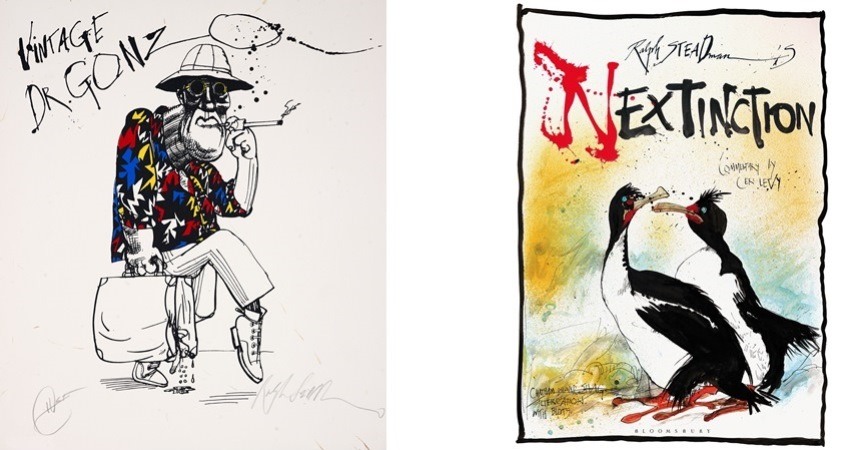 Ralph Steadman: Printin' Backwuds at Lazarides
During Printin' Backwuds exhibition at Lazarides Editions, the gallery proudly presents four brand new limited edition prints with Steadman, alongside the launch of his forthcoming book Nextinction which has been created in collaboration with conservationist and film-maker Ceri Levy. The exhibition will host the grand unveiling of a new Vintage Dr Gonzo limited edition bronze sculpture, as well as an exclusive screening of For No Good Reason, the 2012 documentary that guides us through the work and life of this living legend. The exhibition Printin' Backwuds of works by amazing artist Ralph Steadman will be on view from July 16th until August 13th 2015, at Lazarides Editions, London.
Sign up for My Widewalls, and be informed about upcoming exhibitions!
Featured Image: Ralph Steadman – Printin' Backwuds (detailed image)
All Images courtesy of Lazarides Editions.