Recap: Mutu at Victoria Miro
Nairobi born and now New York based artist Wangechi Mutu was recently on show at the Victoria Miro Gallery in London with her quite remarkable exhibition Nguva na Nyoka, a wonderful collection of imagery spread across the mediums of collage, video and installations. Wangechi Mutu, whose work has been described as Afrofuturist due to her love of creating alternate realities for Africa through the use of science fiction, has become known for her strong images of women and the forms of violence and misrepresentations forced upon females in the modern world.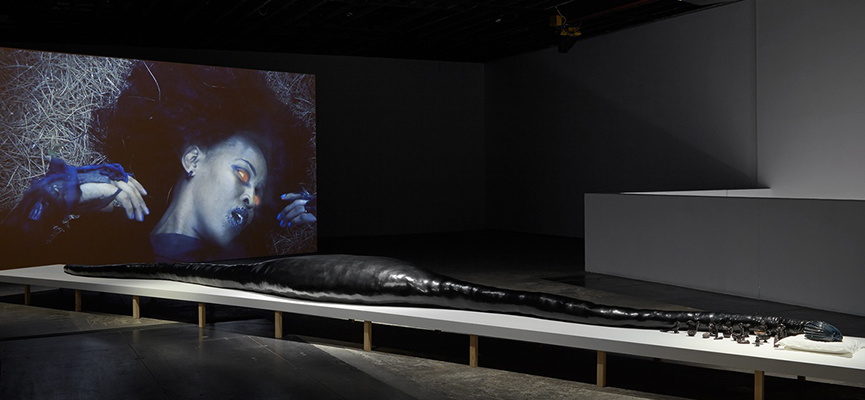 Nguva na Nyoka
The exhibition Nguva na Nyoka, which means Sirens and Serpents in Kiswahili, saw Wangechi Mutu explore the folk tales of coastal Eastern Africa and the infamous myths of underwater women inspired by the Nguva also known as Dugong, a mammal related to the Manatee, along with references to gender and racial politics, Western popular culture and Eastern beliefs. Nguva na Nyoka saw Wangechi Mutu move away from using Mylar (plastic sheeting) as a base for her works, this time opting to work vinyl and lino and as can be seen from the pictures, the results are quite spellbinding, sumptuous colours employed over a thickly textured background that are expanded by the collaged images that Mutu has become well known for. Alongside painterly techniques, materials such as feathers, soil, tea, fabrics, sand and synthetic hair were incorporated to the pieces, all adding their own cultural meanings to the images. The painted collages such as Mountain Of Prayer or The Screamer Island Dreamer work almost as sirens themselves, one can't help but be drawn into the world Mutu has created and get submerged in the tales of fact and fiction that are hidden away. While being beautiful to observe, both in technique and in the initial imagery, a little time spent observing and diving below the surface will reveal the darker side of the Sirens and Serpents, a reflection on the surface of the violence and politics that exists in the real world.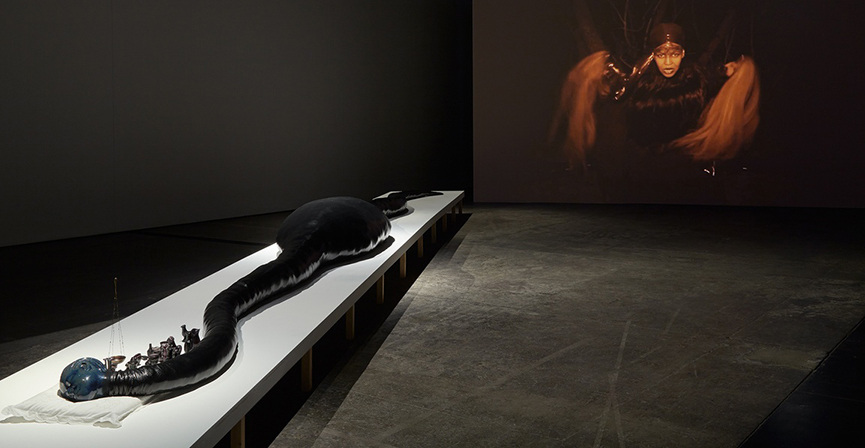 Installation and Performance
As part of the Nguva na Nyoka exhibition at The Victoria Miro Gallery, Wangechi Mutu produced a video entitled Nguva, a performance piece that featured a mysterious character from below the waves who emerged onto land from the sea, a restless, curious and vicious creature that was projected alongside an elongated sculpture, perhaps one of the sirens from under the water, a strange hybrid of leather like body with a female head resting on a pillow peacefully that makes you equally admire the beauty but to also be on your guard should she rise up. Also as part of the opening of the Nguva na Nyoka exhibition, Wangechi Mutu displayed a performance piece where guests were encouraged to eat a custom made chocolate mermaid but only on the condition that they had a photo taken of their first bite, lick or taste of the chocolate which operated as an observation of ''the public consumption of brown bodies''.
Nguva na Nyoka by Wangechi Mutu was exhibited at the Victoria Miro Gallery in London between the 14th October and 19th December 2014. An online catalogue can be viewed here.
For all the latest news on upcoming exhibitions sign up to My Widewalls today.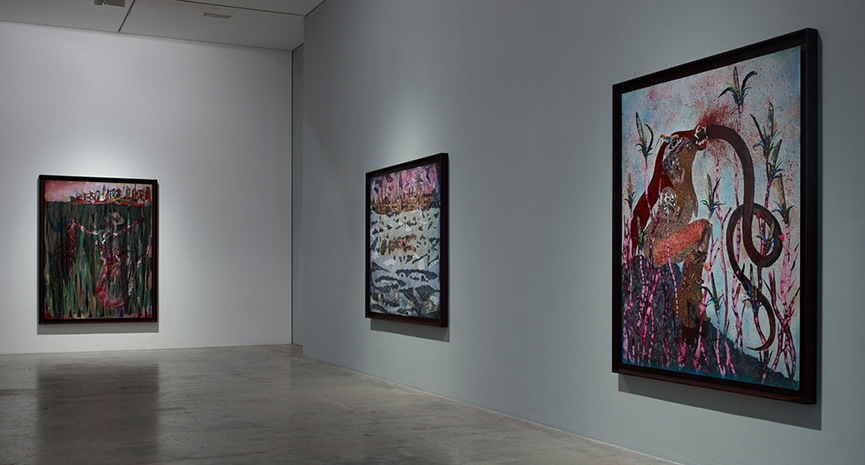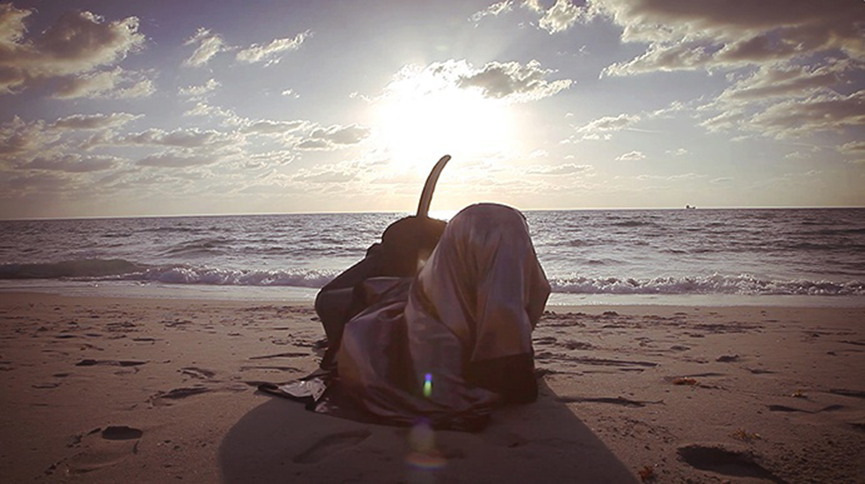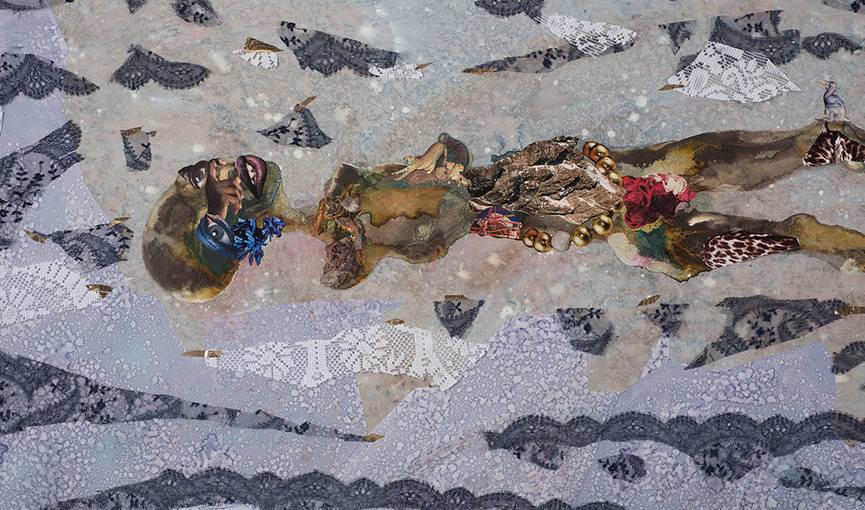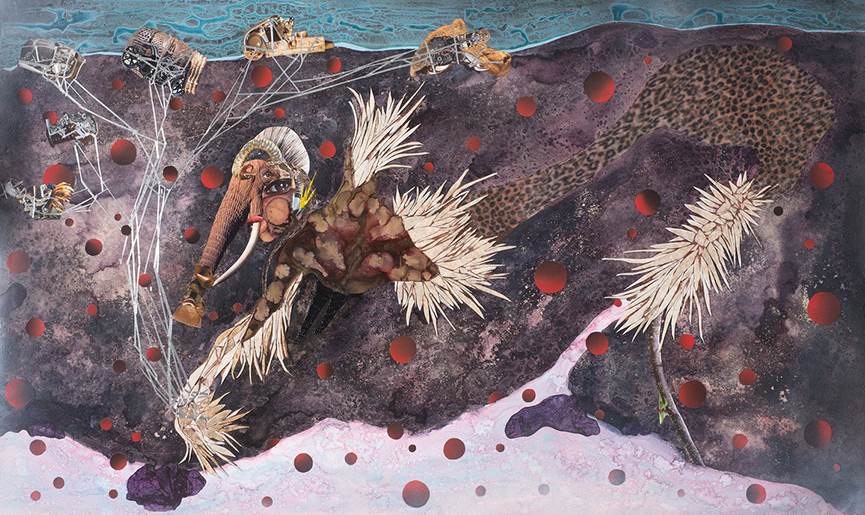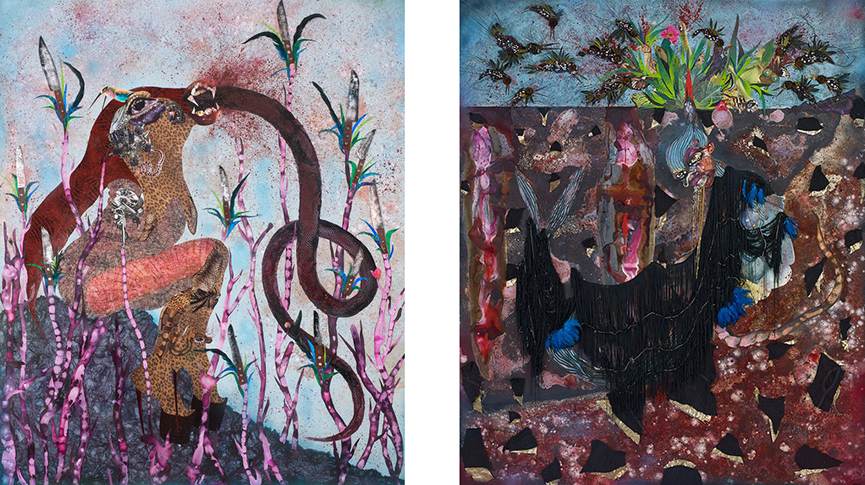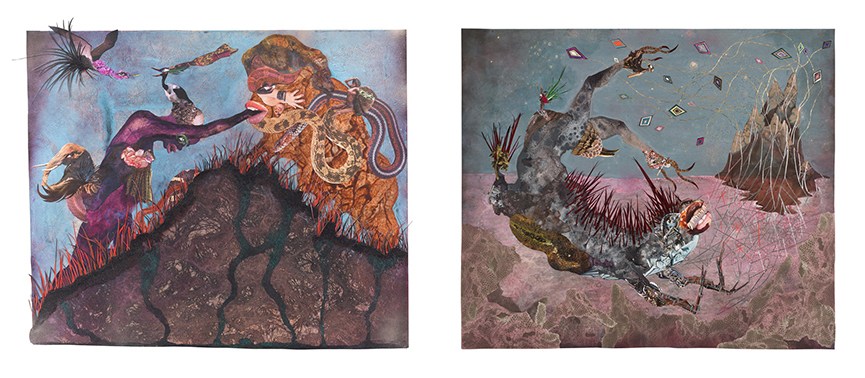 Photos courtesy of Victoria Miro Gallery.
[mc4wp_form]