UK's Urban Art Gem - Reem Gallery's Zaid Alexander Badda in an Interview
The history of Street art in the United Kingdom is nothing short of legendary – just think of the early works in Bristol, the art of Nick Walker, Inkie, and of course, the ongoing influence of Banksy. While the established artists are already out there, the country's emerging scene always needs a little push. One of the most prominent platforms giving visibility to the up-and-coming talent is Reem Gallery, founded by Zaid Alexander Badda in early 2014. Dubbed the premier gallery space in Camberley dedicated to contemporary artworks, it is a dream come true for Mr. Badda, who comes rich with experience as a curator on the international art scene, and an education from Sotheby's Institute of Art in London. With this in mind, it comes as no surprise that their roster of artists includes names such as JJ Adams, Banksy, Sir Peter Blake, Blek le Rat, The Connor Brothers, D*Face, Ben Eine, FAILE, Tracey Emin, Shepard Fairey and many, many others. Achieving such an impressive success was a journey for Mr. Zaid; one that is still being undertaken with great pleasure.
In his interview with Widewalls, Mr. Zaid talks about the way this adventure started, the state of the art market in the UK, and the exciting future plans of Reem Gallery. Have a read below!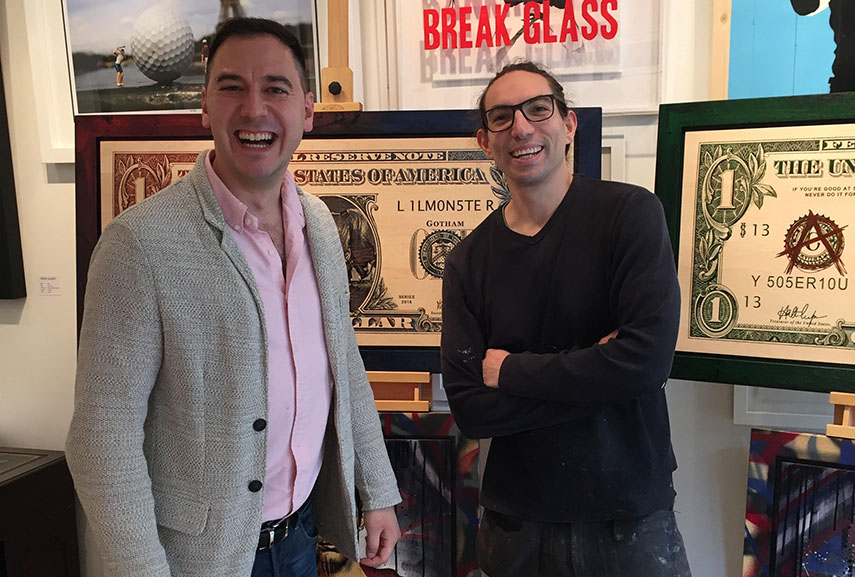 Reem Gallery – The Cool Place
Widewalls: To start with, could you introduce Reem Gallery to our readers? What makes it a unique contemporary art space in relation to others? What services do you offer?
Zaid Alexander Badda: I started Reem Gallery in 2014, as a platform for emerging artists to be promoted and exhibited alongside established names of the contemporary art scene. Notably, we're not based in a city but in an upcoming town south of London, Camberley, which is going through a lot of regeneration at the moment. The physical gallery space is intimate, similar in scale to an artist studio or funky office, and the walls are covered in color from our artworks as opposed to a more sterile one picture per wall mentality.
Our ethos is to try and break down barriers here and make art buying as non-intimidating and accessible as possible, guiding varying levels of collectors into purchases. We help build and manage their artworks, advising when opportunities arise for them. Additionally, we offer off-site bespoke framing and also work with interior designers, supplying artworks for their projects.

Widewalls: What does the name Reem stand for?
ZAB: Surprisingly, I get asked this a lot! In the UK, "reem" is a pop culture slang term for "something that's cool" but for me, it's just a nod to our heritage as Reem is the Arabic for gazelle, which is deeply associated with my family and father's business. So it wasn't planned to be the "Cool Gallery" but I like how it's worked out.
Widewalls: Can you introduce the gallery's portfolio to us? We see that you have an impressive cohort of artists listed on your website.
ZAB: Thank you – although we dominantly work with urban artists like Thirsty Bstrd and Pure Evil, our portfolio also includes a selection of truly unique styles. We have internationally recognized neon and glass blowing master Courty (Rob Court), who has worked on projects with the legendary Dale Chihuly. Photography by Andrew Millar who creates 24ct gold leaf Polaroid collages. Then there's The Connor Brothers, whose gorgeous mixed-media 'Pulp Fiction' style artworks always grab attention. We've also just signed up Yanko Tihov who is known for his gold gilded passport map series, a body of work that is incredibly relevant in today's world.
We originally began with one artist, JJ Adams, who was a relative unknown but created edgy pop culture portraits that have since seen him rise to huge acclaim. A display of JJ's available artworks is regularly exhibited at the gallery.
Widewalls: You started the gallery in a period of art market crisis, which is still felt today. What drew you to make that step in that particular moment, and how difficult it has been at the beginning?
ZAB: While working for a commercial gallery in Windsor for 3 years prior to Reem Gallery, as art consultant then manager, I got to see the ins and out of not only how to run a gallery but a business. It was a great time but I started to feel stagnant so left to join my father in the family business as time spent with him was more precious. I quickly found though that we had our own ways of doing things and I didn't have the same desire for jewelry or antiques and needed the contemporary arts in my life. So one day, I saw an empty shop and thought why not open a gallery and put what I've learned into real practice? The toughest part to start with was that as a 27-year-old with no prior business ventures, getting a lease for the premises was going to be a challenge. Thankfully though, my father came on board as a director so that got the ball rolling to secure the lease. He's since continuously offered valuable guidance and advice but just left me to get on with everything in my own way.
Securing artists was the next challenge which brought with it its own questions of what direction to take the gallery in. Once the doors were open though our first piece sold at 10:30 am on the first day! However, that proved to be a false dawn as then had nothing for the rest of the week. So the biggest challenge, as always, was generating business and awareness of us. Thankfully though we've managed to build and grow to this point.
Widewalls: The gallery is oriented towards promotion of the contemporary urban and street art scene. Can you comment a bit on this orientation? What first drew you to urban art?
ZAB: My original awareness of the urban arts was through Banksy while at school. He was creating artworks that were a little bit naughty, edgy and seemed so much more fun than everything else going on. To a kid, seeing a monkey with a "Keep It Real" or "One Day We'll Be in Charge" placard is very funny. He was often on the news and the mystery of "who is Banksy?" was like The Simpsons "who shot Mr Burns?" drama… only we found out who shot him and the aura remains around Banksy. His work led me down a rabbit hole where I then discovered the artworks of Robbo, Blek le Rat, Invader, Shepard Fairey, STIK and so much more. When the time came to figure out what kind of art I wanted to represent and promote, the urban art scene just resonated on a personal level.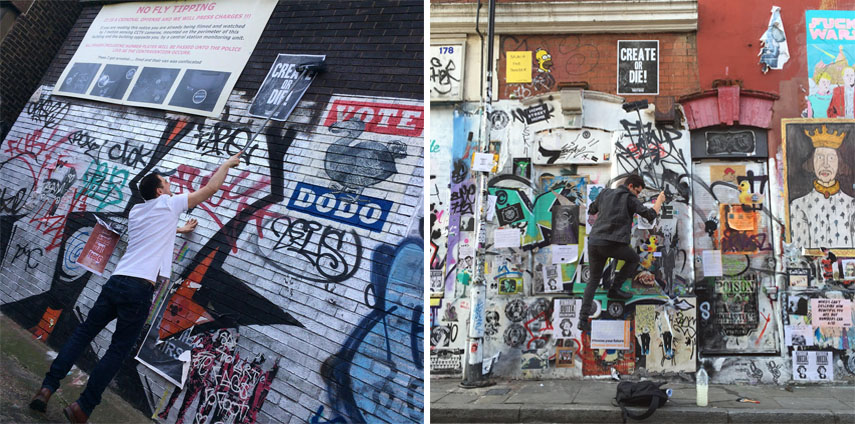 The Power of Street Art

Widewalls: What role do you see urban and street art play in the contemporary art world? How would you explain their general appeal?
ZAB: I truly hand on heart believe that the urban and street art movement does not yet get the recognition it deserves. For me, it is the leading voice of contemporary art and cultural commentary. In the current global climate, a street artist can create a single or layered stencil or paste up and reflect a community's voice and vibe onto a wall, anywhere in the world and receive mass exposure within a day of a news-breaking story. No other art scene can act so swiftly and be so relevant. By the time acrylic or oil paint dries on a canvas, the world has already moved onto the next situation. Although society in some quarters views street art as vandalism, and some tagging is just plain vandalism, it should also be viewed as a form of art that is accessible to people who wouldn't normally dare venture into a gallery. The sheer scale some street artists are working to is just astonishing.
I was delighted to see Jean-Michael Basquiat's Untitled painting recently sell at Sotheby's for a record-breaking sum of $110.5 million for an American artist. Given Basquiat's background as a street artist, it's a result that I believe adds market and historic credibility to the genre with the old school establishments.
Widewalls: Can you comment a bit on the art market and art scene in the UK? How much do you think art market tendencies influence what is going on in artists' studios?
ZAB: Despite the political climate with the impending Brexit and a general election on the horizon, I personally think the art market is flourishing in the UK. I know the top end of the market hasn't been affected. Elsewhere, people are looking at alternative methods of investment and choosing art, particularly with the low-interest rates currently on savings.
I also feel galleries and artists are getting savvier with how they connect with their audiences. Art fairs and social media are providing essential tools and platforms from high street to high end which assists in keeping the blood circulating for the UK industry.
When it comes to market trends, you do see a lot of artists seeking to break through by imitating another artist that is selling well with a particular style, particularly with digital art. The issue is the artist creates insincere artworks and never fulfills their true potential. Artists should try not to focus on what will make money but just create. There is an audience for everything. Additionally, painting pop icons is big in the UK, sometimes I feel like Andy Warhol has a lot to answer for…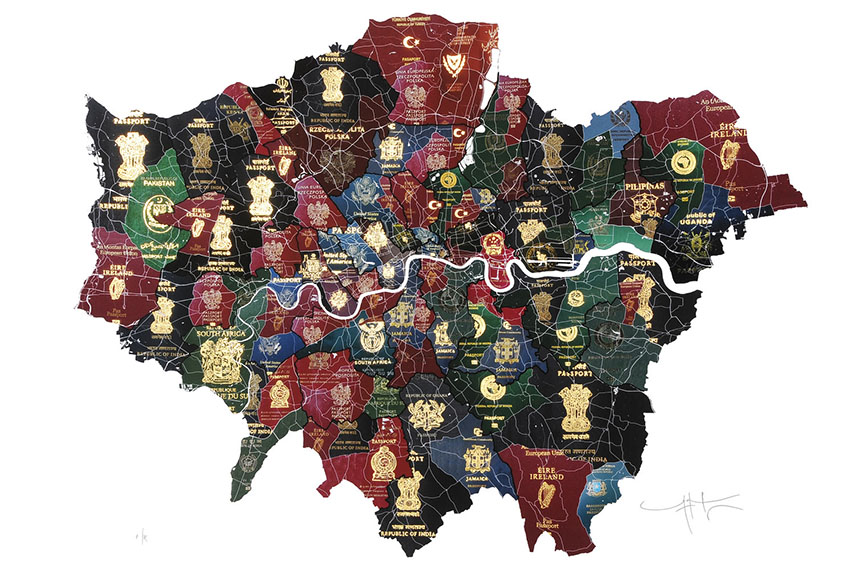 Exciting New Talents
Widewalls: Reem Gallery brought the talent of JJ Adams to broader audiences. Did any artist of the younger generation catch your attention recently?
ZAB: From our portfolio, the intricate works of Rob Bishop are something I'm very excited about. He's originally a cabinet maker, a skill learned from his father, and he loves comics as they're easier to read! All that passion and skill mixed together enables Rob to create a unique style that combines painting and highly detailed etchings onto wood that are just phenomenal. We've also just come off the back of a great exhibition with Julien aka Thirsty Bstrd and I know there's a lot of ideas he can't wait to get out in the future which I'm excited about.
I'm a fan of the duo SNIK, and really like what they've been getting up to of late. I also like SubDude who creates witty and humorous political commentary pieces which always brings a smile to my face when I catch the work in the streets. I'm off to the Venice Biennale soon and hope to make UPFEST in Bristol so am sure will be exposed to a lot of eye-catching artists.
Widewalls: It has been three years since the Reem Gallery opened in Camberley. In retrospective, what would you single out as the gallery's milestones?
ZAB: One of the biggest personal milestones was being able to source artworks directly from Blek le Rat and his wife Sybille. He's a giant of the urban art scene so I went home thrilled that day. Our first international sale was also pretty cool and after a few more it sunk in that we're technically an international business and not confined to the town which is a massive feeling to have when you've started out. We've since shipped to all manner of places, from Grand Cayman, Toronto and Tokyo amongst others and all over the USA and Europe.

Widewalls: You have a lot of experience in the art world, including managing and curating the exhibitions of some of the most prestigious contemporary artists. What would you advise to young art professionals who are entering the art world, or who are considering to open a gallery?
ZAB: The best advice I could give anyone is to have faith. It is a rollercoaster journey, but remember you're fortunate to be able to take a ride in such a diverse industry full of beauty and wonder. You'll have days of self-doubt and face many challenges. However, if you put in the work it will pay off. Find what you're passionate about and then focus your gallery around that. I feel the most successful galleries tend to reflect the gallerists' vision or personality as it's more genuine.
Also, don't pay too much attention to what everyone else is doing, keep an eye on trends but focus on what you're striving to achieve. Lastly, network with other businesses and don't be afraid to ask for advice or tips on what works for them, whether it's a salon, estate agency, fashion or coffee shop; we all learn from each other and are closer connected than we initially realize.

Widewalls: What can we expect from Reem Gallery in the following months or years? Any exciting projects or exhibitions you would like to share with us?
ZAB: Currently we're in the middle of our spring exhibition which showcases the wide range of our portfolio. Later this year, we're hosting JJ Adams at Glo in Camberley, which is a great opportunity for collectors to meet the artist in an awesome setting that includes a champagne bar! Further details on that exhibition are to be announced soon.
Following that we're looking at interesting ways to take the gallery to our clients that are further afield, with exhibitions and appearances in London, Paris and New York being worked on whether in the guise of a pop-up location for a period of time or through art fairs. I have a lot of ideas for exhibitions I'd love to get off the ground that are in the pipeline and I hope in the years to come we'll be able to execute them. At the moment it's just a case of watch this space for now but definitely exciting times ahead.
All images courtesy Reem Gallery.
Follow These Galleries
Camberley, United Kingdom