SOZE goes West Hollywood
In search for visual balance, Remi Rough cleansed his abstract geometrical forms, contemplating on pure form and color relationships. His abstract works, on street and off it, are therefore exciting portrayals of imagined movement, while remaining coherent and of sound composition. His latest body of work consisting of over 50 new pieces executed on paper, canvas and wood will be on display at the Los Angeles SOZE gallery this July, inaugurating the new gallery space.
Moving from its Downtown LA location, SOZE Gallery will continue its excellent exhibition programming at a new location in West Hollywood, promising a lot more of phenomenal art starting with the show entitled Further Adventures in Abstraction. Adventures of Remi Rough commence on July 19, running through August 19, 2014.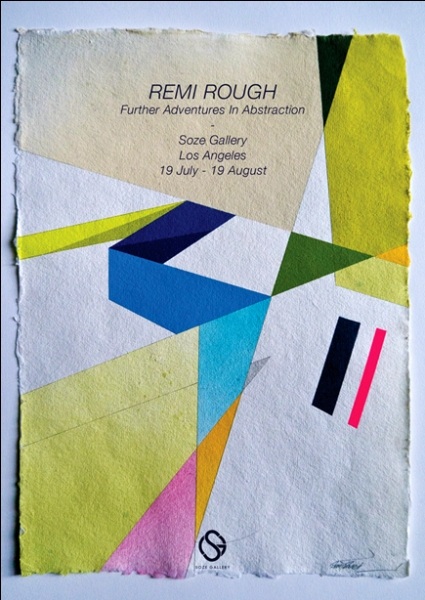 Further Adventures in Abstraction
Evolving over decades, abstraction of Remi Rough arrived to the point of illusion, as it distills the surrounding space in search for third dimension. His surfaces, whether they are walls or paper, are no longer flat, they run deep following the vivid strip-like formations, expanding the scene into the unknown. Depth and sculptural quality is given to his works, while colors remain in harmony and lines serve as a support. It is not surprising to uncover the two greatest influences in Rough's late work are the supermatist Kazimir Malevich and Richard Serra, a celebrated minimalist sculptor. Rough juxtaposes his simple shapes one to another illuminating the space in between, while contours of his space extend outside of the frame, suggesting beholder's participation in his abstract space.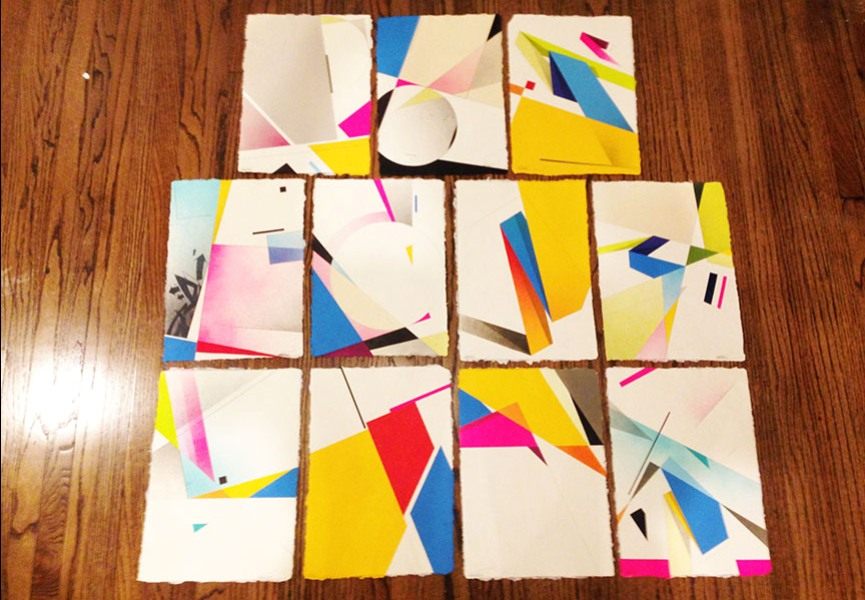 Post-Graffiti Abstraction
The tension between vivacious palette and strict geometry keeps Rough's works together, not trying to conceal the artist's early graffiti roots. Still, what Remi Rough is painting today is considered post-graffiti art, a new contemporary expression. Stripped from any excessive ornament, the artist evokes movement, the one he picked up as a young graffiti writer, tagging trains and urban corners.  This exactly is what relates his reflective work to the viewer. One can recognize a street, a corner, a city, pure in its form and dominant in its geometry.
Meditative abstractions of Remi Rough make part of several important private collections in Europe and the United States.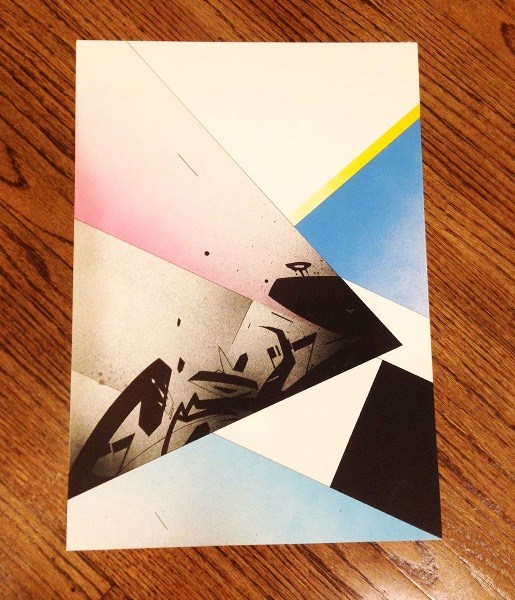 Remi Rough
Remi Rough has been painting graffiti for over 25 years. He started writing across the South London walls in 1984 and soon he moved to trains. One of the greatest significance of his work is an active participation in the development of abstract graffiti, while he was developing his recognizable pictorial language of lines and bright color. His work has been exhibited in Miami, New York, Berlin and Newcastle, among other locations around the globe. Acclaimed for his versatile palette, Rough builds his refined work using contrasts, complementary pairs and the broadest range of nuances. He has the ability to compress the grandeur of a large-scale train graffiti onto the smallest sheet, by reducing it to the essence.
Remi Rough is a member of the Agents of Change collective, with which he has been participating in transformations of neglected urban spaces, such as a deserted village in Scotland or the facade of the Megaro Hotel in London.