Residency Program and Studio Visit – Bevilacqua La Masa, Venice
Bevilacqua La Masa is probably the most ancient residency program in Italy. The history of this institution is very interesting and unique, thanks to the woman who has been behind the whole idea. Based in Venice, Bevilacqua La Masa was born in 1898 from the will of Felicita Bevilacqua La Masa, a farsighted woman who believed in art and in young artists. In her testament, she donated her family palace, Ca' Pesaro, to the City Council, with the idea that it should be a place for art and culture.
Nowadays, Bevilacqua La Masa art institution is composed of two venues for the main exhibitions, that are located in Piazza San Marco, and at Palazzetto Tito. The residency program, instead, is made up of twelve ateliers for young artists, spread along two main buildings: Palazzo Carminati, and SS Cosma and Damiano Complex in Giudecca. With its regular program of important and collective exhibitions, this institution is promoting the art of young artists, selecting twelve under 35 years of age each year, following the testament left by the duchess.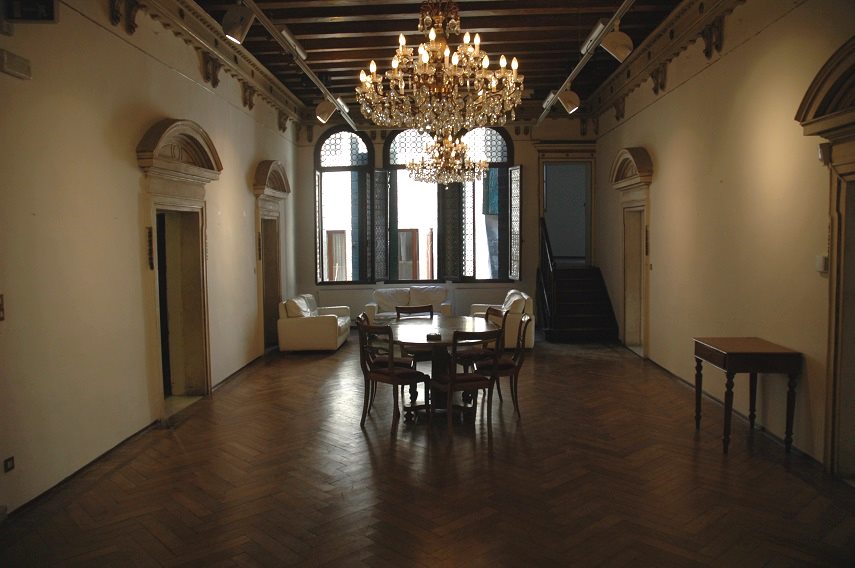 A Place to Live Art
Bevilacqua La Masa is not just a place to show art. It would rather be more appropriate to say that it is a place to live art, experiencing the art system in a professional and familiar way.
Palazzo Tito is the building where the curatorial and administrative offices are located. By entering this space, it seems to become part of a family, in which everyone is working hard but is also enjoying it. Most of the artists who had become part of this studio program during the past years, often come back and talk with the curators, making this place always lively and fun. It is a fizzy and witty space. There are always artists and curators coming and going. Bevilacqua La masa is made up of art and people.
The artists, during the residency program, are able to make exhibition experiences and meet professionals coming from the art system. Actually, they usually participate in a program of studio visits, with curators and journalists, who go there in order to talk with them and to make a portfolio review. It is probably this specific aspect that can create future partnerships and exhibitions, due to the fact that there is this creation of a good network in the art system. There is also a collaboration with important companies and institutions, such as the brand Stonefly, that is promoting a prize within the residency program and supporting the institution; Illycaffè that supports an international residency within this program; OCA Office For Contemporary Art; Moleskine and Fondazione Bonotto. The selection of the twelve artists is based on a jury process, who evaluate the projects, the cv and the portfolio of the artists.
During the past years, Bevilacqua La Masa, has seen the alternation of several important and well-renowned presidents, such as Chiara Bertola, Luca Massimo Barbero and Angela Vettese. Angela Vettese, the last one, has been working as the President for more than ten years, from 2002 to 2013, leading the young artists during the residency program and giving them strong support and advice. She has also brought this institution to a high-quality program of exhibitions of important, well-renowned, international artists, such as Marlene Dumas, William Kentrindge, Rebecca Horn, and also enabled significant collaborations with universities such as IUAV University in Venice, and other important art centers, such as ViaFarini.
Nowadays, Bevilacqua La Masa is going through a period of transition, in which there still is a vacancy in regards to the role of the president.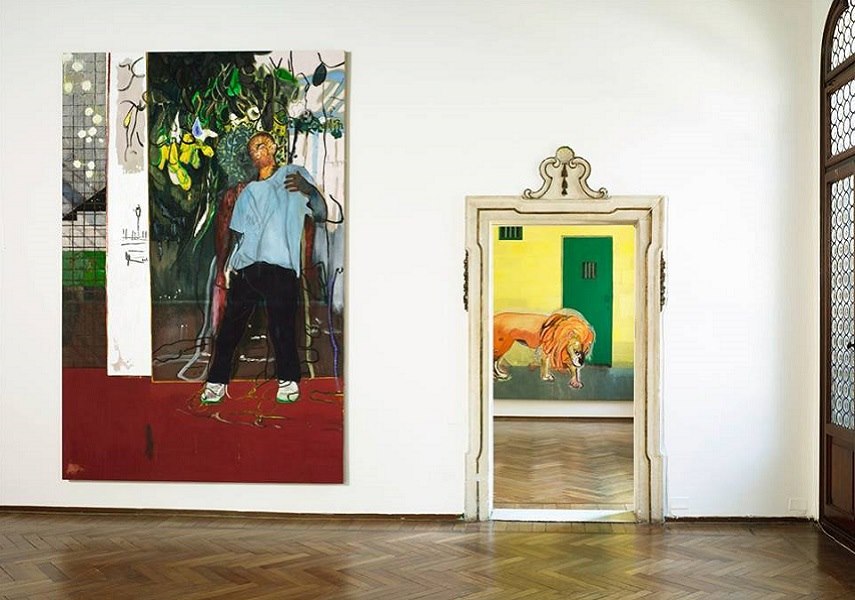 Two questions with the curators
The curator in chief of the institution is Stefano Coletto, who has been working there for a long time. Rachele D'Osualdo, instead, is coordinating the residency program.
I have asked them some questions:
Giada Pellicari: Could you tell us what is the main aim of the residency program and how it works?
Stefano Coletto and Rachele D'Osualdo: The residency, which is actually a "studio program", as we are providing space for working but not accommodation, is addressed to young artists, aged between 18 and 35, who are living in the Triveneto area. Started in 1901, it is surely one of the longest running programs on an international level.
The twelve studios, five in the SS. Cosma and Damiano Complex on the Giudecca Island and seven in Palazzo Carminati, are allocated once a year trough an open call: for one year the selected artists can use the space as their own personal ateliers, having the possibility to research, study and work in an environment where artistic experimentation and intellectual contamination are encouraged. This happens both because of the proximity among artists and through the scheduling of studio visits by curators, journalists, and art world professionals.
Moreover, the artists have several occasions to confront themselves also with the public: artists' talks, open studios days and most importantly the final exhibition, held every year in the prestigious gallery space of our institution in St. Mark's Square in Venice and accompanied by a catalog. Other occasions are built every year to give further opportunities to the artists to show their work: the participation to Venice Art Night, the Stonefly Art Prize (i.e. the Italian brand of shoes Stonefly is sponsoring the program and giving an award to one of the artists in residence). The spirit of initiative of the artists is also appreciated, as they have the possibility to use the spaces to organize lectures, meetings, screenings.
We can say that the aim of the program is to follow the artists in the delicate moment after education and before they can be considered more established, by providing space, time (consider that residency programs are usually much shorter), critical advice, visibility, a network of contacts useful for the future.
GP: Do you see an existing relationship between this institution and the Italian art market? What is the role of the galleries for the future of these artists?
S.C – R.D: As we work with young artists, as you can imagine, many of them do not manage to enter the art market and make a living of it. This happens for many reasons: a natural selection and evolution that brings some of them to change their lives, but also because many experimental artistic practices do not provide "products" that are immediately saleable. This is the case of many site-specific works, public art practices, performances, otherwise provocative works. So many artists engage in a teaching career or other creativity-related jobs or sustain themselves through residencies.
But, there is a reasonable number of artists that, after the studio program, have started to work regularly with galleries: Giorgio Andreotta Calò is represented by Galleria Zero in Milan, Serena Vestrucci has been doing projects with many galleries, Christian Manuel Zanon has just opened a show at galleria FuoriCampo, Siena, Thomas Braida is now opening a solo show with Monitor Gallery in Rome, Paola Angelini and Elisa Strinna work with Galleria Massimodeluca in Venice, Andrea Grotto, Cristiano Menchini and Marco Gobbi have exhibited with Caterina Tognon also in Venice, T- Yong Chung is represented by Ottozoo Gallery in Milan, Giulio Frigo by Francesca Minini also in Milan, and many more.
The main issue, however, is for the artists to meet a gallery that cannot only sustain his/her production but also, that does not limit the research of the artists to force it into something saleable.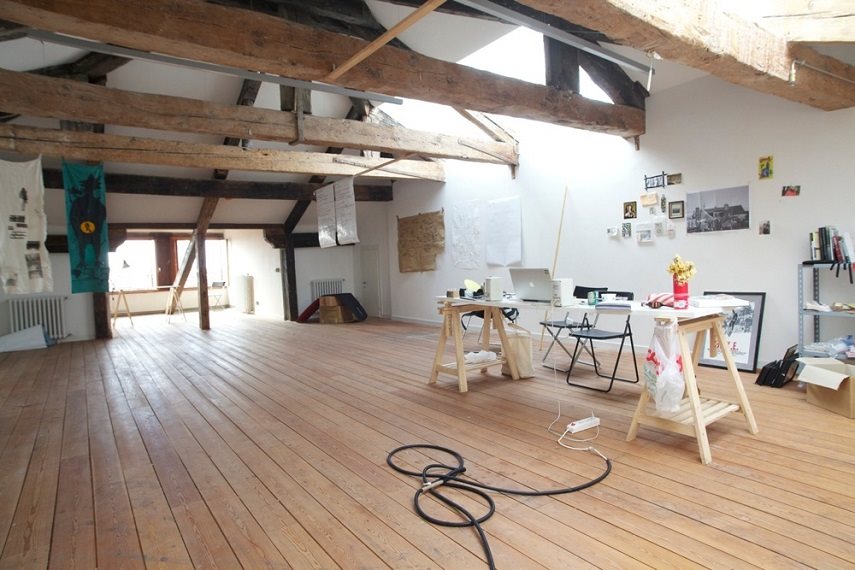 Studio Visit with the Artists
The artists in the last residency program were: Valentina Furian, Enej Gala, Riccardo Giacconi, Caterina Morigi, Francesco Nordio, Miriam Secco, Davide Sgambaro, Sebastiano Sofia, Matteo Stocco, Valerio Veneruso, Christian Manuel Zanon, Annalisa Zegna. During the last month, I was there in order to make a studio visit with the artists in residence, and I've met some of them. This part of the article will give a glance on them.
Francesco Nordio – Conceptual Guerrilla
Francesco Nordio is a cultural activator, whose pratice is built upon a relational way of producing contents and a public development of his actions. He usually thinks of his projects as "conceptual guerrilla", spreading letters with messages and creating self-organized groups that reflect upon a specific topic, or building a project together with other activists. His visual results are usually conceptual maps, in which the whole process of thinking, researching and building is made visible onto the paper.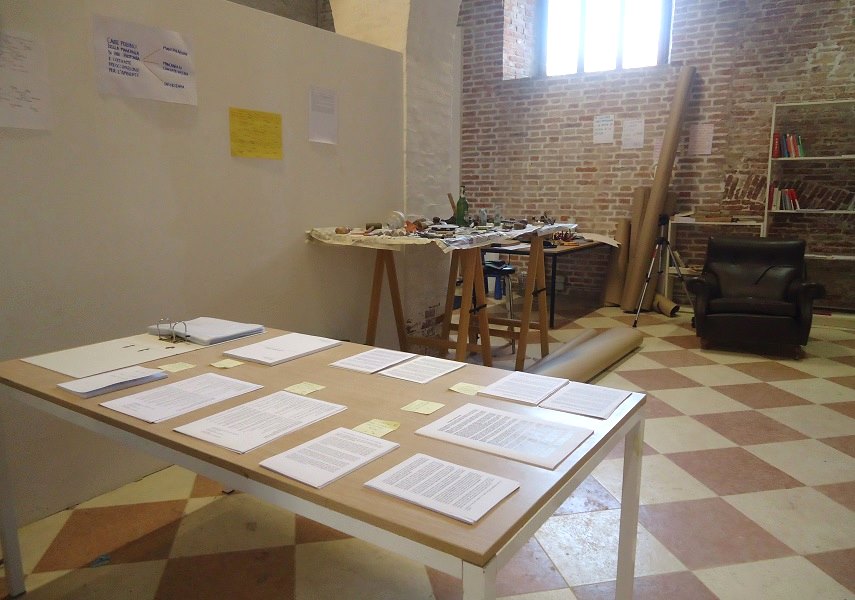 Enej Gala – Emotional Grottesque
Enej Gala is a very talented young artist, whose art practice was born out of the traditional stories and subjects of his country, Slovenia. His images are usually based on traces of this context. Actually, they are invented characters that are detached from the reality. His painting process could be divided up amongst two main categories, such as sinthetic and informal. His brushes only appear to be very gestural, when, in fact, they are not.
Enej Gala's painting process, instead, is very meditated and temporarily long, but at the same time it is very visceral and emotional. During this last period he has been working on sculptures, giving life to original and grotesque pseudo-animal forms. It seems that the painting aspect, right now, is becoming a preparation towards a three-dimensional work.
He is the winner of the Stonefly Art Prize, and he is currently presenting a personal exhibition in ViaFarini, Milan.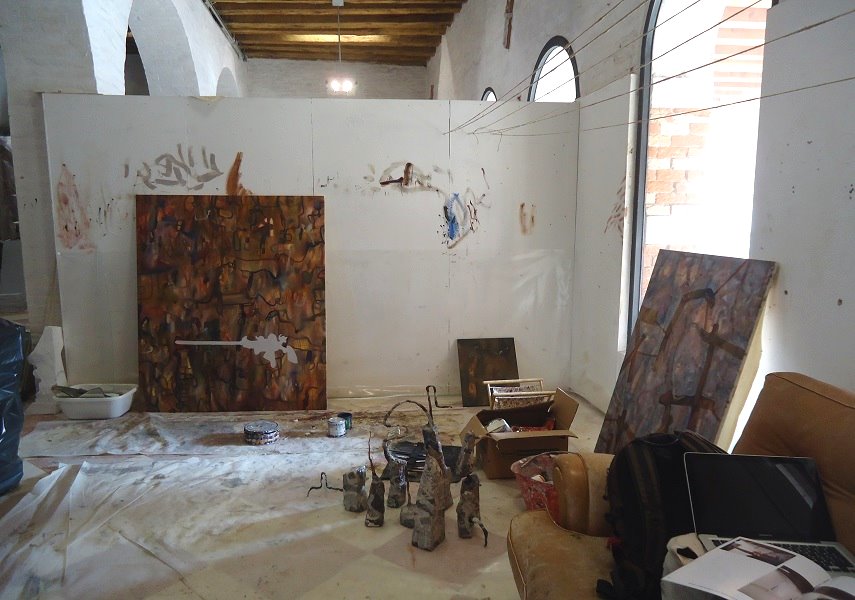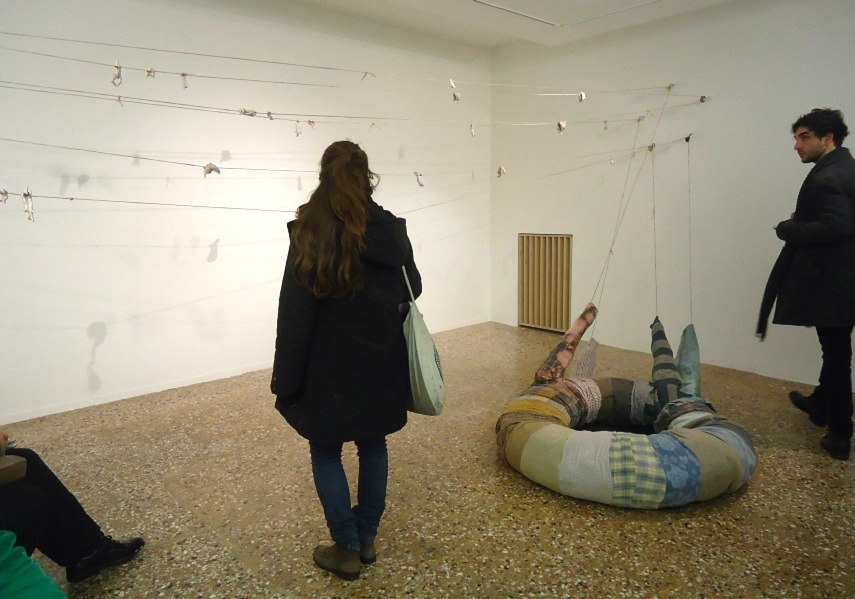 Caterina Morigi – Memory and time
Caterina Morigi is a very young, but professional artist. Her art practice pivots on memory and time. She is very interested in rocks and geology, considering them as a part of a time-based process of the earth. Her works are usually a combination of art and science. Therefore, she often asks for collaboration with some scientists in order to develop the theoretical and research aspects.
In the last project, presented at the final exhibition, she has collected some stones found in Venice, and presented them as a ready-made installation that depicts the temporal life of this city. In other cases, she has intervened on them with painting, giving visibility to the existing cracks.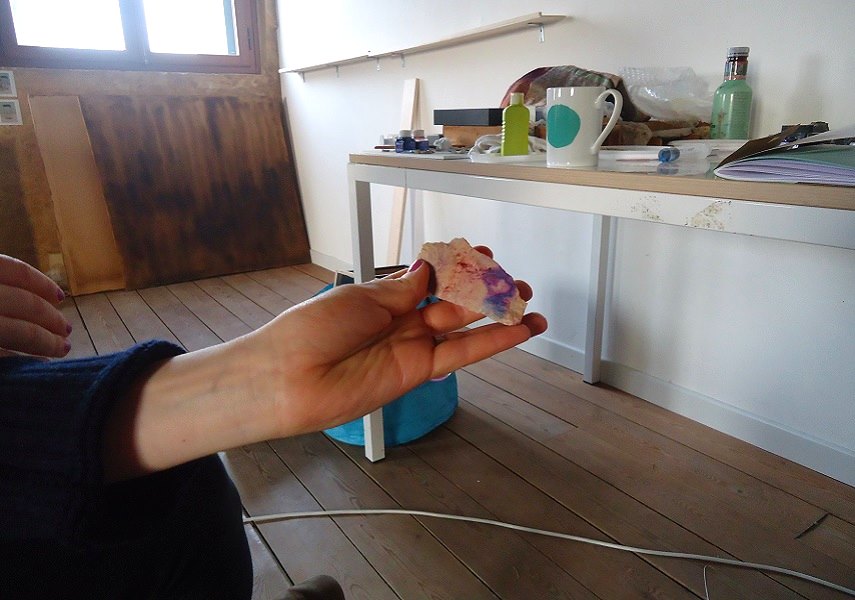 Valerio Veneruso – The Space of the Atelier
Valerio Veneruso is an artist and a cultural practitioner who, during the residency program, has developed two main projects. The first one was called Torchio Talks, a series of lectures by young artists whose practice is in-between art and craft. He has asked them to explain their works, but also to develop a new project with the press machine (torchio, in Italian) available in the building. The results have been shown in an exhibition in his studio.
The second project was focused on the temporality of the atelier space. He has made portraits of all the people that have passed by his studio and recorded all the things that were happening outside his window. The final work for the exhibition has been a big, witty and colorful installation called Empathie En Passant that pivots on the idea of glitch, making tangible all of these elements through the use of monitors, posters, a book and a small model of an eye.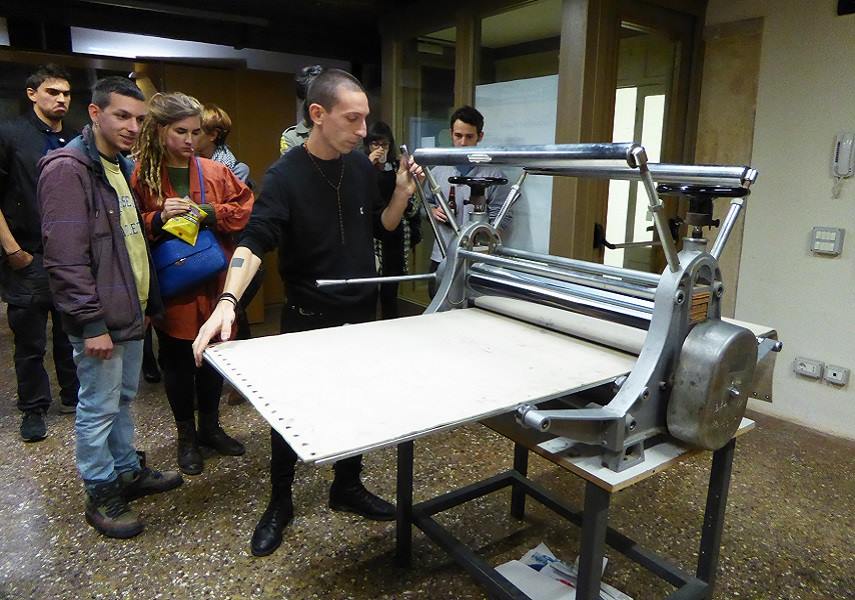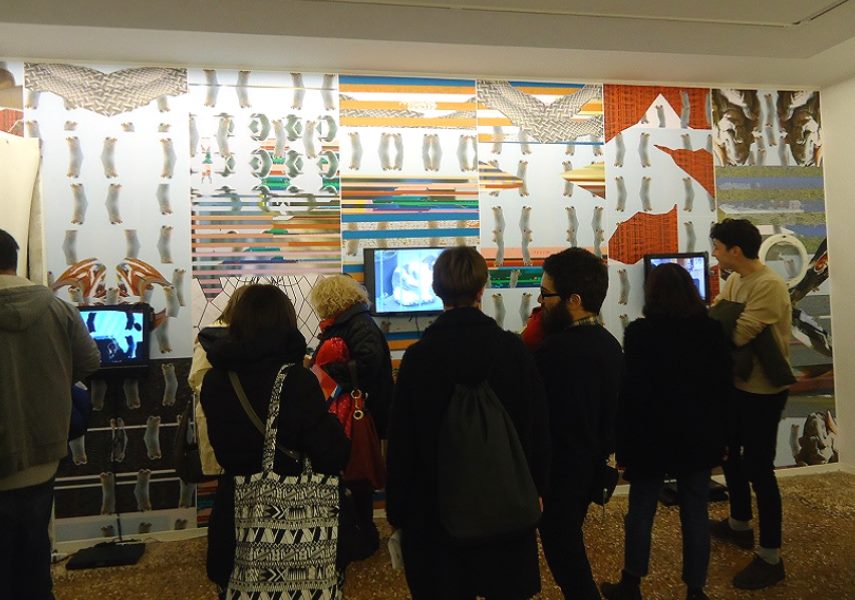 Davide Sgambaro – Irony and Paradox
Davide Sgambaro works on the concept of the paradox, using an ironic flavour and a study on the language. Tragic-comedy is part of his artistic process, making site-specific projects and actions. For the exhibition he has presented a red puppet, which was used as an advertising campaign for an american company, in order to engage the audience.
In this case, the fake performer was involved and entrapped within the space of the exhibition and has been considered as a visual way to talk about his past life. At the end, this skydancer has died.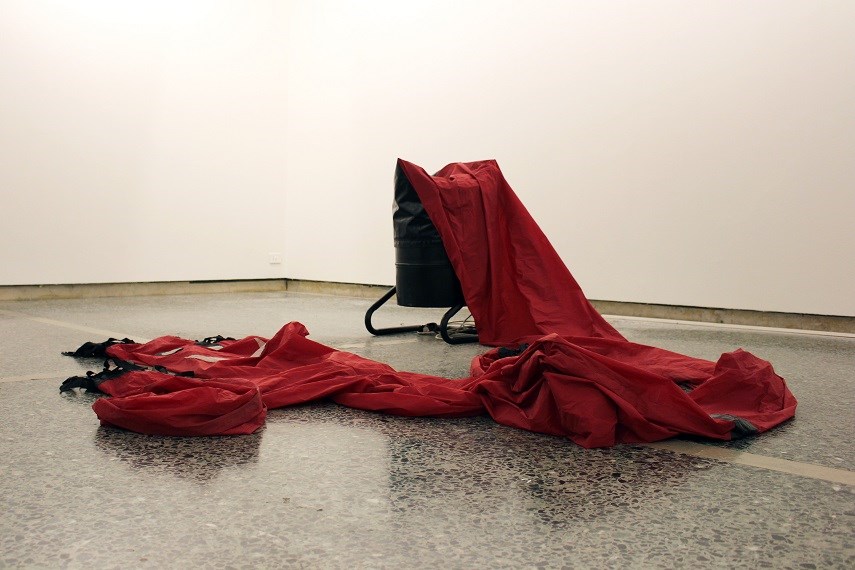 The Final Exhibition
The studio program every year ends up in a collective exhibition in St. Mark's Square, Venice. The artists usually present the project with which the have won the application. In addition to the projects of the previous artists described, there were also the following ones.
Video artworks
Matteo Stocco is a very talented videomaker who has shown an interactive videodocumentary about the Venice lagoon, interviewing professionists, scientists and university professors.
Riccardo Giacconi has an already established and strong exhibition history. On this occasion he has presented a very interesting video documentary about the Tuareg people, a nomadic population. A whole community of the Tuareg is known to exist in Pordenone, in the north east of Italy. The video is an interweaving between an interview and a local legend.
Valentina Furian, then, has showed a video in which a "chiocciolatore", a man capable of mimicking the singing of birds, is showcasing his talent. This is a calling sound that is used during the hunting.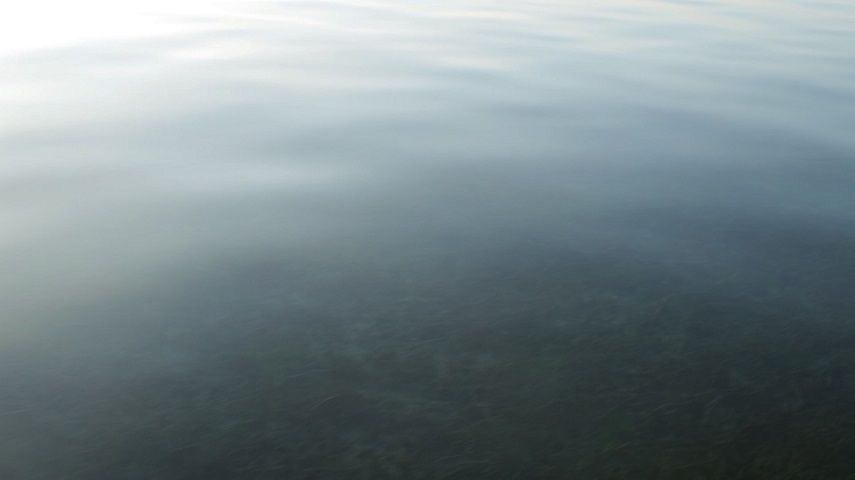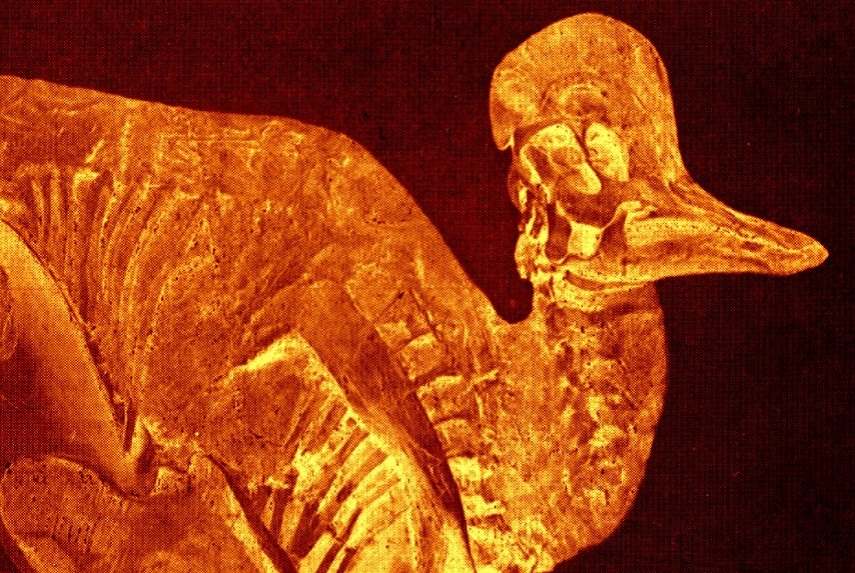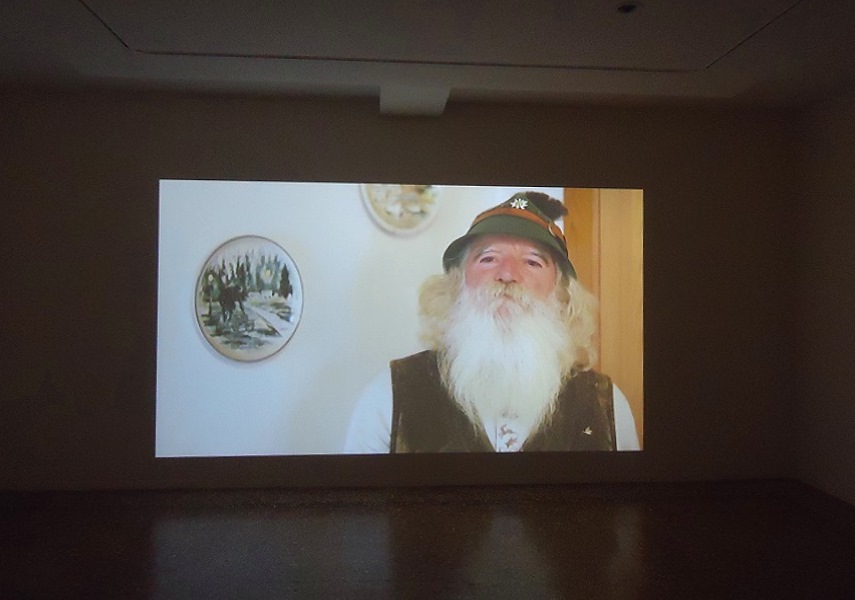 Performance and Installations
For this exhibition, Miriam Secco has presented a performance about two legal formal letters between a father and his daughter, which made tangible the anger existing between them. During the opening, this work has involved a lot of performers who were reading this pamphlet out loud, while walking around the exhibition venue.
The site-specific installation by Annalisa Zegna was a well already located in the building, in which she has worked with light and sound. This is part of an artistic research she had already conducted with lots of wells spread around Venice.
Christian Manuel Zanon has presented an installation composed of a video in which he was running under the porches close to Rialto Bridge, and some postcards that he has collected. The whole project is about the fragility and nudity of the artist, and the idea of the artistic goodbye.
Sebastiano Sofia, instead, has presented an installation based on the idea of form and colour. He is usually interested in the threshold between nature and artifice.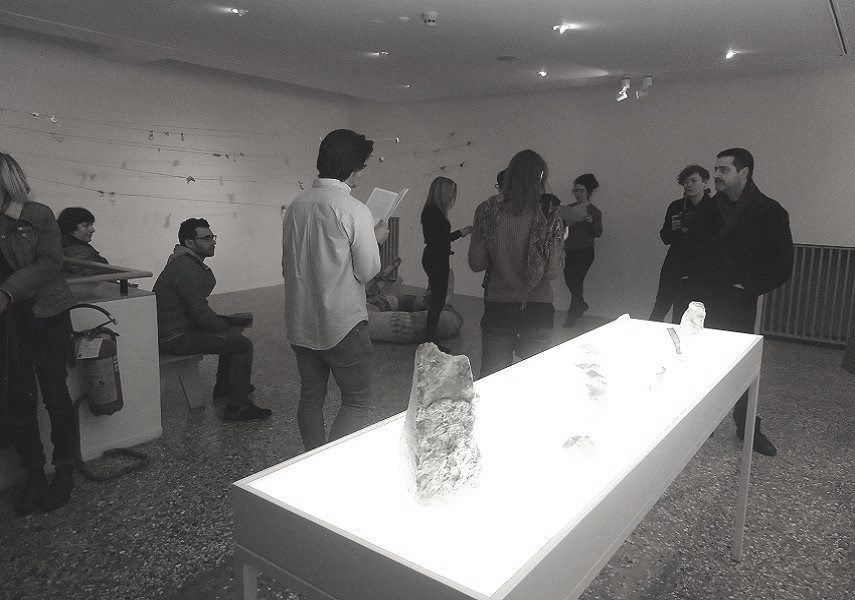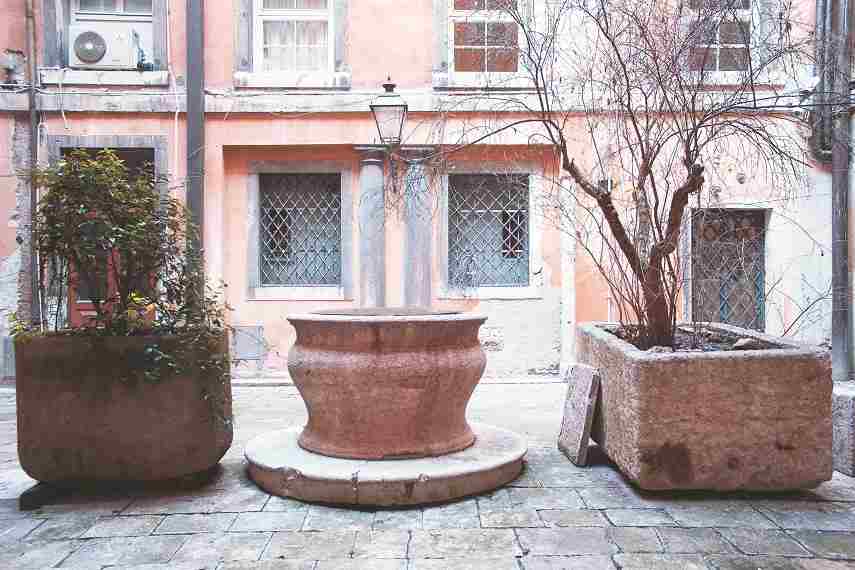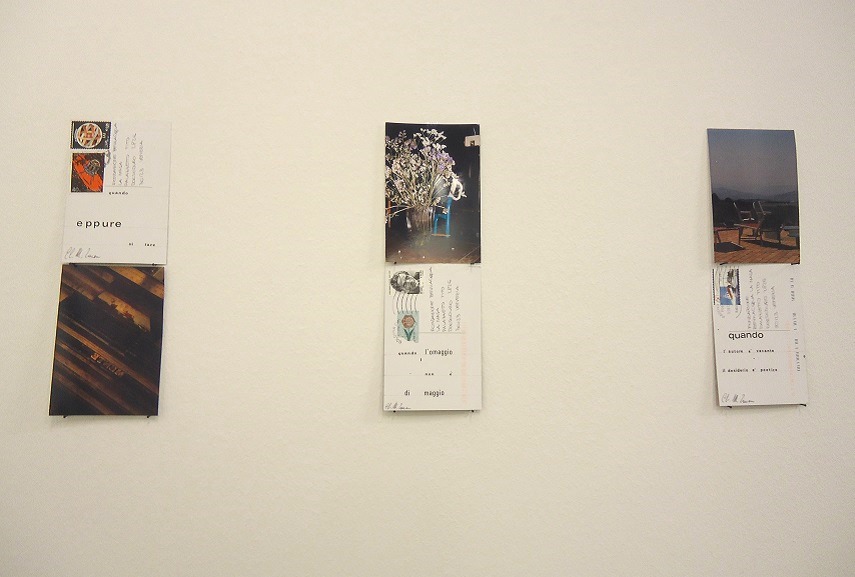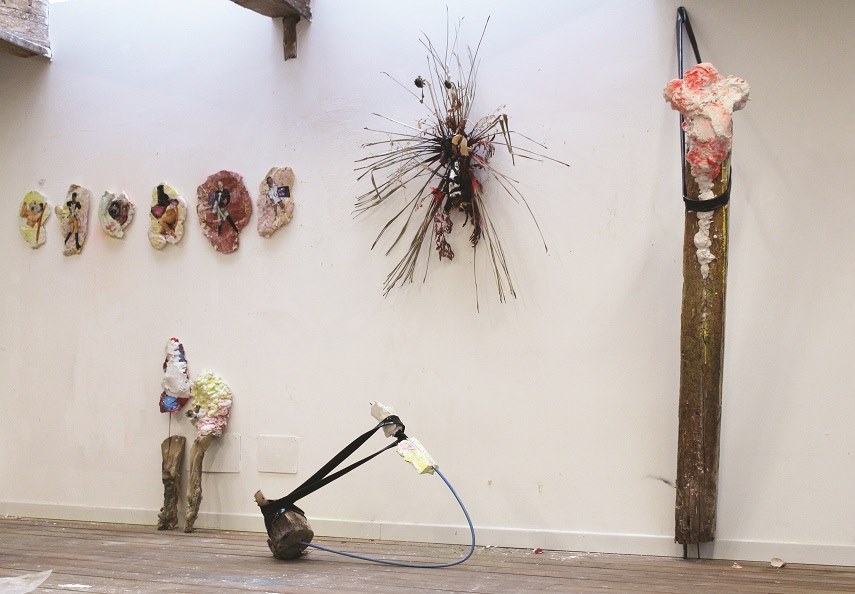 The New Artists
The new artists that have won the application for the year 2016-2017 are: Ana Blagojevic, Claire Bosi, Lucia Del Zotto, Melania Fusco, Caterina Gabelli, Malgorzata Maria Jagiello, Alberto Luparelli, Gioele Peressini, Nuvola Ravera, Gaetano Olmo Stuppia, Francesco Zanatta, Michelangelo Zoppini. They will start the studio program in March 2017.
Editors' Tip: Giandomenico Romanelli (Editor) – Venice: Art and Architecture
For all the people who have been intrigued by our article and have always dreamed about Italian architecture and art programs, Venice: Art and Architecture will help transport them into this magical city in la bella Italia. If you come to Venice from the lagoon, it appears to be a town comprised of one single building. But, as soon as you step into the alleys, you will find yourself captivated by the dazzling architecture of the palazzi, churches, and private residential palaces, and see the variety of Moorish window arches and balconies in Venetian Gothic, as well as Renaissance facades. This book offers a detailed insight into the wide spectrum of sculpture, architecture, and painting of the city. The authors have put together a chronological progress of the Venetian art history from the thirteenth to the eighteenth century. More than 650 illustrations record the artistic development of this city, providing the readers with the extensive historical and eye-pleasing reading material.
Featured Image: Bevilacqua La Masa, Venice – Chiostro dei SS. Cosma e Damiano, Residency Programme. Ph: Giada Pellicari