This is the Rexiste Collective - Mexican Anti-government Movement
So, the next time you start complaining about something, remember Mexico. Why Mexico? Well, simply because of the fact you don't live there. This beautiful, big country, with almost ideal geopolitical position, is facing serious problems for decades now. Drug-war is raging and the number of victims are growing at incredible rate. Just recently, on October 7th, the UN High Commissioner for Human Rights Zeid Ra'ad Al Hussein announced what he has seen during his visit to Mexico. "Society is wracked by high levels of insecurity, disappearances and killings", said Zeid Ra'ad Al Hussein in his statement, and added that staggering 98 percent of all crimes remain unsolved – and great majority of them were never properly investigated in the first place. Mexico is not engaged in a conflict and it has been so for about one and a half century, yet, the number of people that are being killed every day is just appalling. According to Zeid Ra'ad Al Hussein, 151,233 people were killed between December 2006 and August 2015, including thousands of transiting migrants. "At least 26,000 people missing, many believed to be as a result of enforced disappearances, since 2007. Thousands of women and girls are sexually assaulted, or become victims of the crime of femicide. And hardly anyone is convicted for the above crimes", says Zeid Ra'ad Al Hussein in his statement.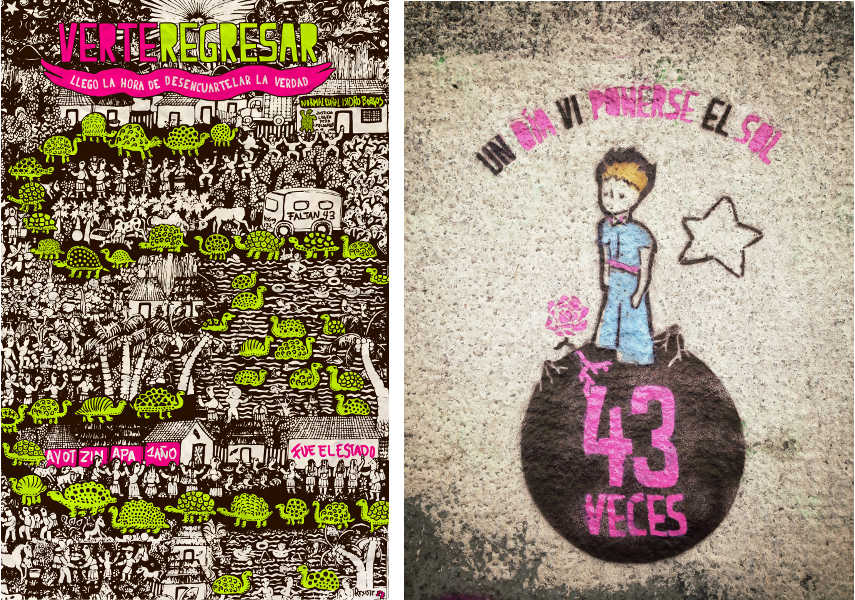 The Ayotzinapa Tragedy
One of the huge blow for the sense of security of every citizen in Mexico happened one year ago, when the total of 43 students disappeared from the Ayotzinapa teacher training college. The official story by the government was that the students were killed by mistake, when one drug gang, along with corrupted policemen, thought that students were members of a rival drug gang. Total of 111 people were arrested in connection with this disappearances, and the government claims that it is committed to finding the truth. However, the experts from the Inter-American Commission on Human Rights (IACHR) disagreed with the official story, and said that it could be possible that state security forces, army included, may have been involved in these disappearing. The Rexiste collective, a Mexican anti-government movement, thinks the same about this issue, if not worse, and it has found the new way to express their deepest dissatisfaction with the state of Mexico is in and with the work of country's president, Enrique Peña Nieto: the drone.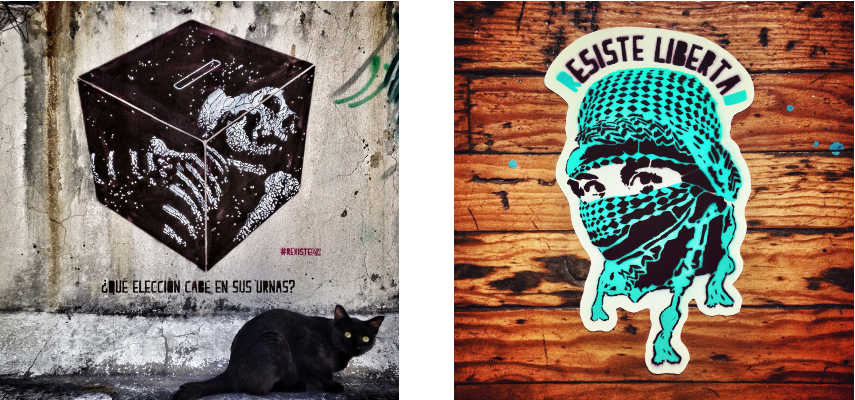 Graffiti-Artist Drone
Actually, the drone itself couldn't do much. Therefore, this is not the regular drone; this is the first graffiti-artist drone, and it was named Droncita (Dronette). Droncita exists for only a few weeks now, and it's been used for various graffiti-creating, including spraying red paint over the graffiti that depicted Mexico's president Enrique Peña Nieto. All Droncita's "adventures" are being recorded and consequently put on social networks and YouTube, and these videos already have thousands of views. In the beginning of one video (the one that sprayed all over Enrique Peña Nieto), it's being said: "This is not the country you dreamed about. But you already knew that. Ayotzinapa was only the beginning of our story, of his end".
"It Was the State"
Rexiste – a mix of "resist" and "exist" – was a product of the #YoSoy132 student movement, that was opposing the candidacy of the current Mexican president back in 2012. Before Droncita, Rexiste was known for a huge words written at one of the Mexico City's biggest squares, Zócalo. Via these three words, that were painted with no less than 30 liters of paint, Rexiste said clearly what they think happened at Ayotzinapa, and how did those 43 students disappear. "Fue el estado", they wrote: "It was the state". The next goal of Rexiste is raising funds to pay for the research and to get the necessary equipment – after that, they will share both hardware and software plans, so that anyone could built Droncita of their own: the members of Rexiste think that protests and marches are necessary, but not enough. "The aim is to defend life and dignity. It''s a fight against authoritarianism", conclude Rexiste's members.
Sign up for My WideWalls for FREE and be up-to-date with contemporary and street art.
All images courtesy of Rexiste.