Rarely Seen Works of the Legendary Richard Hamilton in Exhibition at David Zwirner
David Zwirner is proud to present the works by Richard Hamilton in an exhibition on view at THE UPPER ROOM at the London location of the gallery. Widely recognized as one of the most influential artists of the twentieth century from the UK, Richard Hamilton has worked throughout the expanse of the various array of media and styles in his six-decade long career. He has managed to create a remarkable body of work that, while formally contrasting, remained conceptually constant in its continual exploration of modernity and everyday life. Richard Hamilton's work featured in this exhibition will bring together a set of rarely seen pieces made in Cadaqués, Spain, which was an important place of production for the artist. Cadaqués is located on the Costa Brava in the Northeastern Spain and known as a destination of choice for artists such as Duchamp, Salvador Dalí, Joan Miró and Pablo Picasso.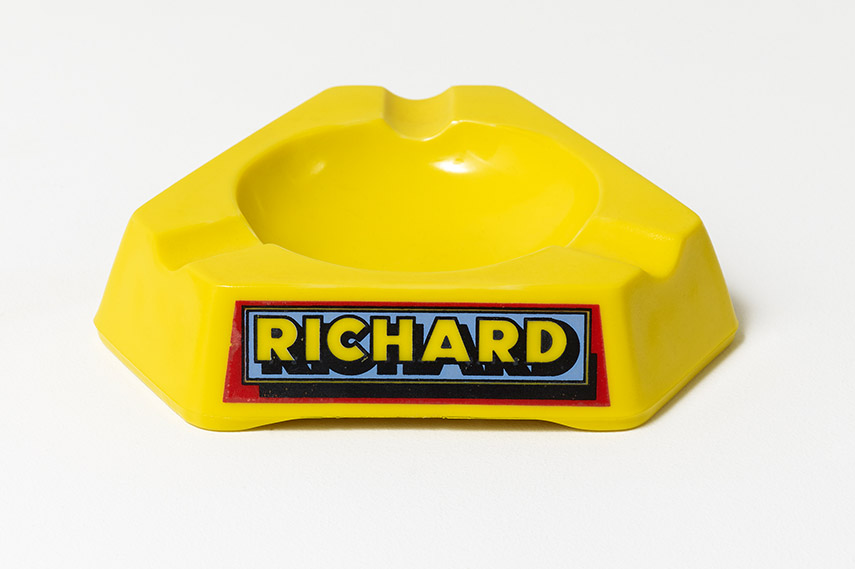 Cadaqués Infatuation
Richard Hamilton frequently visited the town of Cadaqués and even bought a residence of his own there. When Galería Cadaqués was opened in 1973 by the architect Lanfranco Bombelli, Hamilton became one of the first and most avid collaborators. The gallery remained active until 1997, with a focus on Pop Art, conceptual art, and concretism, with exhibitions by a myriad of most influential artists of the time, such as Duchamp, Joseph Beuys, Max Bill, John Cage, Jasper Johns, and Marcel Broodthaers, to name a few. Richard Hamilton has had his own exhibitions at Galería Cadaqués more than a dozen times as well. In the exhibition at David Zwirner, Hamilton's works made in Cadaqués that expropriated the iconic logo of Ricard, an aniseed drink popular along the northern coast of Mediterranean. Since Hamilton often uses commercial advertisements as the source of inspiration, logos, print ads, and commercial signs are often to be seen in his works.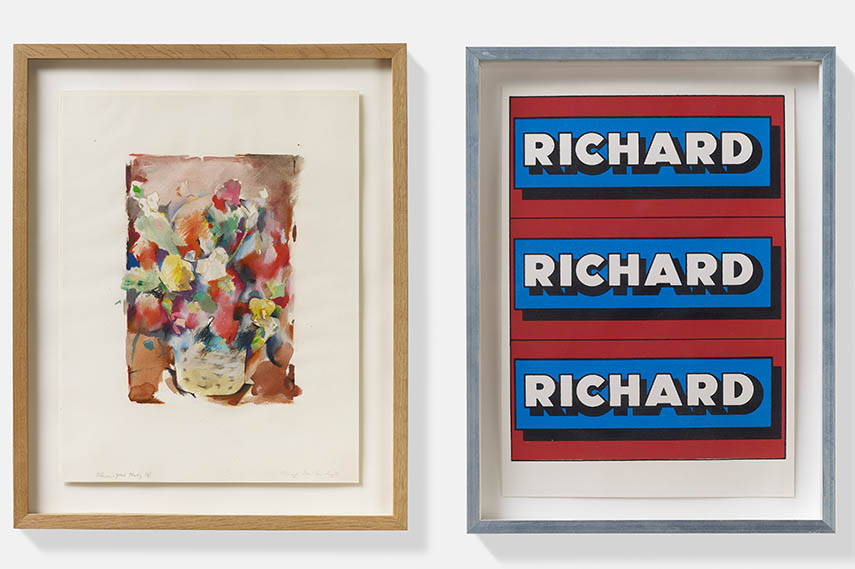 Richard, Richard, Richard
The aforementioned Ricard logo, kept in its original state except the added H after C, to spell the artist's name, Richard, was executed in bold, primary colors, and has appeared on ashtrays, carafes, prints, and enamel signs. This cleverly appropriated logo has offered the satisfaction of understanding the clever commentary only to the most sharp-eyed viewer. Richard Hamilton has applied the practice of the original sign's reproductions found in typical places, and arranged for the full output of Sign (1975), Carafe (1978), and Ashtray (1979) presenting his own subtle take on the Readymade, that unreservedly incorporated signs of commercialism and production. During the Richard Hamilton's first exhibition of enamel signs at Galería Cadaqués in 1975, Paul Ricard, the owner of Ricard liqueur, has arranged for the actual Ricard signs to be intermixed with Hamilton's alternatives. The visitors of the exhibition were provided with tapas and aperitifs, handed out from a van decorated with the Ricard logo, creating the impression of a cocktail party, rather than an artistic event. Hamilton has also installed a number of signs in the local bar, underlining the work's furtive function as an advertisement for himself.
Richard Hamilton Exhibition at David Zwirner
Cadaqués, the first Richard Hamilton's exhibition at David Zwirner in London will be on view at the gallery from April 8th to May 28th, 2016. The private view is scheduled for Thursday, April 7th, from 6 PM to 8 PM, so you still have some time to get ready and attend this event. Commercially spread imagery is utilized in Hamilton's work as Readymade in this Cadaqués series, which makes it interesting even for the viewers not familiar with the Readymade concept. Hamilton's work shows the world we live in, the world of commercials, ads, and self-promotion. The critique of society in Hamilton's time can be easily translated to 2016, a time when promotion means life, and where the mantra "publish or perish" can be applied not only to the scientific community, but to designers, writers, painters, or jewelry makers of today.
All images Courtesy of David Zwirner New York/LondonFeatured images: Richard Hamilton and Sign (1975) at the Bar Melitón, Cadaqués, Spain, 1975. Courtesy David Zwirner, New York/London | Postcard of Cadaqués ca. 1974 (source imagery used by Richard Hamilton) Courtesy Galería Cadaqués and David Zwirner, New York/London | Richard Hamilton and Sign (1975) at the Bar Melitón, Cadaqués, Spain, 1975. Courtesy David Zwirner, New York/London