This Too Shall Pass
It's the thoughtfulness of his paintings and their intellectual capacity that sets the Welsh-born, LA-based painter Richard J Oliver apart. Last night he had an opening of his new solo show at Known Gallery in L.A. The title of the show "This Too Shall Pass" is a quote from "A New Earth" by Eckhart Tolle and represents the transition artist is currently going through in his life. The collection of more than 20 paintings made specifically for this show have a fairly loose theme but stylistically they feel more coherent than his previous solo exhibition at Known. The exhibition goes on for two weeks. The repertoire for the first half of March at Known also includes an exhibition of Drew Merritt.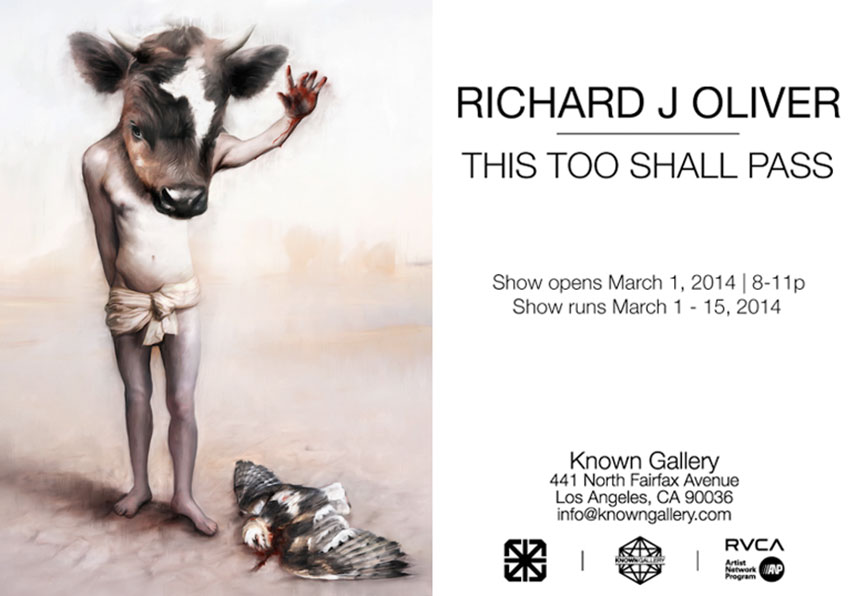 Close to Oliver's Heart
The works Oliver has completed while living in California have been quite different to his Welsh paintings. His early work focused on his homeland, particularly the struggle of its youth trying to find identity in the aftermath of the local mining industry's demise. His work often showcased the skeleton landscapes of mining villages in the Welsh valleys juxtaposed with contemporary youth. His latest works explore more universal subjects, from environmental issues to humanitarian and social problems that are close to his heart.
Grimm Fairytales
Since becoming a parent, Oliver has explored the anxieties of raising a child in an environment on the brink of disaster. The images touch on the tragedy of children forced to survive in an apocalyptic environment and violently fend for themselves. More recently, portraits have crossed into the dark, brooding world of Grimm's fairytales and surrealistic subjects that help convey the emotion and tragedy of our world's children.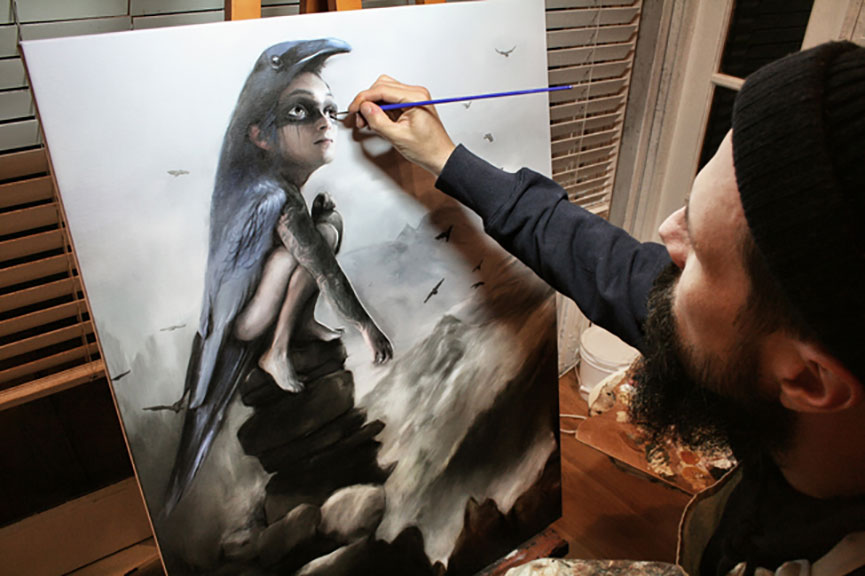 Oliver's Words
As stated in artist's statement on exhibition, Oliver spent the past year studying the works of influential thinkers and writers such as Ralph Waldo Emerson and Ernest Holmes and has concluded that he must trust himself. "I began to create paintings without a predetermined conscious selection of the subject matter, and instead put emphasis on my trust in my visual response to the world around me. I also allowed the conversation with the works themselves to dictate the direction, so in essence, guided by an infinite intelligence they paint themselves, albeit by my hand. This process now leads me to believe that my authentic subconscious is filtering through into my work", says Oliver.