RISK x OBEY - LA's first Legal Mural
RISK and OBEY have collaborated again! This time, it all happened last Monday in L.A. It's their third joint venture and concerns a two-mural set on the side of the Rossmore Hotel on the corner of East 6th Street and Ceres Avenue in Skid Row, L.A. All this would not have happened without the efforts of Daniel Lahoda of LALA arts/Freewalls Project and the Skid Row Housing Trust. OBEY and RISK snatched the permit issued by the city last fall after the lifting of the mural moratorium facilitated by Daniel Lahoda and the Skid Row Housing Trust. They began working on this project at the end of last year, finishing up on February 10th. Therefore, these are the first legal murals in the city of Los Angeles in a decade!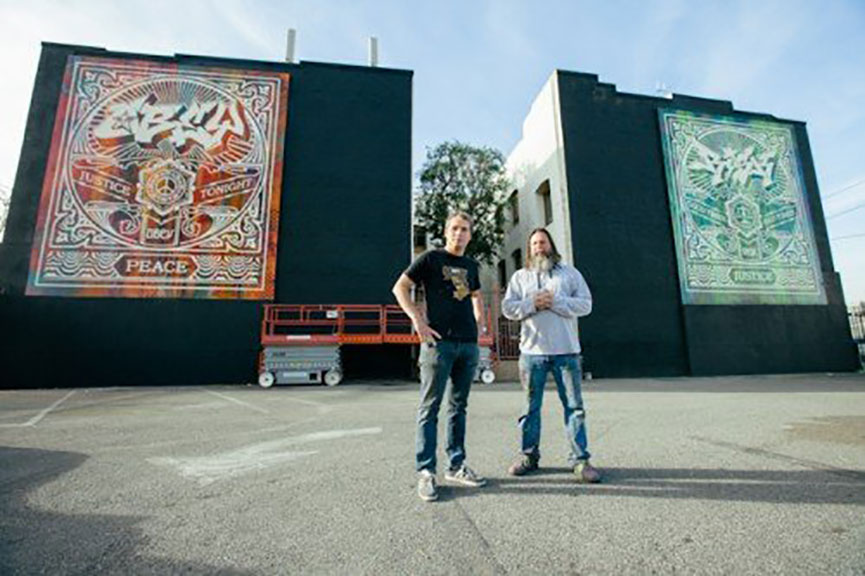 LA's Mural Ban Lifted
Untill last summer, Los Angeles had the ban on murals on privetly-owned buldings due to fears of advertisers creating commercials disguised as mural art. In August 2013, the L.A. City Council voted to lift the decade-long mural ban for the purpose of reviving the city's long history in mural art as long as the works have no commercial messages in them.
No Justice Tonight
These two pieces, on a contrary, have socially engaged background. The project's aim was to make Skid Row a nicer place to live. As a true advocate of bringing murals and art to the downtown LA environment Daniel Lahoda said: "Homeless people should have as much beautiful art on their living room walls as wealthy collectors." Moreover, both murals contain immortal socially motivated words from The Clash and Led Zeppelin. RISK is a big Led Zeppelin fan and since the mural is on LA's Skid Row, RISK wanted to include "GOOD TIMES – BAD TIMES" as a Zep's reference and comment on the unstable nature of good fortune known too well by the residents of Skid Row. OBEY followed suit by incorporating "JUSTICE TONIGHT", a reference to the Clash's cover of Willie Williams' "Armagideon Time" with its lyric A lot of people won't get no supper tonight, a lot of people won't get no justice tonight.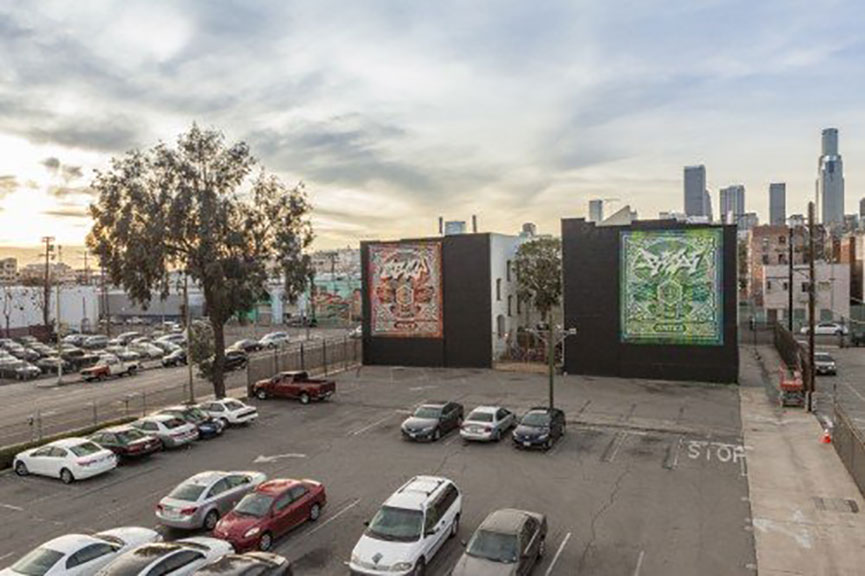 Peace and Justice
This two-mural project builds upon the approach RISK and OBEY took for the "Peace & Justice" mural they did in Miami last year during the Art Basel weekend, but pushes the collaborative process further. Last year, RISK went down to Miami first and laid a beautiful color spectrum and OBEY came a few days later with his crew and painted in the cream details.  Last Monday, they teamed up again. This time RISK painted the backgrounds and OBEY painted the foreground adding cream-colored, geometric stenciling, but they worked together on the foreground imagery and concept. OBEY's mural is in red color with the word "Peace" on the bottom. RISK's mural is green with "Justice" at the bottom.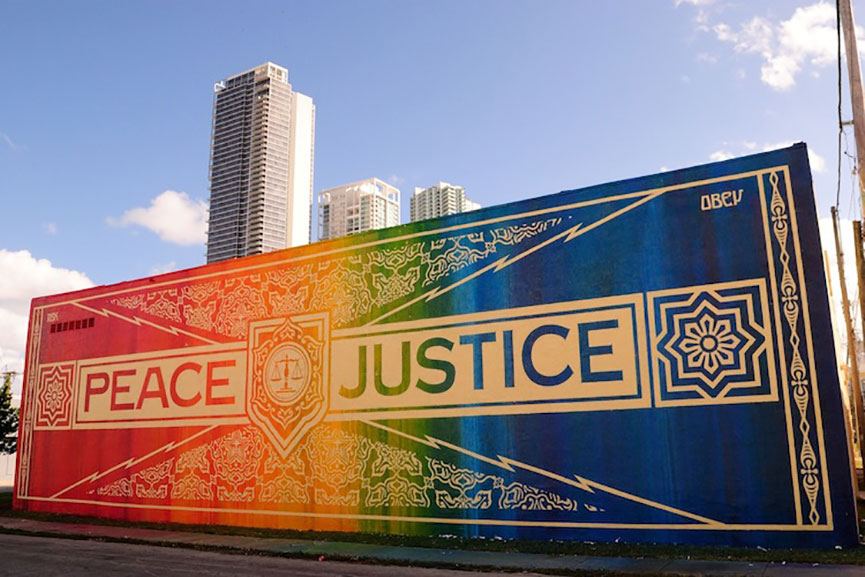 Freewalls
Daniel Lahoda's Freewalls and the nonprofit Skid Row Housing Trust plan to put up as many as 30 murals in the area by a variety of artists. Widewalls will follow the news on a subject, so stay tuned from more information.