Suovetaurilia and Roa's Bear: Recap
For how much longer will man continue to devastate everything and everyone in order to build, earn and prosper? What kind of prosperity is it, when it's drenched in blood of the innocent members of non-human species? The extinction of more species is on the rise daily, and the absurd actions and neglect of humans does not help. As the creatures of nature cannot speak up for themselves, there is art to raise a voice in their name, and one artist devoted himself to emphasizing the importance of preservation of species inherently bound to urban and metropolitan areas. He's widely known as Roa, and he recently completed a touching large-scale mural in Rome, evoking a tragic accident resulting in the death of mamma-bear. The mural named Daniza is painted as a part of Spray 4 Your Rights project, coordinated by Dorothy Circus Gallery, where Roa's exhibition Suovetaurilia is on view through December.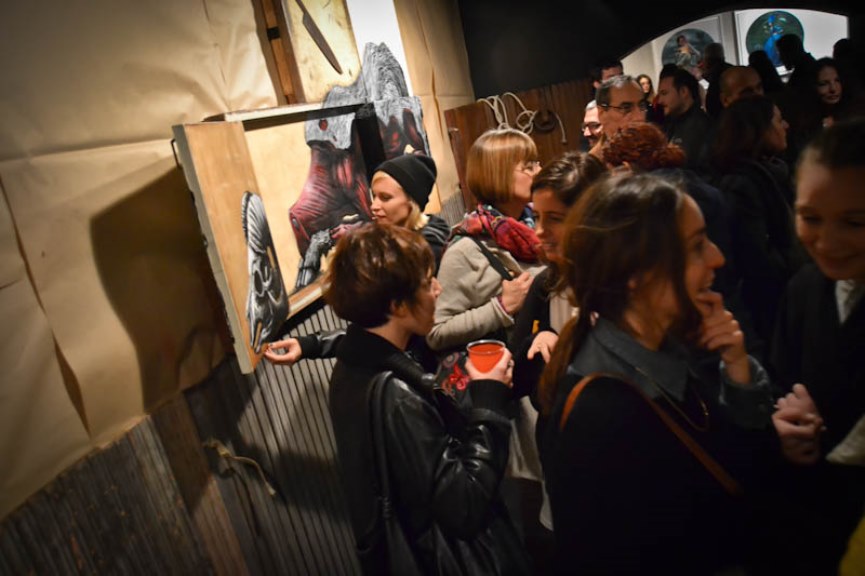 Sacrifice Never Ends
For the Roman exhibition, Roa devised a sacrificial environment, symbolically entitled Suovetaurilia. The name derives from the sacrificial practice of Ancient Romans, who sacrificed a bull, a sheep and a pig to Mars, the god of war, believing their blood purifies the land and pleases the deity. The opening was visited by a large, interested crowd, as the pictures show, and while people could immerse themselves in a crossing between an ancient tradition and contemporary situation, they interacted with the works, which all bear dual visuals. Made from found materials, wooden boxes, opening mechanisms and doors, Roa conjured another wonderful body of work, presenting the dichotomy of animal fate, which is once alive, but then killed, and decaying. The depiction of knives and other tools demonstrates the undeniable role of man in the execution, as man is the architect of the idea, concept, and ultimately extinction of other species. For those who've missed the opening, enjoy the photographic evidence of Roa's interactive artwork.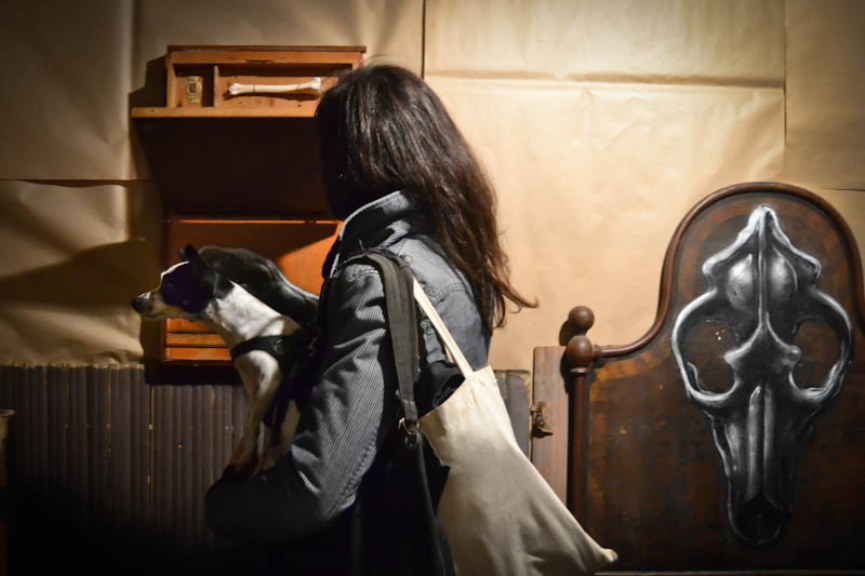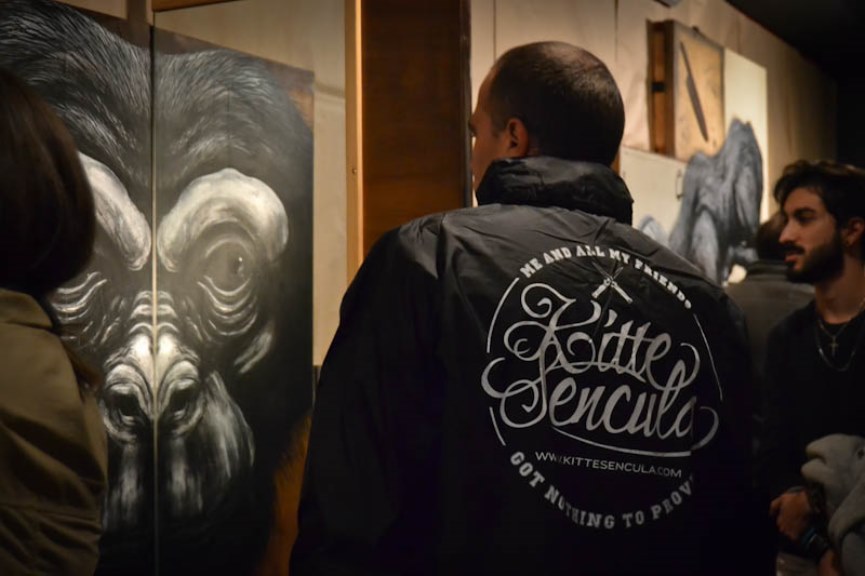 Daniza – Remember her Cubs!
A scandal shook Northern Italy in September, when a capture attempt on a bear occurred after the animal attacked a mushroom picker. Although such a bear assault might be perceived as ferocious, the truth is that the female bear had two young cubs and that she attacked the man out of fear for their safety. Initially, nobody wanted any harm to come to anybody, but the bear succumb to the high dose of sedatives she was drugged with by authorities wanting to constrain her. An unfortunate death, a fatal mistake, ended up being a symbol of involuntary sacrifice. On a wall in Prati district of Rome, Roa painted a mural honoring the memory of Daniza, and placing her humanized, seated figure holding a tranquilizing dart, as a memento on what can come out from neglect.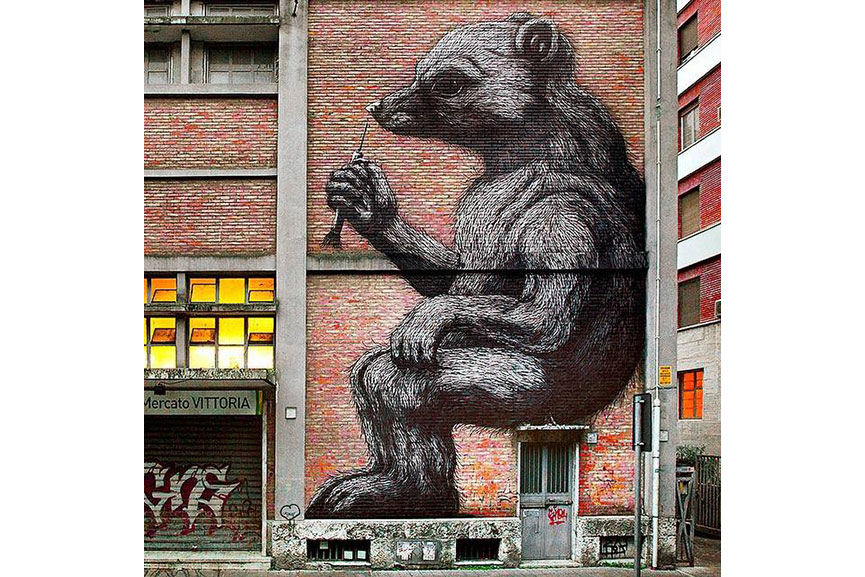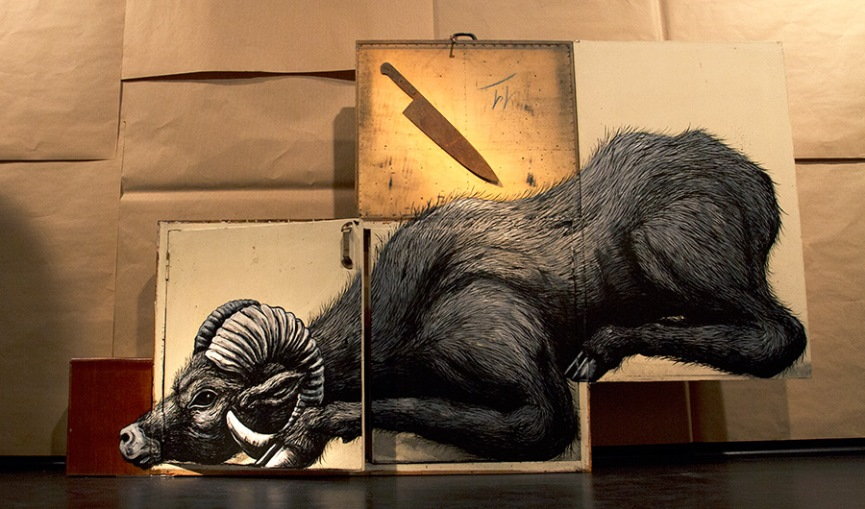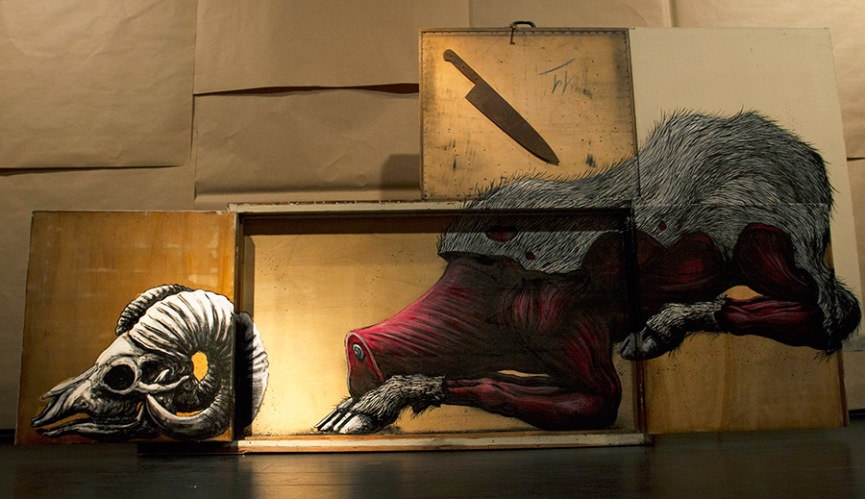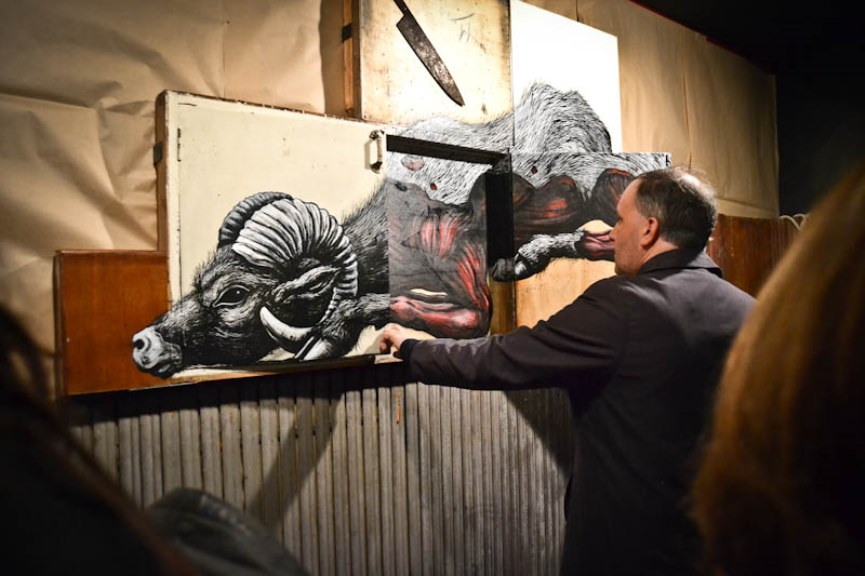 Roa in Rome – A Must See
As Roa's Daniza mural will remain on the designated wall for a long time to come, the Suovetaurilia exhibition at Dorothy Circus Gallery will only remain on view through December 24, 2014, suggesting all interested art lovers should make haste towards Via dei Pettinari soon.
Are you a fan of Roa? Follow My Widewalls, customize you Dashboard and never miss the news about the artist!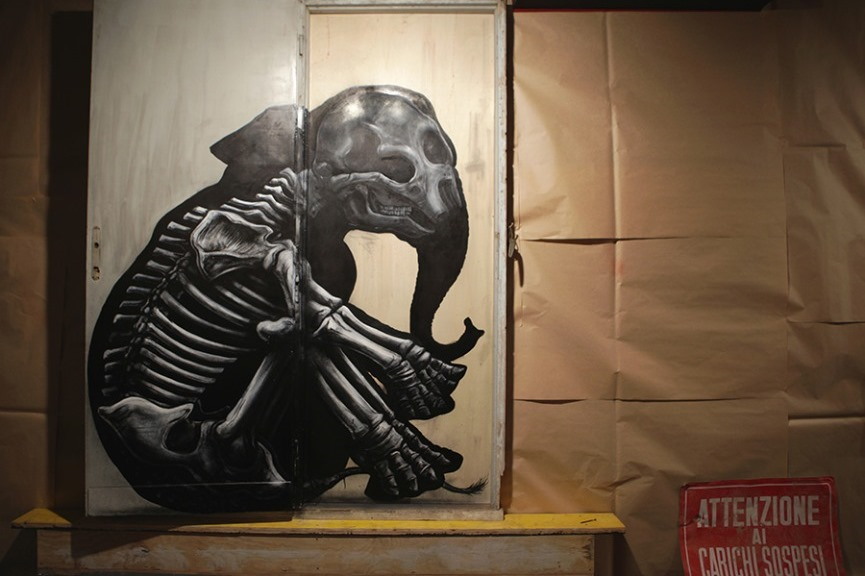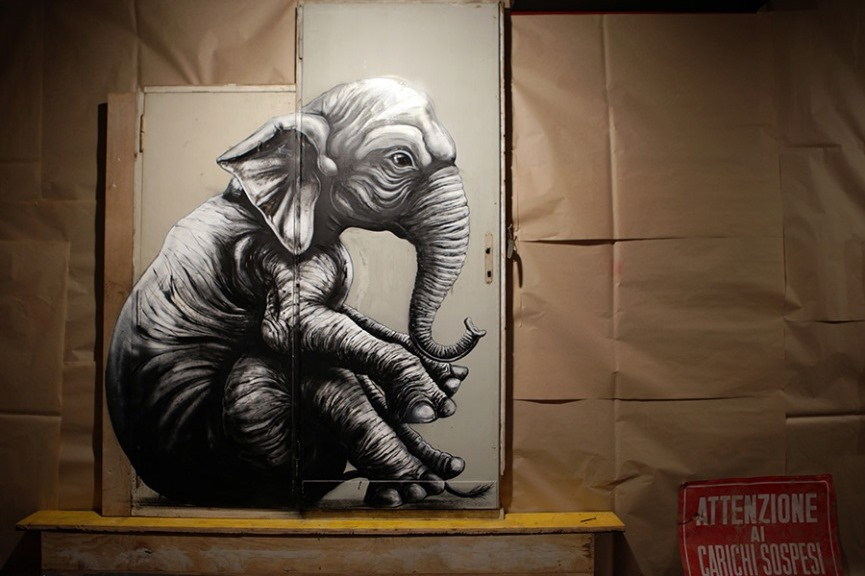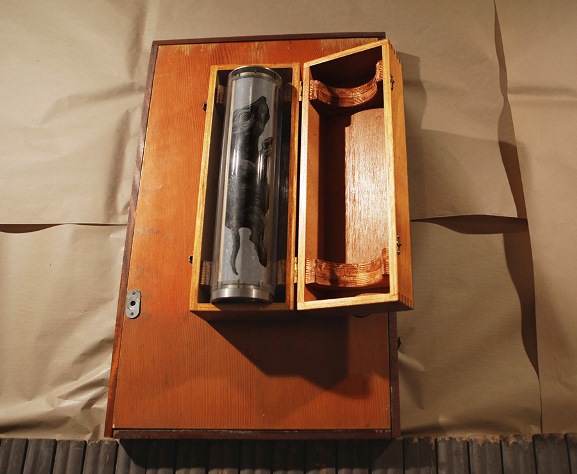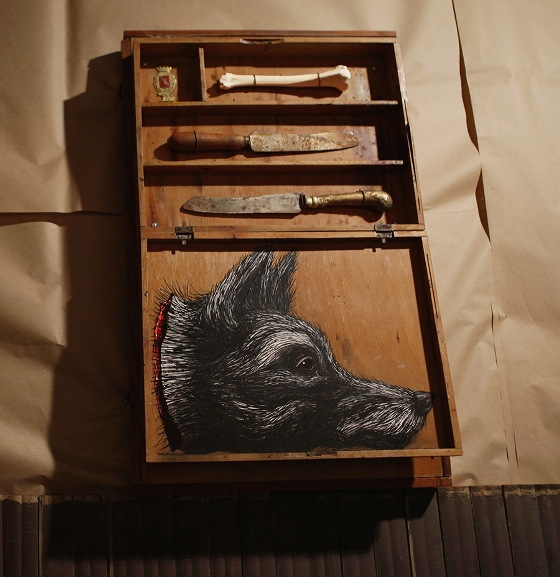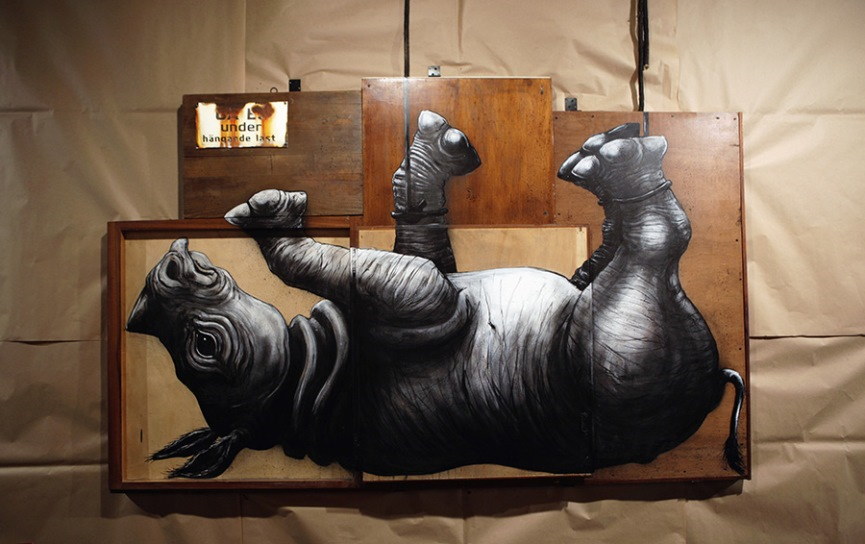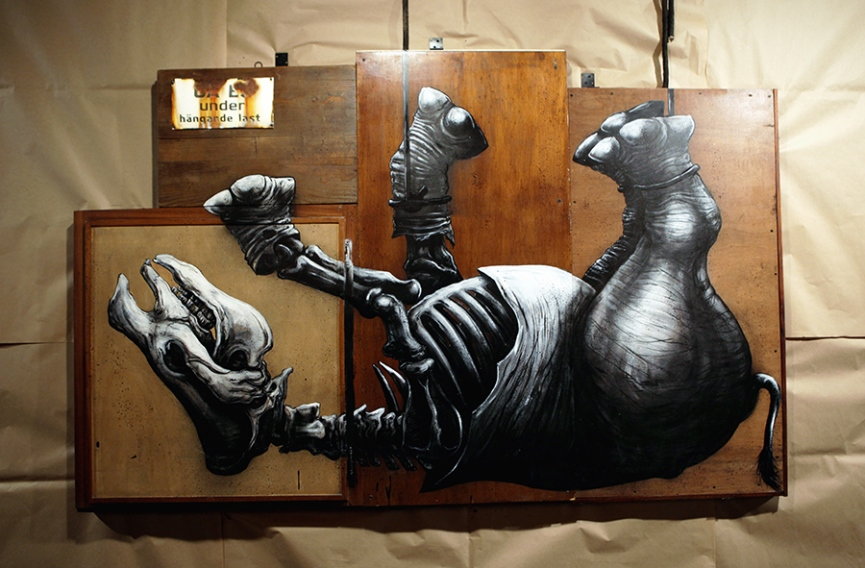 [mc4wp_form]