Crossing the Line Between Reality and Imagination - Robert Proch in an Exclusive Interview
When looking at the artworks of Robert Proch, standing between abstraction and figuration as they are, one beholds a fragmented picture of a profound human experience, influenced by someone's immediate surroundings and the change within their inner landscape. It's the everyday, the mundane, the ordinary events, emotions and encounters that shape our personality and determine our life's path. Like Robert Proch's paintings, that path is unpredictable and chaotic, with a looming sense of control and precarious balance. As such, these artworks ooze with a certain kind of energy, one that ready to be taken in and savoured in all its glory.
Robert Proch, the prodigy of the Polish contemporary art scene, is considered one of the first artists to have contributed to the creation of that infamous creative field located between fine art and urban art. His massive murals on the streets are just as impressive as his smaller works on canvas, with their complex compositions and intrinsic color palette that draw us in and trigger our imagination. Some of these works will now be on view at Rome's Wunderkammern gallery, as part of an exhibition entitled Crossing the Line – a line that divides our consciousness and, subsequently, our consciousness in numerous ways. In an exclusive interview for Widewalls, Robert Proch talks about the way people inspire him, things that piss him off and a great artistic figure in the history of art that had an immense influence on him. Scroll down and have a read!
Analyzing Human Experience
Widewalls: Your work is based on human experiences, urban landscapes. What is it that draws you to these particular topics? Also, why is it important to depict them in both realistic and imaginary manner?
Robert Proch: Definitely I can point these two phenomena as the main focus in my work. It comes from direct need and observation. Every time I tried to paint scenes I'm not emotionally related to, I was losing the impact. I'm part of this environment so naturally I'm analyzing it. After many years of realistic painting manner, I have naturally started to reduce the amount of objects taking part in each scene. This makes painting more open to exploration. I mean, I'm not against illustration and symbolism, it just came with experience to choose which aspects of the composition I wish to focus on less.
Widewalls: The concept, and the title, of your latest exhibition at Wunderkammern is "Crossing the line". How would you define this "breaking point" in people's realities? What kind of freedom are we seeking?
RP: I'm interested in how we come to the breaking point forced by a repetitive living model surrounded by many rules. At some point in life, most human beings settle into a rhythm. Once we find ourselves in this safe situation, we realize that the clock is ticking. Sooner or later it has to end with a decision. Some naturally accept it and remain in the rhythm for the rest of life, others turn their lifestyle upside down – they start to travel, make creative things, or radically change their job… and then there are the last ones, those who become frustrated predators. It's hard to put any kind of frame on it because of the number of factors causing such changes, but this is my point of interest here – this big change related with ageing process.
Widewalls: What does this limbo between the two states of mind, standing on this "line" and leaning towards one side or the other, mean to you personally? 
RP: It's the constant need to exist in the way that no one forces me to. It's the most important. Being who I wish to be in my life, not who others expect from me to be. Of course being free in 100% is a utopian bullshit. We have so many rules and regulations we have to go along. Somehow I feel safe with this small personal world I'm carrying with me. It gives me distance, this wonderful 'job' I can make my living with. I often heard it's a bad idea to live as a painter. But in the end who fucking cares if not me about what I'll do? Also many changes came when my family grew. I have many more duties, but at the same this small personal world also evolved. I'm only hoping not to lose curiosity and this natural need to work during the years.
Widewalls: Is there an aspect of human behaviour, or psyche, that you have yet to explore in your art?
RP: I'm sure there's still many aspects to focus on. It will come with ageing process I guess.
On Technique and Approach
Widewalls: Seeing you often don't use photography or sketching as the basis of your work, you must rely on your own memory in order to transmit your visions onto canvas, or a wall. How does this process of spontaneity look like for you?
RP: I have stopped using photo materials years ago. Once I made this decision, the whole painting process became twice as exciting. You never know where the composition will go. Of course you have to keep the main direction in your head. You walk around it somehow. Every new element is changing its current situation on the canvas and you have to react. It reminds me of Tetris a bit. You can make many mistakes on the way but it's also part of the fun. There were many really bad paintings that I didn't want to continue. Suddenly it brakes trough with new elements and all the composition starts to circle in the good direction. Once the painting is found, I spend the last sessions on cleaning the details. For this particular collection I have actually prepared simple composition sketches. For the mural paining in general, the project is more needed. Usually there are numerous limitations like time, equipment and weather, so it's not so easy to improvise.
Widewalls: One of your specialties is also animation, as an artistic field that surely requires lots of planning, on the other hand. So how does it fit in your creative flow, as such?
RP: Animation was a big thing for me for a long time. Actually, I made my last animation three years ago or more. It was too hard to continue two paths at once. But yes, animation surely requires much more focus and planning and patience compare to painting. It's way more 'professional' workflow. It's also time consuming on an extreme level.
Widewalls: The urban and the everyday that you depict so passionately seem to be evolving at an impressive speed. How uncertain is the future of this evolution? How did these changes already affect your work?
RP: What I'm afraid is the growing number of 'smart' people, packed with useless information, zero life experience and stuck to the fucking Virtual Reality. Somehow I'm afraid of them. I mean, all the electronics are of great help and an addition to our lives, but the upcoming generation's gap will be bigger than it has ever been. Hopefully, there will still be some people who wish to work with their hands. Maybe it's just my twisted point of view. I've always loved to do things and getting dirty like a kid. That's one of the reasons I finally stopped doing animations.
Widewalls: You once cited Francis Bacon as an influence and, in a certain visual way, we bear witness to this. What is it in Bacon's work that attracts you? Or, for that matter, the work of Edward Hopper, Monet, Turner…?
RP: All these painters got the energy I seek. But yes, Bacon's world is the most passionate for me. This combination of melted bodies frozen in move, placed in static simple rooms. I can feel that the models of his work and himself have got a real emotional story going on. You can feel this mental pressure moving the walls. It's brutal and calm at the same time. And what's the most important is that his paintings are still an accurate portrait of today.
Widewalls: What's next, after your Roman holiday? Any new projects in the making?
RP: I'm preparing to do walls in Rouen and Heidelberg. Still discussing unsettled other wall projects for the summer. At the same, I'm in the process of preparing my studio for future woodworking. I'm still missing some tools but hope this summer will start the first experiments.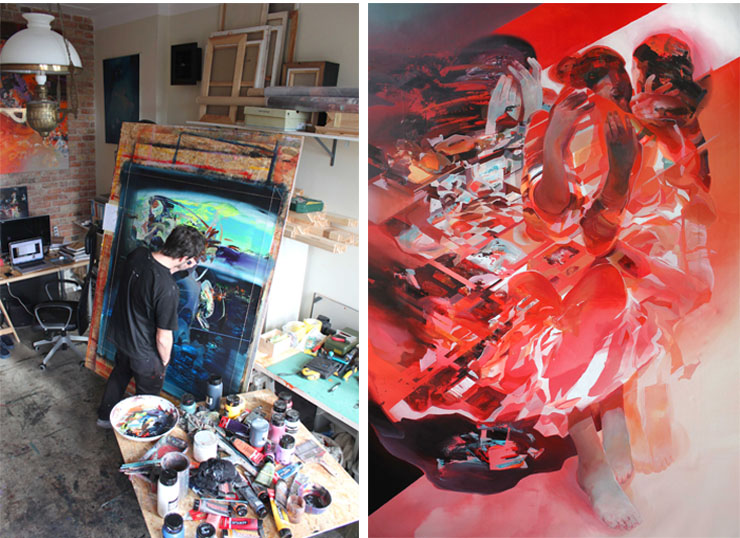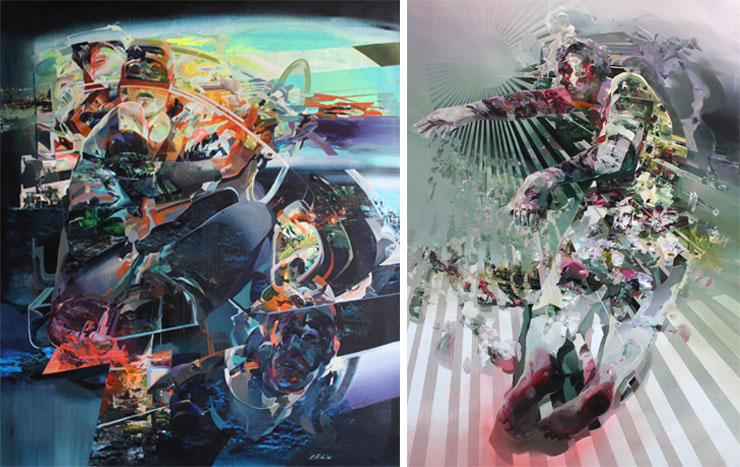 Featured images: Robert Proch in the Studio. Credit Marta Proch. All images courtesy the artist and Wunderkammern Rome.
Follow These Galleries
Rome, Italy

London, United Kingdom