Ron English Interview - Holding One's Breath Is Not an Effective Protest Against Air Pollution
Ron English is a central figure in the wild-style urban art scene. Nevertheless, his persona is influential when it comes to the more sophisticated contemporary art as well. The style that he conducted on his own, POPaganda, is a combination of high and low cultural touchstones, an interesting new world whose inhabitants remind us of the ones we know from our own world, but there is definitely something different about them. This vibrant counterculture is an intentionally modified alternative version of our society that gives another perspective on advertising and on consumerist, corporate-led society. English is frequently described as an outlaw, a prankster, mostly due to his proficiency in culture jamming and his devotion to what he believes is right, and that is to pull no punches when it comes to revealing the almost obvious disposition of popular culture and society.
A huge number of artists refer to and admire Ron English – urban artists, directors, researchers. His works have been featured almost everywhere, on the streets, the billboards, on television, on the internet, and even in the supermarkets, where he occasionally likes to drop his own versions of cereal boxes and to confuse the careless consumer. However, if you need a quick reminder of some of his works, we have recently made a list of 5 works that you might not recognize at first glance. There is a new exhibition of his works coming up at Dorothy Circus Gallery soon, but while you're waiting for it, take some time to read our conversation with the father of dollar-pop himself.
Where Inspiration Comes From
Widewalls: We all know that facts and concepts we strongly disagree with can be an excellent source of inspiration. From the very beginning, your work was distinguished by your critical attitude towards the corporation-dominated society. How exactly does capitalism affect your creative process?
R.E.: At some point you have to make a decision about what your art is going to be and what purpose it is going to serve. Most high art ignores the social or political situation it is created in, opting for a voice in a smaller, more esoteric, conceptual conversation. For me having a distinctive perspective that acknowledges the global situation we find ourselves is more potent than willfully ignoring it. This approach also gives my art works a life beyond being objects of fashion distraction and decoration.
Widewalls: Your work continues to be an inspiration for many artists, the established and the emerging ones. Did anyone inspire you in a similar, productive way throughout your career?
R.E.: Yes of course. I am also inspired by young artists. All art is a challenge to expand your mind on some level and all artists bring something unique to the table. My own art is the result of influences from my high school art teacher to young artists I have mentored.
About Popaganda
Widewalls: The appropriately named project POPaganda seems to be a growing new world that challenges the real world ruled by the media humorously and quite successfully. Is POPaganda designed simply to comment on the state of the society, or to offer another, parallel environment some of us can relate to?
R.E.: Think of Popaganda as an advertising agency tasked with telling the other side of the story, because there IS another side of the story and it's BIG.
Widewalls: Certainly, most people can feel POPaganda's undertone, but also the positive, yet ambiguous nature of the project. Still, would you agree that parody can sometimes be confused with true statement? Did you ever have problems with that in your career?
R.E.: Yes, and these days a lot of things feel like parody when in actuality they are not, so the parody can come off like the real thing.
Widewalls: In 1992, you made a billboard with children from the Bronx, in collaboration with the Guggenheim Fund. How do you think children react to the characters you make, and how do they feel about the alternative versions of Mickey Mouse, Charlie Brown, Ronald McDonald?
R.E.: My purpose was to show these disenfranchised children how to hijack the culture through the interfaces into their own lives. They created their own ideas and characters in a "think tank" type of situation then I helped them design it into one big piece and I helped them paint it on a large scale. I acted as their facilitator. It was an exercise in empowerment Ron English style.
Widewalls: Although the differences are obvious, would you say that there are at least some similarities between yourself and Andy Warhol, in terms of influence on our perception of popular culture, given the fact that Warhol was both critical and supportive of the mass culture?
R.E.: An artist does not usually exist independently of his society nor should they. Holding one's breath is not an effective protest against air pollution.
Widewalls: I couldn't help but ask – among your creations, do you have a favorite character?
R.E.: Cathy Cowgirl.
Sugar High - Sort of Ecstasy
Widewalls: When it comes to techniques and mediums you work with – painting, sculpture, street art – what do you enjoy most, and which medium translates your ideas most accurately?
R.E.: Painting. It is the space where I have the most control and imbed the deepest ideas.
Widewalls: Let's talk about the upcoming exhibition at Dorothy Circus Gallery. What does the "Sugar High" title stand for, and what was your main focus this time?
R.E.: The most toxic and short term incarnation: sort of ecstasy.
Widewalls: You have been in the art world for a long time. How do you feel about the current global art scene? How do you correspond with it? And is there, perhaps, a younger artist you feel has potential, or would like to collaborate with in the future?
R.E.: The art world has been about the branding of individualism for a long time now. As the newer artists engage more hands-off manufactured strategies the challenge is to keep the soul of the artist imbedded in the final product. This is always been something easy for painters because any given piece is the intense focus of your life during the process of creation. As for collaborations I have most recently been working with musicians. Of course I am always open to anything.
Cathy Cowgirl featured in the video by  The Electric Illuminati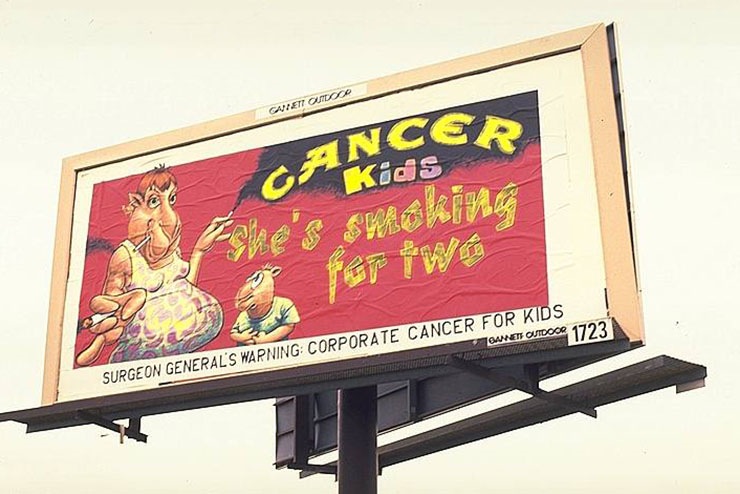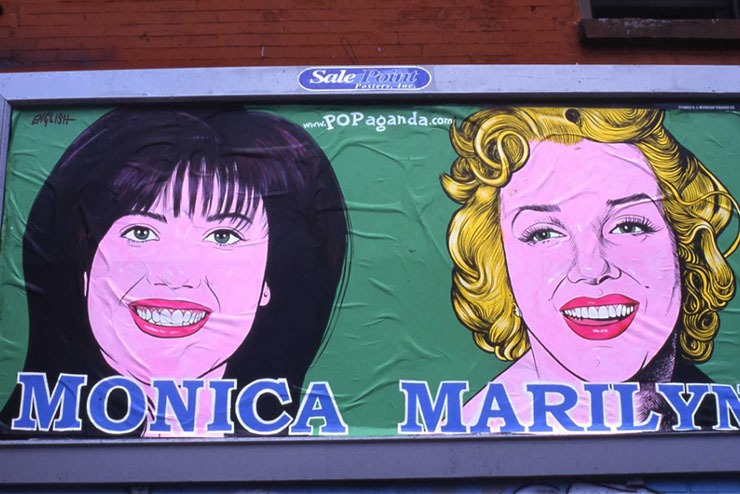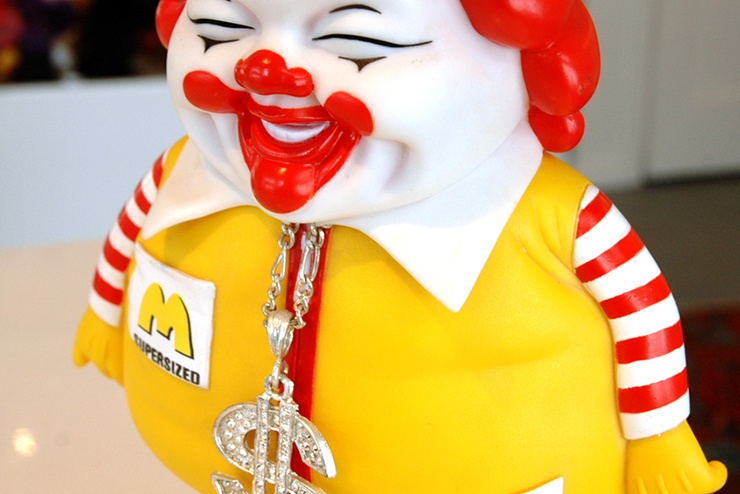 Featured images: Ron English, portrait with his sculptures; Ron English – The New World Order, NYC, 1990; Ron English – Abraham Obama; Ron English – Figment (Andy Warhol Bust).