Rose Eken Solo Exhibition at V1 Gallery: Tableau
Many artists and art lovers perceive art studio as mystical and almost sacred place where magic happens and art is produced. Artist Rose Eken removes the mystery from the atelier by creating her own fictional meta-studio that will be presented at Tableau exhibition at V1 gallery in Copenhagen. The artist toys with our perception of the art world by setting up a lifelike installation that surpasses the individual artist and relates to our general notion of how art is created. The studio is portrayed as both a place of inspiration and hard work as Rose Eken tries to depict artistic process to an audience of non-artist.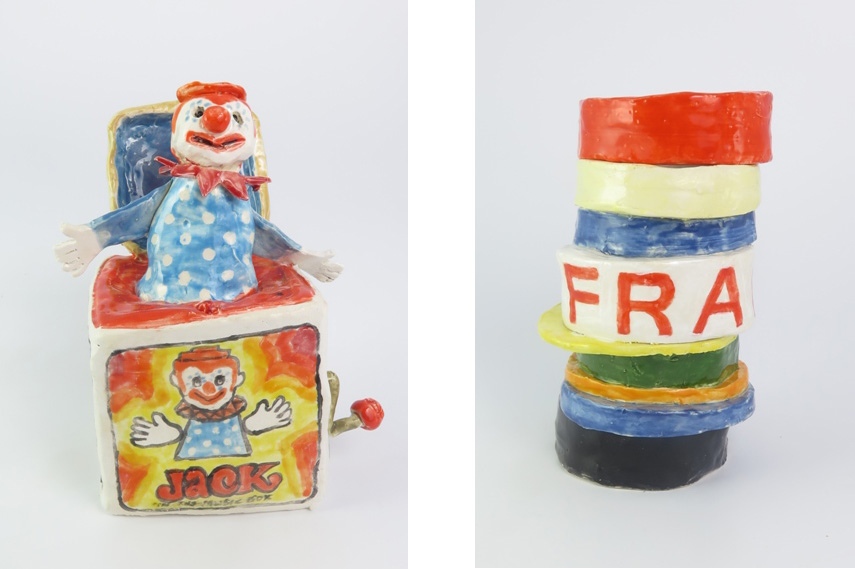 Fictional Atelier by Rose Eken
For her latest exhibition artist Rose Eken has created a large ceramic installation trying to depict the atmosphere of an artist's studio. During her comprehensive research she had corresponded with contemporary artists around the world and received photos of their studios. By merging the objects form these images together she has created her own ceramic meta-studio packed with buckets of paint, towers of tape, clusters of books and magazines and laptops but also with coffee cups, cigarette butts and other testaments of the artist's endeavors. Tableau is Rose Eken's largest exhibition to date and consist of hundreds of ceramic objects. Every object is related to a specific artist but put together they transcend the individual artistic practice and explore the common perception of a studio and all that it represents.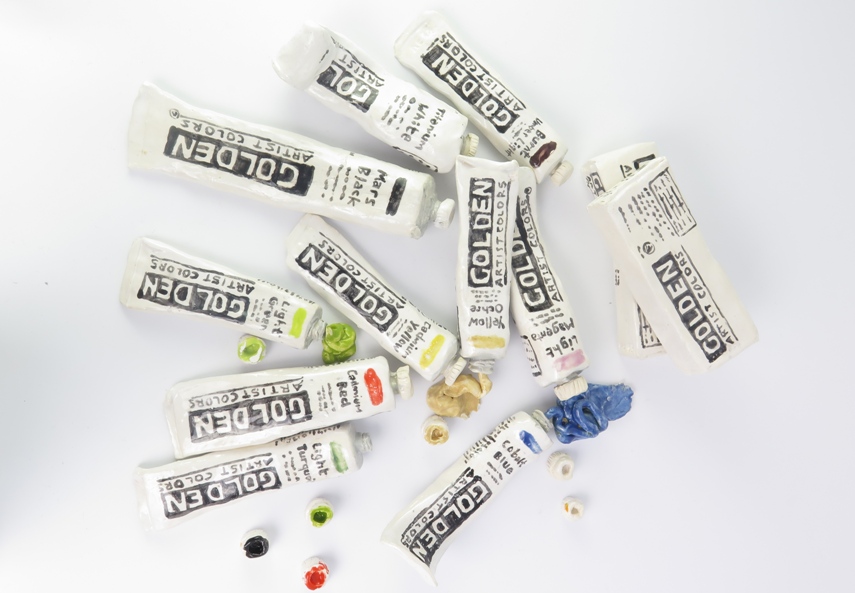 Ceramic Tools and Personal Effects at Tableau Exhibition
It's not a secret that art studios are chaotic places filled with inspirational and unusual things and Rose Eken's ceramic studio is not an exception. The visitors of V1 gallery will be able to see dozens of artistic tools and all those personal belongings artists bring into their workspace to inspire or amuse them. For instance, while depicting John Copeland's atelier Rose Eken sculpts his spatula stained with his signature color palette but also and old hatchet and a collection of vintage Playboy magazines. Erik Parker keeps buckets of ingenious labeled paint with titles such as Real Truth Shadow and Up The Beach in his studio that undoubtedly make him smile. And since no workplace could possibly survive without a coffee cup, Rose Eken has recreated Richard Colman's humorous Don't Bother Me – I'm Crabby mug filled with pens and pencils ready to be used in an artistic process. Rose Eken even added her own worn out boots, paint splattered jacket and ceramic glaze containers into the installment.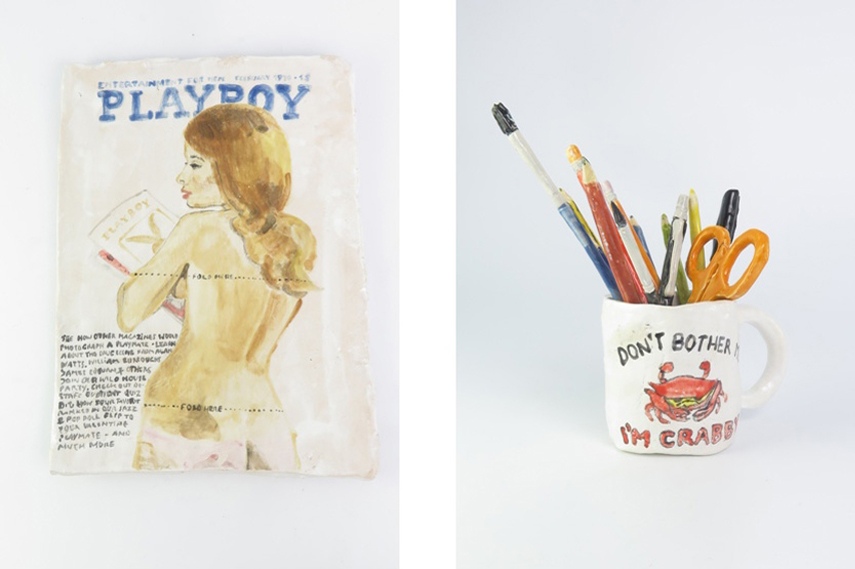 Studio Talks at V1 Gallery
Tableau solo exhibition by the Danish artist Rose Eken will open on Friday, August 14th at V1 gallery. Art enthusiasts in Copenhagen will have the opportunity to meet the artist at Studio Talk scheduled for August 25th from 16 to 17.30. Rose Eken and writer of Brask Studio Visits book, Jens-Peter Brask will discuss the notions of the art studio both in relation to Tableau exhibition and the writer's latest publication. Additionally Tableau exhibition will include site specific Girls Night Out installation that will be on display from August 4th till August 28th, 2015 at Holly Golightly storefront in Copenhagen. Entertaining portrayal of artists' working space will be on display till September 19th 2015 at V1 gallery.
Whether you're an artist of an art enthusiast let us inspire you and sign up for My Widewalls for FREE
Featured images: Rose Eken – Wooden Box (Morten) with Pens Ruler Paint etc., 2015 Rose Eken – Spatular Williamsburg Oil Paint Tubes, 2015 Rose Eken – Paint Tubs (9), 2015
Rose Eken – Mega Mussel Palette and Blue Brush 3xVan Gogh Paint, 2015
Rose Eken – Canon EOS D5, 2015 All images courtesy of V1 gallery