Saint-Oma
Le cabinet d'amateur gallery continues putting on wonderfully delicious exhibitions by emerging artists and one of them just wrapped his first presentation with the space. Saint-Oma inaugural solo exhibition ended yesterday, where a series of drawings in black ink was showcased. The style of this promising artist is predominantly figurative, while his reduced, archetypal characters are always engaged in a kind of a metaphorical narrative. The line is light and secure, while Saint-Oma's poetics is realistic, visceral and absurd. The exhibition was installed under the title  Dessins d'idées – Drawing ideas, and it lasted from June 4 through June 15, 2014.
Drawings of Ideas exhibition catalogue was also released by Le cabinet d'amateur. The last day of the show, artist was present at the gallery signing the amount of 20 books, while the entire edition is limited to 50 copies.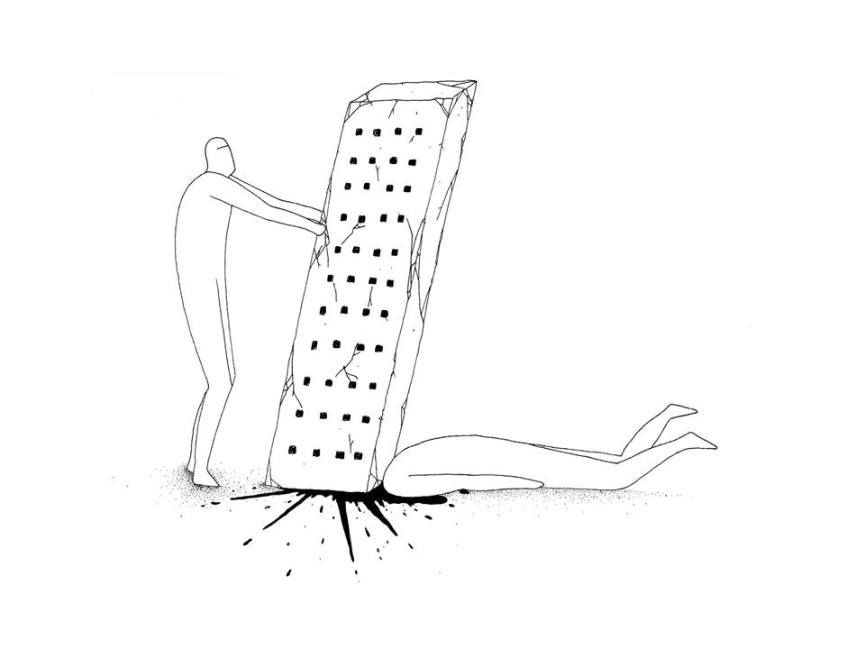 Drawing Ideas
Driving force behind the drawings of Saint-Oma is the continuous, thin black line and a witty reflection of human condition, upon which the artists builds his aesthetics. Throughout the series he addresses some of the most universal subjects related to the contemporary society, such as distance and inappropriate curiosity, boundary issues, self-imposed limitations or the lack of thereof, daily struggles, eternal hopes, modern slavery and victimization questions, as well as the questions of the executioners.
Such existential, essentially philosophical ideas can be seen everywhere, simplified and stripped of any unnecessary decor. In the art of Saint-Oma we face our reality, but he is kind enough to make it bearable, or even fun to watch.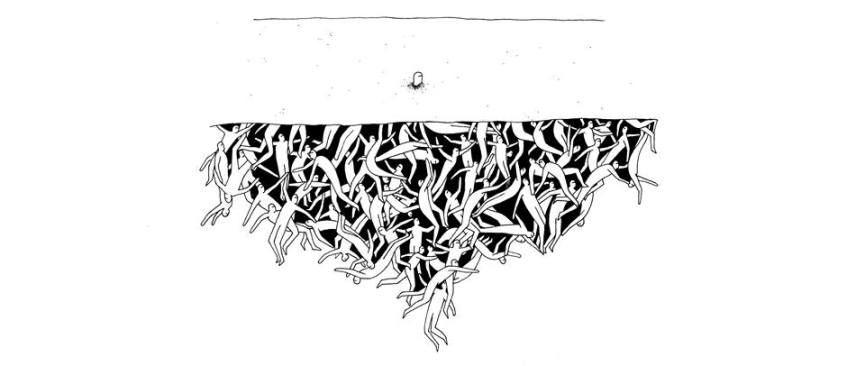 Saint-Oma cleverly renders the most intimate of our beliefs and addictions, revealing their absurdity and the neglect we impose onto one another. Tragicomical situations run throughout the body of work, well dressed in humor and an ironically polite expression. Titles of Saint-Oma's drawings emphasize the social point he is trying to make. They tell the story of continuous human labor and the never-changing working situations, or the constant loneliness even within the community, all seasoned with dry humor. His creative process emulates to a degree surrealistic techniques such as automatic writing, but in general it is more coherent, logical and contemplative than the irrational art of the unconscious.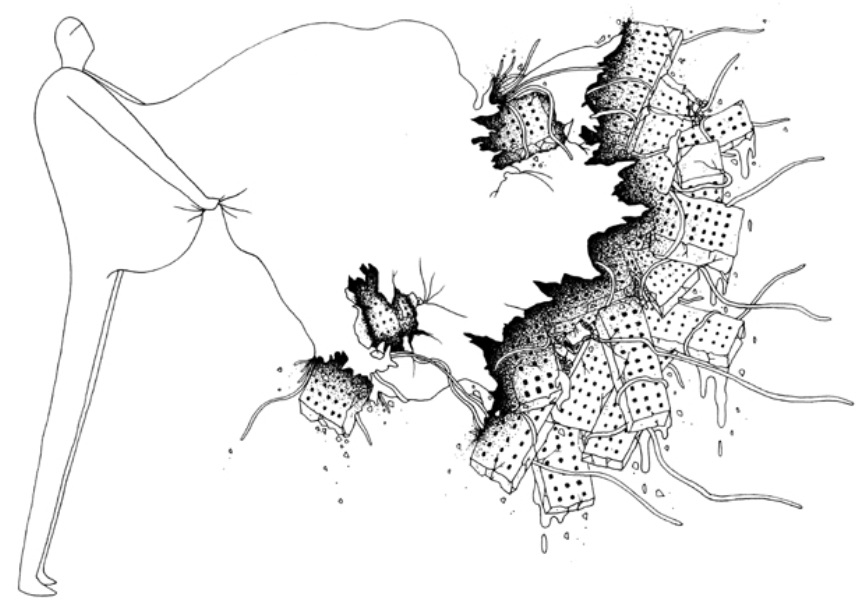 Saint-Oma
Saint-Oma was born in 1973 as St. Thomas Durcudoy. He came from the world of Fine Arts, he became an idea draughtsman. Drawing was instantly his passion and he dedicated as much time to it as to the art of oil painting on canvas. His street art activities around Paris attract a lot f attention, as wonderful additions to the often ordinary or grim corners of the urban landscape. Saint-Oma worked in a library where he got interested in letterforms, as an animator, while he continued to draw simultaneously with these experiences. His work is an eclectic mix of visual puns, clear gestures and metaphors. His latest group exhibition was at the Agnes B. gallery lounge at Drawing Now Paris in 2014.