Sandra Chevrier Presents her Cages at Galerie C.O.A.
Calling herself a "gaze collector", Sandra Chevrier creates hyper-realistic paintings of women that stare out towards the viewer. Traveling over a broad range of fluctuating emotional enigmas and concepts that have set the standard of our modern communication, the artist aims to expose the limitations within our world and our self-imposed expectations that act like cages around us. These cages we have built ourselves, prevent us from experiencing life to the fullest. Her latest body of work is currently on view at Galerie C.O.A. Titled The Cages; Between the Bars, the show will explore this motif of a cage that is at the heart of her oeuvre and appears in the vast majority of her artworks' titles.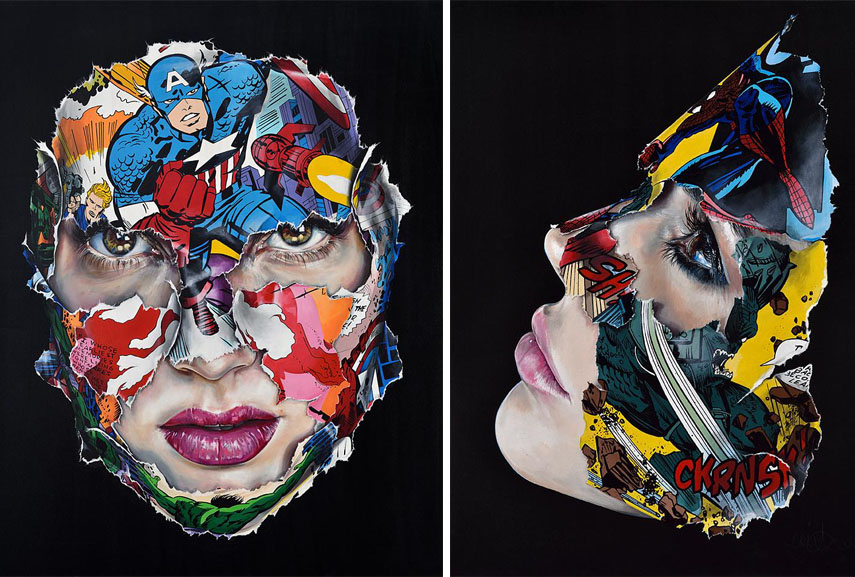 Masks and Cages
Currently living and working in Montreal, Sandra Chevrier creates work that demands to be dissected beyond its surface value. Her portraiture combines the fantastical heroics and iconography of comic books and the harsher underlying tragedy of oppressed female identity. Collaging these fragments onto her models' faces, she creates masks that conceal the faces of these idealized women. These masks act as cages, at the same time allowing the viewer to peer inside and observe what's hiding underneath. This is emphasized with the gazes exchanged between the contemplator and the contemplated. Living in a male-dominated world, her subjects denounce the role ascribed to them, refusing to play the part of seducer or victim.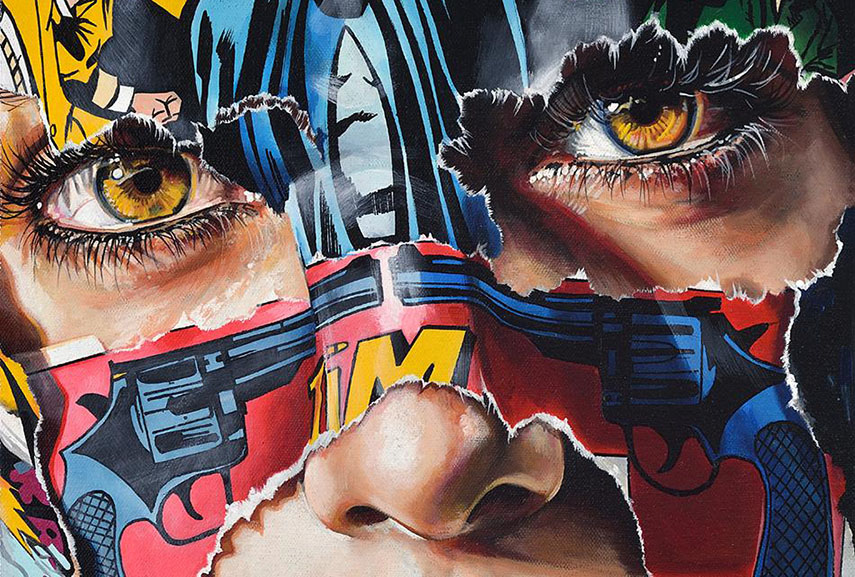 The Fragility of Superheroes
Sandra Chevrier considers that you can read all the emotions of a human being just by looking in their eyes. Using sharp colors and graphic lines, as well as loose and heavy textures of paint, she makes her subjects pop out from the surreal world within the canvas. Despite all the colorful playfulness and the "CRASH! BAM! POW!", her superheroes exhibit a certain fragility, promoting the idea that vulnerability often underlies heroism. Titled Cages, these works encourage the viewer to consider how the modern woman might also be surrounded by society's distorted prejudices and expectations of what a woman should or should not be. This series carries a strong message of social freedom and an open mind imbued into the canvas.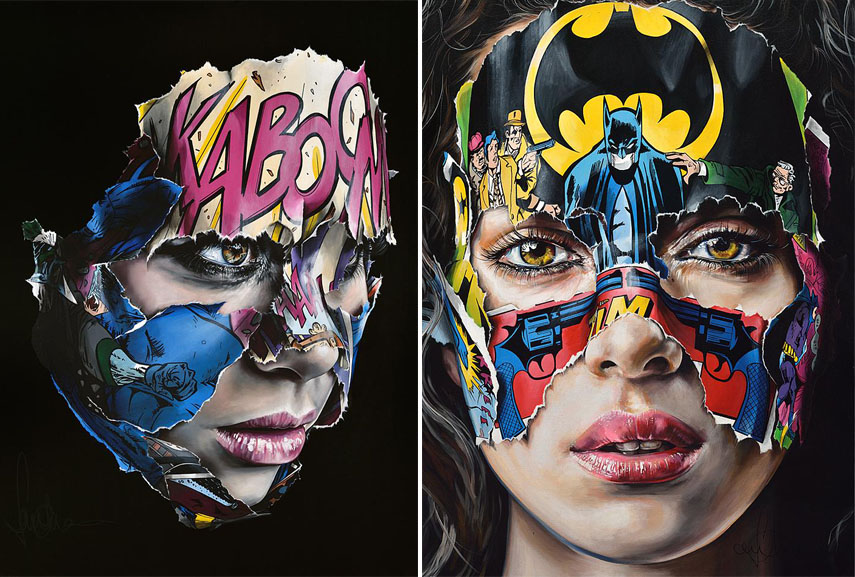 Sandra Chevrier Art Exhibition at Galerie C.O.A.
Beneath the pop facture and the flashy colors, the precision and luster of her portraits, Chevrier's masked models act like prisms and allow us to peer at the dance between power and fragility; between liberty and captivity. We are merely human; men and women who are entitled to the flaws and errors. The exhibition The Cages; Between the Bars will be on view at Galerie C.O.A. in Montreal, Canada until November 25th, 2017.
Featured image: Sandra Chevrier – La Cage, opium de tous les silences (detail). All images courtesy of Galerie C.O.A.