Sandra Chevrier Art at the Thinkspace Gallery
Sandra Chevrier art often juxtaposes the vulnerable and the human with the female comic superheroes. Her beautifully rendered portraits of women are produced with the collaged comic book overlays. Such qualities are evident in her new series The Cages; and the Reading Rooms of their Lives, produced for the occasion of her solo exhibition at the Thinkspace Gallery. Concurrently on view in the Thinkspace project room are the works by Sean Mahan, comprising his new series Rendered Problematic. With the opposing atmosphere in their works, the two author convey the different feelings of life through their painted figures.

Sandra Chevrier Art – The Mixed Media Portraits
In Sandra Chevrier's  Cages series, the fragility of life is hidden behind the collaged comic book overlays. The graphic segments and the tears are used to obscure the facial features and bodies of her painted figures. In doing this, Chevrier creates a new identity and exposes the restrictions and difficult vision of femininity. Creating what she refers to as 'masks' and 'cages', each of her painted portraits offers a variety of scripts: heroism and weakness, beauty and imperfection, order and chaos, revelation and withholding. By placing her female heroes in a dark and moody atmosphere, Chevrier attempts to capture moments of vulnerability and contention. Such complex imagery the artist creates with the combination of acrylic, watercolor, graphite, china ink, pastels, and collage. In the constant dance that takes place in her works, the bleeding of fiction in and out of reality, her paintings convey a personal terrain affected by social conflict.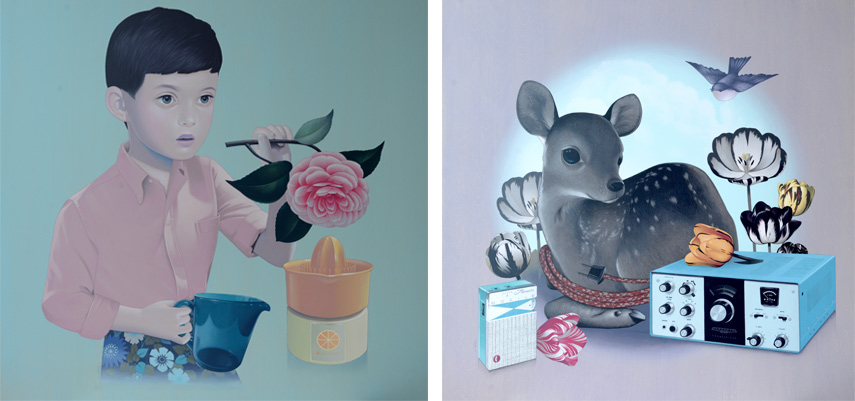 The Paintings by Sean Mahan
A cultivated nostalgia persists in Sean Mahan's paintings that capture the feeling of human innocence and a strange sweetness. Working with graphite and acrylic washes on wood panel, the deliberate preservation of the wood grain, adds the dimension of warmth and the organic variance to the works. His portraits convey an ambiguity of time and space and as such Mahan keeps his painted figures safe from the consumption, impermanence, and disposable quality of modern culture. By placing his subject in such isolation, Mahan attempts to create a new identity in normative culture.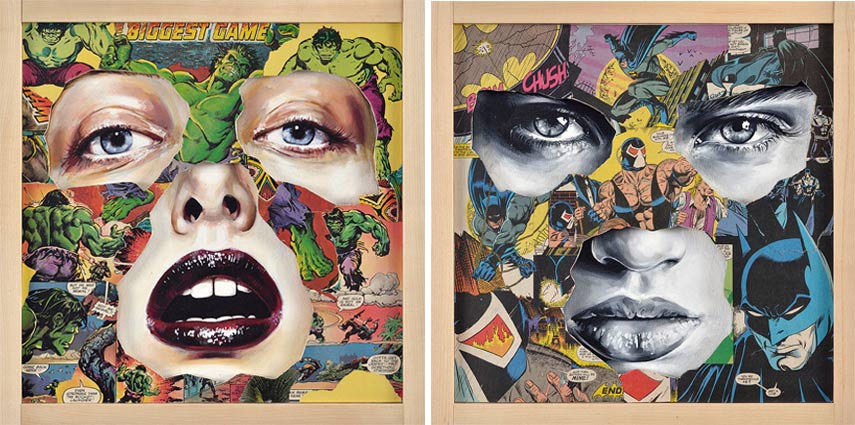 Sandra Chevrier Art and Sean Mahan at the Thinkspace Gallery
Thinkspace Gallery is delighted to present Sandra Chevrier's new series The Cages; and the Reading Rooms of their Lives produced for her first solo show at the gallery. Chevrier's confine metaphor of scripted identity problematizes the reductive social roles ascribed to women and reflect the difficult vision of femininity. Her both powerful and fragile superheroes will be on display at the gallery starting October 15th, 2016 and lasting until November 5th, 2016. As mentioned above, concurrently on view at the Thinkspace project room, Sean Mahan's Rendered Problematic series awaits the audience at the same time.
All images courtesy of Thinkspace. Featured image in slider: Sandra Chevrier – La Cage – une explosion plus tard; Sandra Chevrier – La Cage, ici!
Follow These Galleries
Culver City, United States

Montreal, Canada