Observe Sandro Giordano's Tripping at Life Gallery New York
Last summer, Italian artist Sandro Giordano had a life changing experience. He was riding his bicycle and suddenly plunged. While falling he was holding firmly to his bike's handles instead of using his hands to ease the fall. That is when he had the epiphany and realized that we live in what he called a fallen world where material things have become more important than our own lives. That is how an satirical In Extremis (Bodies With No Regret) photography series was created. This ongoing project by Sandro Giordano will be on display at Tripping exhibition in Life gallery in New York.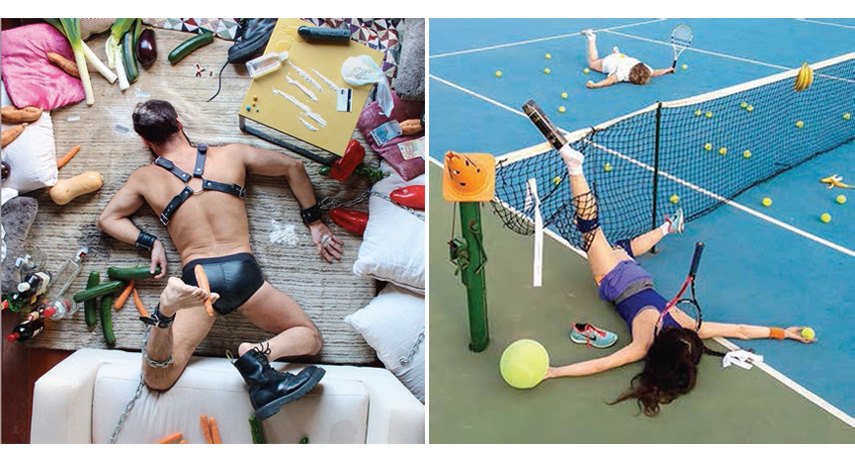 Falling World of Sandro Giordano
Sandro Giordano is not the only victim of constantly expanding materialism. One of his friends had a similar accident shortly after. He stumbled and broke his leg while trying to avoid dropping his smartphone into water during a fall. The artist started In Extremis (Bodies With No Regret) project about people who refuse to let go of their material thing even when their lives are in danger. In this series Sandro Giordano depicts the downfall of individuals and humanity, both literally and metaphorically. His subjects fall face first into the ground, their bodies get twisted and broken while their beloved belongings are scattered around them. And no one is immune. Tennis players get tangled like fish in a net while still holding on to the yellow tennis balls. The local butcher buries his head in meat, even nuns fall while holding on to their things.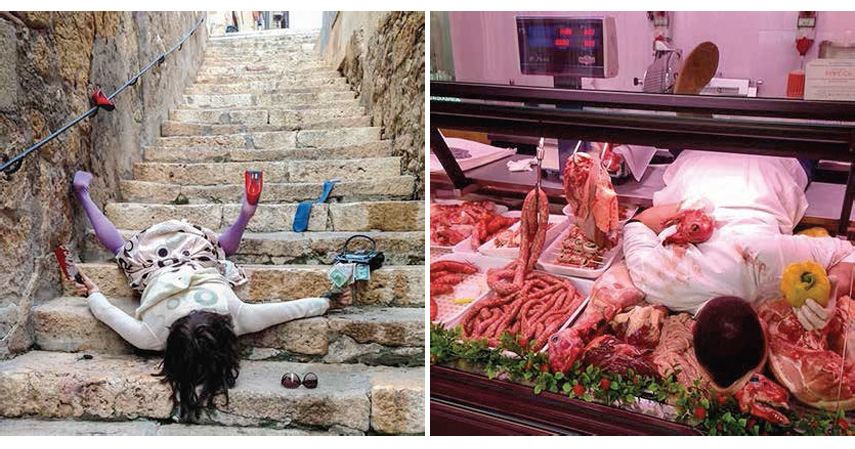 Tripping in New York
Tripping exhibition is definitely packed with creativity or intimate truths that can often elicit a laugh or two from the viewers despite its disturbing topic. All photographs are carefully staged. Everything from the location, the clothing, to objects diffused is carefully selected and meticulously arranged to portray the unnatural manner in which we value different things in our life. Being an actor for over 20 years, Sandro Giordano has employed his friend and colleges to act in what he often refers to as "short stories about people who don't even attempt to save themselves". Each story has its own characters and plot but their message is the same. Artworks that will be displayed at Tripping exhibition are encouraging everyone to live their lives without obsessing about appearance and possessions.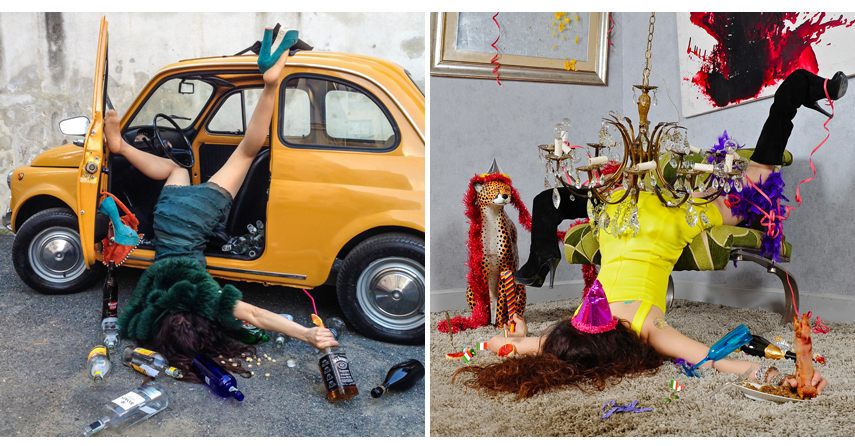 Viral Artworks at Life Gallery
If In Extremis (Bodies With No Regret) series seems familiar it's because some of the photographs have already gone viral. Sandro Giordano initially shared his works via Instagram and met with excellent reception and critical acclaim. The fact that we can all be potential victims of all-present obsession with material objects, resulted in many people identifying with Sandro Giordano's subjects. The photographs are now transferred to canvases and ready for the Italian artist's New York debut. Tripping exhibition that will display In Extremis (Bodies With No Regret) prints will open on July 23rd and will run till August 1st, 2015 at Life gallery in New York.
You won't regret signing up for My Widewalls cause we're fresh, interesting and FREE
All images courtesy of Life gallery