Vibrant Saner Art Exhibition to Open at Thinkspace
Drawing from the rich heritage of the Mexican Muralist movement and its specific artistic style, Mexican urban and street art are still very much rooted in the folklore. The practice the artist and muralist Edgar Flores aka Saner from Mexico perfectly embodies these native influences. Saner art blends contemporary images with references to Mexican, Mayan, and Aztec iconography and folklore. His latest body of vibrant work will be on view at the Brand Library & Art Center. Curated by Thinkspace Gallery and presented in collaboration with Mexico's Fifty24MX Gallery, the show In a Dream (En un Sueño) will feature Saner's new works and a mural installation.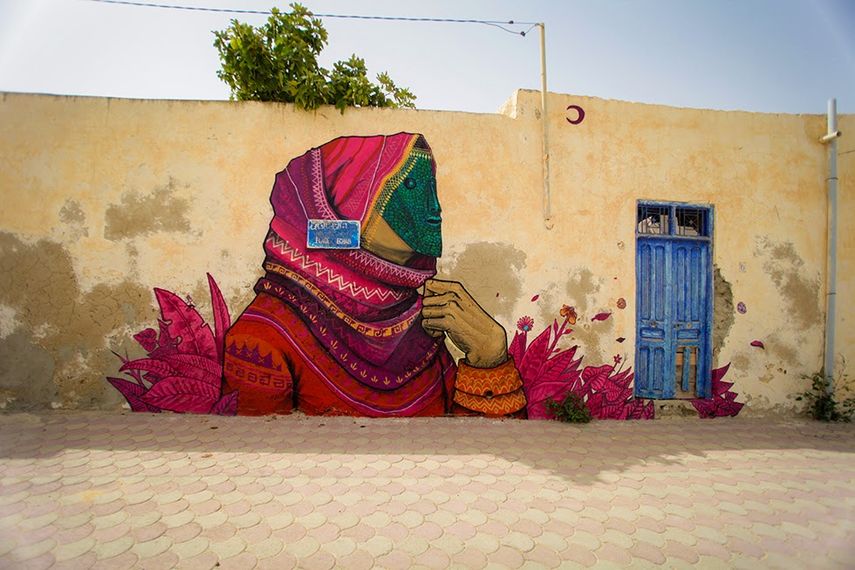 Exploring His Cultural Heritage
In the late 1990s, Saner began creating graffiti inspired by the powerful legacy of political muralists from Mexico. The image of the world that this prolific artist has created is truly distinctive. His local demons and heroes appear on walls, canvases, paper or found objects reflecting the strong influence of Mexican customs and folklore. With the intense mystery touch and a weird sense of humor, he combines the new with the ancient. This visual exploration of his cultural heritage serves as a way for him to reinterpret and navigate the conflicts and politics of the modern world. Creating surreal works that are dark, beautiful and haunting at the same time, Saner questions the violence and injustice dominant in the widely accepted societal mores. His work encourages the viewer towards a mindset of oneness, as opposed to otherness.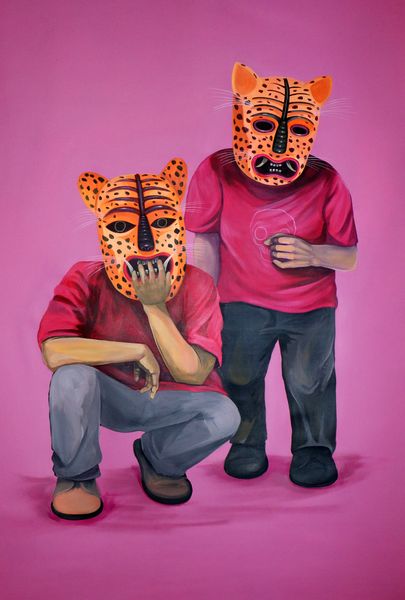 Animal Motifs in Saner Art
The use of traditional Nahuale animal masks is a recurring theme in Saner's work. A demonic trickster figure in Mexican mythology that is human by day and animal by night, these masks serve as an ancient metaphor for duplicity of identities that still resonates. Depicted without eyes and hidden behind masks, Saner's characters refer to the persistence of human blindness. By invoking the mysticism of this ancient past, Saner exposes both our increasingly uneasy relationship with nature and its denizens and the excessive urban expansion. Unifying humans and animals in order to rediscover the respect for the natural world and all living beings, his works question what it means to be an animal, human and both simultaneously.
Saner Art Reel
Two Concurrent Exhibitions on View
This is the first time Thinkspace Gallery curates the phenomenal spaces of the Brand Library Art Galleries in Glendale. The 3,200 square foot venue consists of a primary exhibiting space, a 2,800 square foot Skylight Gallery, and an auxiliary space, the Atrium Gallery, 500 square feet overlooking their courtyard. Alongside Saner's solo show, Thinkspace will also curate a concurrent show Nexus, featuring pieces by 64 New Contemporary artists next to murals and installations by Bumblebeelovesyou, Cryptik, Drew Merritt, Kelly Vivanco, Lucien Shapiro and Yoskay Yamamoto. Exhibitions In a Dream and Nexus will be on view at Brand Library & Art Center from November 5th until January 7th, 2016. The opening reception will be held on Saturday, November 5th from 6 to 10pm, featuring a special performance by Lucien Shapiro at 8pm, DJs, two cash bars and food trucks.
Featured image: Saner – La Pandilla (detail). Courtesy of Thinkspace Gallery.
Follow These Galleries
Culver City, United States