Sex Graffiti of Judith Bernstein Arouse Different Thoughts Than You'd Expect
Her expressionistic sex graffiti and erotic drawings have been confronting sexual aggression and gender inequality for almost five decades, but the art of Judith Bernstein has only now found the recognition it deserves. At the age of 74, the artist is finally enjoying her success, as important institutions like New Museum and the Whitney are putting her work up for display. What was once pulled from shows for depicting horrors of war using male and female genitalia is no longer as controversial but surely is respected, and Judith Bernstein herself is even more direct, ferocious and unapologetic than before. Somewhere between the aesthetics of Georgia O'Keeffe and Jean Michel Basquiat, she is waving her vivid imagery in our face yet again, and this time we are all looking – and appreciating it.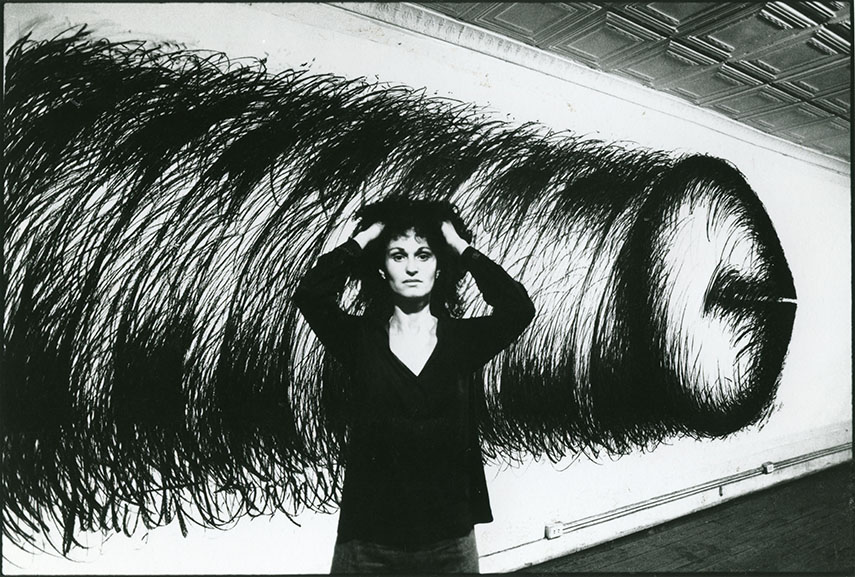 A Soldier of Feminism and Anti-War Movement
Judith Bernstein has always been a rebel, one that did not want to stay quiet in the face of war and oppression. She decided to get involved in anti-war campaigns and the feminist movement armed with a unique, provocative, to-the-point sense of humor, in order to create visual puns and tongue-in-cheek artwork of all kinds of media. A proud member of many groups, most notably The Guerrilla Girls, Fight Censorship and the Art Workers' Coalition, she experienced gender inequality firsthand. This led her to become one of the founders of A.I.R. Gallery in New York in the 1970s, which was the first to exhibit female artists on a male-dominated scene. Her earliest works, produced in the early 1960s, were inspired by the sex graffiti found in men's restrooms – imagery of phalluses and straightforward sexual writings. Just in time to catch the first wave of feminism and the Vietnam war, Judith Bernstein's art addressed both, pointing out the absurdity of war and the absence of basic human rights.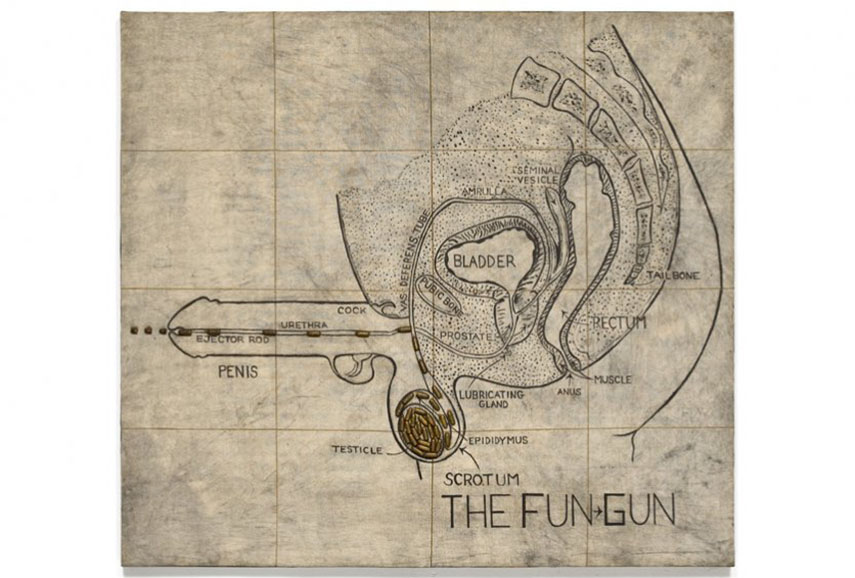 Sex Graffiti and Erotic Drawings – The Art of Judith Bernstein
Embedding layers of personal, political and artistic struggle, Judith Bernstein painted the testosterone-led landscape of our world using variations of penises, be it painted, drawn, scrawled, alone or in pairs. Through abstract strokes and elaborate color palette, she leaves nothing unsaid as she objectified the male body the way female was. Her most famous artworks even today have to be the series of biomorphic or penile-looking screws – as a metaphor of "being screwed" – placed in many settings, from battlefields and graveyards to the American flag itself. Because of such content and the artwork witty titles that left nothing to imagination, Judith Bernstein's art was removed from the Yale School of Art's student exhibition, and the iconic 1973 HORIZONTAL was censored from the show FOCUS: Women's Work— American Art in 1974 at the Museum of the Philadelphia Civic Center for being too pornographic.
Judith Bernstein Birth of the Universe walk through at The Box, LA
Painting Screws
With an intention to create unease among men, Judith Bernstein painted screws and penises to evoke helplessness, vulnerability, intimidation, irony. But because it was so explicit, her art could not be shown easily, or at all for that matter, even though the art world knew her name well. It was only in the late naughties that her sex graffiti, erotic drawings and phallic paintings were finally thriving on gallery walls, in particular LA's The Box, run by the daughter of famous artist Paul McCarthy. Although the pieces exhibited today portray the society of another time, they are still as important and relevant as ever, and their in-your-face approach no longer calls for censorship; rather, it represents a vital part of Judith Bernstein's language of expression, turning her into one of the most significant feminist artists out there.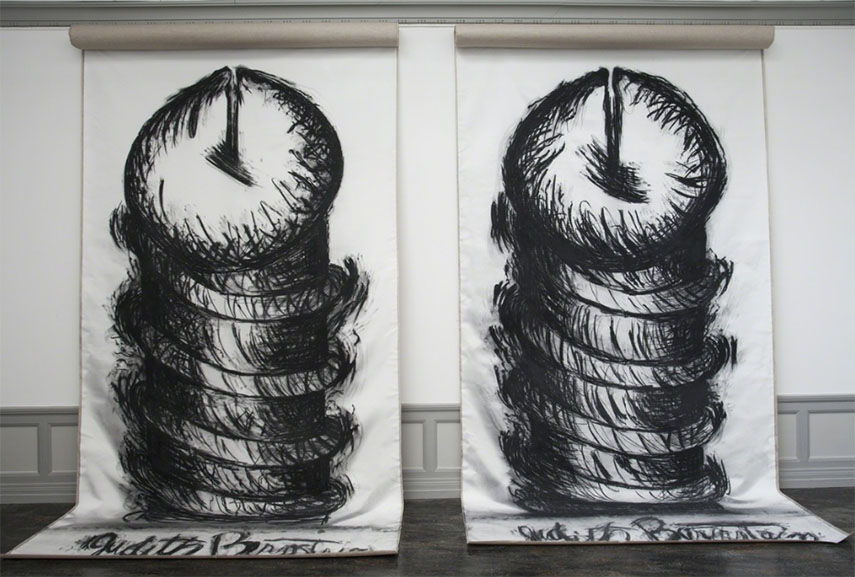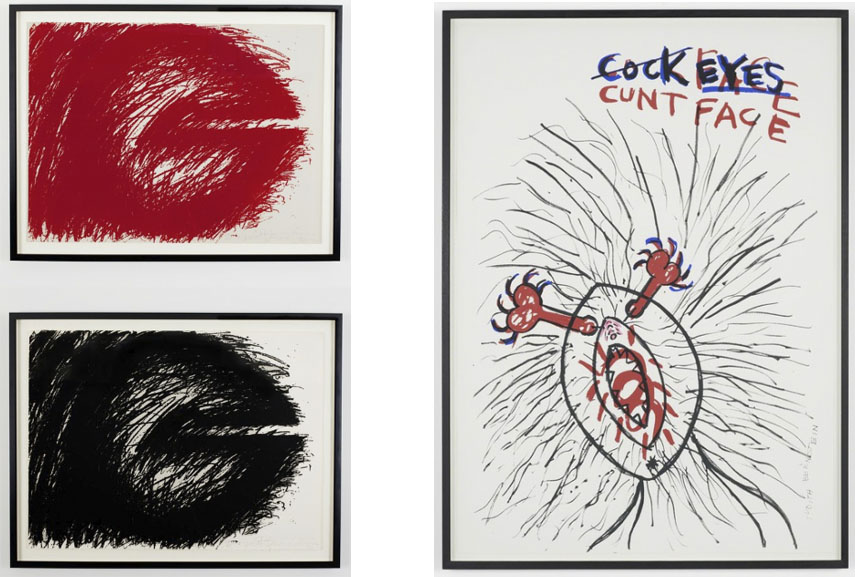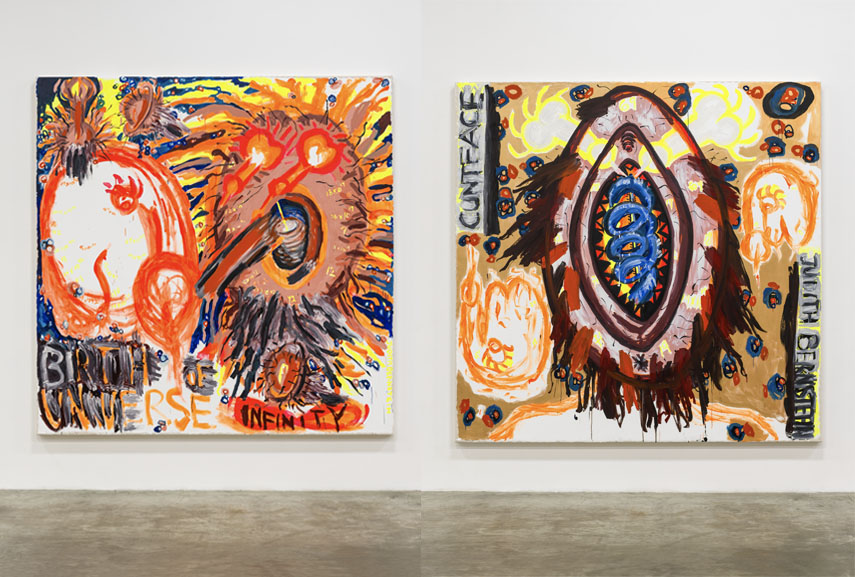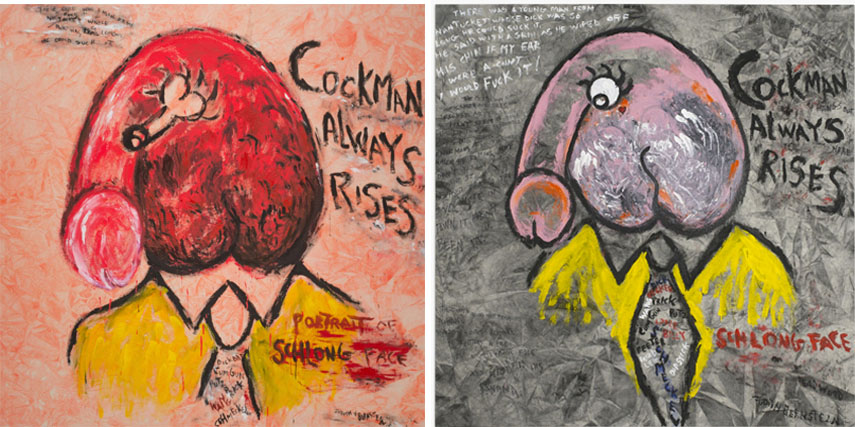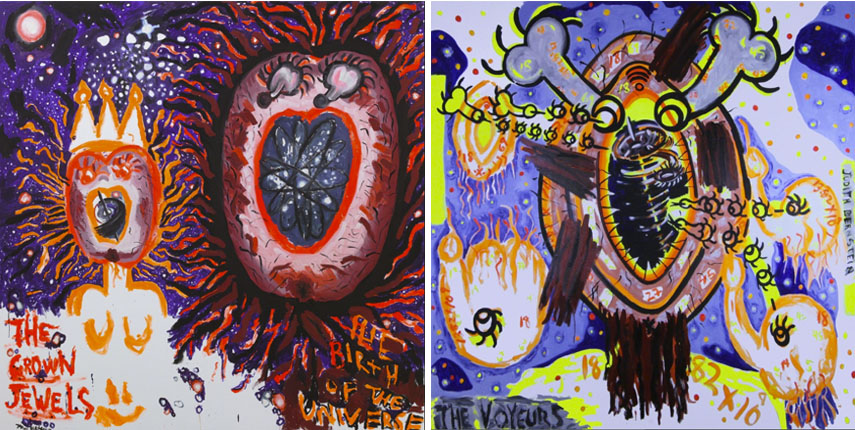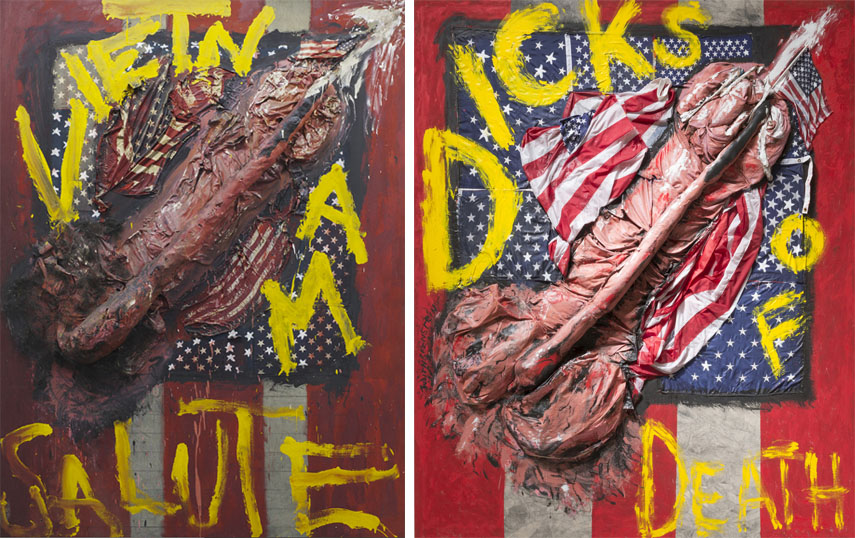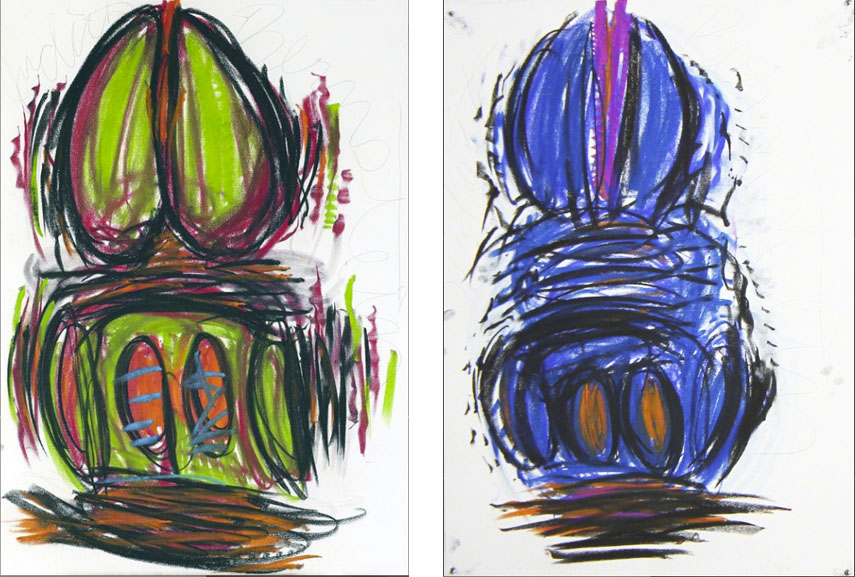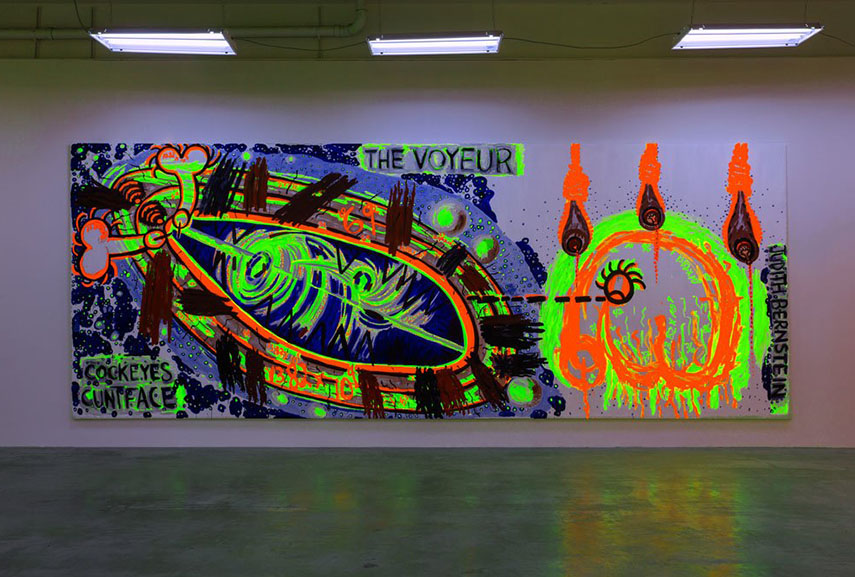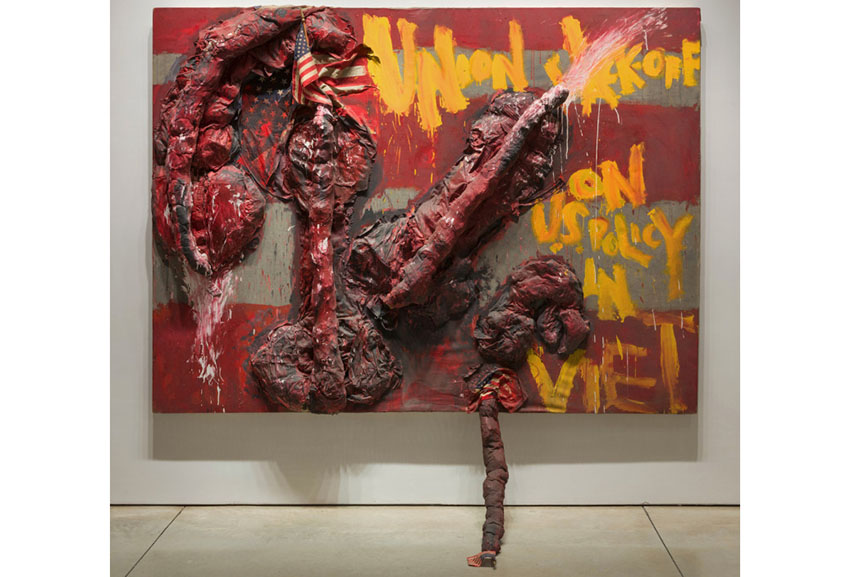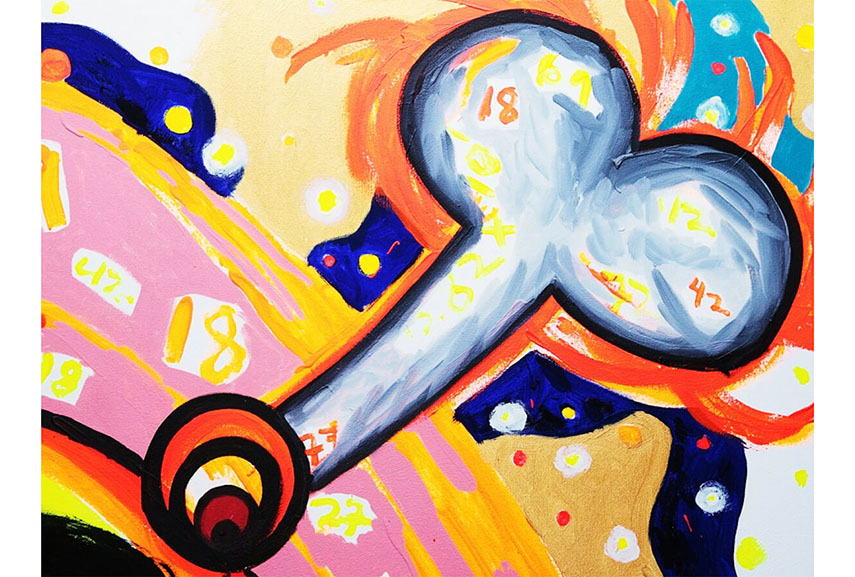 Images courtesy Studio Voltaire, Kunsthall Stavanger, Karma International, Mary Boone Gallery. All images used for illustrative purposes only.